How to make a carbohydrate-free, lean and low-calorie mushroom soup at home? Nutritional value and calorie content. Step-by-step recipe with a photo. Video recipe.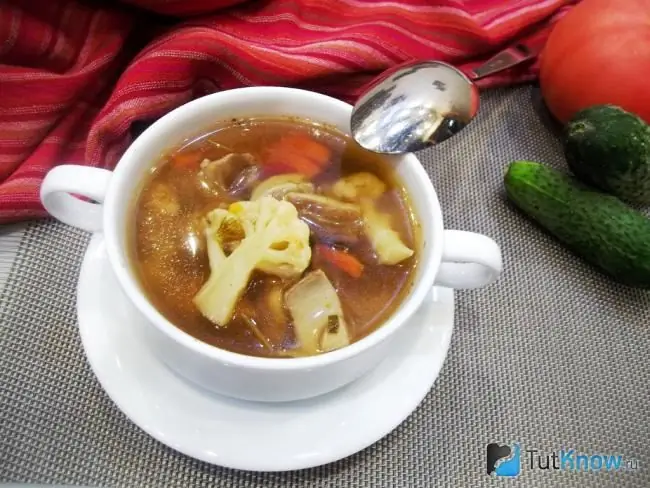 Mushroom soup is a great substitute for meat broths. And if the mushrooms are also pickled, it is still spicy and very tasty. Today I have a tender and light carbohydrate-free lean soup with pickled mushrooms. Yes, carbohydrate-free, but lean, and of course low-calorie … And this means that the soup is suitable not only for those who are fasting or are vegetarians. The dish will appeal to those who want to lose extra pounds and get their figure in shape. The proposed recipe for soup with pickled mushrooms is at the same time an excellent option for a tasty, lean, healthy, and dietary meal for lunch.
At the same time, the soup turns out to be rich, and even without meat it saturates well and provides the body with energy. And the absence of the usual cream in the mushroom broth will allow you to enjoy the pure taste of dried porcini mushrooms. After all, dairy products smooth out the mushroom taste. But if you want, the recipe can be supplemented with potatoes or noodles for satiety.
Preparing this low-calorie mouth-watering first hot dish at home is easy. The main thing is to know a few little secrets of cooking, which I will tell you about below. Then you will have amazing aromas of forest and greenery in your apartment.
Caloric content per 100 g - 82 kcal.
Servings - 4-5
Cooking time - 45 minutes
Ingredients:
Pickled mushrooms - 200-250 g
Carrots - 1 pc.
Spices and herbs - to taste and as desired
Cauliflower - 0.5 heads of cabbage
Salt - 1 tsp or to taste
Adjika (I have a homemade one) - 1 tbsp.
Ground black pepper - pinch or to taste
Step by step preparation of lean soup with pickled mushrooms: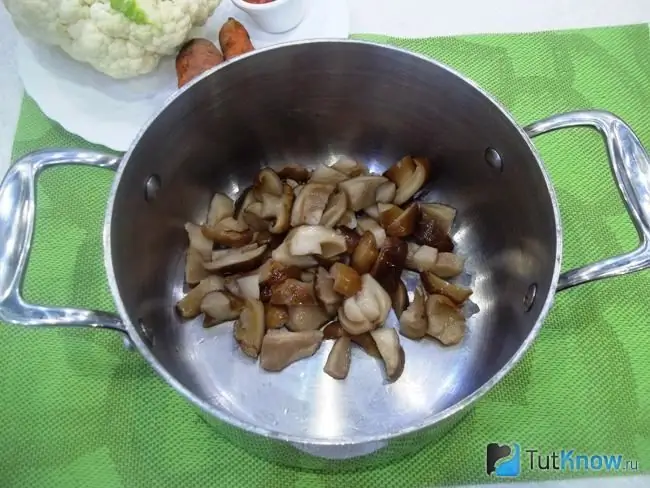 1. Drain the brine from the pickled mushrooms and rinse under running water. Slice large individuals and leave small ones intact. Dip them into a cooking pot.
Instead of pickled mushrooms, you can use champignons or any other fresh, edible mushrooms, such as chanterelles, boletus, raincoats, mushrooms, russula, truffles and many others.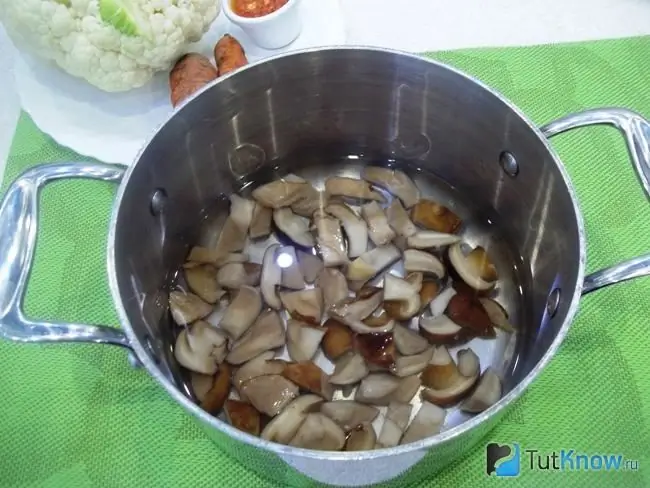 2. Fill the mushrooms with water and place on the stove to boil. If you have a vegetable broth, cook the soup with it, it will be tastier.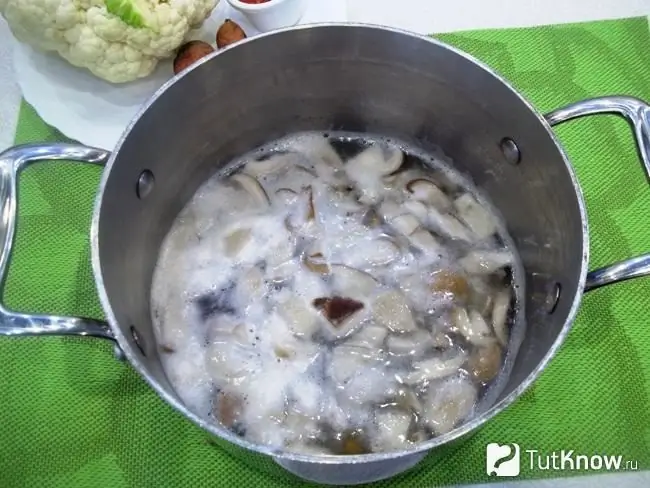 3. After boiling, remove the foam from the surface of the broth, if it forms. Reduce heat and simmer the mushrooms, covered for 10-15 minutes, to create a light, rich broth.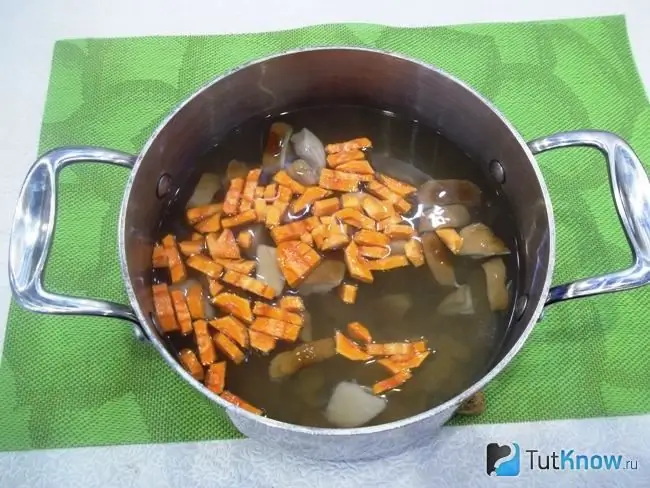 4. Peel the carrots, wash and cut into strips or rings about 5-7 mm thick. If you prefer grated carrots, then grate them.
I do not use frying in the recipe, because the goal is to get a dietary and low-calorie meal. You can pre-fry mushrooms with carrots in a frying pan in vegetable oil until golden brown.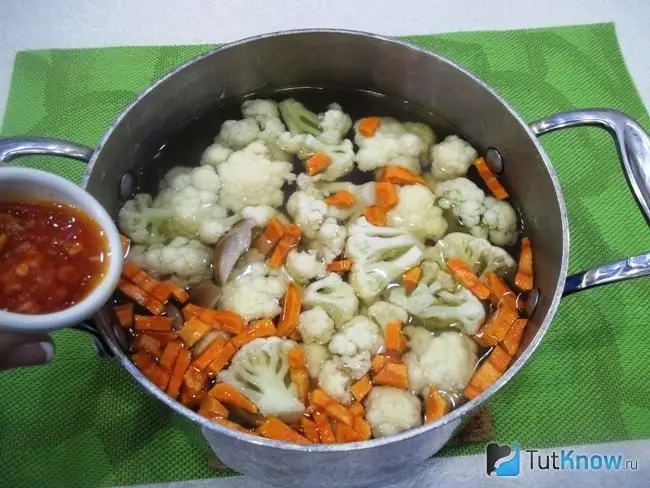 5. Remove the green leaves from the cauliflower and wash under running cold water. I recommend that you pre-soak it in a bowl of cold salted water (about 5 minutes) so that the bugs that are hiding there float to the surface.
Disassemble the dense head of cabbage into inflorescences, trimming the legs of the flower brushes as close to the trunk as possible. Then cut large rosettes into smaller pieces and send to boiling broth.
Then immediately add adjika, salt and pepper. Add any spices and spices you want: bay leaf, black or allspice peas, mushroom seasoning, savory, sage, lemongrass, curry, red pepper, etc. The added spices will add additional flavor to the broth and enrich the aroma.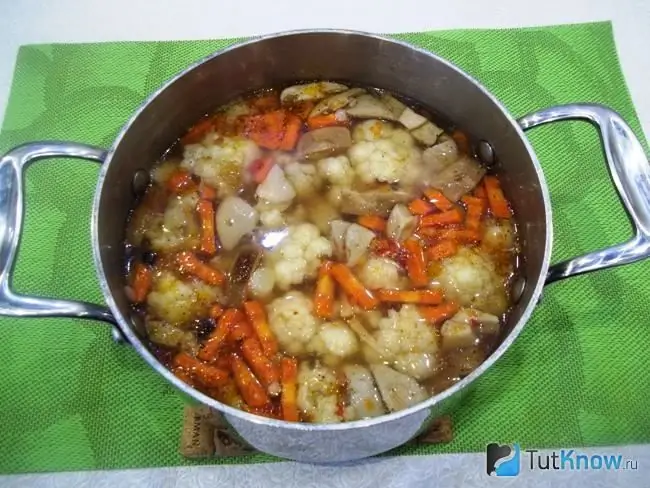 6. Cook the first course after boiling again for 10 minutes until the vegetables are cooked. They should be soft but also slightly crispy. At the end of cooking, taste it and adjust with salt or pepper if necessary. Turn off the stove and let the hot food stand under the lid.
Pour the ready-made lean soup with pickled mushrooms into bowls and serve with fresh herbs. Spoon the soup and enjoy the delicious and subtle taste and aroma of the dish. As a side dish for such a hot meal, it is best to serve spicy croutons or some kind of toasted wheat bread.
See also a video recipe on how to make lean soup with pickled mushrooms