A step-by-step recipe with a photo of making chocolate curd cakes fried in a pan at home. A nutritious and satisfying meal. Calorie content and video recipe.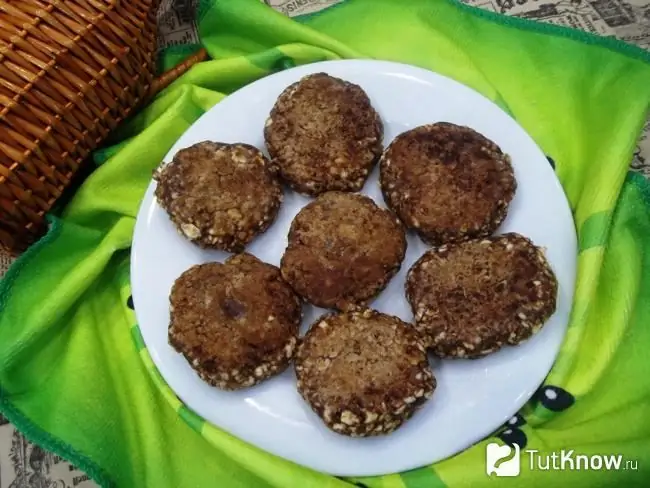 I really like cottage cheese pancakes in a pan, especially for breakfast. Since the dough for them can be made in a matter of minutes. And how many of their recipes can be counted: both baked and fried and steamed … And how many additives and fillings exist, thanks to which you can always experiment, changing the taste and aroma of a dish.
Today I have not just cheese cakes, but chocolate cakes. This is a good replacement for the traditional version and the best that can be made from cottage cheese. Delicate, tasty, with an extraordinary chocolate aroma. The perfect balance of taste, composition and aroma. And cooking them is quite easy. At the same time, the invariably amazing result is always pleasing. The pleasant chocolate trail that fills the house always awakens the appetite. Children will definitely like this dish.
If you haven't cooked cheesecakes before, because the dough does not turn out, then it is too liquid and the products do not keep their shape, then the cakes turn over badly. This means that you did not have the perfect recipe for cheesecakes. I share a step-by-step recipe with a photo and tell all the secrets and subtleties that you need to know in preparing this dish.
Caloric content per 100 g - 232 kcal.
Servings - 2
Cooking time - 20 minutes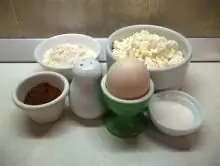 Ingredients:
Cottage cheese 5% fat - 500 g
Salt - a pinch
Sugar - 4 tablespoons
Cocoa powder - 2 tablespoons
Sunflower oil - for frying
Eggs - 2 pcs.
Flour - 6 tablespoons
Step-by-step preparation of pan-fried chocolate curd cakes: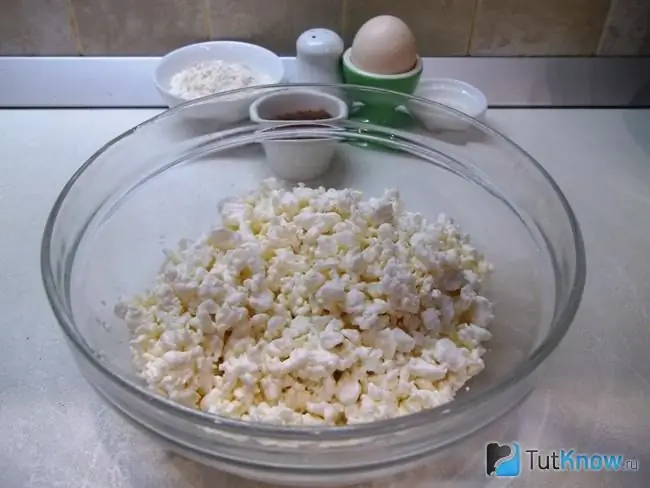 1. Place the curd in a deep mixing bowl.
Take cottage cheese of any fat content that you like best. The main thing is that it is dry. I have it 5%, tk. with it, the dough for cheesecakes does not turn out to be "liquid". If the curd is very watery with a lot of whey, then squeeze it out by placing it in a fine sieve or hanging it in gauze. Or add more wheat flour to the dough, but this will make the cheesecakes hard, not juicy.
But when choosing cottage cheese, be guided by your taste. If you follow a diet, then take low-fat cottage cheese, and if the extra calories are not terrible, then 9% fat cottage cheese or farm cheese is suitable.
It is important to choose the right cottage cheese, since the taste of the finished dish depends on it. When buying it, pay attention to the color, it should be white or with a light creamy color, and the consistency should be uniform. The taste and smell of the fermented milk product should be free of foreign tastes.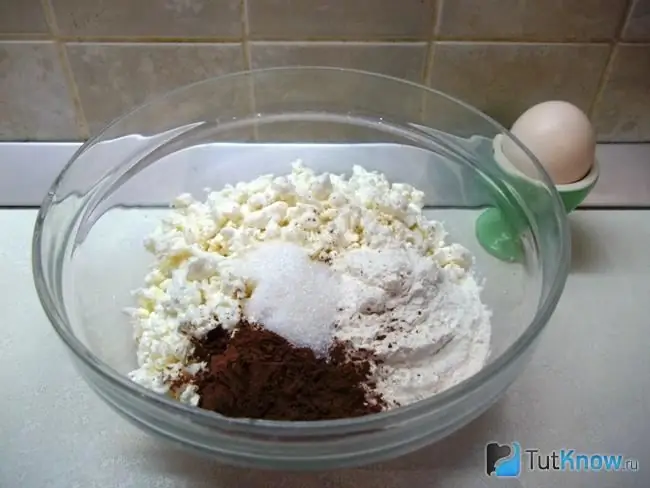 2. In a bowl of curd, add cocoa powder, sugar, a pinch of salt and flour.
Instead of wheat flour, you can use rice, oatmeal or corn. Semolina is also good.
It is permissible to replace cocoa powder with dark chocolate. Finely chop it on a board with a sharp knife or grate it on a coarse grater, or melt it in a water bath. Chocolate can be extra black, black, milk, white, porous or classic.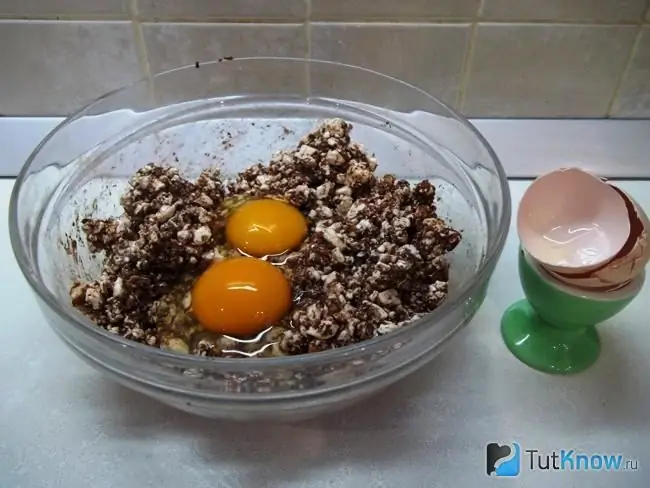 3. Wash the eggs, break the shells and add to the food bowl.
Eggs for cheesecakes do not need to be beaten with a whisk or mixer. They are used to bind other products.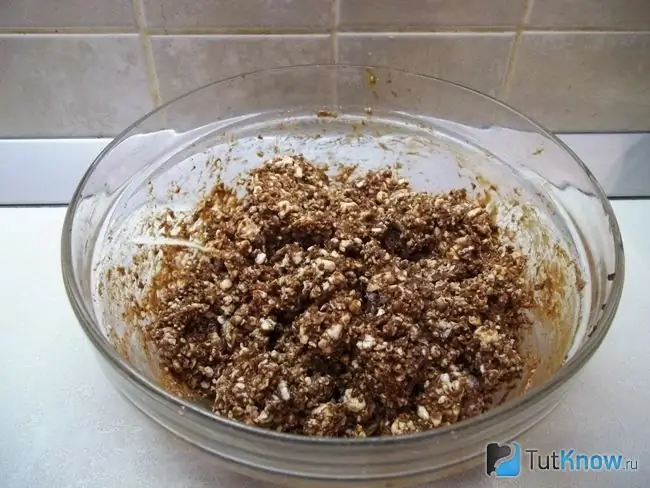 4. Mix well until smooth. I kneaded it with a spoon so that the cottage cheese remained lumps, and their taste was felt in the cheesecakes. But you can beat the dough with a blender so that it turns out to be a homogeneous mass, like a cream. Then the cheesecakes will be smooth without grains.
If the dough is very wet, add 1 tbsp. flour, if on the contrary - dry, then enter 1 tbsp. sour cream or yogurt. But this rule does not work if you added semolina instead of flour. In this case, the dough must be kept for 20-30 minutes so that the semolina swells, increases in volume and absorbs excess liquid.
Dough with any kind of flour does not require proofing.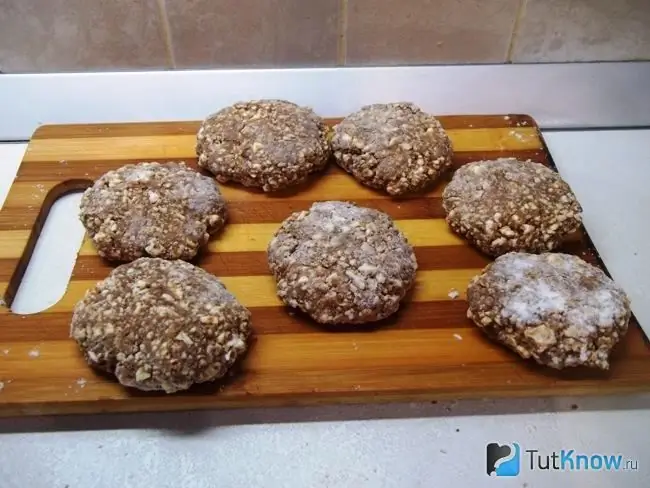 5. Sprinkle flour on your hands to prevent the dough from sticking. Spoon the curd and place in your hand. Form balls, which then flatten so that they turn into thick "coins". The thickness of the syrniki can vary from very thin (1 cm) to impressive size (1, 5-2 cm). The width of the syrniks is usually from 3 to 10 cm.
Breaded curd cakes with flour on both sides.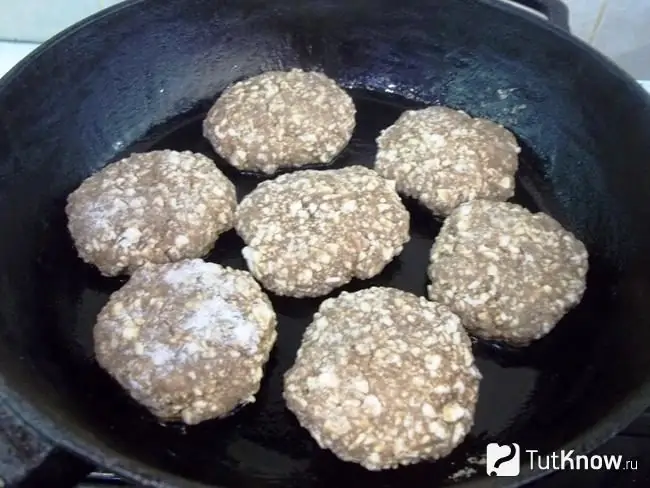 6. Brush the bottom of the pan with a thin layer of vegetable oil with a cooking brush and heat it well. For frying, you can take any fat, but it is imperative that it be odorless. Place the curds and fry them over medium heat, about one minute. Watch the fire closely for optimal heating. Then the cheesecakes will be well baked inside. If the heating is insufficient, then the cakes will be badly fried inside, and if the fire is too strong, then the cheesecakes will burn on the outside, not having time to bake inside. It is important to adjust to your skillet as in each pan, the dishes are different. It depends on the material from which it is made, the thickness of the walls and bottom, and, accordingly, on the thermal conductivity.
If you added soda to the dough, then in the course of heat treatment the curd cakes can increase in size by 1.5 times. This is facilitated by the soda added to the dough. In this case, when you spread the cheese pancakes in the pan, there should be a small distance between them.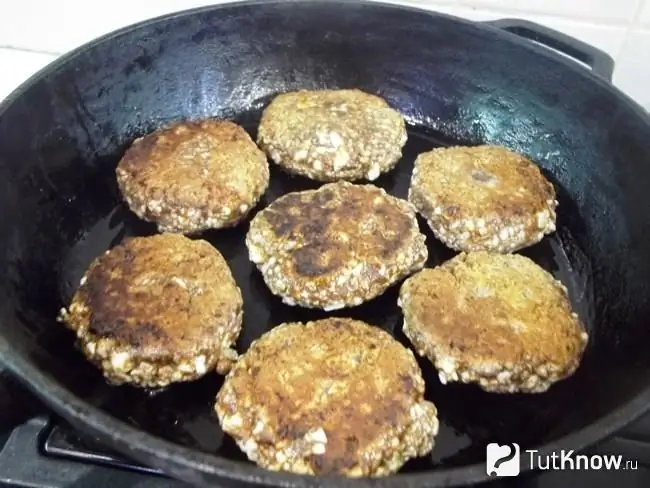 7. When the pancakes are fried on one side until golden brown, turn them over to the other side and cook the same amount of time until golden brown. The frying time is approximate, because I repeat - everyone has a different frying pan. Therefore, look at the readiness of your "cakes".
When the syrniki are fried on both sides, reduce the heat to the minimum setting, cover the pan and hold it for 1-2 minutes. If the pan has a thick bottom, you can turn off the heat altogether, leaving the finished products to simmer in the heat.
Put the prepared cheesecakes on paper towels to remove excess oil. Serve skillet-fried chocolate pancakes immediately after cooking. They are most delicious when warm. Decorate the finished dish with berries, add cherry syrup, sprinkle with powdered sugar or grated chocolate, pour over with chocolate icing, honey or sour cream. Toppings are served at your discretion, because everyone's tastes are different.
See also a video recipe on how to cook fried chocolate cheesecakes