Find out if you should buy a fitness tracker. Here are four of the most popular and best fitness trackers used by professional athletes. Fitness trackers quickly became popular with health advocates. However, many of them do not quite correctly assess their purpose and expect too much from these devices. In practice, the fitness tracker is only an auxiliary tool. Do not think that immediately after purchasing the device, your life will instantly change. Today we're going to take a look at the most useful and best fitness trackers and tips for using them.
Fitness tracker: purpose and tips for their use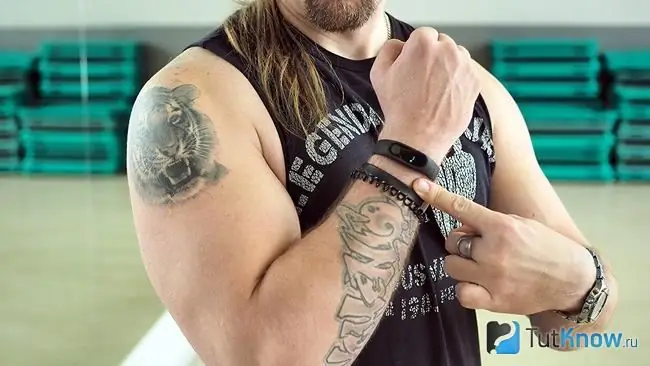 There are official statistics according to which one in three people who buy a fitness tracker stop using the device after five or six months. Surely you want to know how not to fall into this category of people? We will now give a few guidelines to help you avoid this.
Don't overestimate expectations
Before purchasing any electronic device, you should be in the right mindset. If you wear a fitness tracker, you don't become a super model overnight. It can be very helpful with the right motivation. However, if you yourself do not strive to achieve your goals, then it is not even worth spending money on a fitness tracker. Every person who decides to start fitness should prepare for the hard work. Only then will good results be obtained.
Don't count calories
In almost all models of fitness trackers, this function does not work well. Most often, all calculations are based on only a few parameters, such as age, gender, weight, and height. As a result, you do not get a complete picture of all the processes taking place in your body.
To improve the situation somewhat, we recommend using devices with a heart rate synchronization function. Fitness trackers equipped with a heart rate sensor are also suitable. However, in any case, it is not worth creating a nutrition program based solely on the readings of the device.
Set goals for yourself
Most models already have preset targets. However, you definitely need to correct them, because they are often underestimated. If you notice that you can easily solve the tasks set by the fitness tracker, set your own. We can recommend that you keep track of the time during which you complete the maximum and minimum number of steps. This will make it easier to make adjustments to your daily routine and change your habits.
After re-evaluating your daily routine, you should rethink your behavior. Most users of fitness trackers face the same problem - the device is used passively. To get the most out of it, you need to constantly analyze the metrics you get. To do this, you can set yourself micro-tasks, say, take a certain number of steps at work, take an evening walk, etc.
Be socially active
In order to maintain a constant interest in training, it is worth involving friends and family in it. You can share your results on social media. Sharing your accomplishments with others can help keep you interested in your activities. Gradually, you get used to the information received from the device, and this can reduce interest. If you regularly publish your results, then you can involve your comrades in the training process.
It is equally important to focus on regular movement. Simply following a given number of steps may not be enough to get good results. In today's world, a passive lifestyle is a serious problem. Many people spend all their free time in front of the TV or monitor. To get rid of this habit. A fitness tracker can be a great choice. Be active every hour for at least five minutes. Many modern models are equipped with a personal trainer function and a reminder system.
Always wear the bracelet
Many people take off their fitness tracker and then forget to put it on. As a result, the statistics obtained will not be complete and there will be no benefit from the analysis of such data. Many bracelets have good batteries that do not discharge for a long time. It is also worth considering purchasing a waterproof device. If you still have to part with the tracker, then place it near your smartphone.
Keep a food diary
Numerous studies have shown that keeping a nutritional diary can lead to better results. In such a situation, a person begins to monitor his diet more carefully. If your fitness tracker does not have this feature, take notes the old fashioned way on paper. Unfortunately, many people don't track their diet at all. In such a situation, it is difficult to count on success.
In addition to all of the above, we can recommend purchasing a device that can recognize the maximum amount of exercise. In this case, you do not have to buy many highly specialized devices. Today, you can easily find a ton of smartphone apps on the web that will help you sync both devices.
Best fitness trackers - TOP-4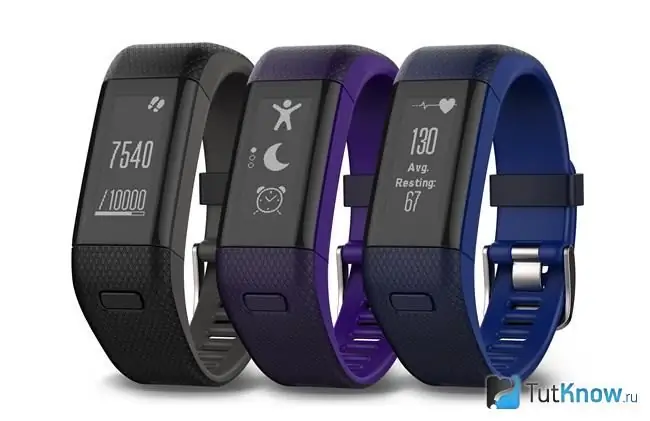 Today we're talking about the most useful and best fitness trackers, as well as tips for using them. You have already received an answer to the second part of the topic, and it remains for us to consider the most popular devices.
UP24 by Jawbone
If we judge the fitness tracker by the design of the device, then this model definitely has the brightest. On sale you can find a device in classic black and cheerful orange colors. In addition, the device stands out for its size and the absence of the usual clasp. The main purpose of this fitness tracker is to adjust the user's lifestyle for the better.
To use all the capabilities of the device, you need to install a special application on your smartphone or tablet. During the activation of the bracelet, you have to enter your basic parameters, after which the device will offer you to study the statistics of people with similar parameters. The fitness tracker has two modes of operation: sleep and active.
The first of them must be activated by the user himself before going to bed. When you wake up, the device will present a graph of the transitions to different sleep phases, as well as the exact time of awakening. As a result, it is possible to create a quality sleep pattern and thereby ensure a complete recovery of the body. In addition, the UP24 is equipped with a smart alarm function.
The active mode of the device is activated automatically after the owner wakes up. After that, all the user's activity is recorded. Since the bracelet is not equipped with a display, all information will be available only on a smartphone or tablet.
Among the advantages of the device, we note:
The presence of a "smart" alarm clock.
Automatic transition to active mode.
Reminder function for the need to be active.
UP24 has only two drawbacks - the lack of a display and sometimes the bracelet clings to clothes.
Basis B1 Health Tracker
This device has a very attractive design and looks solid - a thick case harmoniously combines with a wide rubber strap. It is equipped with a standard watch clasp and therefore fits well on the wrist. The display is monochrome and there are two buttons next to it. The first of them is necessary to display the date and time, and the second allows you to get information about the calories consumed during the day and the steps taken.
It is very convenient that with the help of one button all the useful information is displayed at once on the display. However, to increase the functionality of the device, you can install the application on your smartphone. It has a system of tasks for the completion of which you will be awarded points. Almost all of the goals that Basis B1 Health Tracker sets for you are aimed at increasing physical activity. The tracker is also capable of monitoring the heart rate.
We found only two flaws in this device. Firstly, the tracker has a fairly massive size. However, you can use it as a watch. Secondly, the device is quite expensive, which not all fitness fans will like.
But the advantages of the device are much greater:
Fits well on the arm.
Equipped with a display.
Automatically switches between sleep and activity modes.
Monitors your heart rate every five minutes.
Provides statistics on moisture and skin temperature.
Polar Loop
This device is primarily intended for athletes. Polar Loop not only allows you to track the user's activity, but also provides a lot of valuable information after the completion of the training. Another distinctive feature of the bracelet is its complete water resistance. You can dive with it to a depth of 20 meters.
If most fitness trackers measure the heart rate at the request of the owner, then this device does it on its own. As a result, you can check your heart rate at any time during your session.
Among the advantages of the device, we note:
Thanks to the complete waterproofness of the device, you can not only swim with it, but also dive.
Equipped with a display.
It can sync with heart rate bracelets.
Able to recognize several types of physical activity.
Has an extended training diary function.
If we talk about the shortcomings of this model, then there are few of them:
The application for mobile devices is not very functional. To do this, you need to go to your personal account.
The touch button may not always work.
Fitbit Flex & Fitbit Force
We will conclude our review with these two bracelets. You can install an application on your mobile device that is compatible with the two models. There are no significant differences in the functionality of the software. With it, you can compose a diet, and in the memory of the devices there are already several preinstalled nutrition programs. The Fitbit Flex, unlike the Fitbit Force, does not have a display. This fact can explain the higher cost of the second device.
Many users of each of the devices say that the clasp is tight enough, which can be considered a disadvantage. In terms of functionality, Fitbit Force looks more attractive. However, the capabilities of each device expand after the installation of special software on the mobile gadget.
How to choose the right fitness tracker, see the video below: