TOP-4 recipes with photos of cooking unusual pancake dishes for Shrovetide. Video recipes.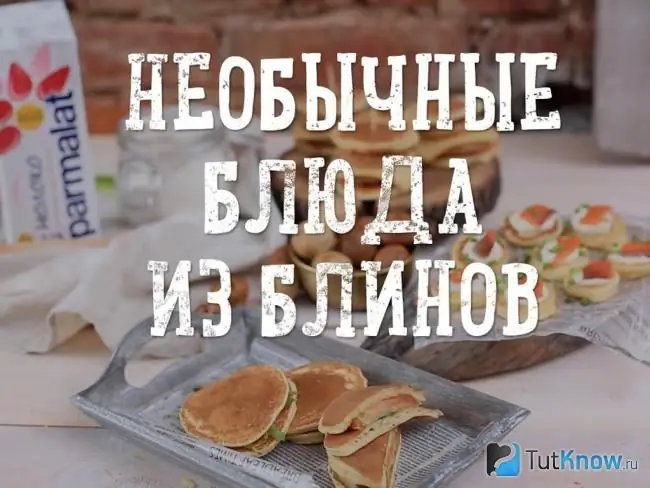 Pancakes are loved in every family, and the number of their recipes is striking in variety. However, we are used to the standard serving of pancakes with sour cream, honey, jam and other toppings. But an ordinary table can easily be turned into a festive feast. To do this, you need to show a little imagination, and high culinary skills and large financial costs will not be required. Only desire is needed. Freshly baked pancakes can be a staple for salads, rolls, pies, rolls, cakes and other dishes. These dishes are delicious, hearty and beautiful. There are a large number of recipes using classic pancakes, from which you can prepare unusual dishes for Shrovetide.
Pancake rolls or rolls
Pancake rolls or rolls - a recipe for a very simple tasty and satisfying snack. She looks very "smart" on the festive table.
Caloric content per 100 g - 259 kcal.
Servings - 15
Cooking time - 1 hour
Ingredients:
Flour –3/4 tbsp.
Onions - 4 pcs.
Water - 250 ml
Butter - 150 g for frying
Milk - 250 ml
Eggs - 2 pcs.
Sugar - 2 tablespoons
Salt to taste
Soda - on the tip of a knife
Refined vegetable oil - 2 tablespoons in the dough, 2 tbsp. for frying the filling
Chicken liver - 500 g
Lard - a small piece to grease the pan
Carrots - 1 pc.
Making pancake rolls or rolls:
Whisk the eggs with sugar, salt and baking soda.
Pour milk and water into the egg mass and mix.
Gradually add the sifted flour and knead the pancake dough until the consistency resembles sour cream. If the dough is thick, add water, because The filling pancakes should be thin so that they roll easily.
Finally, add vegetable oil to the pancake mass and stir.
Grease a frying pan with a piece of bacon and pour out a portion of the dough. Twirl the pan so that it spreads evenly over the bottom.
Bake pancakes on each side for 1-2 minutes until tender and golden brown.
For the liver filling, wash the chicken liver and cut into slices. Peel and wash onions and carrots.
In a skillet, heat a mixture of butter and vegetable oils and fry the liver with vegetables at the same time. During the cooking process, the liver will secrete juice, which should almost completely evaporate. But don't overdry. This process will take about 15 minutes.
At the end of cooking, salt the liver, pepper and cool the filling a little. Then grind the products with a blender until the consistency of a delicate and not dry puree.
Grease the pancake generously with the filling and roll into rolls. To make an appetizer in rolls, cut the finished rolls with a knife into pieces 1, 5-2 cm wide, slightly diagonally.
Chicken Pancake Pie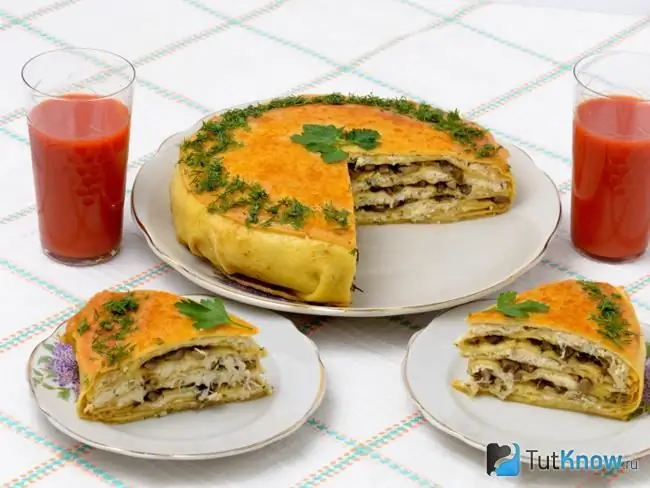 An elegant, original and unusually tasty pie with a delicate chicken filling and a cheese crust made from thin pancakes - it just melts in your mouth. The dish is suitable for a hearty family dinner and will invariably attract attention on the festive table, especially on Shrovetide. For the pie, you can take any thin pancakes - yeast, yeast-free, in milk, water or kefir.
Ingredients:
Flour - 1, 5 tbsp.
Milk - 1, 5 tbsp.
Water - 1, 5 tbsp.
Eggs - 3 pcs.
Salt - a pinch for pancakes, 1 tsp. For filling
Sugar - 1 tablespoon
Refined oil - 3 tablespoons for pancakes, 3 tablespoons For filling
Chicken fillet - 400 g
Champignons - 500 g
White onions - 1 pc.
Parsley - a few twigs
Hard cheese - 200 g
Mayonnaise - 3 tablespoons
Bay leaf - 1 pc.
Allspice - 4 peas
Ground black pepper - a pinch
Provencal herbs - 1 tsp
Making Chicken Pancake Pie:
For the pancake dough, whisk the eggs with salt and sugar until fluffy. Add warm milk to the resulting mixture to make the pancakes more tender, and stir the products until smooth.
Add sifted wheat flour into the dough and stir with a whisk to avoid lumps.
Pour room temperature water into the dough and stir the mixture until smooth. Lastly, add refined vegetable oil to the pancake dough so that the pancakes are elastic and do not tear.
Stir the dough and leave in a warm place for 15 minutes, then start frying the pancakes.
Grease a hot frying pan with a little oil, pour in a little dough and distribute evenly over the surface of the pan. Toast the pancakes until golden brown and gently flip to the other side.
For the filling of the pie, wash the chicken fillet, dry it, remove the fat with films and boil it in a whole piece to make the meat juicy. After boiling, remove the froth, add the bay leaf with allspice and cook the meat for 20 minutes. Then remove it from the broth, refrigerate and cut into small pieces. Use the broth for any first course.
Wash, peel and chop the mushrooms in any shape of about the same size so that they are evenly fried. Heat a frying pan with vegetable oil and fry the mushrooms, stirring until golden brown. At the end of cooking, add salt, black pepper and Provencal herbs.
Peel the onions, cut into cubes and fry in a little oil until transparent.
Put chicken fillet, mushrooms with onions and chopped parsley in a blender bowl. Add salt and beat until smooth.
Shape the cake. To do this, put the pancake on a flat plate, brush it with mayonnaise, spread the filling on top with an even layer and put the second pancake. Repeat the steps until you have collected the whole cake.
Sprinkle the finished pie with finely grated cheese and chill in the refrigerator.
Pancake chebureks with chicken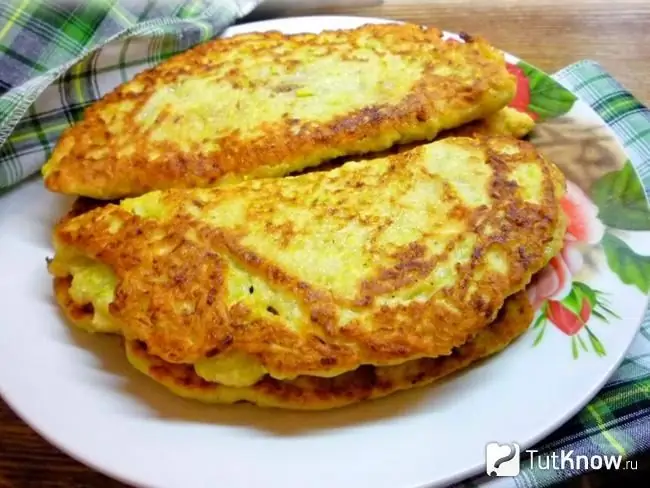 Chebureks made from thin pancakes stuffed with chicken are delicious. But unlike ordinary pasties, they consume less oil. You can use any pancakes for the recipe.
Ingredients:
Milk - 1 l.
Eggs - 3 pcs.
Flour - 2, 5-3 tbsp.
Vegetable oil - 2 tablespoons in the dough, 2 tbsp. for frying minced meat
Sugar - 1 tsp
Salt - 0.5 tsp in the dough, 2/3 tsp. for frying minced meat
Minced meat - 500 g
Onion - 2 pcs.
Ground black pepper - to taste
Cooking pancake chebureks with chicken:
For pancakes, warm milk to room temperature, add eggs (1 pc.), Salt, sugar and beat well with a whisk or mixer.
Gradually add flour and knead the dough so that there are no lumps. Its consistency should be like liquid sour cream.
At the very end, pour in vegetable oil and bake pancakes. Heat the pan well and brush with vegetable oil. Do this just before baking your first pancake. Pour the dough into the pan and fry the pancake until light brown on both sides for 1 minute. Do not fry too much, because it will still be fried with the filling.
For minced meat, peel the onions, chop finely and add to the minced meat. Season with salt and pepper and knead well.
Spread the minced meat on half of the pancake, smooth evenly without reaching the edge of about 1 cm, fold the pancake in half and lightly press down with your fingers.
Beat the eggs with a whisk, dip the pancakes in them on both sides and place them in a frying pan preheated with vegetable oil.
Fry the pasties on one side until golden brown, turn over to the other side and bake until tender, covered.
Pancake lasagna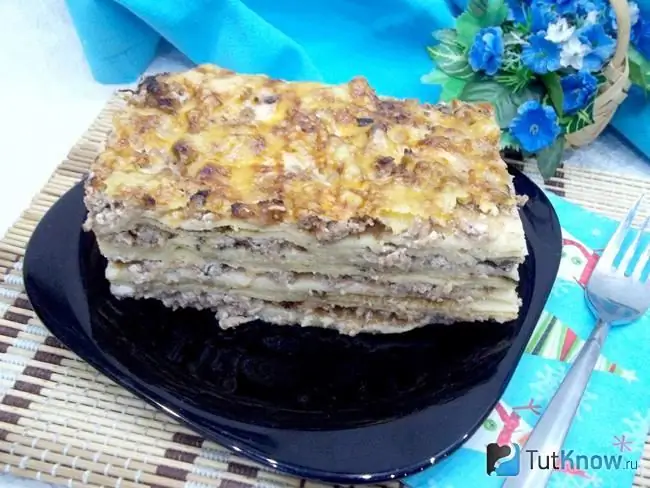 Today lasagne can be tasted in any restaurant in the world. Moreover, for its preparation, not only classic "pasta" layers of dough are used, but also pancakes. It turns out such a dish is not only tasty, but also interesting.
Ingredients:
Flour - 180 g
Chicken eggs - 1 pc.
Egg yolk - 1 pc.
Sunflower oil - 2 tablespoons
Milk - 200 ml
Carbonated mineral water - 200 ml
Salt - 1/2 tspfor pancakes, to taste for filling
Sugar - 1/2 tsp
Chicken fillet - 400 g
Champignon mushrooms - 500 g
Onions - 3 pcs.
Hard cheese - 200 g
Sour cream - 100 g
Ground black pepper - to taste
Making Chicken Pancake Lasagne:
For pancakes, beat eggs, yolk, sugar and salt. Add milk, stir well and add flour. Knead the dough well and add sparkling water (mineral water).
Stir again, pour in vegetable oil and stir to make the dough thin and without lumps.
Grease a frying pan with oil, heat well and bake the pancakes until golden brown on both sides. Cool the finished pancakes.
For the lasagna filling, rinse and boil the meat in salted water until tender. Then cool it and tear it with your hands along the fibers or cut into strips.
Peel the onions, rinse, dry, cut into small cubes and fry in oil in a skillet. Then remove half of the onion from the pan, and add chopped chicken to the remaining onion in the pan. Fry everything together until golden brown. Season the filling with salt, pepper and season with spices.
Rinse the mushrooms, cut into slices and fry with the rest of the onion in oil until tender. Season with salt and pepper.
Grease a baking dish with butter and overlap about 5-6 pancakes.
Grease the bottom pancake layer with sour cream, sprinkle with grated cheese and lay out the chicken and onion filling. Cover it with 1-2 pancakes, brush them with sour cream, sprinkle with cheese and lay out the mushroom filling.
Likewise, continue to lay out the layers of lasagna until the pancakes are finished.
Cover the collected lasagna with pancakes on top, brush the surface with sour cream and sprinkle with cheese. Send the mold to a preheated oven to 180 ° C and bake the lasagne for 10-15 minutes until golden brown.
Video recipes for cooking unusual pancake dishes for Shrovetide