What is needed to make a New Year's greeting card? The best ideas on how to make a postcard for the New Year 2020. Tips for masters.
New Year's cards are a good way to congratulate friends on the upcoming holiday, but loved ones will also be pleased to receive such a souvenir, especially if you make them yourself. Such a gift, as a rule, is accompanied by a congratulatory inscription and wishes, from which the craft brings even more joy. Simple technologies, if you understand them, allow you to quickly make an original New Year's greeting card with your own hands. This way, you will always have a gift idea.
Materials for making postcards for the New Year?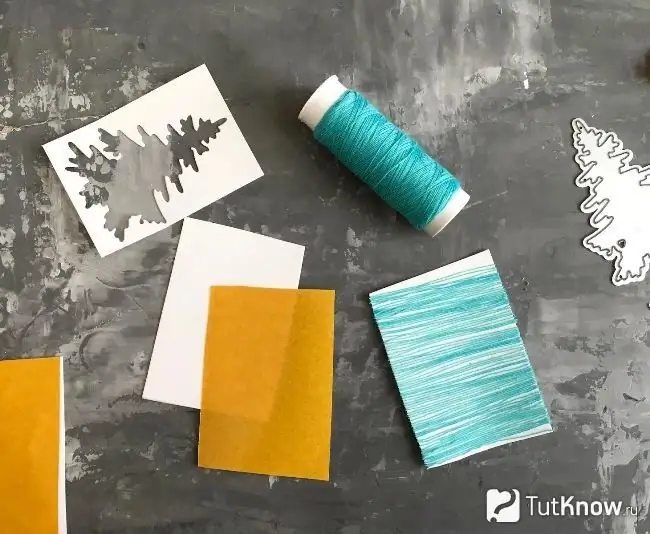 The desire to share your joy with the people around you is inherent in every person. That is why you so want to be close to your loved ones on the Christmas holidays. But if this is not possible, then a piece of your happiness is sent in messages. And although themed electronic New Year's greetings 2020 are popular today, postcards still do not lose their positions.
In the 18th century, a whole industry was actively expanding to create and send beautiful New Year's cards. Each card was handcrafted, packaged and shipped. A little later, printed typographic copies began to be created. They were cheaper than homemade ones and were shipped unpacked. In this case, everyone could read the congratulatory inscription, but this did not bother anyone, since it is customary to share happiness on the New Year.
The tradition is so deeply rooted that printed cards are still considered a symbol of Christmas. They are sent to friends and family in neighboring cities and even countries. But hand-made New Year cards for 2020 are best sent in envelopes so that your exclusive work is not damaged during transportation. But not only addressees with another city of residence are worthy of your attention. You can also make a New Year's card for your family, because they will be very pleased to receive a gift created by your own hands.
Postcards that are folded can also be used as an original envelope. The beautiful packaging contains concert tickets, money and other gifts, and most importantly, your love. Tickets are used, money is spent, and the postcard will always remind you of the joys you have experienced. But also Happy New Year 2020 cards often become part of the decor: homemade cards can be displayed on shelves, form a garland, and even be placed on spruce paws. And many simply collect postcards for the New Year with their own hands. Each piece of the collection, as a rule, has its own warm history.
In simple words: the goal for presenting Happy New Year cards is always the same - to share joy and happiness. But apart from that, elegant cards are used as packaging, decorative items or collectible items. Here, the imagination of the gifted has no boundaries.
New Year's card for 2020 can be created from almost any available means. Creative shops provide the widest range of products to create beautiful crafts. Without fail, you need a foundation. It can be in the form of a folding "booklet" or a card.
The choice of base material is huge:
Paper or cardboard … There are in every house, of which you can make any cards along the contour (not only the usual rectangular shape, but also in the form of a Christmas tree ball, for example).
Textile … It holds its shape well and is suitable for do-it-yourself Happy New Year 2020 cards, which go as a gift to young children. However, to create a lasting souvenir, you need to master the individual sewing and decorating techniques.
Wood, plastic … Blanks from these and other non-standard materials are sold in specialty stores for creativity. According to such patterns, they embroider with threads or ribbons, decorate at their own discretion. The indisputable advantage of such a blank is its strength and durability.
However, the very basics are not enough. To make a postcard for the New Year, you will also need decorative elements. The simplest and most accessible materials for decorating the bases are beads, beads, sequins, ribbons. Of course, you will need colored pencils, paints, felt-tip pens to add color to the card. But in general, the decor will only depend on your imagination.
The best ideas on how to make a postcard for the New Year
The technology used will depend on the materials used, how to make a New Year's card. For example, colored paper can be decorated with perforations or painted according to a pattern, and the threads can be processed with glue or supplemented with beads. Beautiful cards "Happy New Year" are created with the thought of the person gifted: think about what he would like to receive and how to do it. But also do not forget about the symbolism of the holiday. According to the Eastern calendar, 2020 is considered the Year of the Rat, so this animal or related items can be symbolically depicted on a souvenir. There are a lot of ideas on how to make Happy New Year greeting cards, so as not to get confused in their huge number, choose the idea for which you already have materials at home.
Postcard from colored paper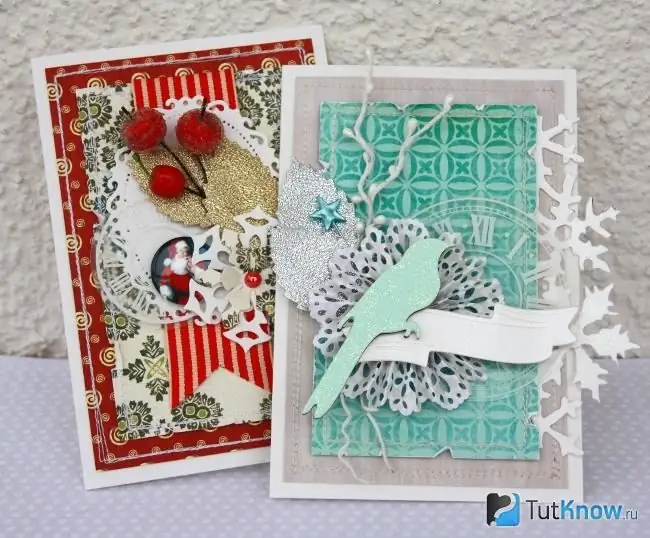 New Year's cards made of paper are the most popular homemade souvenirs. The advantage of such cards is that there are materials in every home, and the paper processing itself does not take much time. A simple option for a paper base is to fold an A4 sheet in half. Inside such a blank, you can write a wish, and decorate the outside.
Drawing, applique, embroidery on paper and decorating with tape are just a few options on how to decorate postcards for the New Year of the Rat 2020.
To do this, you will need to remember or master several techniques:
Tight adhesion to the base … Multi-colored strips of paper are glued to the white base, so that the contours form the silhouette of a Christmas tree or New Year's ball, a snowman. Which holiday theme to choose is up to you.
Cutting from colored paper … Stars, balls or mugs cut from the same material are glued to the base.
Volumetric applications … The easiest way to create volume is to glue the strip not with its entire plane to the base, but only with the edges, so that the decorative paper rises in a "hump" above the flat sheet of the base. But carved snowflakes glued to the paper only with the central part also look beautiful.
Drawing … Postcards "Happy New Year of the Rat" can be drawn, and if you do not know how to do this, then use the printed blanks. Templates for New Year's cards are easy to find in the public domain, but if you still want to make a personal gift, try to diversify the blank at least a little - add a flower or a smile while decorating.
Ikebana … Spruce needles or a dried fern leaf will not only serve as a decorative element, but will also add a lively Christmas scent to the card.
You can decorate not only the front side of the workpiece, but also the inside. In this case, it is better to pay attention to the ideas of voluminous postcards for the New Year. Outwardly, the blank will look like an ordinary card-book with a wish, but as soon as you open two sheets, a three-dimensional 3D figure "grows" between them. If you have never made such toys, first use a simple idea: glue a folded fan of white sheet to the bottom of a blank of colored paper. Glue green Christmas trees cut out of cardboard on each fold of a homemade fan. When you open the card, a white fan will spread out in a snow-covered field, and the Christmas trees will become an elegant forest in a row. As the experience of working with material grows, the design of volumetric cards for the New Year can be complicated.
Postcard from threads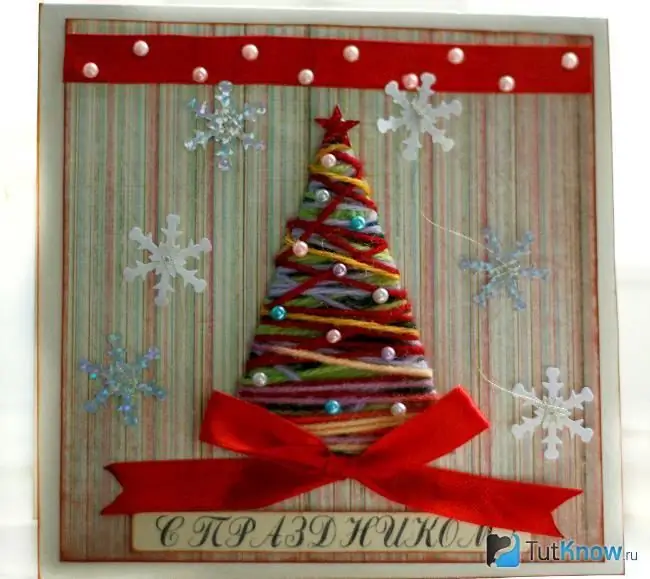 Many people associate red and green woolen yarn with the Christmas holidays, as well as knitted crafts. Small snowflakes made of threads, glued to a cardboard or wooden base, look very beautiful and unusual, and also tell you that you were preparing for the holiday in advance. But knitted decorative items will require certain knitting or crocheting skills.
For those who do not know how to knit, but want to make a postcard for the New Year 2020, we recommend using the nonlinear embroidery technique. It is better to take thick cardboard as a basis.
On the front side of the cardboard, draw the outline of the mouse's face and at equal distances pierce holes along the perimeter of the outline. Pull the thread from hole to hole so that the outline of the mouse is "embroidered". Beads or seed beads can be worn on the thread as a decoration.
A simple pattern can also be a herringbone outline, on which you can place beaded garlands. If you are making children's cards "Happy New Year", then use Mickey Mouse drawings as a template.
Flat yarns always add volume. To enhance the effect, it is recommended to collect the yarn in lush pom-poms or tassels. Further, such brushes are placed on the front of the base, as the author wishes. For example, you can assemble a herringbone from small pom-poms, or attach volumetric pom-pom balls on a drawn blank.
A custom material is best used by combining several techniques. Do-it-yourself beautiful New Year's cards will turn out if the cardboard triangular blank is tightly wrapped with multi-colored yarn. Such a triangle is complemented by a scattering of beads, and now - this is not ordinary cardboard, but a real Christmas tree, which can then be attached to the base with a beautiful congratulatory inscription.
Postcard from ribbons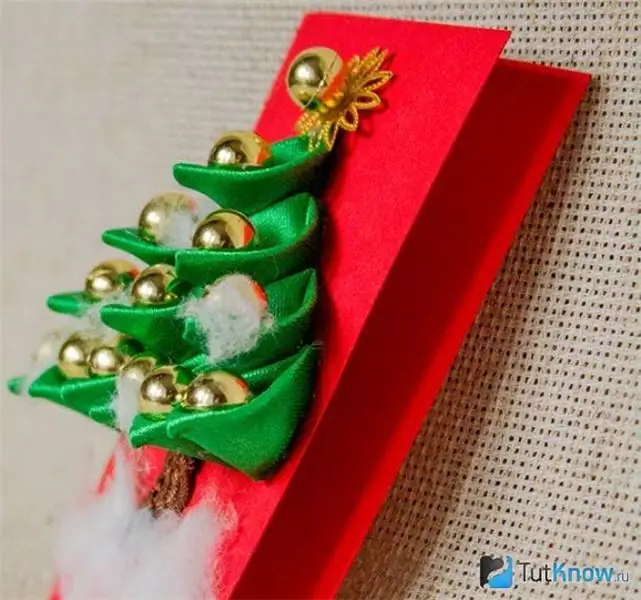 The ribbons in the decor can play both a solo and an auxiliary role. Since the material is quite dense and wide, durable materials (cardboard, wood) should be used as the basis for the 2020 New Year cards. Draw a funny mouse on the front of the blank, and then decorate its tail or ear with a voluminous ribbon bow. The tape is glued over the design or passed through the cut holes.
If you do not get attached to the theme of the eastern calendar, then a beautiful New Year card from a ribbon can be made in the form of a volumetric Christmas tree. To do this, you need a green ribbon. Having glued a herringbone to the base, you can additionally decorate it with beads. Another interesting idea is to embroider a ball out of shiny beads, and decorate it with a ribbon bow on top.
Note! The edges of the purchased tape at the cut point very much crumble. So that the postcard does not lose its appearance, they should be well treated with glue and hidden under the base. If you can't hide the edges, melt them down carefully with a burner.
Button postcard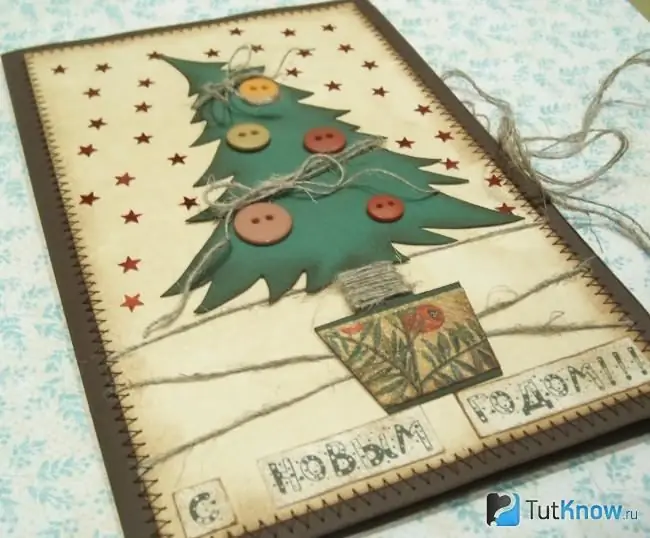 Such ordinary material as buttons can be interestingly played in the New Year's theme. In addition, this material is the best option for a Happy New Year's card for children. To make a beautiful card, sew or glue enough bright large buttons to the cardboard base. Such a decoration should be placed, in the form of a Christmas tree or as an imitation of Christmas balls on a painted forest beauty - your imagination is not limited. Buttons of any color and size are suitable for work.
Another easy way to make a Happy New Year card is to sew beautiful buttons like garlands on a Christmas tree cut out of felt. Such a tree is glued with pistol glue to almost any base (from cardboard to plastic). And from three buttons of different sizes you can fold a snowman - a wonderful symbol of festive winter days.
Tips for beginners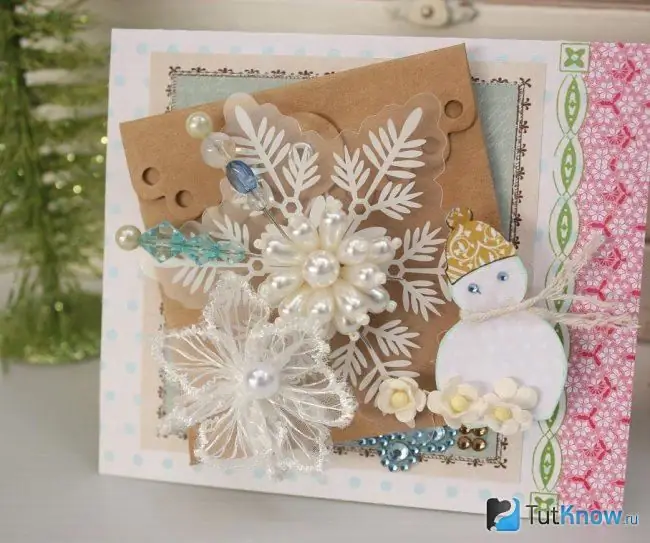 If you're making 2020 New Year's cards for the first time, start with simple designs and techniques. For example, a tree can be drawn as three triangles stacked on top of each other, and a snowman as three balls. Don't burden your first craft with too many details.
Gradually learn to work with different materials so that the result will please you and those around you. For the cards "Happy New Year 2020" the most minimalistic, but at the same time original design is a mouse mustache on a white background or a long tail with a bow. Thus, with a few strokes, you can create a beautiful card with the symbols of the coming year.
Attention should be paid not only to the design of the outside, but also to the inside. If you used sewing or embroidery techniques in your work, then the side with the fixed threads should be covered with a sheet of white or colored paper to make the craft look neat. The side where the wishes will be written can be shaded with paints or pencils. The shading of colored pencils looks gentle. To do this, just select the desired color and sharpen the pencil over a sheet of paper, and then gently rub the dust from the pencil into the paper with a cotton pad.
It is better to prepare the text of the greeting card "Happy New Year" in advance and write it in calligraphic handwriting. But if a souvenir is being prepared for very close people, then, of course, words written by your hand look more soulful, even if the handwriting is far from the ideals of calligraphy. You can present a postcard in a simple white envelope, which with its asceticism will beautifully set off the exotic design of your creation.
How to make a postcard for the New Year - watch the video:
Christmas cards are a cute way to share the holiday mood with loved ones who are far away. But loved ones will also be pleased to receive handmade New Year cards from you for 2020. A gift from the heart is valuable for the idea and exclusive execution, and for its creator - for the love put into the postcard.