A step-by-step recipe for curd jelly with a berry layer: a list of ingredients and cooking technology. Video recipes.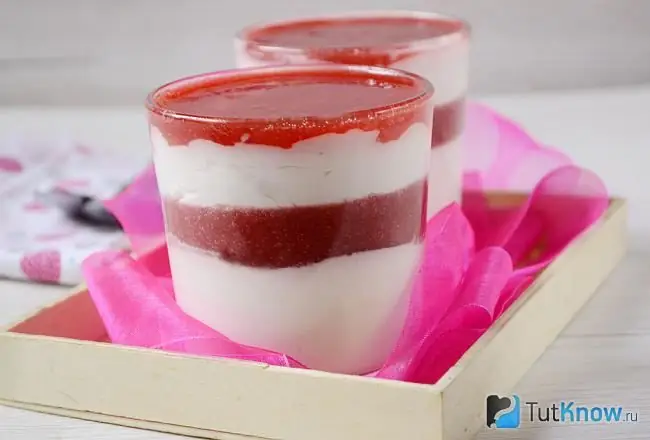 Curd jelly with a berry layer is a light and very tasty dessert that, in addition to its incredible taste, has a high nutritional value. contains many useful products. It is also important that all the ingredients are used fresh and do not undergo heat treatment, therefore they retain the maximum of useful substances.
The recipe for curd jelly with a berry layer is incredibly simple, because the technology does not require special cooking knowledge.
The basis of this dish is cottage cheese. You can take it of any fat content. If you want to prepare a lower-calorie dish, for example, for a person on a diet, then you can purchase a low-fat product and put less sugar. The main thing is that the cottage cheese is fresh and of high quality.
An important ingredient is cream, which allows you to make an airy consistency and make the taste of curd jelly more delicate.
Raspberry jam is a nice addition. This product goes well with cottage cheese, sour cream and cream. You can choose mashed potatoes from other berries or fruits, for example, strawberries, blackberries, currants, bananas.
We invite you to read the recipe for curd jelly with a berry layer with a photo of the step-by-step process.
See also how to make coffee and milk jelly.
Caloric content per 100 g - 107 kcal.
Servings - 5
Cooking time - 30 minutes + 6 hours for complete hardening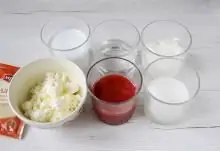 Ingredients:
Cottage cheese - 300 g
Sour cream - 200 g
Gelatin - 15 g
Cream 33% - 200 ml
Raspberry puree - 200 g
Water - 150 ml
Sugar to taste
Step by step preparation of curd jelly with berry layer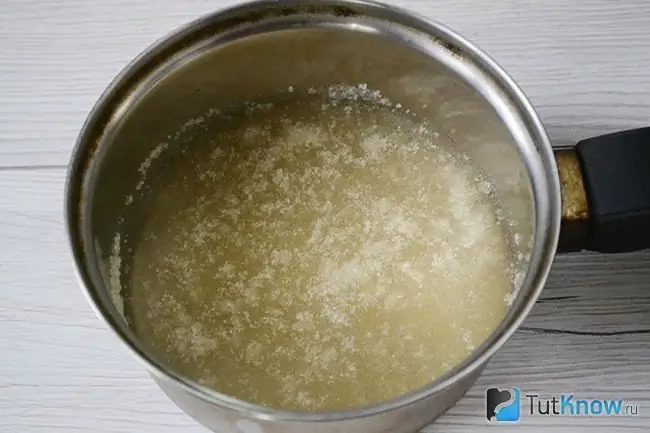 1. Before preparing curd jelly with berry layer, it is necessary to dilute the gelatin. To do this, divide it into 2 portions of 10 and 5 g each and pour it into two deep metal containers. Add 100 ml of water to the first, and 50 ml to the second. It will swell within a few minutes. After that we put on a quiet fire and dissolve until smooth.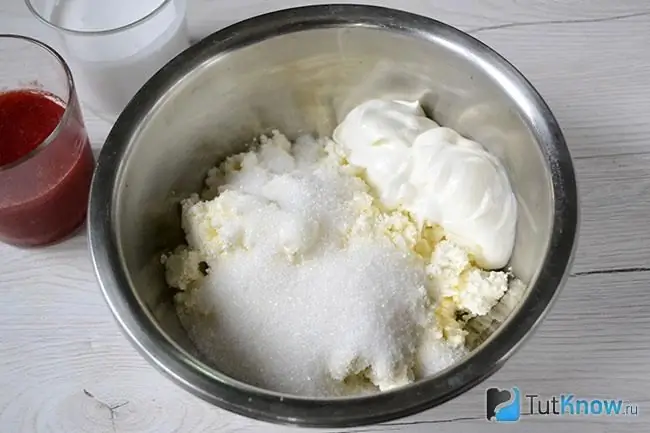 2. Combine cottage cheese, granulated sugar and sour cream in a deep plate. The thicker and fatter the sour cream, the more nutritious and tasty the dessert will be.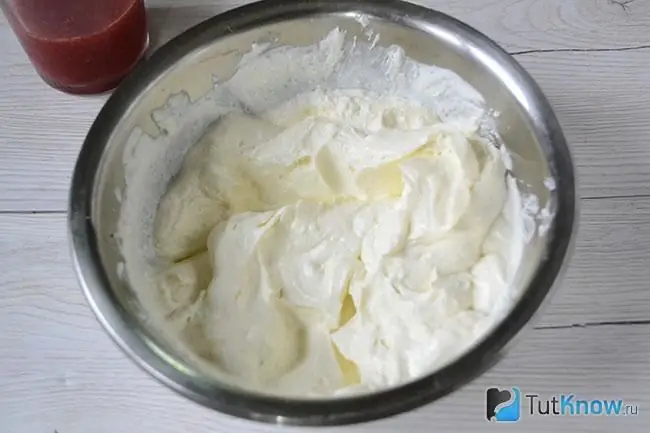 3. For a smooth and fluffy curd mass, it is best to use a hand blender. He will quickly and thoroughly break all the lumps of cottage cheese.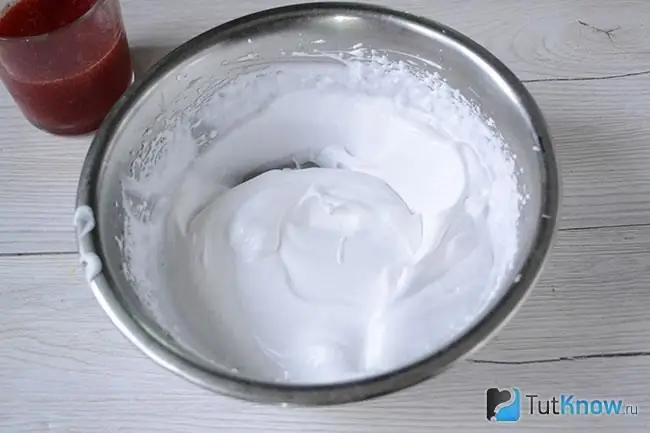 4. Pour the pre-chilled cream into a deep container and beat with a mixer until a stable foam is formed. To speed up the whipping process, the mixer attachments and plate can also be pre-chilled in the freezer. They must be absolutely clean and dry. Begin whipping at low speed, gradually increasing the power.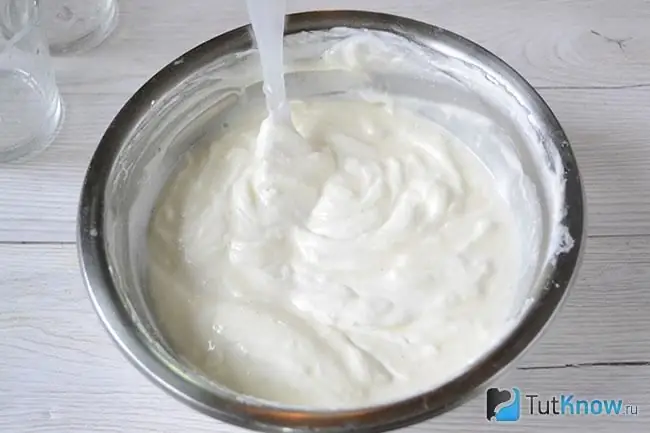 5. After that, carefully add the cream to the curd mass, mix and add the gelatin from the first container.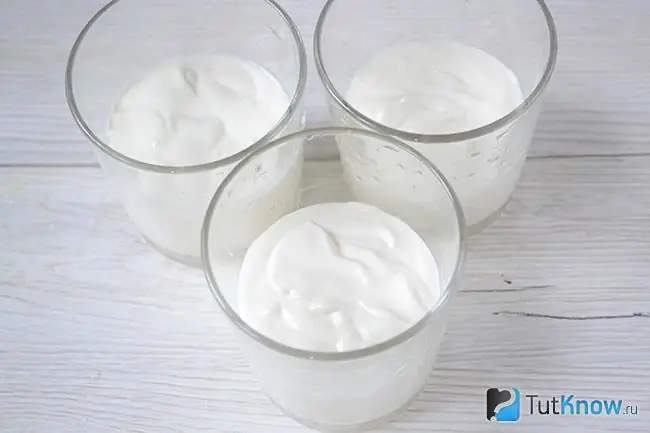 6. We prepare transparent bowls, glasses or bowls. Put 1-2 cm of curd mass on the bottom of each and put it in the refrigerator for 15-20 minutes.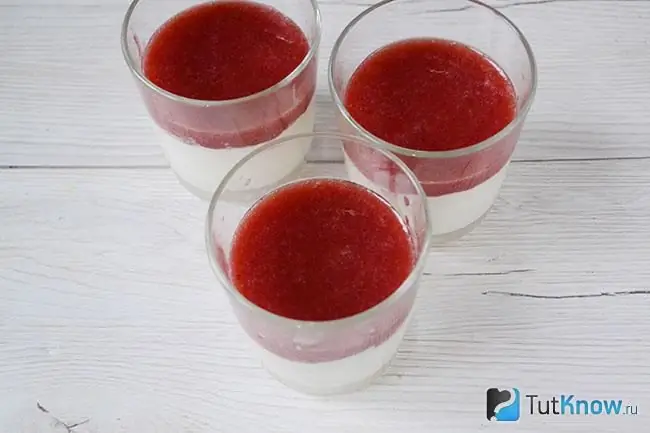 7. At this time, prepare the berry mass. Pour the raspberry puree into the second container with gelatin and bring to homogeneity. Pour in equal parts over the first frozen curd layer and send it back to the refrigerator for 20 minutes.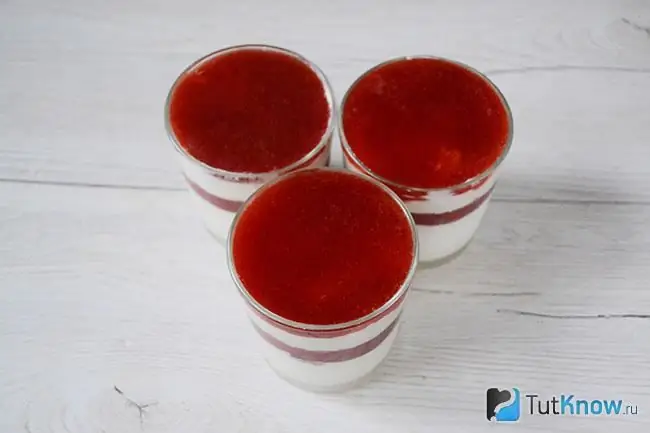 8. Next, lay out the curd mass again, cool it down. And so on until the forms are completely filled or the ingredients are exhausted.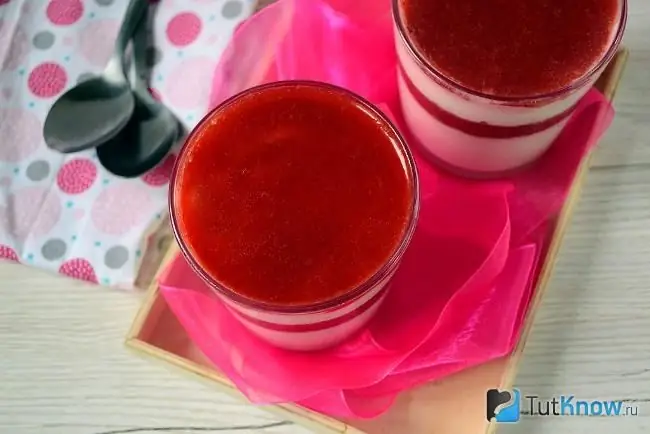 9. We put the resulting blanks in the refrigerator and leave until they solidify. On average, 6 hours is enough, so you need to start preparing such a dessert in advance. The appearance of the jelly is very attractive, but you can always additionally decorate it with a sprig of mint or berries.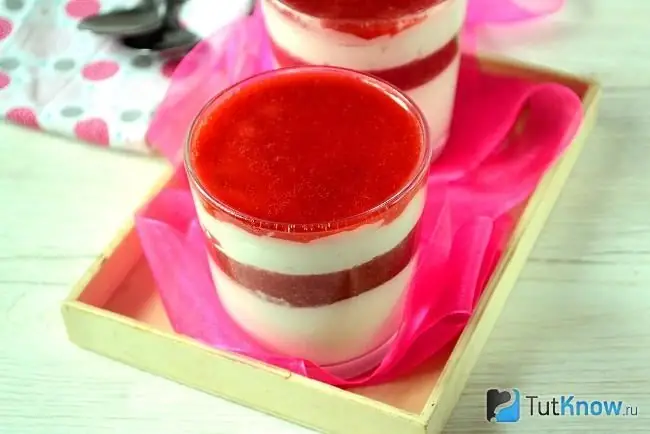 ten. Festive curd jelly with berry layer is ready! Serve it as a light breakfast or holiday dessert.
See also video recipes:
1. Curd dessert without baking
2. Cheese-chocolate jelly