A delicate cheese dessert does not have to be baked, but you can make a curd cheesecake from ready-made cookies without baking. The curd filling freezes wonderfully in the refrigerator. Read more in a step-by-step recipe with a photo. Video recipe.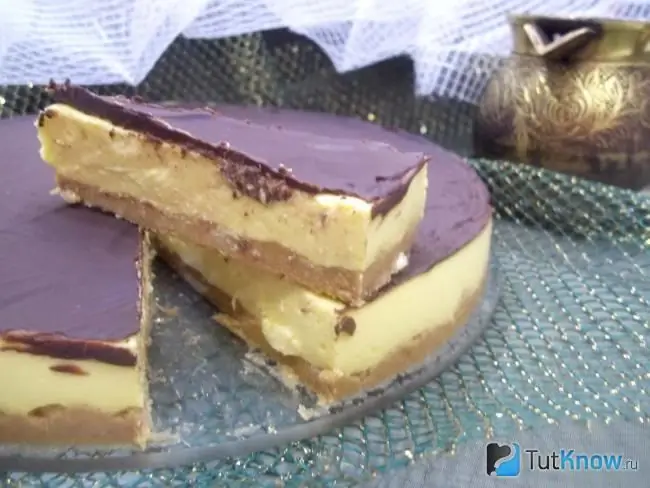 If you do not like to bother with the dough, this is not a reason to give up making homemade desserts. There are simple recipes that don't involve fiddling with a lot of ingredients. Try making an extraordinarily tender and delicious curd cheesecake. Its distinctive feature from the classic recipe is that it is prepared without baking. Its preparation does not take much time and effort, maximum half an hour. This recipe is especially useful for those who don't like to use the oven.
Another advantage of such a delicacy is that the curd dessert turns out to be quite light for the stomach, with a smooth texture and a crispy base. It has an interesting taste, which combines a delicate velvety aftertaste of a white creamy layer and chocolate glaze. It is very pretty and festive, with a smart mix of white and brown. And even those who do not like cottage cheese will like it. By the way, this cheesecake can be prepared not with a chocolate layer, but with a refreshing berry flavor. The curd filling and shortbread base pair perfectly with fresh berries and fruits!
See also how to make a berry cheesecake without baking.
Caloric content per 100 g - 529 kcal.
Servings - 1 cake
Cooking time - 30 minutes, plus time for hardening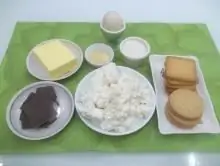 Ingredients:
Shortbread cookies - 200 g
Gelatin - 1 tablespoon
Butter - 150 g in a sand base, 20 g in a chocolate coating
Black chocolate - 100 g
Cottage cheese - 300 g
Sugar - 100 g
Eggs - 2 pcs.
Step by step preparation of curd cheesecake without baking, recipe with photo: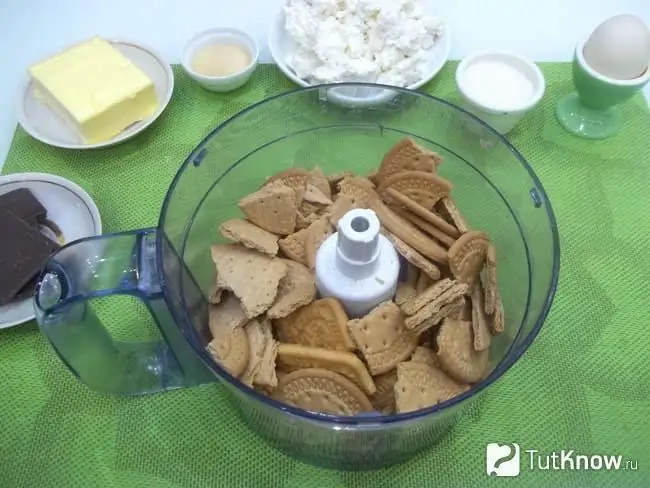 1. First of all, grind the cookies until they are finely crumbled. You can do this with a meat grinder or manually grind the cookies with a rolling pin. I suggest doing this in a food processor with a cutting knife attachment. Therefore, break the cookies in medium pieces and send them to the bowl of the food processor.
Use any shortbread cookie to taste as a base for dessert: sugar, nut, chocolate, etc.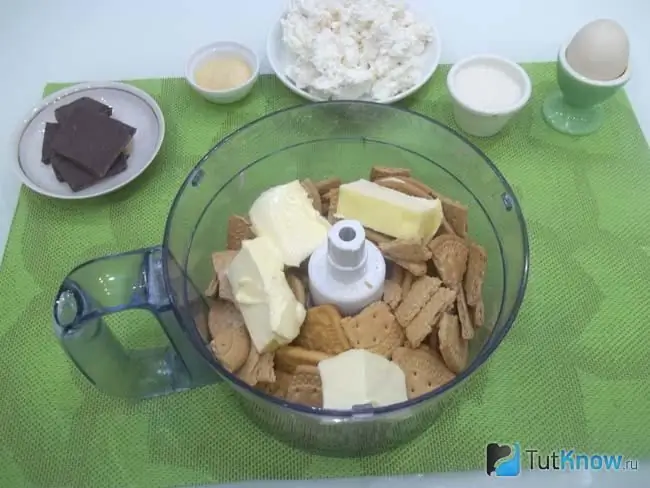 2. Cut the butter at room temperature and send it to the bowl of the food processor to the biscuits.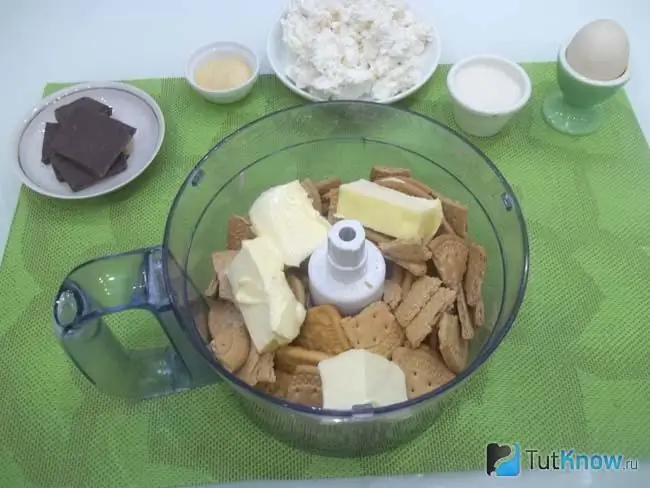 3. Stir the food until a homogeneous viscous mass.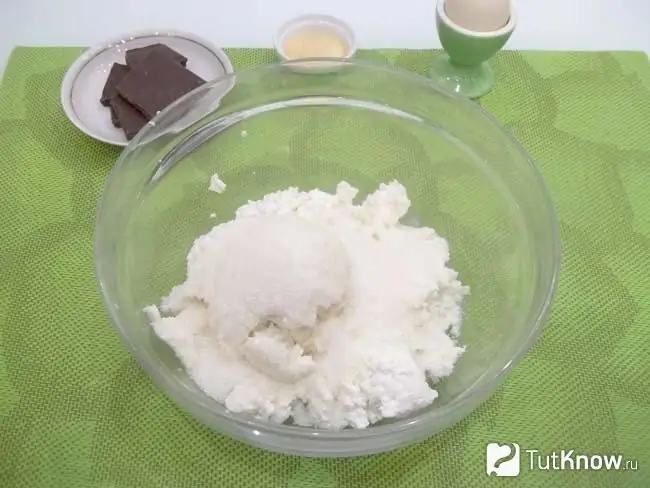 4. Now make a curd layer. Place the cottage cheese and sugar in a bowl.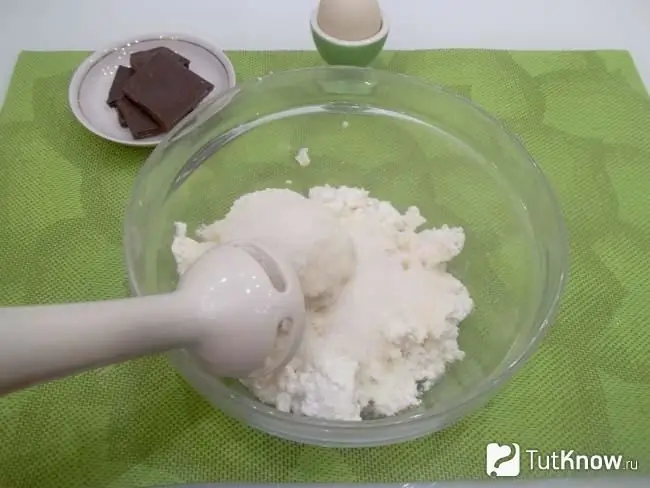 5. Take a blender and whisk the curd.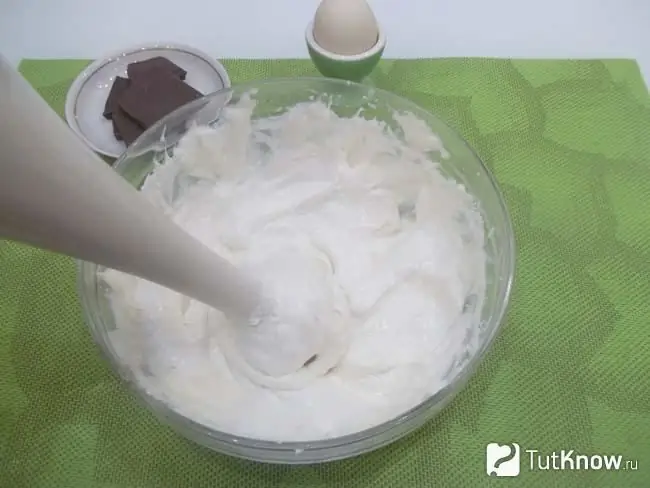 6. You should have a creamy curd mass smooth and homogeneous without grains and lumps.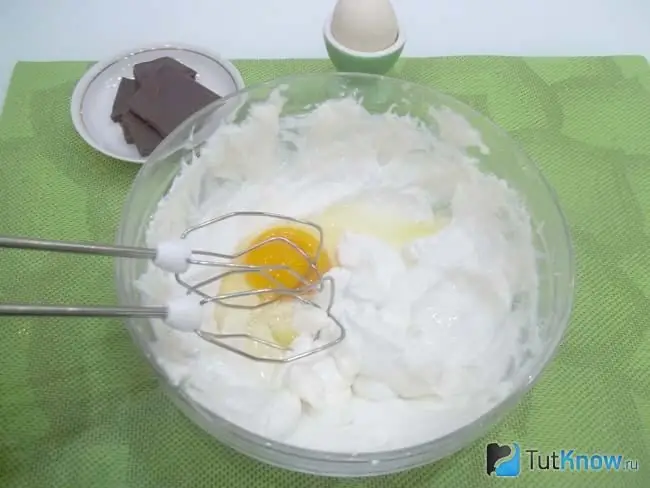 7. Add one egg to the curd dough and beat with a mixer. It will be enriched with oxygen, it will become airy and tender.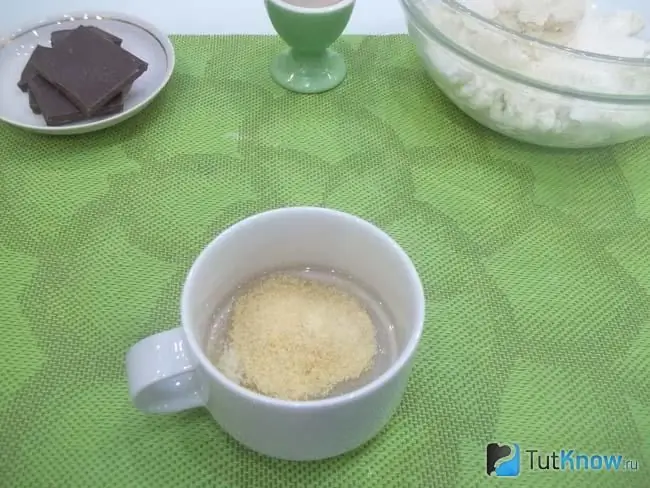 8. Since we are preparing the cheesecake without baking, the curd mass must be stabilized in order to obtain a jelly-like delicate texture. In this recipe, we will achieve such a consistency with the help of gelatin. To do this, place the gelatin powder in a deep container and pour in 50 ml of hot water. Stir and let the crystals swell until completely dissolved. Read the detailed instructions for brewing gelatin on the manufacturer's packaging.
Note that the exact amount of gelatin can be selected empirically. Therefore, it may differ from the indicated amount. This factor depends on the brand and the characteristics of the product. Also, depending on the amount of gelatin, the curd layer will be denser or softer.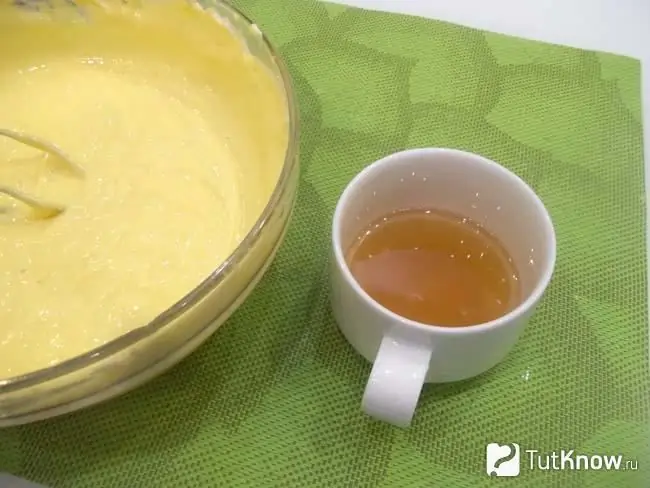 9. Pour the swollen gelatin into the curd filling.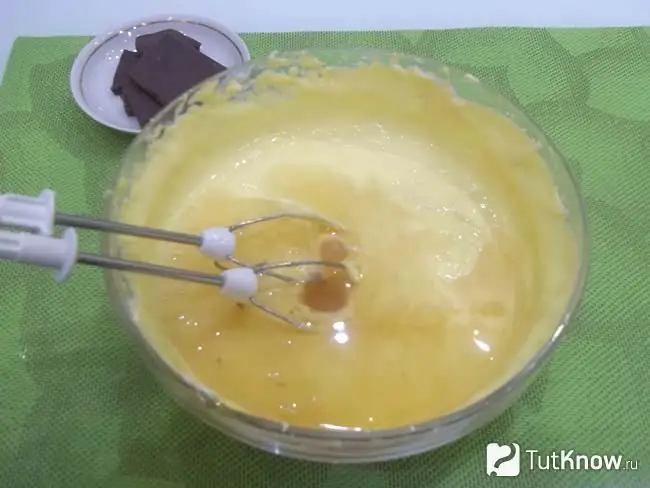 10. Mix the curd filling with a mixer.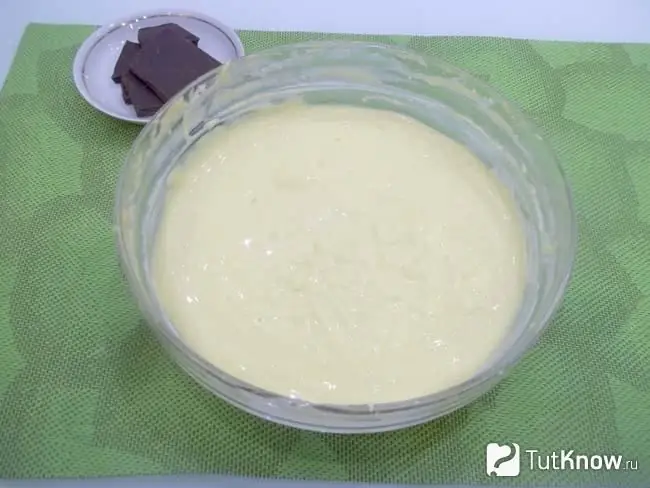 11. Gelatin should be evenly distributed throughout the curd mass.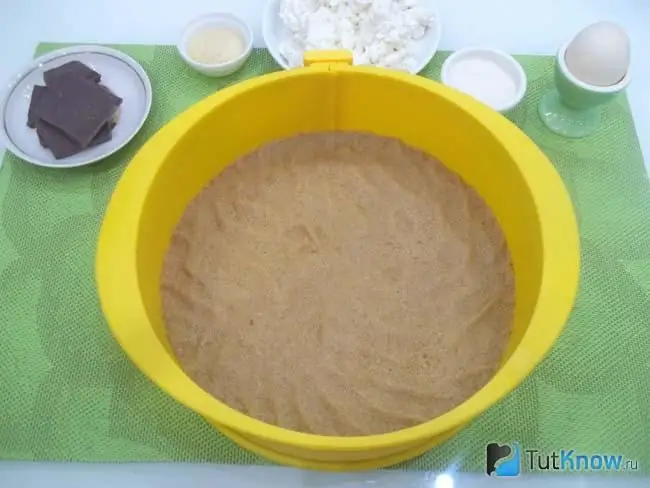 12. Lay the sand base in an even layer in a mold with removable sides and keep it in the refrigerator for 15-20 minutes.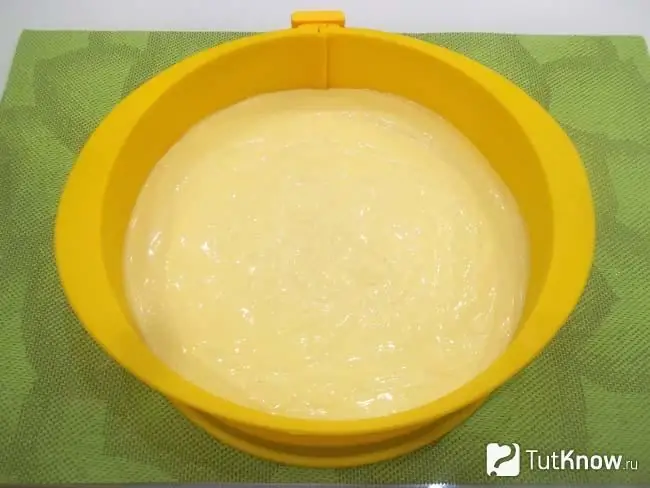 13. Pour the curd filling into the mold on top of the shortbread base and send the dessert to the refrigerator to freeze for 1-2 hours.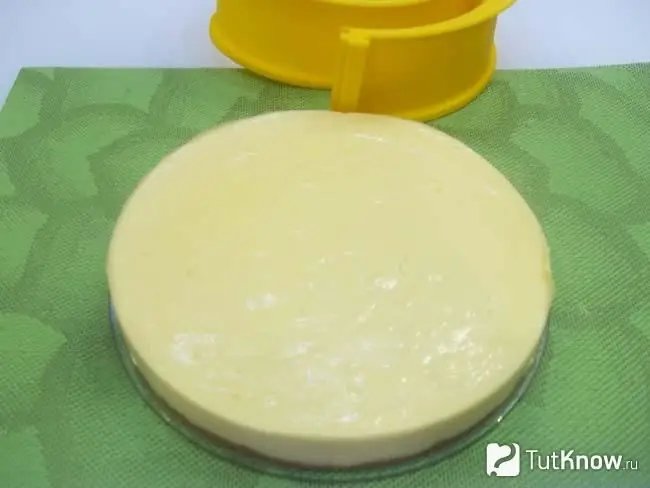 14. When the curd filling hardens, remove the sides from the mold.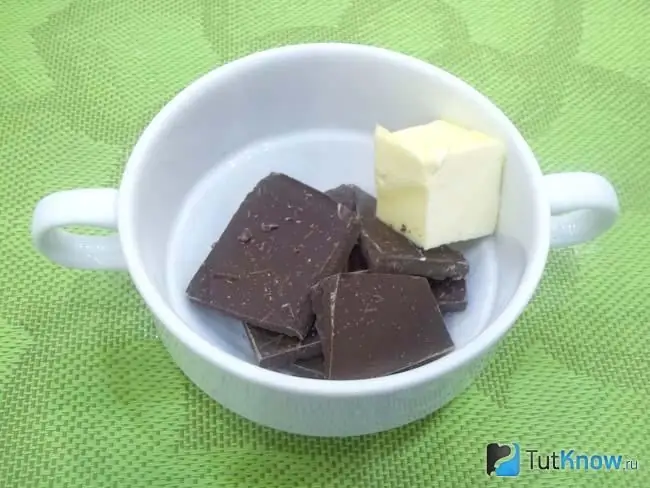 15. In a deep bowl, combine the broken pieces of chocolate with butter.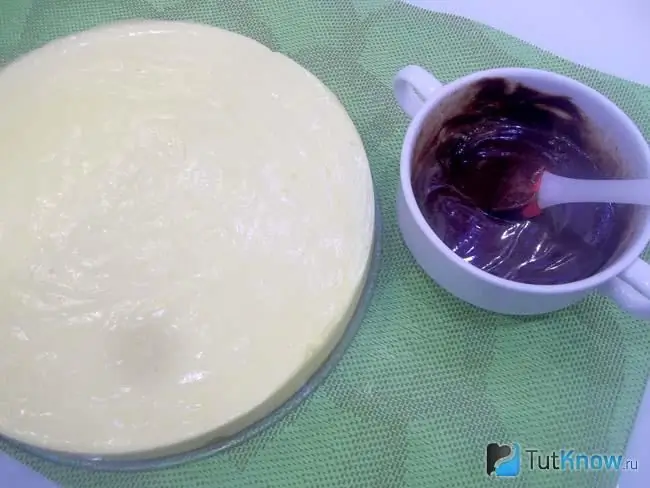 16. In a water bath or microwave oven, melt the chocolate frosting to a soft consistency, but do not bring to a boil.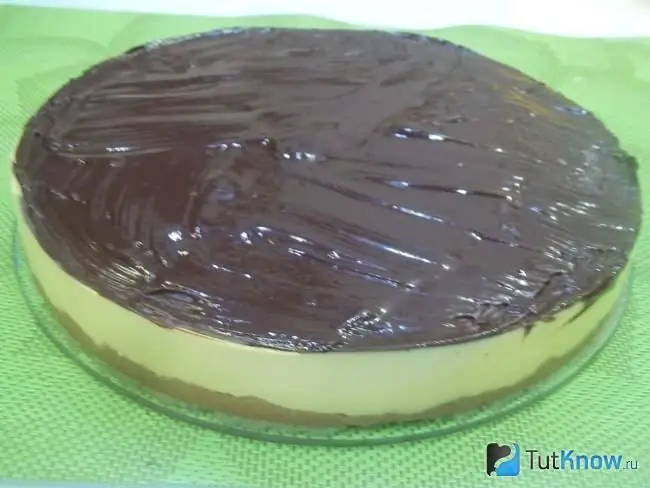 17. Put the chocolate icing on the no-bake curd cheesecake and refrigerate for another half hour. When the chocolate layer has hardened, the cake can be served.
See also a video recipe on how to make a cheesecake without baking with strawberries.