In summer, you don't want to overload the stomach with heavy food. I want something light, at the same time satisfying. An excellent choice would be a salad of cabbage and peas. It cooks quickly, it turns out juicy, it sates great.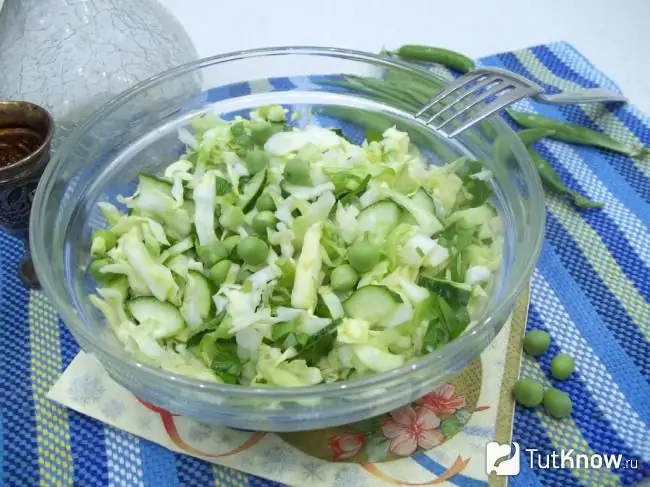 Recipe content:
Ingredients
Step by step cooking
Video recipe
Young green peas go well with many foods. It is combined with meat, poultry, seafood, nuts, vegetables and many other foods. In this recipe, we will cook it with cabbage. These products combine wonderfully and complement each other. In addition to these components, the salad will be complemented with cucumbers and herbs. In addition to these products, you can also add a tomato, sweet pepper, green onion, etc. However, all the products that you like are appropriate here. And for the most daring experiments, I can recommend adding strawberries. Not at first glance, it seems that these are not compatible products, but in fact, in one dish they harmonize and complement each other very well.
I used regular vegetable oil as a salad dressing. But you can season it with olive or more complex sauces. Lemon juice, mayonnaise, sour cream, various sauces, etc. are perfect here. Such a salad is suitable for light snacks, for those who are losing weight and want to lose extra pounds, and you can just arrange a fasting day for yourself and cook such an amazing dish for dinner.
Caloric content per 100 g - 66 kcal.
Servings - 2
Cooking time - 15 minutes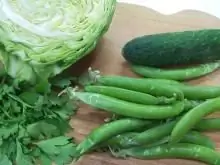 Ingredients:
White cabbage - 1/4 head of cabbage
Cucumbers - 1 pc.
Green peas - 200 g
Cilantro - a few twigs
Salt - pinch or to taste
Refined vegetable oil - for refueling
Step by step cooking of cabbage and pea salad: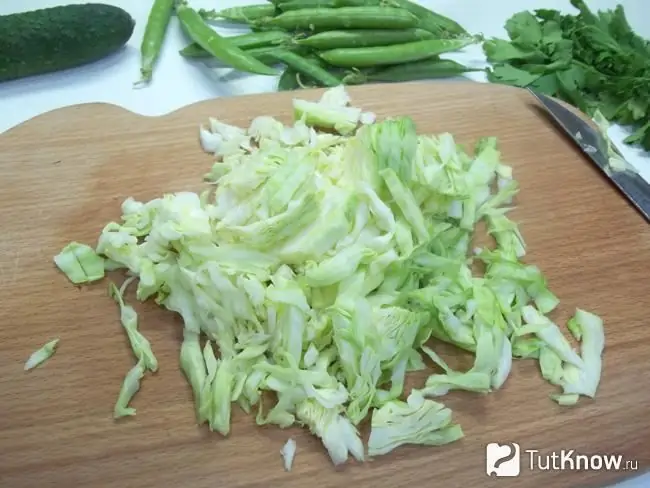 1. Wash the cabbage and pat dry with a paper towel. Look at the head of cabbage, if there are fallen leaves, then remove them. Then finely chop the cabbage into thin strips, sprinkle with salt and squeeze well with your hands. Repeat this cycle several times until you feel wet hands. This means that the cabbage has started up the juice and the salad will be juicy.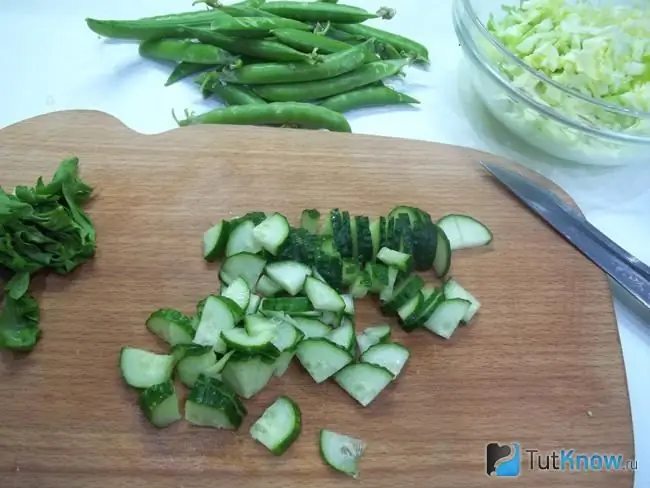 2. Wash cucumbers, dry, cut off the ends from both ends and cut into thin half rings of 3 mm.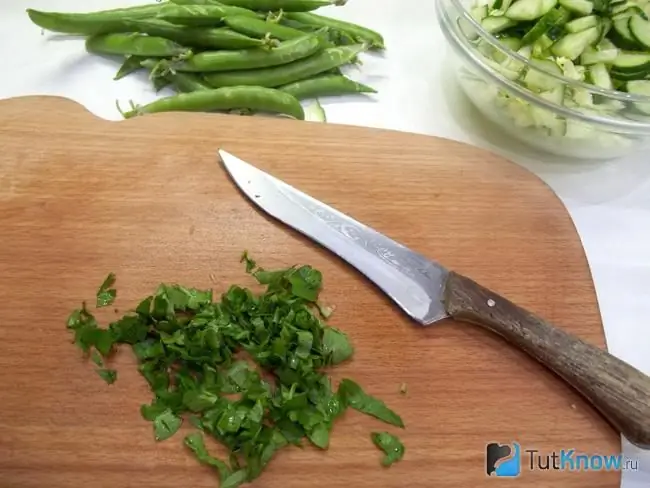 3. Wash greens and chop finely.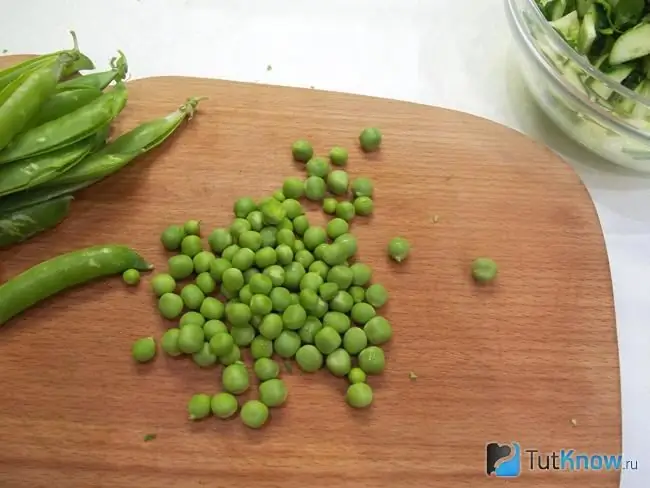 4. Wash the green peas and open the pod. Gently peel off the green polka dots. Place all food in a deep bowl, season with vegetable or olive oil and stir. If you wish, you can season the salad with a complex multicomponent sauce. You need to eat the salad right after cooking, because it is not customary to store and prepare it for future use. The cabbage will juice and make the salad too watery.
See also the video recipe on how to make fresh cabbage salad with green peas.