How to make a barbecue sauce at home? TOP 4 recipes with cooking photos. Culinary tips and secrets. Video recipes.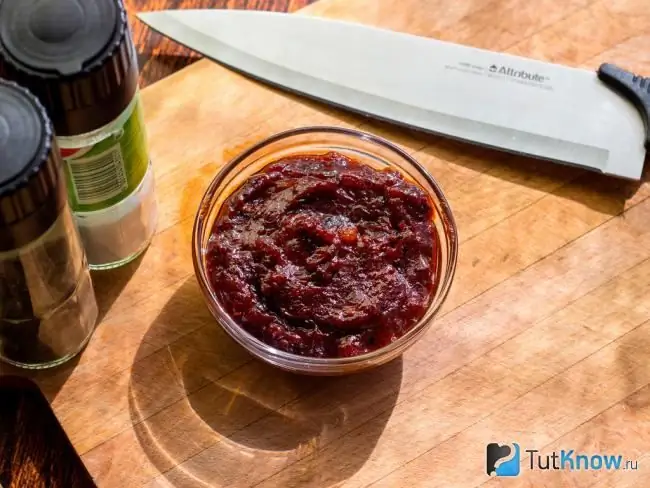 BBQ sauce is the most popular sauce in the world. It is at the same time moderately spicy, sour and with a pronounced taste. The sauce will add a peculiar zest and piquancy to any dish. It goes especially well with meat cooked over a fire, grilled sausages or Munich sausages. Also, do not miss out on grilled vegetables, to which barbecue can also be applied. In this material, we will learn the TOP 4 recipes for barbecue sauce, as well as the secrets and tips for making it.
Tips and subtleties of chefs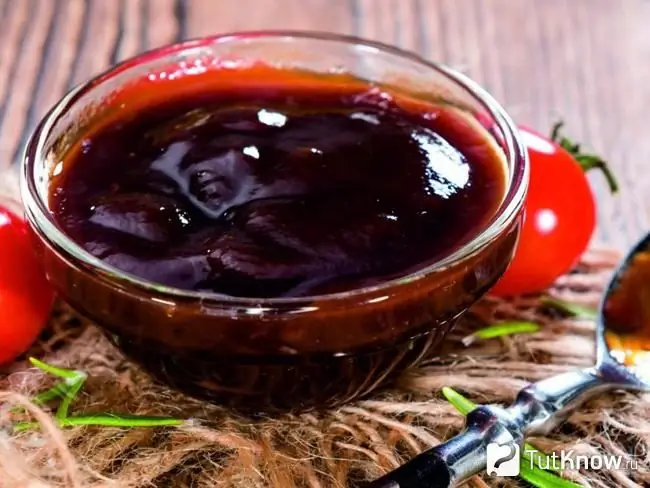 BBQ sauce can be made with fresh tomatoes, which can be taken with or without the peel. To remove the skin from the fruit, make a cross-shaped incision in the center, dip it in boiling water for a few seconds and the skin will be easily removed. For the recipe, it is better to choose ripe or even overripe tomatoes, then the taste of the sauce will be more intense.
Instead of fresh tomatoes, you can completely use tomato sauce or pasta, or canned tomatoes in their own juice, peeled or with it.
To make the sauce more uniform and with a pleasant consistency, peel the tomatoes from the skin with seeds and grind the pulp through a fine sieve or beat in a blender.
The best-selling barbecue sauces today are the "heavy" tomato barbecue sauce made with sugar.
There are two ways to prepare the sauce: hot and cold. The hot sauce can be stored in the refrigerator for up to 2-3 months, cold - 2-3 weeks. The latter gives a fresher and juicier taste.
The classic barbecue sauce is very spicy. To reduce the severity, reduce the amount of chili, Worcestershire sauce, or cayenne pepper.
You can use balsamic vinegar, wine vinegar, or apple cider vinegar. They are also successfully replaced with dry white wine.
The sauce can be prepared in large quantities and poured into sterilized cans, which are pasteurized in a steam bath and rolled up with tin lids. Such a blank is perfectly stored and will only become tastier over time.
BBQ sauce with honey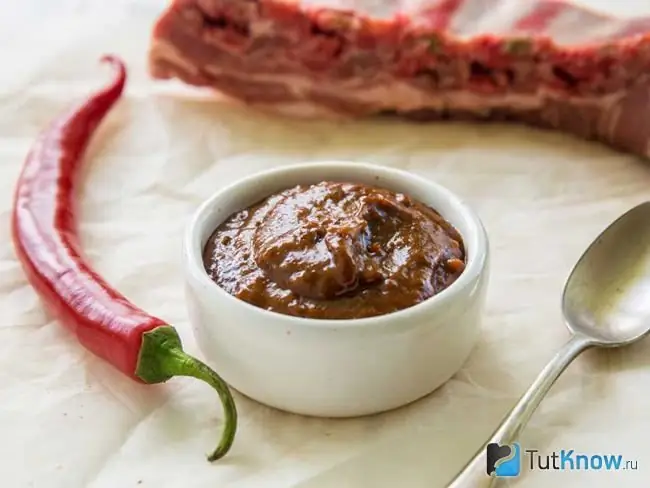 Bright, spicy, sweet and sour barbecue sauce with honey for meat or poultry. Apply it with a brush to almost finished meat ribs or chicken, grilled or in the oven. And the sauce will turn into a wonderful and tasty icing.
Caloric content per 100 g - 137 kcal.
Servings - 300-400 ml
Cooking time - 45 minutes
Ingredients:
Tomato paste - 100 g
Zira - 1 tsp
Garlic - 4 cloves
Water - 300 ml
Vegetable oil - 50 ml
Hot red pepper - to taste
Shallots - 2 pcs.
Wine vinegar - 2 tablespoons
Worcester sauce or mustard - 1 tsp
Honey - 4 tablespoons
Sweet paprika - 1 tablespoon
Soy sauce - 2 tablespoons
Coriander (seeds, ground) - 2 tsp
Making BBQ Sauce with Honey:
Peel the shallots and peeled garlic cloves and chop finely with a knife.
Combine all the sauce ingredients in a saucepan and place on the stove.
Bring food to a boil, reduce heat to low and cook, stirring occasionally, for half an hour to allow the sauce to boil down and thicken.
Cool the finished barbecue sauce with honey, pour into containers and store in the refrigerator.
Tomato Sauce BBQ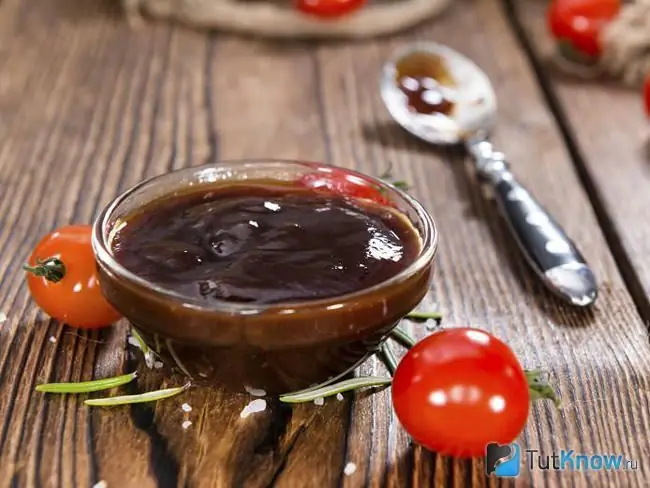 One of the easiest barbecue sauce recipes is to use ready-made tomato sauce for the base. This sauce can be used to grease large and feathered game roasting on coals or in the oven. You can also serve them with him.
Ingredients:
Ready tomato sauce - 400 g
Tomato paste - 3 tablespoons
Onion - 1 pc.
Garlic - 3-4 cloves
Worcester sauce - 1 tablespoon
Apple cider vinegar - 3 tablespoons
Extra virgin olive oil - 2 tablespoons
Dark brown sugar - 1 tablespoon
Mustard powder - 1 tsp
Cayenne pepper - to taste
Salt to taste
Boiling water - 100 ml
BBQ Tomato Sauce:
Peel and finely chop the onions and garlic.
Heat the olive oil in a heavy-bottomed skillet, add the onion and fry for 5 minutes over medium heat until soft. Then add the garlic to the pan and fry for another 2 minutes.
Then add the tomato sauce and bring to a boil.
Pour boiling water over sugar with mustard powder and stir until completely dissolved.
Add tomato paste with vinegar, stir and pour the resulting mixture into the tomato sauce.
Season with Worcestershire sauce, salt, black pepper and cayenne pepper and cook, stirring occasionally, for 10 minutes.
Remove prepared BBQ sauce made with tomato sauce from heat and cool completely before serving.
Gordon Ramsay's Homemade BBQ Sauce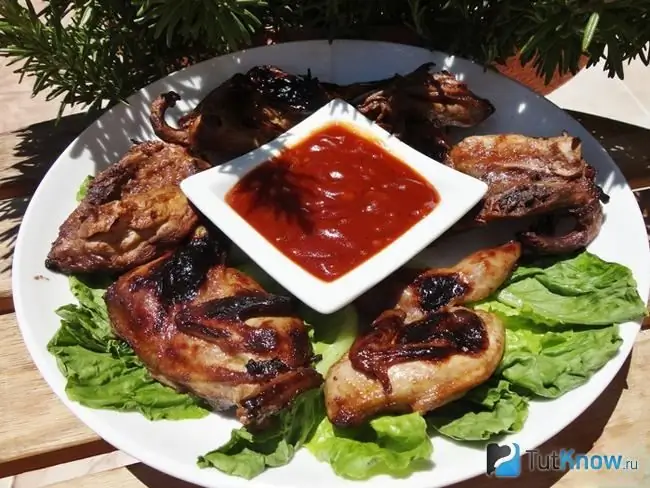 Gordon Ramsay's BBQ Sauce is versatile. It will save slightly burnt meat, make a boring dish special and add brightness to a properly cooked dish. The secret of the perfect sauce lies in quality products, properly prepared base and harmoniously balanced composition of components.
Ingredients:
Vegetable oil - 1 tablespoon
Onion - 1 pc.
Garlic - 1 clove
Sugar - 1 tablespoon
Smoked paprika - 1 tsp
Apple cider vinegar - 1-2 tablespoons
Worcester sauce - 1 tablespoon
Ketchup - 2-4 tablespoons
Tabasco to taste
Salt to taste
Ground black pepper - to taste
Gordon Ramsay's Homemade BBQ Sauce:
Pour vegetable oil into the pan and heat well.
Peel, wash, dry and finely chop the onion and garlic. Send to a skillet and fry over medium heat for about 5-7 minutes until golden brown.
Add sugar to the pan, stir and wait until it has comelized.
Season food with paprika, pour in apple cider vinegar, add Worcestershire sauce, ketchup and salt to taste.
Bring food to a boil, reduce heat to low, and cook homemade barbecue sauce for another 5 minutes until thickened.
BBQ tomato sauce with prunes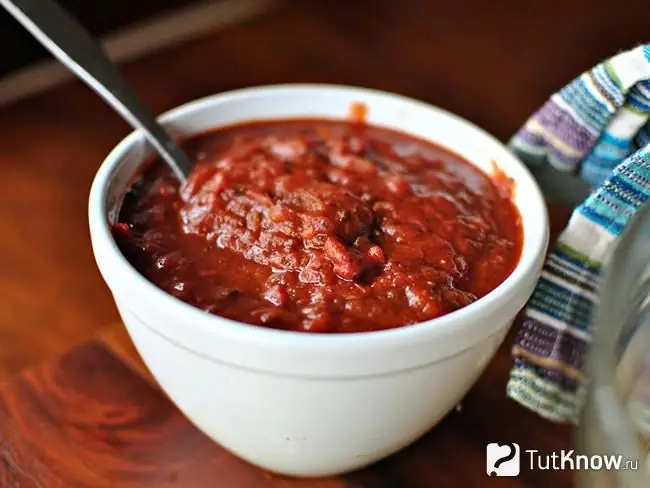 Perfect homemade barbecue sauce with prunes and hot chili peppers, made from ripe tomatoes. It is a good addition to a meat dish or kebab.
Ingredients:
Ripe tomatoes - 300 g
Pitted prunes - 50 g
Sugar - 1 tablespoon
Chili pepper - 10 g
Garlic - 3 cloves
Salt to taste
Making tomato and prune BBQ sauce:
Wash the tomatoes, cut into small pieces and put in a saucepan.
Peel the garlic and pass through a press. Wash the prunes and chop finely. Send the food to the tomato pan.
Add sugar, chili pepper to the products and put everything on medium heat.
Bring everything to a boil, season with salt to taste, and reduce heat to low.
Cook the tomato-prune barbecue sauce over medium heat for 10 minutes, stirring constantly to prevent it from burning.
Cool the prepared sauce and serve with grilled meat or kebabs.
Video recipes for making barbecue sauce