What sundresses to wear in the summer: TOP-13. Stylish models and styles for an urban and resort look that will make your figure more feminine. Rules for choosing a summer sundress.
A sundress is the most comfortable sleeveless summer dress that will help you create a light, feminine look. At the same time, it is comfortable even in the most intense heat. Knowing about the love of ladies for sundresses, couturiers are experimenting with outfits, offering a variety of interesting variations. It's great that you can choose the most successful style for yourself by reviewing 13 models that are on the crest of popularity. In this case, there will be a few simple but effective tips for choosing to help.
Crochet lace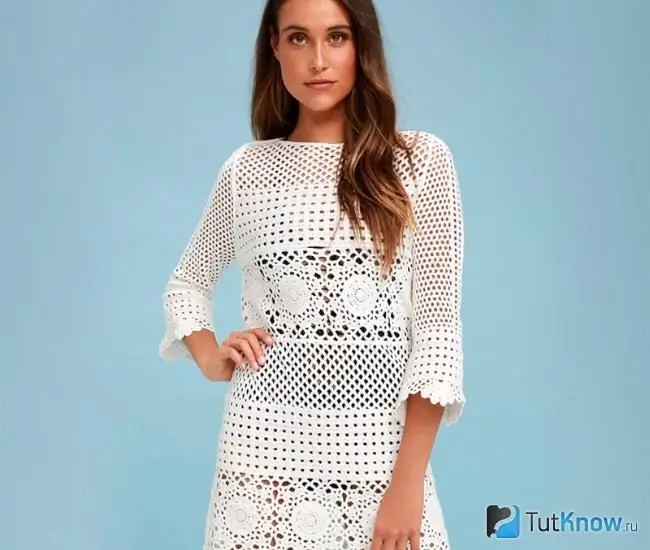 By the way, initially summer sundresses were associated exclusively with chubby peasant women. They wore peculiar, loose, sleeveless dresses over their shirts. Moreover, this clothing was typical for many peoples, including Poland and Northern Europe.
It is curious that the sewing of a very elegant and very heavy oblique sundress, consisting of numerous elements, was typical for Russia. Although a simple calico analogue was also widespread in everyday life, in which there were only small folds on the sides and on the back.
A real reversal in trends took place only by the end of the 19th and the beginning of the 20th century. And since the invention of the crochet technique, it became possible to buy a sundress made with such a fancy method. The bottom line is to create a lace fabric with an airy texture. For technique, a thin hook is needed, which they learned to master skillfully also around the middle of the 19th century. More precisely, "crochet" was first described in detail in 1823 in the Dutch magazine "Penelope".
Today, such openwork women's sundresses are experiencing a rebirth. And this cannot but rejoice, if only because they come in handy precisely in the hot summer. After all, when it's hot outside, the body breathes in an airy outfit. At the same time, it looks very seductive. Of course, provided that the sundress is suitable for the characteristics of the physique.
When choosing a model, it is worth considering which sundresses are especially popular in 2021:
In the trend, things are monochromatic in light shades.
Fringe, tassels are welcome as a decor, but there should be a minimum of jewelry so that the image remains elegant and harmonious.
Couturiers offer more democratic models for the beach and friendly meetings, and separately produce sophisticated counterparts that can even be worn at a gala event.
Women's summer sundress, created using the crochet technique, requires special attention when choosing shoes. Naturally, it is selected taking into account the peculiarities of the dress: it is one thing if you need to find a pair for a solemn model, and quite another for a beach outfit. In general, such things go well with gladiator sandals. A worthy ensemble will be formed if you buy shoes made from natural materials with the same natural decor - shells, pebbles.
As for the physique, it is logical that the thinnest openwork sundresses for women look especially organically on graceful figures. But also lush ladies can afford such a spectacular outfit. As an option, they buy a model from any fabric that hides extra pounds, and laces serve only as an addition - for example, they are present in the form of inserts. Or you can even buy a one-piece lace sundress, but taking care that the style successfully plays up the features of the physique.
Floral print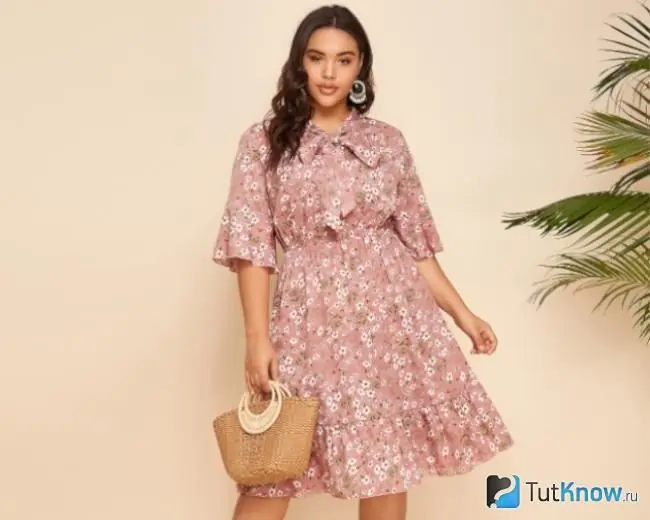 It is curious that initially in Russia, ladies wore sleeveless dresses that were painted in only one shade. Moreover, by its color one could immediately understand the age of a woman, since a burgundy or red sundress was supposed to be for a young girl, and dark blue and even black things were sewn for the elderly. And only at the beginning of the 19th century, multi-colored counterparts appeared on sale.
Modern women of fashion can enjoy the variety of styles and colors. Surely many are glad that summer sundresses for women with floral prints are in fashion. Floristic motives are extremely relevant for the hot sunny season.
Moreover, you can buy a variety of versions:
Sundresses, painted with flowers, can be of any length - from mini to maxi.
It is not necessary to buy a thing completely covered with floral ligature: the trend is for products made of plain fabric, where only inserts with buds or other plant motifs are made.
There are fashionable summer sundresses on sale, where only individual small flowers are scattered over the fabric, but you can find a model that resembles a colorful meadow.
Such products are very democratic. They are worn on the beach, for a walk around the city, even on a date. A pair of sundresses will be made up of different shoes - from open sandals and sandals to sneakers and sneakers. To emphasize the femininity of the image, you can and should wear a wicker straw hat and a handbag to match it.
Strip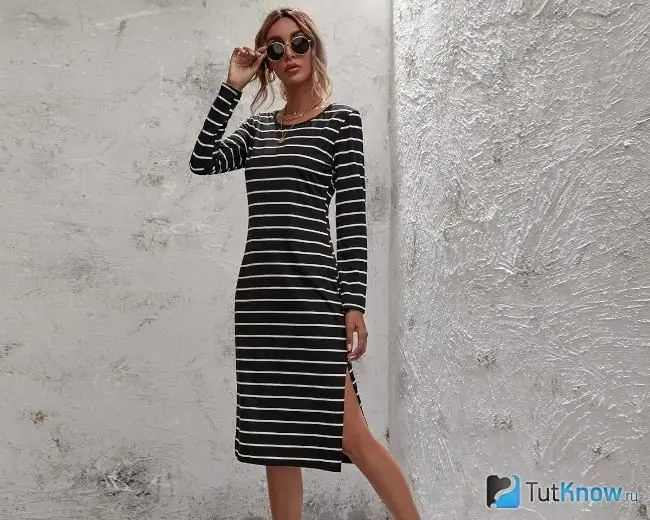 This print almost never loses its popularity. It can be called the most successful if you need to correct the shape. But he can also be incredibly insidious. After all, it is enough to make a little mistake when choosing a striped sundress in order to distort the proportions, not for the better.
Today, things with a wide variety of stripes are in trend. They are located horizontally, vertically, diagonally. Versions lined in different directions look especially interesting. The neighborhood of wide and narrow asymmetric stripes is curious.
In order to successfully choose a sundress for the summer, it is worth remembering the simplest rule: vertical lines stretch the figure visually, and horizontal lines add volume. Accordingly, vertical stripes are welcome for curvaceous shapes, although a diagonal is also acceptable. Horizontal lines will help out in those places where you want to throw in a few extra centimeters. For example, such stripes will draw attention to the chest, making it visually a little more voluminous.
As for color combinations, shades such as white with red, blue or green are most welcomed in the outfit. Alternatively, in clothes, you can collect from four to five colors at once.
The strip itself is very textured and expressive. Therefore, it is extremely important to adhere to a sense of proportion, thinking over what to wear a sundress with. It is better to give preference to solid color accessories. Do not overload the image with unnecessary jewelry. If possible, they are limited only to earrings, and then not overly massive. Let's say a thin and light bracelet on the wrist, one, maximum - a couple of rings.
Ethnic print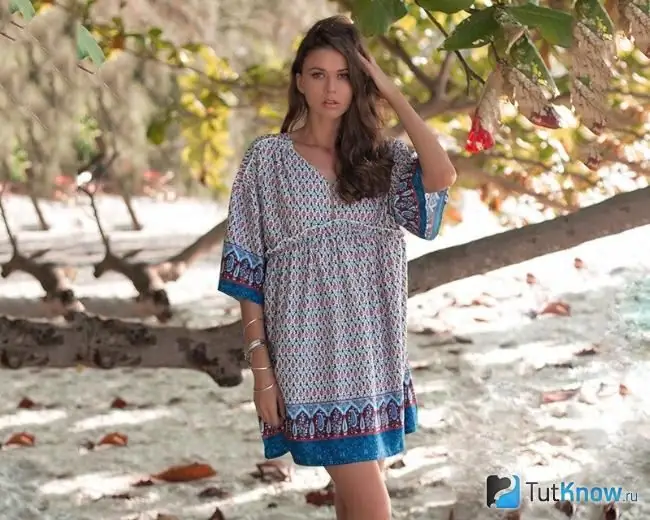 Such motives are in great demand among fashionistas. And modern designers indulge ladies with pleasure. They create models of sundresses, generously painting fabrics with various patterns in ethnic style, choosing solutions that are just right in the hot summer season. For example, prints remind of sultry Africa or colorful India. Clothes with an oriental spirit will also be very relevant in the summer.
The most fashionable ethnic line has its own unique features:
The neighborhood with animalistic and floral patterns looks very interesting.
Fashionable sundresses in ethnic spirit are made in extremely bright saturated colors.
The addition of peculiar ethnic patterns with geometry is still relevant.
The most in demand are flowing free styles.
Wicker elements organically complement the originality of ethnicity.
Such sundresses are sewn in different lengths. If you don't want to look too bright and catchy, you can look at a model where ethnic prints are presented as separate inserts.
Ruffles and ruffles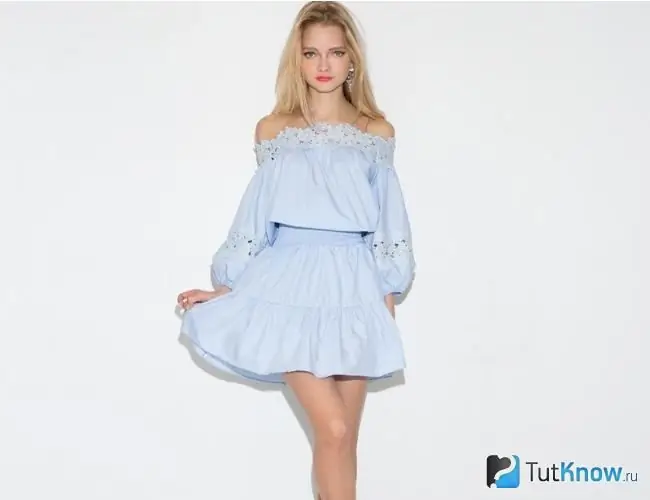 Fashion houses decided to remember the times when romanticism and femininity flourished. That is why in many collections there are interesting styles of sundresses, which are generously decorated with frills and ruffles.
Such decorative elements immediately declare playfulness, tenderness and lightness. In addition, with their waves, they evoke a beach mood, because they remind of the sea and sand dunes. Such models are relevant on vacation. In a well-chosen sundress, you can go on a date or to a party.
Summer sundresses 2021 are decorated with frills and ruffles in a variety of ways:
Dresses that actually consist of several tiers of flounces look very nice and easy. True, only the most slender and graceful girls wear them. In the presence of extra pounds, waves will only focus on completeness.
If you want to correct the figure, you can and should find an appropriate sundress with flounces, which will help to successfully place accents. For example, waves fall beautifully along the cutout on the chest, giving the bust an expressiveness and additional volume. Or you can go for a ruffle at the waist to accentuate the curves.
Asymmetric sundresses with ruffles and ruffles are in trend. This is also one of the win-win solutions that helps to play up the features of the physique. For example, you can leave one shoulder open. The bottom of the dress is made asymmetrical: the legs are opened in front or the hem is cut obliquely.
Lingerie style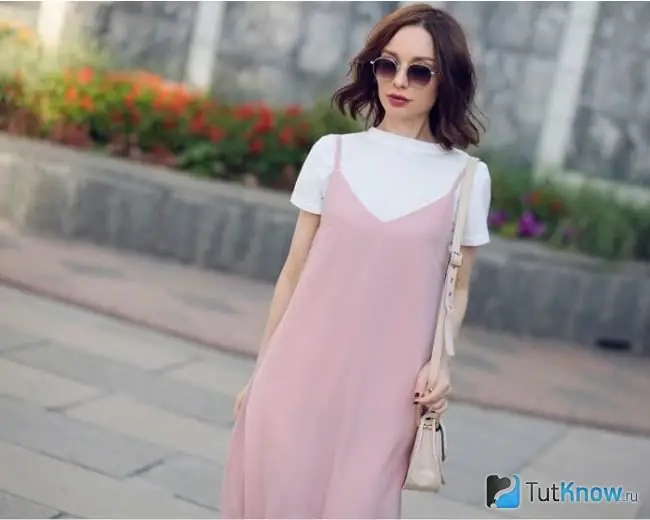 In the 90s of the twentieth century, the so-called linen style came to the fore. Based on the name, it is easy to guess that we are talking about clothes that are similar to underwear. Femininity is read in such outfits. Including, the piquancy is clearly expressed. And now open sundresses, similar to nighties or a combination, are experiencing a new surge in popularity.
The following accents speak about belonging to the lingerie style:
The products are distinguished by a flowing silhouette.
Models are sewn from fabrics of pastel colors.
The style is characterized by trimming with lace or curly perforation.
Also, underwear style includes models with an asymmetric cut.
By the way, such a sundress with straps, which emphasize the fragility of the shoulders, will be relevant not only on the beach. A product made of delicate silk, which flows, wrapping around a thin girlish figure, will look great at a festive event. You can and should emphasize your own femininity when going on a date, if you are not afraid to give your image a touch of piquancy.
Fashionable sundresses for the summer are bought paired with different types of shoes. In many ways, her choice is due to where the girl is going. If this is an ordinary walk or a friendly meeting, you can safely put on any comfortable option with low soles - sandals or sandals, even flip flops. For a festive or romantic event, it is better to look for exquisite shoes, with high heels, which will emphasize harmony.
Peas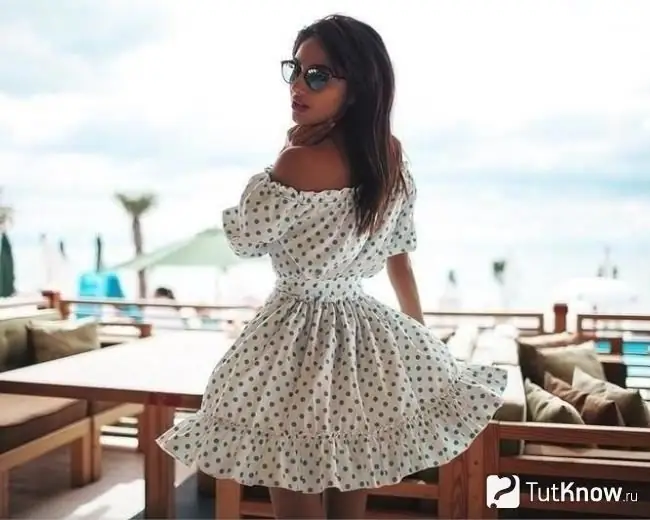 Another fashion trend is the revival of the former popularity of peas. He returned to the catwalks, and in a different format. We can say that literally any sundresses for the summer are recognized as fashionable, if only peas are scattered over the fabric. It can be of different sizes. It is possible to use any color scheme and various combinations of shades.
The following colors are recognized as the most relevant:
White;
black;
Brown;
Red;
pink;
purple;
bright yellow.
The pea print allows for play with accessories. The image will look interesting if you find a handbag also in polka dots, but in a contrasting design. Another fashionable solution is to sketch out a scarf decorated with the same pattern. Or you can get by with plain accessories.
Patchwork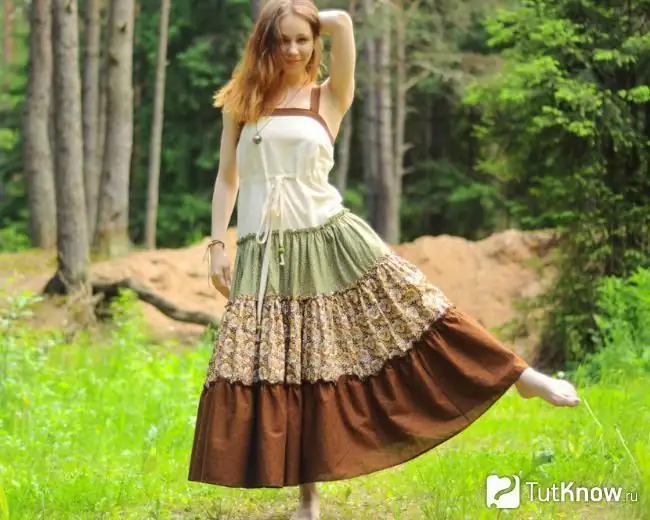 The patchwork sewing technique is one of the solutions that has become a kind of classic for a long time. Clothes in the spirit of patchwork almost never lose their relevance, because they look extraordinary and unbeatable. It is the sundresses for the summer of 2021 that many fashion designers offer to sew from patches of different colors, sizes and formats.
Such things are reminiscent of childhood, because surely almost everyone in their youth had the famous patchwork quilt. In addition, by successfully choosing a combination of patches, you can give the product an ethnic character, which will make a summer dress for women even more fashionable and stylish.
The main rule for choosing such a model is that the cut emphasize the dignity of the figure and hide the flaws. For example, if a girl tends to be overweight, it is important to avoid cross stripes and simply horizontal seams.
Denim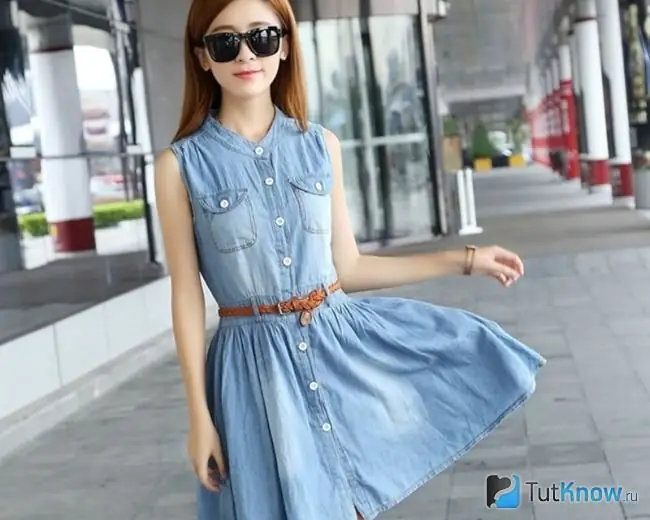 A denim sundress is another solution that remains fashionable. It cannot be said that interest in him was especially fading. First of all, it is appreciated for its versatility. Such a thing is perfect for going to the store or for an evening walk. They take her with them on vacation. Having complemented the image with romantic notes, it is quite possible to wear a blue sundress made of thin denim for a date.
Rare material can be called the same universal, therefore, a variety of models are sewn from denim:
You can find a deliberately calm, restrained and even strict dress with buttons. If desired, you can even wear it to the office, for example, by throwing a thin jacket over your shoulders.
Also on sale are very loose and spacious denim models that are conducive to rest and relaxation.
There is even a romantic model, decorated with ruffles, flounces, frills.
Democracy of beautiful summer denim sundresses allows you to combine them with almost any shoe. Such things are worn with sneakers and sneakers, with sandals and sandals, with slippers of various types. Even high-heeled shoes are perfectly acceptable. In this case, let the sundress be relatively restrained, but the image will need a couple more sophisticated and feminine accents so that the overall look looks harmonious.
Pastoral motives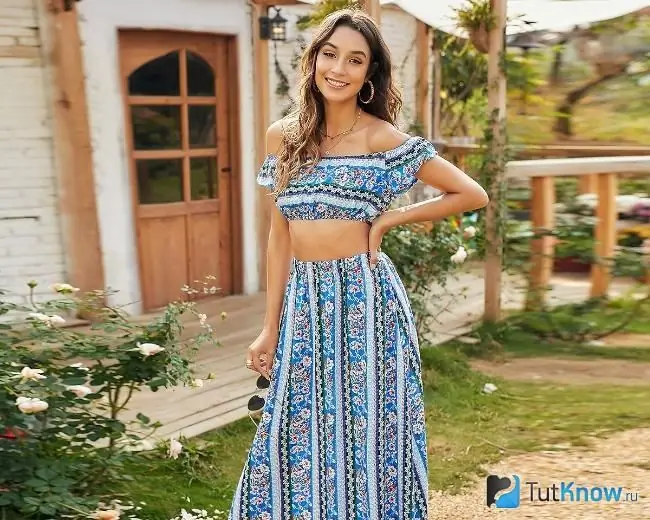 In recent years, there has been an interest in this topic, which evokes a blissful and warm mood. In fact, it is associated with the simple joys of life, in which interest is revived.
Since "pastoral" in French means "shepherd's", this predetermines the main features and color of a sundress in the following spirit:
He is characterized by open shoulders.
The cut is free and simple - straight lines, without unnecessary frills.
Floral ornament is welcomed in fabrics. But even a polka-dot sundress can be considered pastoral. It is only important that its color is not too bright and saturated.
To fully create an image that matches the pastoral pictures, you should definitely look for a cute straw hat. In the same spirit, it is worth buying a handbag. And certainly shoes should not be overly stylish - rather, rustic in their execution.
Volumetric flowers and embroidery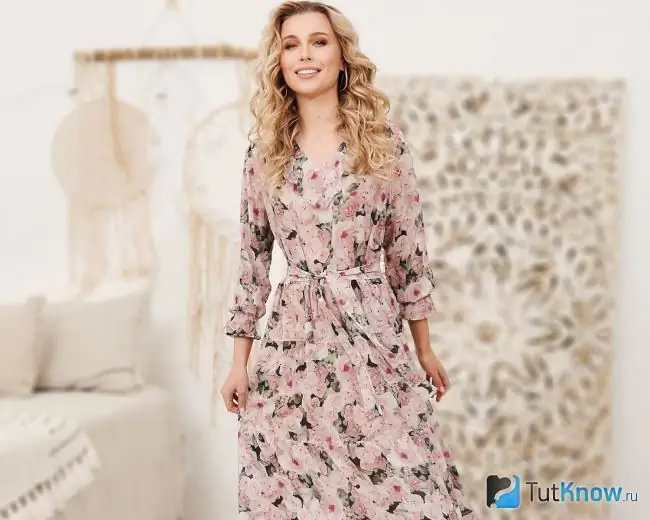 In contrast to the light and even rustic pastoral motif, light floral ornaments, the designers offer heavy artillery in the form of volumetric flowers and embroidery.
What is the peculiarity of this trend: couturiers have very large buds and whole branches on black sundresses, on things of other pure and rich shades. As a result, the vegetation seems to come to life, stands out against a monochromatic background, looking very expressive and lively.
Such stylish accents are adorned mainly with long sundresses. It is very beautiful when huge buds bloom on the hem. But it is quite acceptable to place patterns in other places - for example, in the chest area. This is an especially advantageous solution when you want to draw attention to a relatively modest bust, increasing it visually.
It is worth buying with caution a short sundress with voluminous embroidery and flowers, since too large patterns will bring disharmony in proportion. Most often, in such models, only one or a couple of such accents are acceptable. It is most successful when the ornament stretches, for example, obliquely, visually stretching the silhouette.
Pleated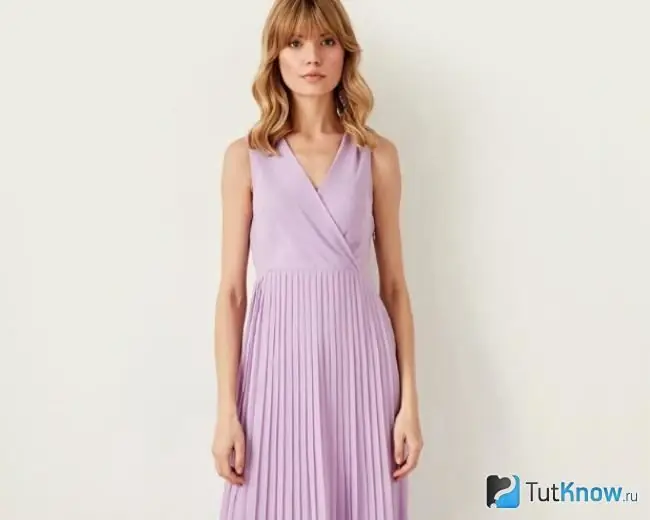 Pleating is a very original decorative element. It requires caution in its application. Although, with proper use, pleats will decorate an open sundress, give it lightness and airiness.
Literacy in this case means moderation. Small folds are welcome at the bottom of the hem, especially if it is a straight cut model. Then they add lightness and playfulness. Also, pleating can beautify the chest area, of course, provided that it is not too prominent.
However, the trend is light sundresses, in which the skirt is completely gathered in small folds. Then the bottom flies beautifully in the wind. It is important that the product is sewn from a flowing airy fabric. Sundresses with a pleated skirt look especially interesting if they are decorated with floral motifs or made in a marine range. They just inspire a vacation mood.
Classic cut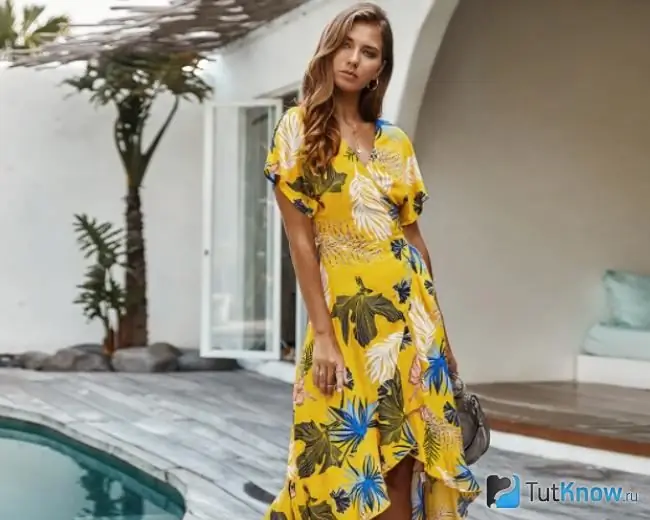 Finally, among other styles of sundresses, the simplest models do not lose their relevance, since they can also be considered democratic. With them, you can make up a variety of ensembles to put on comfortable clothes for a walk or on the beach, for a romantic meeting or in the office.
If you choose a universal model, such a role will be perfectly performed by a white sundress or a model of another neutral shade, since pronounced and saturated colors will already oblige you to something.
It is best to buy a linen sundress for all occasions. It is comfortable in it: air circulates freely through the fabric. It does not float, the fabric lies beautifully. To prevent the thing from wrinkling too quickly, it is permissible to add a small percentage of synthetics.
Note! First of all, the style, model and size of the sundress should correspond to the parameters of the physique, height and features of the girl's figure. Short ladies, young ladies, prone to overweight, should take a closer look at models with a V-neck. It gives the figure sophistication and grace. Despite the anti-age policy, it is important to consider age when studying models. If a pink sundress will only emphasize the tenderness and innocence of a young girl, then it may look ridiculous on an older lady.
How to choose a summer sundress - watch the video:
The material from which the outfit is sewn is of great importance. Since a sundress is a thing that was invented specifically for maximum comfort even in the extreme heat, preference for natural materials. True, a cotton sundress, especially if it is chintz, looks too simple. Therefore, manufacturers offer other solutions for special cases.