The main causes of acne redness. Effective methods of struggle: folk methods, cosmetic and pharmaceutical products, salon procedures.
Acne redness is a completely natural phenomenon that does not require special measures. Give your skin time to heal and it will brighten itself. However, we usually do not have enough time, because acne strives to jump up in the most conspicuous place on the eve of a date or an important celebration that cannot be missed. Yes, and on working days to go out to people with a spotted face is a dubious pleasure. Well, let's see how to reduce pimple redness with simple methods, or better get rid of it completely.
Causes of acne redness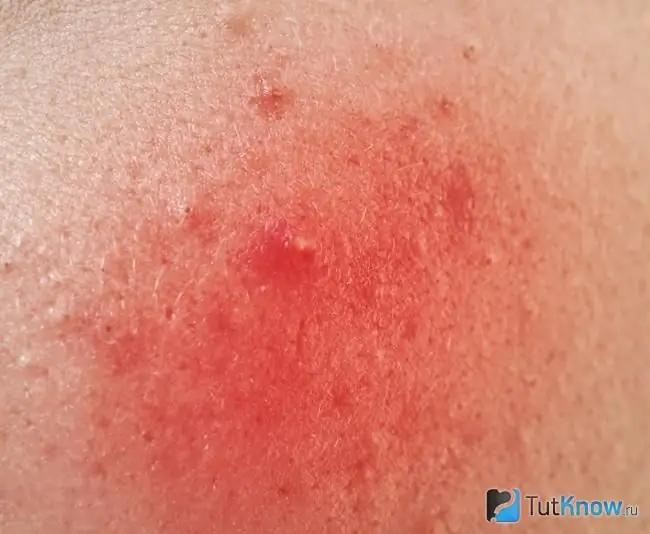 In the photo, the redness of acne
Bright spots on the skin, accompanying acne eruptions, indicate inflammatory processes that at this moment go under the epidermis. These processes do not affect the deep layers, collagen fibers do not destroy and do not leave scars after themselves, although in some cases they reward a person with pinkish and brown marks, which can go from several days to six months.
Naturally, few people agree to wait for months until the face is in order. Yes, and there is no need for this today, because even our great-grandmothers knew that it helps against the redness of acne, and on the side of modern beauties and the latest achievements of pharmacology, and whole lines of products for problem skin from venerable brands, and salon procedures that return presentable appearance to the skin.
Most importantly, in any circumstances, try to resist the temptation to squeeze out an eel, if you do not want to inadvertently aggravate the situation. After squeezing out the pimple, the redness of the injured area will become even more pronounced, and if you are inaccurate and bring an infection into the microscopic wound, the case may end in real scars.
Note! Fresh blemishes are the easiest to remove, but it's unwise to tackle a pimple that has just erupted. It is better to wait until it dries up a little, and the micro-wound will heal.
How to quickly remove the redness of a pimple?
Ideally, acne should be left alone until it matures, keeping the skin clean and treating the inflamed area with antibacterial and healing ointments. But we have already agreed that we will consider a situation in which it is necessary to get rid of the redness of the pimple as soon as possible, so we discard long-term methods right away. There are folk, cosmetic, pharmacy and salon methods. We will choose from them.
Folk remedies for acne redness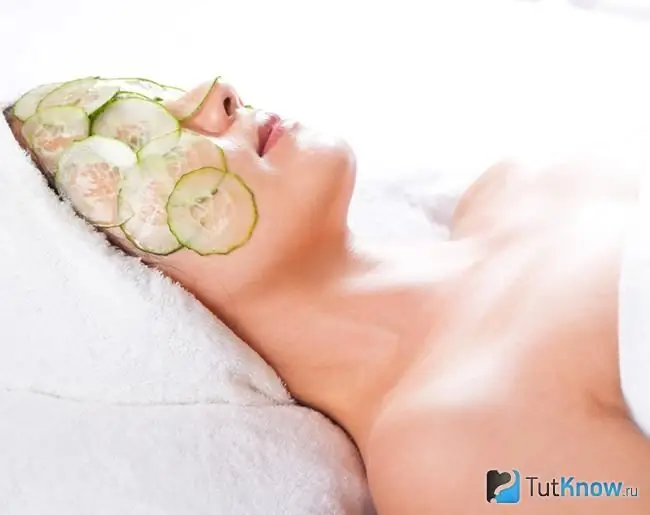 The effectiveness of the people's first-aid kit has been tested by time, but turning to them is fraught with two problems. Firstly, such recipes act selectively, and it is far from a fact that a method that will save your girlfriend or neighbor from redness will help you. And secondly, they often cause allergies, so either use only familiar products, or test each new product on a small area of your wrist.
How to remove pimple redness using folk recipes:
Cold … An ice cube, pressed against the site of inflammation for a few minutes, will cause the capillaries to narrow, which will cause blood outflow and pale tissue, and at the same time relieve swelling. Just be sure to wrap the ice in a paper towel so as not to burn your skin with the cold. If your face is very sensitive, instead of ice, use a piece of clean cloth soaked in very cold water - this is also quite an effective way to quickly remove redness from acne. True, after some time she will return.
A slice of cucumber … Cut a 5 mm thick circle from the whole fruit, press it to the problem area and hold until the pulp is heated. Then cut a new circle and repeat the procedure again, and if necessary, twice. Juicy cucumber will have a moisturizing and astringent effect, reduce inflammation, draw out heat, and accelerate regeneration.
Carrot … Grate a piece of carrot on the finest grater to get 1 tbsp. l. wet gruel. Collect it together with juice, thicken with 1 tsp. starch and add 1 tsp. sugar-free yogurt. The mask is kept on problem areas of the face for 20 minutes, and then washed off. Carrots work well on fresh pimples, even out skin tone, but can leave orange spots on the face.
Lemon juice … Take half a lemon, moisten it with a cotton swab with juice and treat the redness around the pimple, carefully avoiding the head with a possible wound - if it gets under the skin, the juice will increase irritation. Important: Try to keep the treated area out of direct sunlight to avoid causing pigmentation.
Aloe pulp … As in the previous case, you will need a cotton swab, which you need to soak in the pulp of aloe and generously lubricate the redness. If the pimple has not yet broken out, apply a piece of aloe cut along the leaf with the pulp to your face.
Apple vinegar … And again, a cotton swab will become your assistant, and the area of application will be the area of the skin around the pimple. Be especially careful, under no circumstances should the vinegar get into the wound!
Honey … Lubricate the pimple with a natural natural treat, wait 15 minutes and gently wash off the honey, being careful not to rub the skin. The anti-inflammatory properties of this simple mask will help reduce redness and speed up healing. If your body reacts well to spices, mix a little cinnamon and turmeric with the honey before applying to speed up healing. But be careful, turmeric turns the skin yellow.
Chamomile and oak bark … This recipe is also useful if you need to cope with the redness of a squeezed pimple, since both plants have antibacterial properties and cope with inflammation remarkably. 2, 5 Art. l. chamomile is poured with a glass of boiling water, the dishes are wrapped in a towel and left to infuse until they cool completely. Oak bark in the same amount is poured with 1, 5 glasses of water and boiled over low heat until the volume of the broth is halved. In both cases, sterile cotton pads are moistened in the infusion and compresses are made - the more often, the better.
Tar soap … Take a clean makeup brush, soak a bar of soap in water, and beat in some lather. Apply it as a mask to the area of dried pimples, rinse off after 20 minutes and use a moisturizer. The procedure should be repeated 2-3 times a day.
Flour … And this recipe is more suitable for those who are worried about how to remove redness from the face after a pimple that has managed to heal, but is not going to fade. Take 1 tsp. oat flour, moisten it with warm milk to get a thick gruel, and add a little honey. Lubricate the pimple mark, massage gently and wash off the mask with warm water. If your skin is not sensitive, oatmeal can be mixed with cornmeal in a 1: 1 ratio.
White clay and coal … It is not recommended to apply clay on fresh acne and inflamed spots, but as a remedy for the redness of old acne, stubbornly unwilling to go, despite the time, it works well. Just dilute 1 tsp. clay in a small amount of heavy cream (for dry skin) or kefir (for oily), apply to the area of redness, and rinse off after 15 minutes. Moisturize your skin with cream. If you want to enhance the exfoliating properties of the mask, mix the clay with an equal amount of powdered activated charcoal.
Bodyaga … Brew 1 tbsp. l. dry chamomile 100 ml boiling water and cool. 1 tsp moisten a pharmacy body with a small amount of infusion, add a few drops of lemon juice, mix and treat red spots on the face. Rinse off after 20 minutes. Be careful! Bodyaga is an aggressive remedy that is clearly not among the express masks for acne redness, it works for the future. For a short time after applying this algae, the spots on the skin may become brighter, but the bodyag is a good exfoliant that exfoliates dead cells and accelerates regeneration.
Not all folk methods are equally wise. Some will not only hardly help you cope with redness, but will also bring new troubles.
Means of a folk medicine cabinet with dubious effectiveness:
alcohol and vodka - they burn and dry pimples, but often they themselves become the cause of redness;
tea tree oil - in its pure form provokes irritation, therefore it can only be used in a mixture with creams or masks;
mint toothpaste - has a different composition and unpredictable effect.
Cosmetic products for acne redness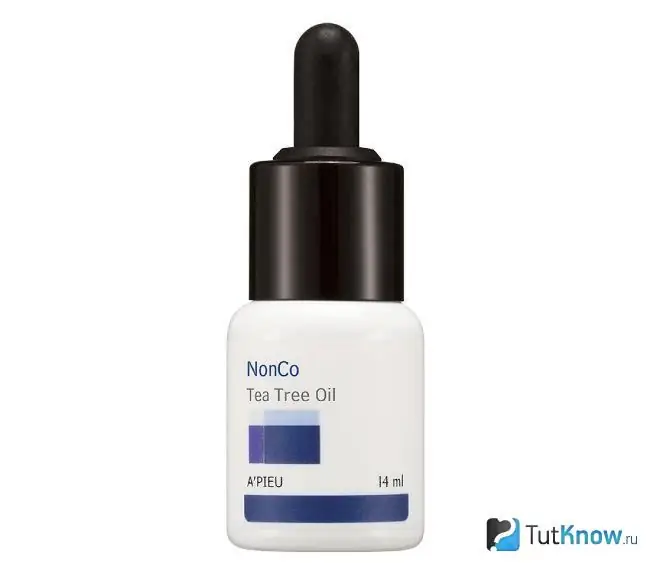 In the photo, Nonco Tea Tree Oil serum for problem skin from A'pieu at a price of 490 rubles.
Creams, serums and patches for problem skin are designed for a complex effect on acne and are not able to purposefully destroy bright acne marks. However, they are able to accelerate the healing of old and prevent the appearance of new inflammations, take control of the activity of the sebaceous glands, restore the hydrobalance of the skin, improve cell metabolism and promote tissue bleaching. So specialized cosmetics may well remove the redness of a pimple at home.
Effective beauty products for solving acne problems:
Serum for problem skin Nonco Tea Tree Oil from A'pieu (South Korea) … Differs in natural composition. The formula includes peppermint, tea tree, sage and chamomile oils. Reduces breakouts, soothes the skin, promotes tissue regeneration. Costs from 490 rubles. for 30 ml.
See And Saw A. C Control Spot Patch hydrogel patches from The Saem (South Korea) … Small plates impregnated with echinacea extract and hyaluronic acid were created to normalize the functioning of the sebaceous glands, accelerate healing, reduce redness, moisturize and matte the skin. A package with 24 patches will cost 350-500 rubles per purchase.
Acence Tea Tree Tock Blemish Spot from Mizon (South Korea) … And again, Koreans are betting on the tea tree, and a double one, since the pencil contains both its oil and extract. In addition, castor oil is present here. The pencil is intended for a point effect on acne, has healing and soothing properties for the skin. Costs from 540 rubles. for 15 ml.
Mask-film with charcoal Charcoal Peel off pack from Ekel (South Korea) … In addition to charcoal powder for cleansing, it has extracts of cassia bark and Alba willow, skullcap root, oregano leaves, purslane and cypress to nourish cells. Soothes the skin with Panthenol; softens with castor oil. It costs 590 rubles. for 180 ml.
Anti-Acne Facial Mask from Sea Care (Israel) … One third consists of clay enriched with the Evermat phytocomplex to regulate the activity of the sebaceous glands and witch hazel to relieve inflammation. It costs 4300 rubles. for 50 ml.
Pharmacy preparations for acne redness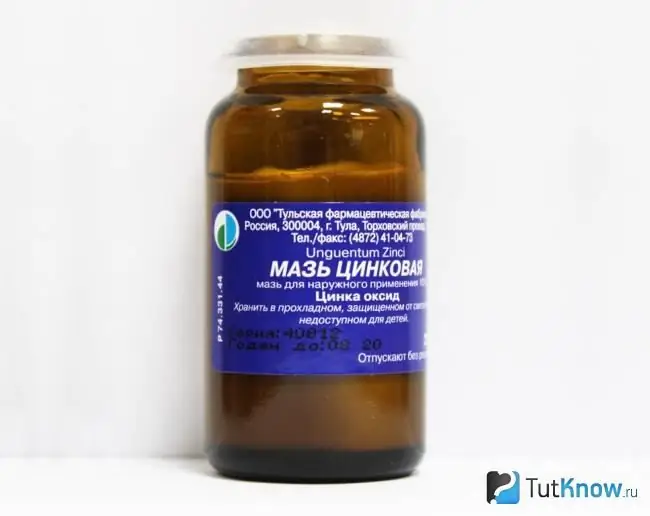 In the photo Zinc ointment for acne redness, the price of which is 60-70 rubles.
Pharmaceuticals help better and faster than folk remedies, because they are initially created with the expectation of a certain situation. But they should be used only as directed by a doctor: in order to choose the right remedy for removing redness after a pimple on the face, you need to take into account the characteristics of the skin, determine the features of the course of the inflammatory process and prevent possible complications. Only on such conditions will the remedy help quickly and safely.
Effective pharmacy preparations for redness:
Salicylic ointment … Masterfully copes with inflamed red acne, tidies up the skin, prevents bacteria from multiplying in wounds. It costs 25-30 rubles. for 25 g. For the same purpose, you can use a 0.5-2% solution of salicylic acid, sold at a price of up to 20 rubles. for 40 ml.
Zinc ointment … Helps to solve a number of dermatological problems, dries acne, has an antibacterial effect. It costs 60-70 rubles. for 40 ml.
Miramistin … Destroys microbes, removes inflammation, does not sting when it gets on mucous membranes or wounds. Often has a convenient spray nozzle. Costs from 230 rubles. for 50 ml.
Levomekol … Promotes the resorption of acne and pallor of inflamed skin, has a fast action. It copes well with tasks of "increased complexity", such as removing the redness of a pimple overnight or making it less pronounced a couple of hours before an important event. In this case, the ointment is applied to the problem area of the skin in the form of a compress, fixed with a piece of cotton wool and a patch and changed every 1.5-2 hours. Levomekol costs from 110 rubles. for 40 ml.
Retin-A 0.05% … Retinoid (contains acidic vitamin A) formulated to cleanse pores, eliminate acne, lighten age spots, exfoliate dead skin cells and restore smooth skin. It costs 460 rubles. for 20 g.
Differin-gel … It is also a synthetic retinoid, it treats mild to moderate acne and, unlike most of its "brethren", is suitable for sensitive and dry skin. It costs about 800 rubles. for 30 g.
To get rid of spots on the face as soon as possible, many women resort to the help of Vizin eye drops. This remedy is really capable of quickly removing the redness of both a pimple that has just jumped up and that has matured, but it has a short-term effect. Drops applied to the skin cause the vessels to shrink and the blood to drain from the treated area, but soon everything returns to normal. In addition, Vizin has no control over old red spots.
Note! In mild cases, the situation can be improved by lubricating the affected area of the skin with vitamins A and E in oil, extracts of mulberry, witch hazel, licorice root. The range of prices for these funds is very wide: for example, mulberry extract can cost 239 rubles. for 10 ml and 3650 rubles. for 50 ml, depending on what additional substances the manufacturer supplied it with.
Cosmetological procedures for acne redness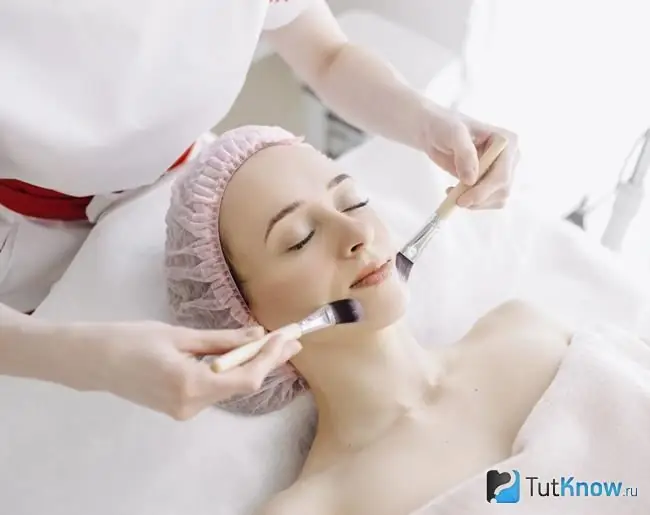 It makes sense to use heavy artillery in the form of procedures from beauty salons when you need to remove dry red marks from acne or conduct a large-scale treatment of acne. If you ask a specialist about how to remove redness from a squeezed pimple, most likely, you will be advised to apply ice and lubricate your face with one of the pharmacy ointments, since neither acid peeling nor grinding on damaged skin is used. In the same way, it is inappropriate to use salon techniques to remove 2-3 pimples, such methods work on a larger scale.
Salon treatments to remove acne marks:
Acid peeling … The cleansed face is treated with an acid-based composition, left for a while and washed off - usually with a special agent, but sometimes with water. Disturbed skin is soothed with Panthenol. It takes about 5 days to recover, and 2-5 sessions are required to completely remove pronounced traces. The cost of each is 2000-3000 rubles, although during the discount period you can get the service at a price of 500 rubles. per session.
Microdermabrasion … Despite the fact that the procedure is a real skin resurfacing, it is almost painless. The diamond attachment gently removes dry cells, smoothes unevenness, makes the face smooth. The rehabilitation period takes 1-2 days, and sometimes it is not required at all. To cleanse the skin, you need to go through 5-7 procedures, which cost from 350 to 1800 rubles. for each.
Laser … Used to treat dry acne marks as well as fresh acne breakouts. The laser beam evaporates all imperfections on the surface of the skin and penetrates into its depth, preventing the appearance of new spots. The painfulness of the procedure depends on the selected power of the light wave and the sensitivity of the patient's skin. The duration of the course is determined individually: in mild cases, one procedure is enough, in neglected cases it is required to visit the master's office 5-8 times. The cost of each visit ranges from 900 to 4000 rubles.
How to remove the redness of acne - look at the video:
It's good when there are correct ways to solve a problem, but it's even better if you don't have to solve it at all. In order not to once again wonder how to remove redness from a pimple, take the necessary measures in advance. Avoid fatty, fried, smoked, spicy and sweet or minimize the number of such dishes on your table, eat more vegetables and fruits. Cut back on coffee and strong tea, but rely on clean water. Cleanse your face before bed and apply a moisturizer, and once a week, use a deep peel to cleanse your skin. Get enough sleep, our body recovers in sleep, and the skin is no exception. The tips are simple and corny, but they really work.