Growing and caring for a rare exotic plant in our area - momordica. Why don't our citizens escape from the scorching sun and curious glances from neighboring houses! Glazed balconies and loggias, curtained with curtains, of course, look elegant, but a completely different thing - live, fragrant wings, creating a wonderful microclimate and attracting attention with their beauty and originality.
One has only to plant 3-4 plants of Momordica (Indian cucumber) - and a corner of paradise is provided. This thermophilic annual liana is up to three or more meters long, native to the subtropics of Asia. It forms several shoots, which are attached to the supports with threadlike antennae. In the hot summer, momordica grows by leaps and bounds, scattering along tight ropes or other supports. Its carved light green leaves look like young grape leaves. Medium-sized yellow flowers hang down on long strings with a collar in the middle and exude an amazing aroma.
Momordica looks especially impressive during the formation and ripening of large cucumbers hanging on thin long (15-20 cm) stalks. They look like fairy dragons because of the large soft outgrowths on the ribbed surface.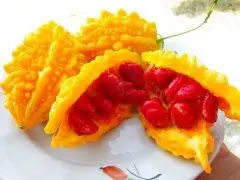 Initially, the fruits are pearlescent white, weighing 100-200 g, then bright orange. When fully ripe, they crack into three petals. On the inner side of the orange petals, curved like those of a lily, large (up to 2 cm) ruby-red shiny seedlings (aryllus) are attached. Inside them are brown and white seeds. In a mature state, they are used for gastric ulcer and as a diuretic. Against the background of carved foliage, fragrant flowers and ripe fruits with red drops of seeds in the middle hang down along with colorful original cucumbers. Such curtains look great from all sides and create fragrant coolness on the loggia or balcony. The shape of a living curtain depends on your imagination. You can stretch the ropes in the form of a fan, an arch or a solid wall. Young fruits are salted like cucumbers, fried in thin slices, like potatoes, and ripe fruits are canned and pickled. Momordica tastes better. It is added to cucumbers, which not only decorates cans with blanks, but also makes them tastier.
Momordica grows well outdoors. You need to grow it through seedlings. Caring for her is ordinary, like for cucumbers. Before sowing, the seeds are treated in a saturated solution of potassium permanganate, then soaked in warm water for a day, then rinsed, wrapped in a clean damp cloth, placed in a plastic bag and kept warm at 30-40 ° C. After pecking, the seeds are placed one at a time in half-liter cups in the nutrient soil, always on the edge, then they are covered with polyethylene or glass.
Seedlings are planted in fertile soil. On a balcony or loggia, it is poured into large plastic bags installed in boxes, buckets or other containers. Plants need to be watered regularly throughout the summer. It is better to remove excess vines so that they do not obscure each other, since with a lack of light, the number of fruits decreases.
Video on how to germinate momordica seeds: