Features of the preparation of cold soup. TOP 5 best recipes for beetroot botvinia: classic, with meat, crayfish, nettle, kvass. Video recipes.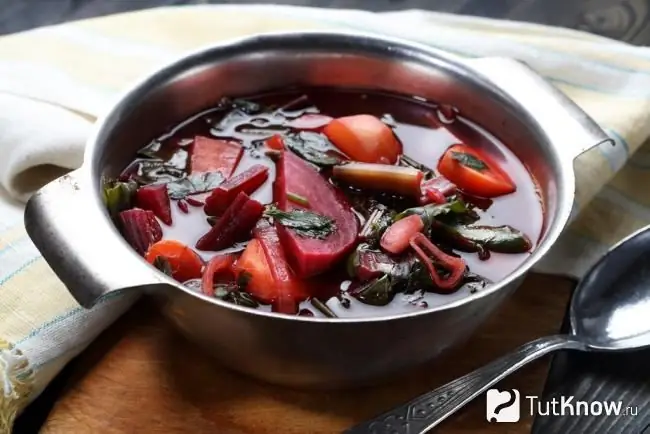 Beetroot botvinya is a dish of Russian cuisine, which is a cold soup prepared on the basis of beet decoction with the addition of its tops. Traditionally served with salted red fish. Sorrel, spinach, green onions, cucumbers, radishes, nettles are used as additional ingredients, and the finished dish is seasoned with "crushed ice". Nowadays, botvinia is rarely prepared, but this does not detract from its benefits for the body, its bright and piquant taste, as well as its unique ability to refresh in the summer heat.
Features of cooking beetroot botvinia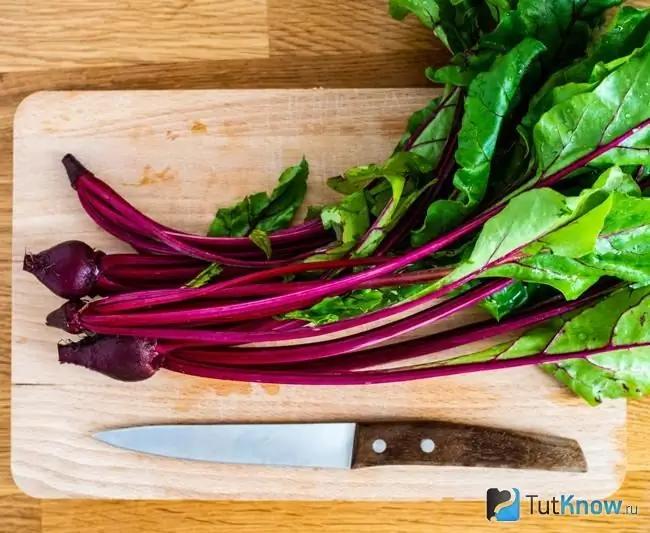 Beetroot botvinya is a Russian dish that was once called "the queen of cold soups," but today it is undeservedly forgotten. It got its name from the main ingredient, which is the edible herb-tops.
It is best to cook botvinya in the hot season: the dish is served cold, it perfectly refreshes in the heat, quenches thirst and tones up. The recipe calls for the use of fresh beet tops, greens and young vegetables that are just ripening in the garden.
Before cooking the botvinia, the beets are disassembled into petioles and roots, namely the root crop, stems and tops. The vegetable is used to make a sour beetroot filling for a dish, giving it a bright ruby color. The stems act as a textural filler for cold soup, as they crunch perfectly, and the leaves act as a thickening filler, the use of which is required for a greater density of food. According to the recipe, the herbs are boiled, then chopped with a knife or mashed using a sieve.
Traditionally, a decoction of beet leaves and very sour kvass are used as the basis of the dish. Meat, chicken or fish broth is often added to the filling. In addition, there are options for cooking beetroot in water.
Cold soup is considered incomplete without fish. In the classic version, the dish is accompanied by salted salmon (salmon, salmon, sturgeon), which is served on a separate plate along with crushed ice. Ceremonial soup serving - with crayfish tails.
There are also many recipes for making botvinia, which involve boiling fresh fish and adding portioned pieces directly to the plate before serving. Cold beet soup with chicken or beef is prepared in the same way. Often shrimps, crabs or crayfish necks are added to it.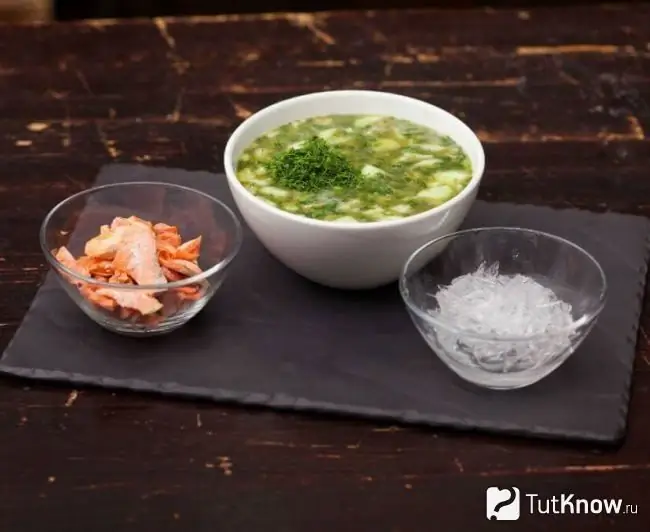 Additional ingredients for botvinia are cucumbers, radishes, spinach, sorrel, green onions, wild garlic and even young nettle leaves, potato cubes or roasted onions and carrots. Top the dish is sprinkled with various herbs (dill, parsley) and decorated with a chicken egg cut into quarters or quail halves.
To achieve a richer and brighter taste, the soup is flavored with mustard, lemon juice, ground black pepper, leaves or horseradish root are added for pungency and aroma, and a clove of garlic is squeezed into a plate. If the dish turns out to be too sour, it is allowed to add a little sugar to it.
Interestingly, the classic recipe for beetroot botvinia also involves adding crushed ice to a bowl of cold soup, which is served on a separate plate.
Note! Collect the botvinya directly in a plate: first, lay out the tops, herbs, vegetables, then pour them with a base made from kvass and beetroot filling, place a portion of meat, crayfish necks on top, add horseradish, a slice of lemon and decorate with a boiled chicken egg. The decoration of the dish is completed with a drop of sour cream. Salted red fish and crushed ice must be served on separate plates.
TOP 5 recipes for beetroot botvinia
As soon as you have young beets in your garden, start cooking botvinia. This is a very healthy dish, which is also great for refreshing in the summer. And there are also many recipes for such a cold soup that everyone will enjoy.
The classic recipe for botvinia with fish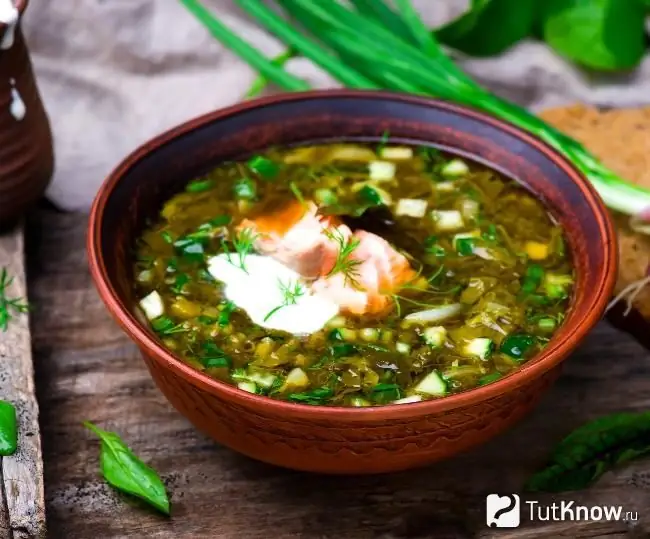 For the preparation of botvinia, it is better to use young beets, as they contain more juice. In addition, in this case, the dish turns out to be of a more saturated color. In the traditional version, chicken eggs are used, but they can be replaced with quail eggs - they look more beautiful in plates. Fish for botvinia is served separately, along with rye bread.
Caloric content per 100 g - 100 kcal.
Servings - 2-3
Cooking time - 1 hour
Ingredients:
Beets - 2 pcs.
Beet tops - 1 bunch
Salted red fish - 200-250 g
Dill - to taste
Green onions to taste
Cucumbers - 2 pcs.
Radish - 200-250 g
Chicken egg - 2 pcs.
Water - 1.5 l
Salt to taste
Mustard - to taste
Horseradish - to taste
Step by step preparation of the classic botvinia:
We start by dividing the beets into their constituents - root crops, stems, leaves. We clean and cut the vegetable into strips, you can also grind it on a coarse grater.
Pour half of the beets with water and cook for 10 minutes.
The second part should be marinated in a deep plate, pouring over with lemon juice and sprinkling with salt. Also, instead of lemon juice, you can take 1 tablespoon apple cider vinegar.
While the vegetable is marinating, boil the eggs hard-boiled, about 10 minutes, then they must be cooled in cold water.
We cut the beet stems into 1 cm pieces, the leaves - into 2-3 pieces, and then 0.5 cm across.
Add chopped vegetable stalks to a saucepan with boiled beets and boil again for 10 minutes.
Next, add the pickled beets to the dish and continue to cook the soup.
After another 10 minutes, add the tops and cook the same amount.
While the beets and tops are cooking, rinse and chop the cucumbers and radishes. They can be placed on plates immediately.
We also send finely chopped dill there, followed by green onions.
After that, we start preparing the fish. It needs to be cut into thin slices.
For a more satisfying dish, add potatoes - the classic botvinia recipe allows. Wash 2 potatoes, skin, cut into cubes and send to beetroot filling.
After the soup is cooked, it should be cooled well.
At this time, we clean and cut the eggs.
It remains only to assemble the dish: pour the plates, where cucumbers, radishes, dill and onions have already been sent, with cold beetroot filling, put the sliced eggs on top. To taste, horseradish and mustard can be added to the classic botvinya.
We serve fish plates separately, accompanied by rye bread.
Note! Before making beetroot botvinia, it is recommended to wear gloves to avoid staining your hands.
Festive botvinia with crayfish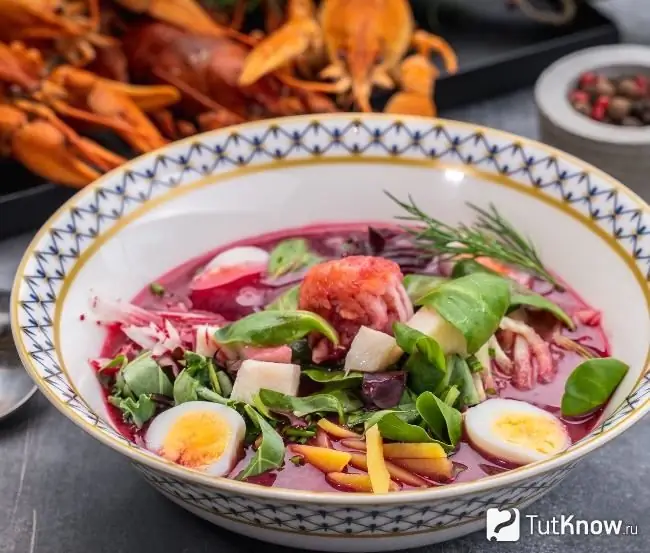 An original botvinia recipe that is worthy of a festive table. The dish turns out to be truly magnificent and beautiful if you pay attention not only to the recipe for its preparation, but also to serving. We do not recommend adding sour cream!
Ingredients:
Beets with tops - 3 pcs.
Sorrel - large bunch
Spinach - a large bunch
Fresh cucumber - 3 pcs.
Radish - bunch
Green onions - bunch
Dill - half a bunch
Chicken egg - 3 pcs.
Fresh sturgeon or pike perch - 500 g
Live crayfish - 4 pcs.
White wine or apple cider vinegar
Step-by-step preparation of botvinia with crayfish:
Before cooking the dish, the beets must be divided into 3 components - root crops, stems and leaves.
We begin to pickle the beets. First, you need to peel and cut the vegetable into thin julienne strips. You can also grind it on a grater. Place the chopped beets in a bowl, add salt, and pour over with white wine vinegar (can be substituted with apple cider vinegar). Then the vegetable should be pressed down with oppression and left so for 30 minutes.
Next, you need to rinse the sorrel, remove the stems and throw it into pre-salted boiled water (1 liter). Chat it for half a minute, and you can put it in a colander. Wait until the sorrel has cooled down a little, and rub it through a sieve in mashed potatoes, you can also use a blender for this purpose.
Prepare the spinach in the same way before boiling the tops, but you do not need to whip it in mashed potatoes: just chop it with a knife.
The fish should be quickly simmered in very salty water, to which it is recommended to add vinegar. It is better to use sturgeon on the skin so that it does not fall apart. Once it has cooled, cut it into 1cm slices.
Next, we get down to cooking crayfish. Boil 3 liters of water, add salt, dill, and toss live crayfish upside down. Wait for the water to boil and boil them over medium heat. Enough 10 minutes. Next, the crayfish should be left in the same water so that they cool down for another 10 minutes, then remove them from the pan, clean the necks and claws.
Boil water in the amount of 2 liters, throw in the pickled beets, pour out the juice that she let out, let the liquid boil.
Boil the beets for another 3 minutes over low heat and add the beet stalks to it, which need to be cut diagonally.
Wait for the dish to boil again, boil for 3 minutes and add thinly sliced beet leaves.
Let it boil again, cook for 3 minutes and add sorrel and spinach puree, then remove the pan from heat and wait for the dish to cool. Then we move it to the refrigerator to cool it as much as possible.
At this time, you need to chop cucumbers, radishes, green onions and dill, boil hard-boiled, peel and cut the eggs.
When all the ingredients are prepared, we begin to collect the dish. To do this, lay out vegetables, herbs on plates, pour out cold beet broth, lay out crayfish necks and claws, a slice of stewed fish and a quarter of an egg.
Note! To prepare botvinia according to this recipe, it is recommended to use sturgeon or pike perch (500 g), but you can also replace it with lightly salted salmon or trout (300 g). However, in this case, the fish slice is not placed directly on the plate, but served separately along with the lemon.
Botvinha with meat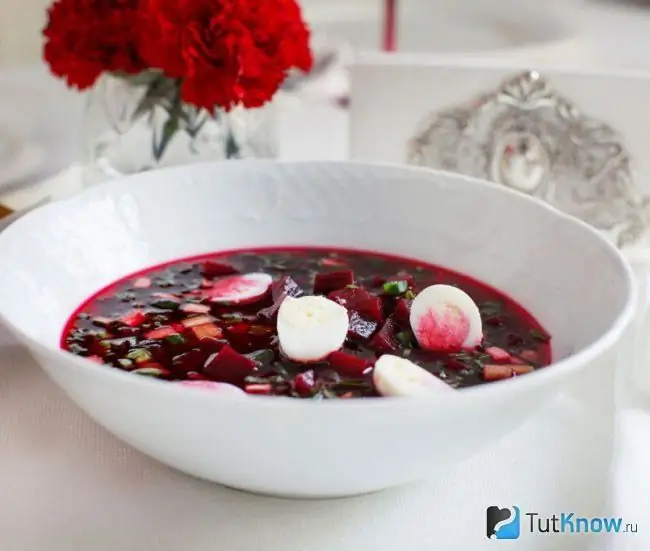 The recipe for botvinia with meat is very simple and does not imply any complex actions, it resembles borscht or beetroot, but in our case it will not be possible to do with just one young root vegetable. Beet tops with stems are also used.
Ingredients:
Beef - 500 g
Bulb onions - 1 pc. into broth
Carrots - 1 pc. into broth
Potatoes - 300 g
Bulb onions - 1 pc. for frying
Carrots - 2 pcs. for frying
Vegetable oil - 2 tablespoons
Beets - 700 g young
Sugar - 1 tsp
Vinegar - 1 tablespoon
Bay leaf - 1 pc.
Greens to taste
Salt to taste
Garlic - optional
Step by step cooking botvinia with meat:
First, we prepare a rich broth - it acts as the basis of the soup. Rinse the meat and place in a saucepan with cold water. Place container on fire and bring to a boil. In the process of cooking the broth, remove the foam using a slotted spoon.
When it's gone, add the vegetables: peeled and chopped carrots and onions. In addition, parsley and celery will help improve the taste, make it more saturated.
Season the broth to taste and cook over medium heat until the meat is cooked through. This will take about 1.5 hours.
While the broth is boiling, prepare the vegetables: you need to peel the onions, carrots, potatoes, and disassemble the beets into their components - root crops, stems, leaves. Peel the roots, wash them thoroughly, cut them into thin slices. Wash the tops and remove the dirt.
Let's start cooking frying, it will make our beetroot botvinya more aromatic. To do this, finely chop the onion, grind the carrots on a grater and fry the vegetables in heated vegetable oil, lowering the heat, until light golden brown.
Before preparing the botvinia, it is necessary to strain the broth using a sieve: for further cooking, it is taken clean. We take out the meat from the pan and cut into portions.
Pour the pure broth into a saucepan again and bring to a boil.
At this time, cut the potatoes into small cubes, throw them into the broth as soon as it boils. You also need to add frying to it.
Next, cut the beetroot into strips and after 7-10 minutes after adding the potatoes to the broth, send it there too.
To balance the taste, pour a little sugar into the dish, and to achieve a slight sourness, pour in quite a bit of vinegar, in addition, it will be possible to preserve the bright color of the dish.
We cut the beet tops with stalks and add to the soup, after which we cook the dish for another 5 minutes.
Following the tops of the beets, add bay leaf and salt to the botvinia, if you need to adjust the taste.
Turn off the heat and leave the dish to infuse, under a closed lid.
Pour the soup into bowls, add the meat and herbs. You can squeeze out a clove of garlic if you like.
Note! If you use chicken instead of beef to cook the botvinia, the cooking time of the dish will be significantly reduced.
Botvinia with kvass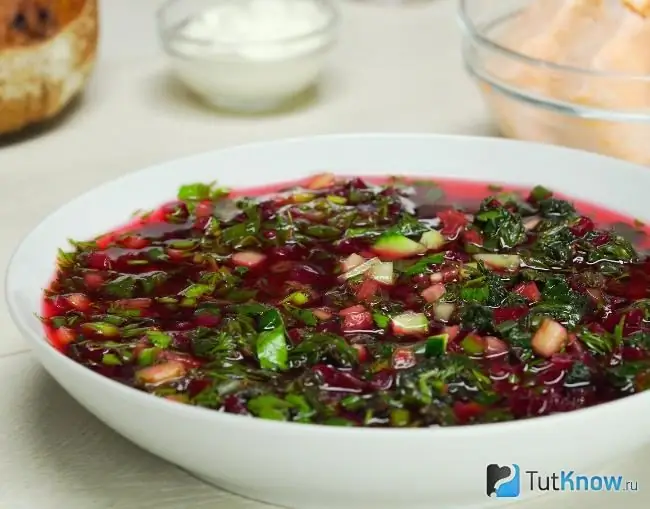 This unique recipe for cold botvinia made from beet tops, noble fish and kvass will help you take a fresh look at an undeservedly forgotten dish that was once very popular. All efforts will pay off with interest, because the soup really turns out to be unlike any other.
Ingredients:
Bread kvass - 600 ml
Salmon fillet - 300 g
Spinach - 250 g
Water - 150 ml
Dill - 5 branches
Parsley - 5 sprigs
Beets - 2 pcs.
Tops - 1 bunch
Allspice - 3 peas
Bay leaf - 2 pcs.
Cucumber - 1 pc.
Onion - 1/2 pc.
Lemon - 1/2 pc.
Green onions - 1/2 bunch
Salt - 1 tablespoon
Step-by-step preparation of botvinia with kvass:
Pour water into a small saucepan, salt it, add peppercorns, bay onions and a peeled onion. Wait until it boils.
Prepare the fish by cutting into large pieces and boil in boiling water for 20 minutes. After the indicated time, put it in a bowl and leave to cool.
Disassemble the beets into 3 parts - root vegetable, stems and leaves.
Put water in a small saucepan, boil and add the washed beet tops. It should be cooked for 3 minutes. Then fold in a colander and, after it has cooled, chop finely.
Rinse the spinach and cook in another saucepan for 20 minutes, setting the heat to minimum after boiling. After the indicated time, it must also be thrown into a colander, and then, using a sieve, wipe in mashed potatoes.
At the next stage, we boil the beetroot, wait until it cools down, and cut into small cubes. You can also bake it if you wish.
After that, finely chop the cucumbers, chop parsley, dill and green onions
Mix the onion with the spinach puree, which in the meantime should have cooled down, add cucumbers, beet tops, greens. At this stage, add salt to the dish and add sugar, if sour kvass is supposed to be used in the future.
Add a sliced lemon slice, beets to mixed products, fill the ingredients with kvass.
Now you can start assembling cold botvinas: put a portion of boiled fish, a slice of lemon in each plate and pour the beetroot mixture with vegetables and herbs.
Before serving, you can fill the soup with crushed ice.
Botvinha with nettles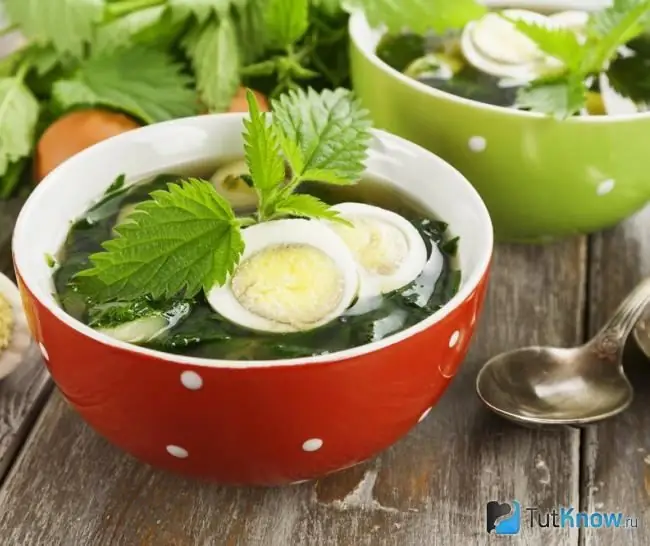 The original recipe for cold botvinia, which differs from the usual options by adding nettle leaves. As a result of cooking, it turns out not only a tasty, but also an extremely healthy dish, since nettle and beet tops contain many vitamins and minerals necessary for the human body.
Ingredients:
Fish - 500 g
Beets - 2 pcs.
Cucumbers - 2 pcs.
Lemon juice - 1/2 pc.
Beet tops - 150 g
Sorrel - 125 g
Spinach - 125 g
Nettle - 150 g
Green onions - 30 g
Dill - 30 g
Beet broth - 250 ml
Fish broth - 250 ml
White kvass - 250 ml
Bread kvass - 500 ml
Salt - 1.5 tsp
Sugar - 1 tablespoon
Mustard - 1/2 tsp
Horseradish - 1 tsp
Ground pepper - 1/2 tsp
Step by step cooking nettle botvinia:
Divide the beets into 3 components - root crops, stems and tops, rinse thoroughly.
Boil the vegetable until tender. We will use the resulting broth as a basis for the dish, do not forget to strain it before that.
We clean the fish and cut into large pieces.
Next, we collect 1 liter of water in a saucepan, salt it, add bay leaves and put on fire. When it boils, we send the pieces of fish there and boil for 2 minutes. After this time, we take out the fish and wait for it to cool down. We proceed in the same way with broth as with beet broth: it is also used as a base for botvinia.
Next, put spinach in boiling water and blanch for half a minute, then do the same with sorrel and beet tops.
Nettle leaves and beet stalks must be blanched twice as long. As a result of scalding with boiling water, the nettle stops pricking and becomes soft.
We wait until the greens have cooled, and then chop finely.
At the next stage, cut cucumbers and boiled beets into small cubes, chop dill, parsley and green onions.
After that, we are preparing the base for the soup, mixing white and dark kvass, beet broth and fish broth in one container. Do not forget to salt, add lemon juice and some sugar. Also, if desired, we improve the taste with mustard and horseradish.
Prepare the base for botvinia: pour white and dark kvass, beet broth, fish broth into a bowl. Do not forget to add salt, lemon juice and a little sugar.
Now we begin to collect the dish: put in a bowl all the chopped ingredients (tops, beets, vegetable stalks, cucumbers, nettles, parsley and dill), fill with the base for the botvinia, put the portioned pieces of fish.
To improve the taste, season the botvin with mashed horseradish and mustard, and also add finely chopped ice.
Botvinya is often prepared on the basis of a steaming starter culture consisting of flour and leavened milk. They do it a day before preparing the dish. To do this, rye flour (2-3 tablespoons) is diluted with water (1-1, 5 tablespoons) in a clay pot and put in the oven for half an hour. After the specified time, when the mixture rejects, it must be filtered using a sieve, add chopped beet tops and pour bread kvass (1-1, 25 l). In this form, the mixture is left to sour, and after a day it is diluted with kvass and the botvinia is prepared.
Video recipes for beetroot botvinia
Botvinya is served in bowls and bowls as a first course. It is also customary to eat it after the hot first one as a liquid snack, before proceeding to the roast. It is served with fish and crushed ice on a separate plate, as well as 2 spoons. Soup is the first to sip, the second is ice. The fish is eaten with a fork, which should also be on the table. Bread goes only with rye.