A step-by-step recipe with a photo of making cold okroshka in Armenian at home. Selection of products, cooking features and video recipe.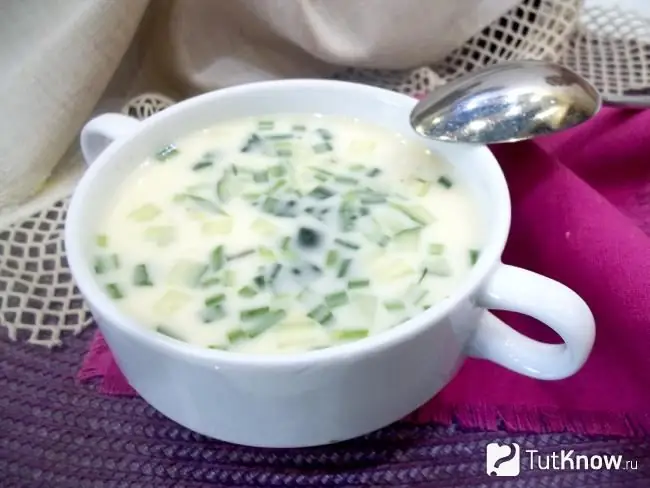 Summer, hot, stuffy, I want something cool and cool, at the same time satisfying and nutritious. Cold okroshka is the queen of the summer menu. Many people will really like the recipe for cold okroshka in Armenian. The dish is prepared quickly, easily, practically without heat treatment, and it refreshes perfectly. This is an incredibly simple, tasty and healthy cold first course that's perfect for the summer heat. In addition, okroshka is a storehouse of vitamins. The combination of fresh herbs gives the dish an amazing taste and incredible aroma. It refreshes and invigorates.
The Armenian okroshka, in contrast to the Azerbaijani one, is not so thick in consistency, and you can experiment with it if you wish. For example, add a couple of mint leaves, some garlic, watercress or tarragon. Sometimes it is cooked without cucumbers, and grated radish and horseradish are put in for pungency. Armenian okroshka is often served in glasses and consumed as a refreshing drink. A distinctive feature of the Armenian okroshka from the Russian one is that you need to have yogurt. This is an Armenian traditional fermented milk drink, the taste of which simultaneously resembles kefir, yogurt and yogurt. The drink is used in the preparation of many Caucasian dishes. Matsoni can be bought at the store, but if it is not available, replace it with kefir.
See also how to cook okroshki in smoked broth with smoked chicken.
Caloric content per 100 g - 139 kcal.
Servings - 5
Cooking time - 30 minutes for slicing food
Ingredients:
Boiled potatoes in their uniforms - 2 pcs.
Matsoni - 2.5 l
Hard boiled eggs - 5 pcs.
Salt - 1 tsp or to taste
Cucumbers - 4 pcs.
Boiled chicken fillet - 2 pcs.
Dill, parsley, cilantro - on a bunch
Green onions - large bunch
Citric acid - 0.5 tsp
Sour cream - 0.5 l
Step-by-step preparation of cold okroshka in Armenian, recipe with photo: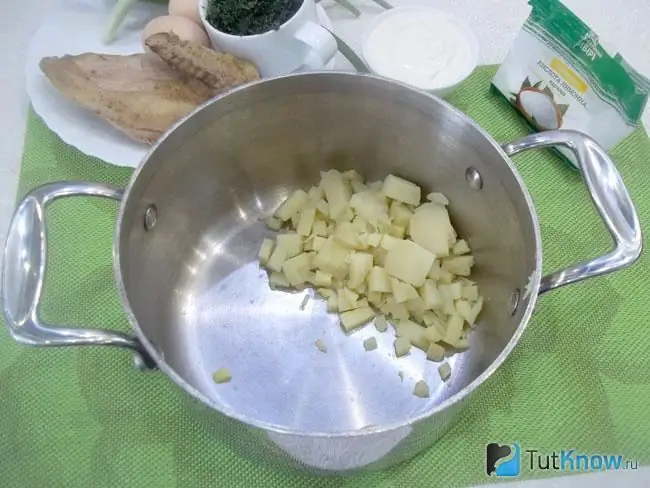 1. Potatoes are not used in the original recipe, but you can add a few tubers to make the dish more satisfying. To do this, peel the boiled potatoes and cut into cubes with sides of 0.5 mm.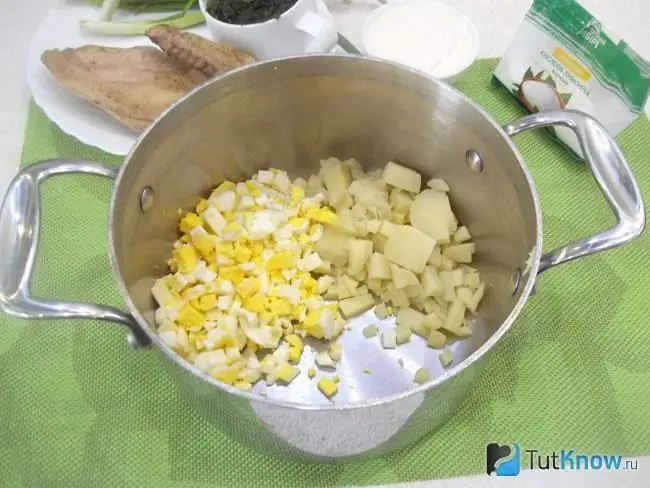 2. Peel the boiled eggs and cut them like potatoes.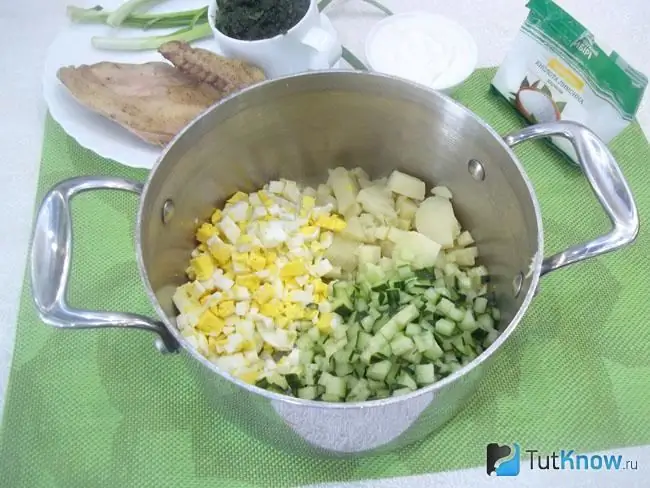 3. Wash the cucumbers, dry with a paper towel, cut off the ends on both sides and cut into cubes, like all products.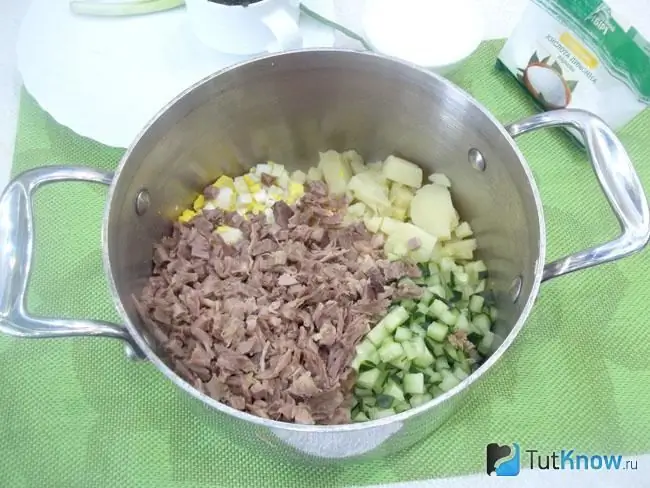 4. Cut the boiled chicken meat into pieces and send to the pan with all products.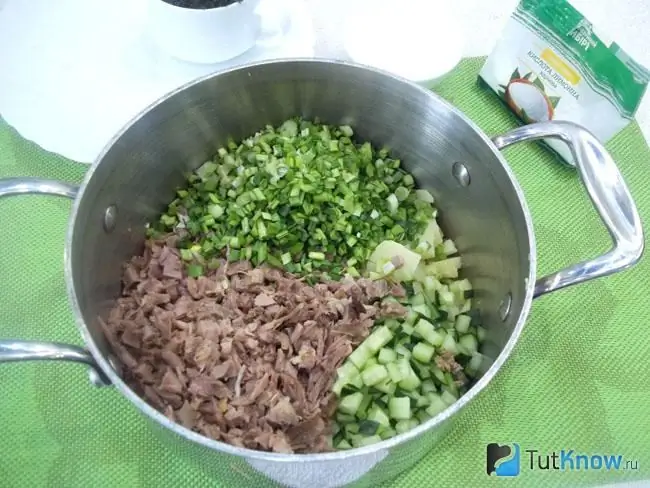 5. Wash green onions, dry and finely chop.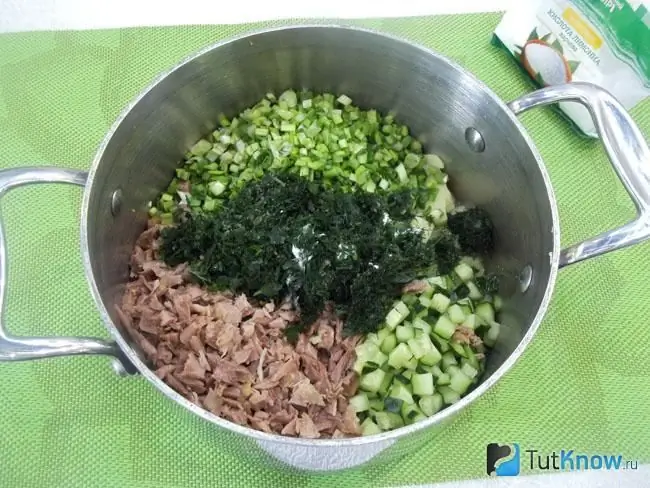 6. Add chopped herbs to food. This recipe uses frozen greens. You do not need to defrost it beforehand, it will thaw right in the okroshka.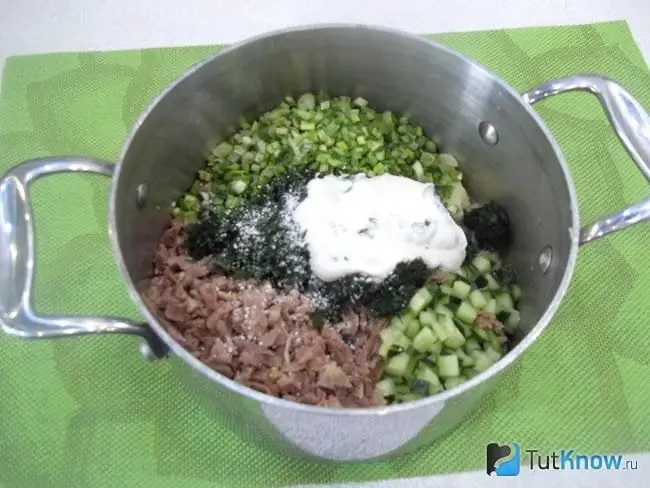 7. Add sour cream to the pan, salt the food and add citric acid to taste. The latter can be replaced with lemon juice.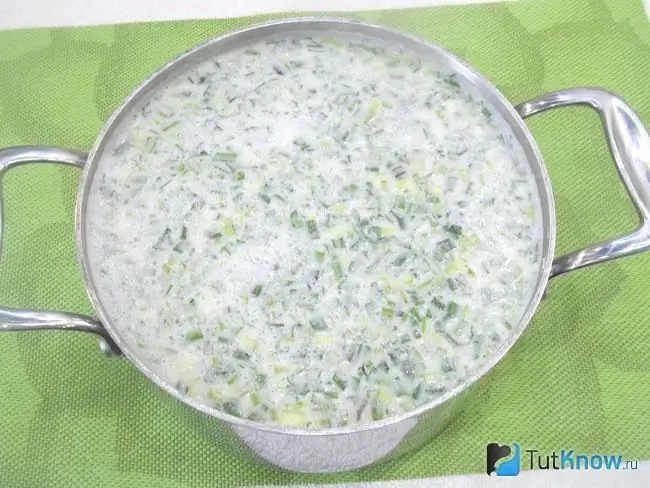 8. Pour in cold Armenian-style okroshka yogurt and mix well. Send the dish to cool in the refrigerator for 1-2 hours and serve.
See also the video recipe on how to cook okroshka in Armenian.