Sweet and savory delicious fillings for pancakes for Shrovetide. Various recipes with photos of cooking at home. Culinary advice. Video recipes.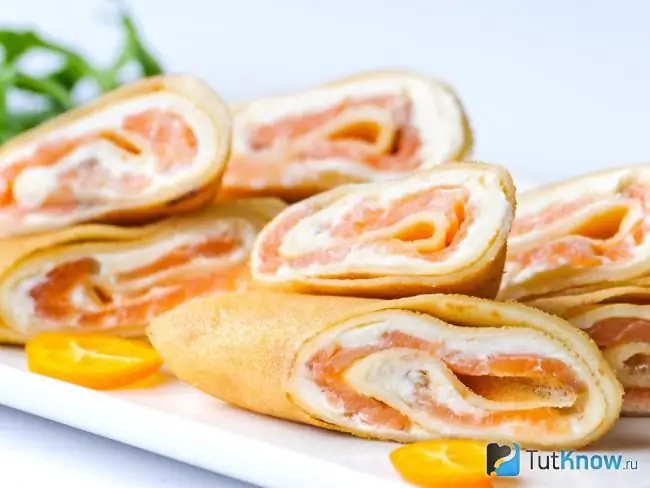 Caloric content per 100 g - kcal.
Servings -
Cooking time -
Pancake Week begins seven days before Lent. During this time, you need to gorge yourself on pancakes with different fillings, of which there are a great many. This review contains a variety of recipes for savory and sweet pancake fillings. Try to make pancakes stuffed with meat, chicken, salmon, crab, fruit, cottage cheese, mushrooms … And then Maslenitsa will become special - filled with taste and pleasure.
Culinary Tips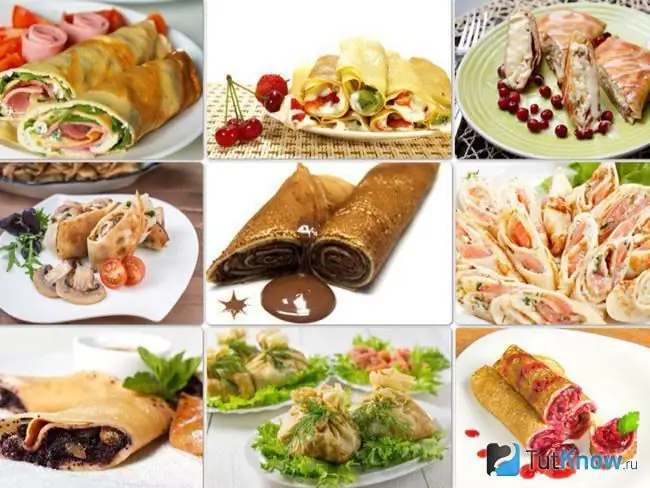 The general rule of any pancake filling is that the filling must be completely finished. Because pancakes are not pies that go in a pan or oven. Even if stuffed pancakes are heat treated with a filling, it is short-lived. Therefore, the raw filling will not have time to fully cook.
If the stuffed pancake is still fried in a pan or baked in the oven, then it is fried in the pan on one side, and the filling is placed on the fried side. The pancake is wrapped in an envelope or tube and baked until golden brown.
If the stuffed pancake is not heat-treated, it is fried on both sides and the finished filling is wrapped in them. These patches can be warmed up in the microwave.
You can stuff pancakes with fillings in a variety of ways. For example, with sweet fillings, fold them into a triangle. An interesting option for serving pancakes stuffed with fish, caviar and seafood is to decorate them with rolls or "rolls". To do this, put the filling on prepared thin pancakes fried on both sides and roll them up, and for a "roll" cut it obliquely. Pancake bags tied with a feather of green onions look beautiful on the table. The most classic design of stuffed pancakes is to wrap them in an envelope.
Pancake fillings
All delicious pancake fillings are conventionally divided into 5 types. Because any filling is a combination of several products. The only mono fillings are jam fillings. The proportions for each filling can vary depending on taste preferences.
Sweet toppings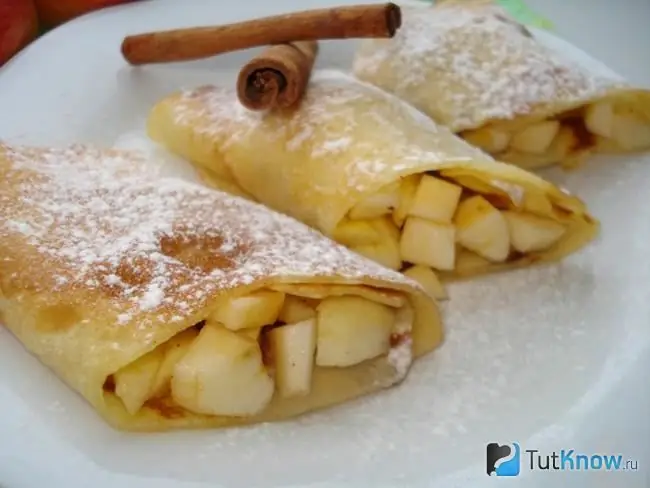 Any thick jam, jam, jam. If the jam is liquid, add 1 tbsp. starch or flour and boil.
Chocolate. Bitter or milk chocolate melted in hot milk with sugar and butter. You can add fresh or canned fruit slices to the frosting.
Banana. Mashed banana mixed with soft butter, sugar and lemon juice.
Berry or fruit. Any berries or diced fruit with steamed raisins, crushed nuts, sugar, or honey.
Nutty. Milk and flour are boiled down to the consistency of sour cream. Whipped soft butter with sugar and mixed with and finely crushed nuts is added to the mass.
Poppy. Poppy filled with boiling water and rolled through a meat grinder, mixed with chopped walnuts, steamed raisins and sugar.
Cherry. Whipped cream with soft cottage cheese and sugar, and tossed with pitted cherries.
Meat fillings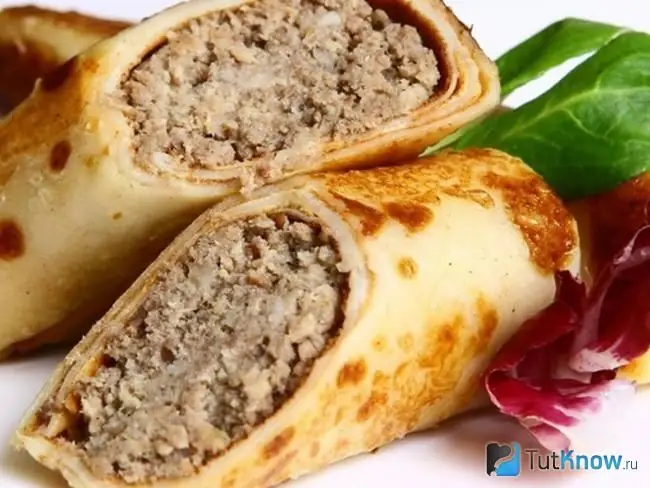 Filling for chicken pancakes. Boiled chopped chicken breast, sautéed onions in oil, grated cheese, chopped garlic, salt, pepper and sour cream.
The meat filling for pancakes is prepared from low-fat boiled finely chopped or twisted any meat (you can use chicken). It is supplemented with finely chopped and stewed onions until transparent (sometimes with carrots). The products are mixed, seasoned with soft butter, salt, pepper and the filling is stewed a little. Also, such a meat filling can be supplemented with a choice: stewed white cabbage, fried mushrooms, boiled or canned beans in tomato sauce.
Liver filling for pancakes. Boiled and minced liver (any), stewed carrots with onions, chopped boiled eggs, soft butter, salt, pepper.
Sausage. Minced or very finely chopped ham or boiled sausage, grated cheese and sour cream.
Filling for minced pancakes. Stewed minced meat with chopped onions, raw egg, salt and pepper. Sometimes boiled rice is added to the products.
From smoked meats. Finely chopped smoked chicken breast, chopped boiled eggs, canned corn, mayonnaise, salt, pepper.
Fish fillings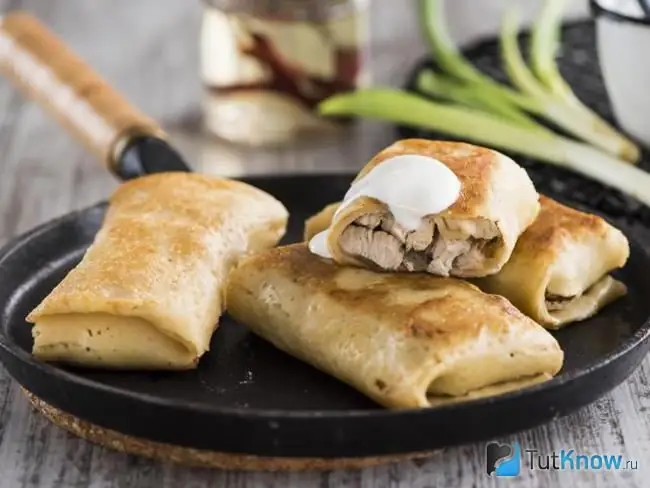 Red caviar. The pancake is greased with soft butter and caviar is spread on top.
With red fish. The pancake is smeared with melted or soft cream cheese. On top, put lightly salted salmon or trout fillet (pink salmon or chum salmon can be used) and chopped greens, cut into thin slices. Pancakes with such a filling are usually rolled up and cut obliquely.
From crab sticks. The classic crab salad is wrapped in pancakes. The salad contains chopped crab sticks or crab meat, boiled eggs, canned corn, green or onions, mayonnaise.
From canned fish. Separate the fish in oil or its own juice with a fork, cut boiled eggs and onions into small cubes and mix everything with mayonnaise.
Herring. All products are chopped with a blender to a homogeneous consistency: salted herring fillets, boiled eggs, fresh onion and mayonnaise. Sometimes boiled beets, boiled potatoes or a fresh apple are added to the mass.
Mushroom fillings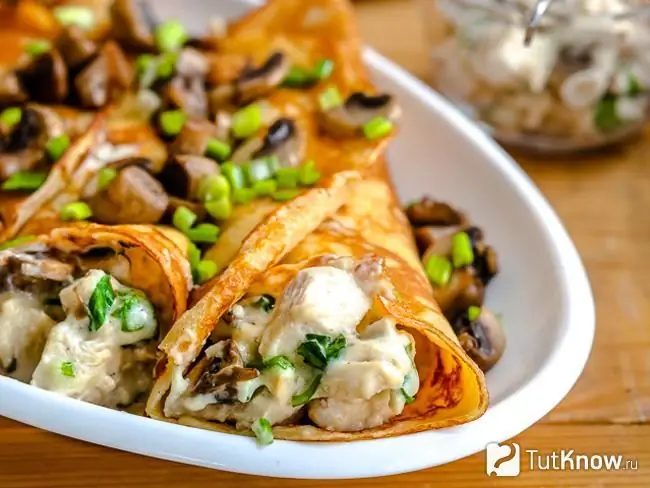 Fresh mushrooms. Fresh or frozen mushrooms (champignons, oyster mushrooms, forest mushrooms) stewed in butter until the liquid evaporates. The mushrooms are mixed with fried onions, sour cream or cream. Sometimes grated cheese is added.
Julienne. Make mushroom and chicken julienne according to your favorite recipe with all the rules. Wrap the filling in pancakes and bake them in the oven until golden brown.
From dried mushrooms. Soak dried mushrooms, boil in the same water and pass through a meat grinder. Combine them with sautéed chopped onions in oil. Add crushed boiled eggs, boiled rice, sauerkraut or stewed cabbage to your choice of foods.
Vegetable fillings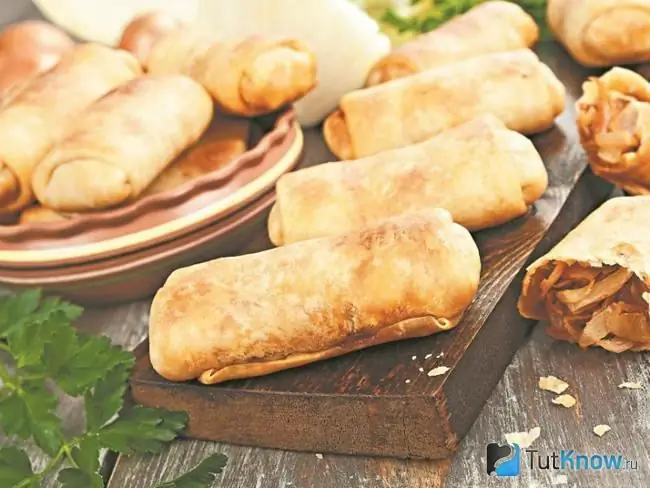 Cabbage. Stewed chopped white cabbage with onions and carrots (sometimes with apples) in vegetable oil. You can add mashed boiled eggs to the filling.
Bean. Boiled or canned beans, whipped with a blender to a puree consistency. The mass is mixed for a salty filling with hard cheese and garlic, for a sweet one - with nuts and prunes.
Potato. Mashed potatoes are mixed with chopped green onions and boiled eggs.
Beetroot. Boiled or baked grated beets mixed with chopped walnuts, garlic, soft cream cheese and mayonnaise.
Curd fillings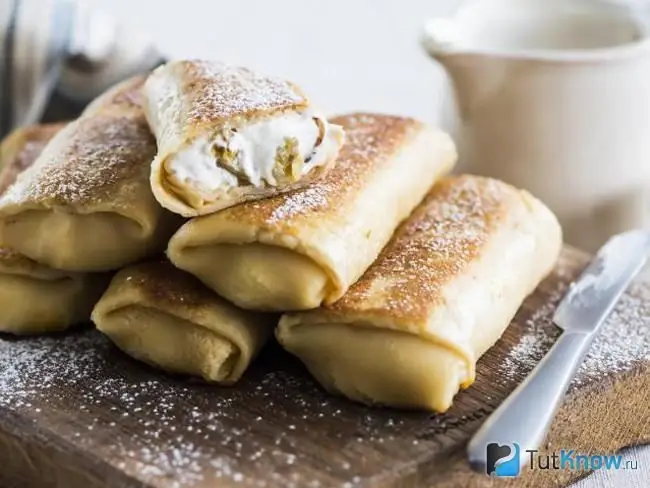 Cottage cheese with raisins is the most classic filling for pancakes. Beat cottage cheese with a blender until smooth, add steamed raisins, sugar or honey. Sometimes a raw egg, sour cream or cream is added to the products if the cottage cheese is dry. Be sure to fry such stuffed pancakes in a pan in butter.
With dried fruits. Soft cottage cheese mixed with sour cream, sugar and chopped dried fruits (dried apricots, prunes, raisins, dried cherries, dates).
With garlic. Grind cottage cheese, hard cheese, garlic, herbs and mayonnaise with a blender until smooth.
With banana, the curd filling for pancakes is prepared as follows. Crush the bananas, mash the cottage cheese with sugar and mix the products with sour cream.
With chopped boiled eggs, chopped green onions and sour cream. The mass is mixed with cottage cheese.
Pancakes with cottage cheese, chopped ham and egg omelet - recipe for filling for rolls or roll.
Cottage cheese with sliced tomatoes, grated hard cheese and chopped herbs. Stuffed pancakes with such a filling can be served immediately or pre-baked in the oven.
Video recipes for making the most delicious pancake fillings