Delicious and hearty Italian dish - spaghetti with fried mushrooms. How to cook it, read this step-by-step recipe with a photo. Video recipe.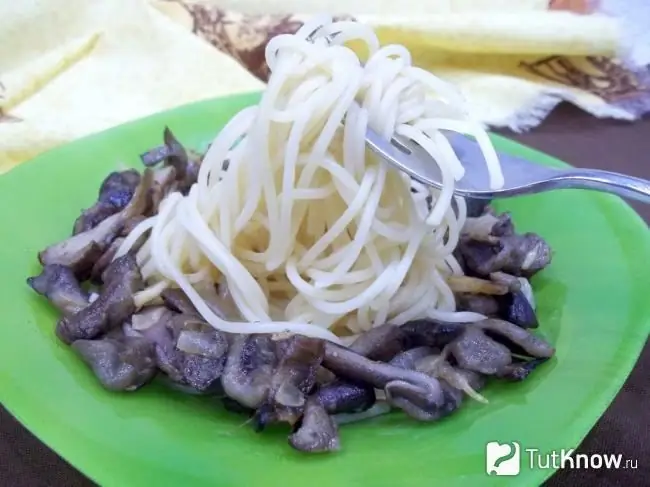 Recipe content:
Ingredients
Step by step cooking
Video recipe
Spaghetti cooked with fried frozen mushrooms is a delicious Italian pasta with mushroom sauce. Great for a full breakfast or dinner. Pasta with mushrooms is not difficult to prepare, and, for sure, many people like it. In addition, food is prepared very simply and quickly in a hurry. At the same time, it is satisfying, nutritious and tasty.
Mushrooms are prepared separately and can serve as a full-fledged independent snack, or, as in this version, they serve as an excellent addition to pasta. The mushrooms in this recipe are forest mushrooms, previously frozen. They are usually frozen already boiled, so cooking does not take much time. But if you do not have frozen mushrooms, then you can use fresh greenhouse mushrooms, champignons or oyster mushrooms. They do not require a lot of time for cooking. Fresh forest mushrooms are also good. But they should be carefully prepared beforehand.
You can also experiment with pasta. This recipe uses spaghetti, but sticks, horns, bows, and whatever shapes you like best will do.
Caloric content per 100 g - 93 kcal.
Servings - 1
Cooking time - 30 minutes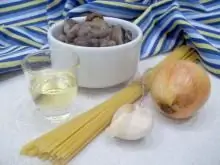 Ingredients:
Spaghetti - 100 g
Onions - 0.5 pcs.
Salt - 1 tsp or to taste
Frozen forest mushrooms - 300 g
Vegetable oil - for frying
Ground black pepper - a pinch
Garlic - 1 clove
Step by step cooking spaghetti with fried frozen mushrooms, recipe with photo: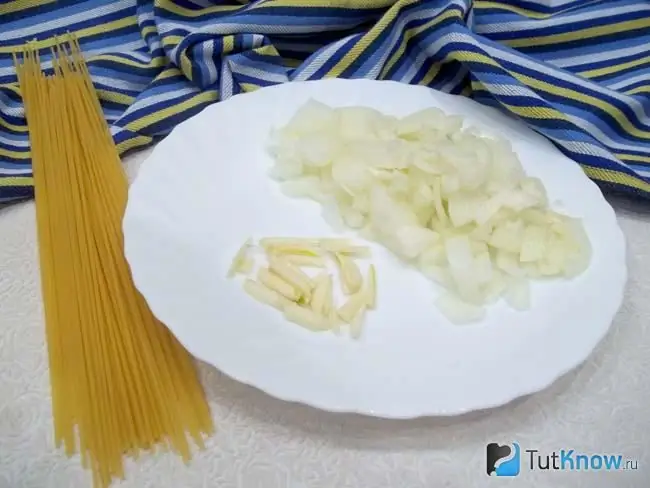 1. Peel the onions and garlic and cut into thin strips.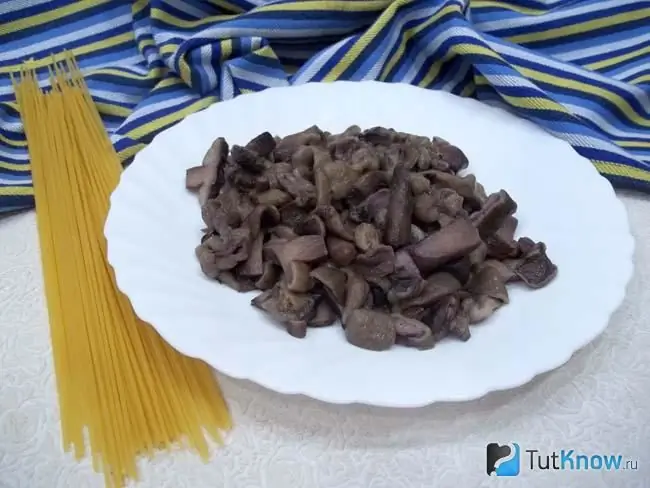 2. Remove the mushrooms from the freezer in advance and leave to defrost at room temperature. Then transfer them to a colander and rinse under running water. Let all the liquid drain and cut into medium slices.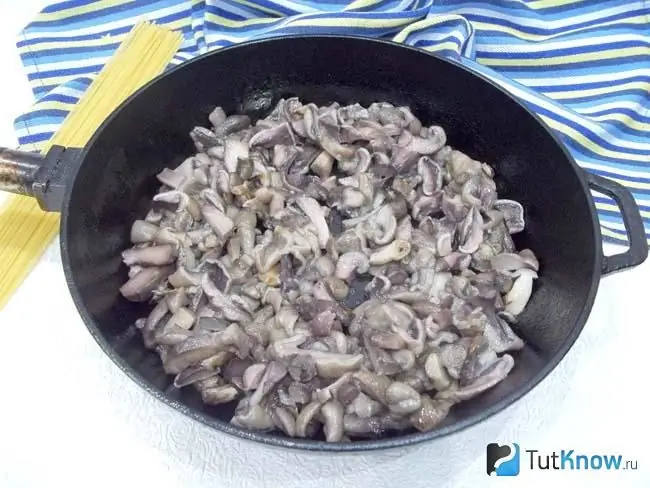 3. Heat vegetable oil in a skillet and add mushrooms.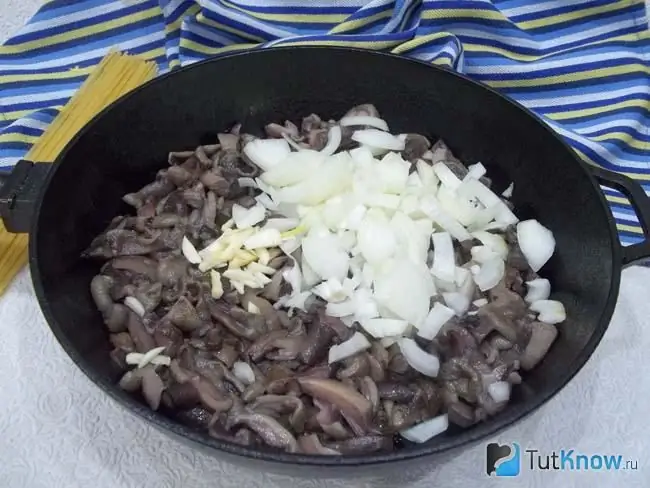 4. Fry them over medium heat for literally 5 minutes and add chopped onions and garlic to them.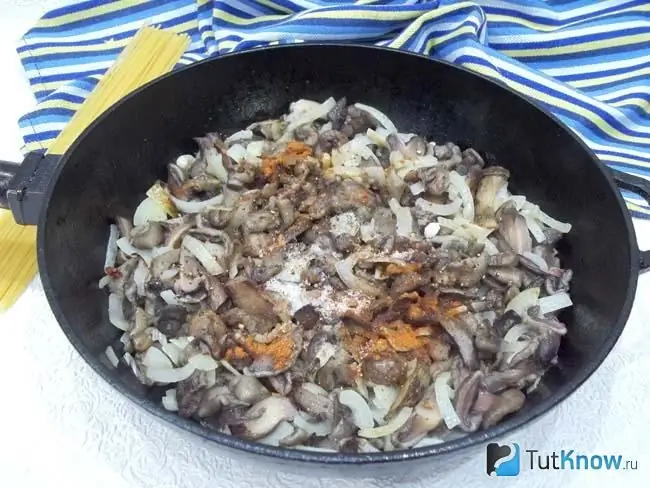 5. Continue to fry mushrooms and onions, stirring occasionally. After 10 minutes, season them with salt, ground pepper and any spices to taste. I added ground nutmeg and ginger powder.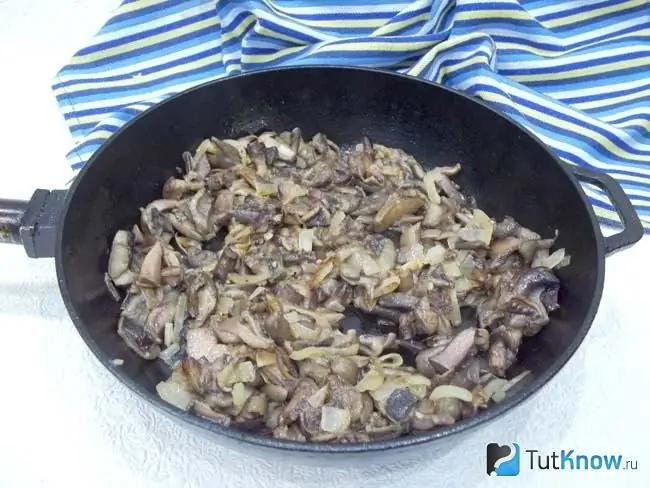 6. Fry mushrooms and onions for another 5-7 minutes. The mushrooms should acquire a golden crust, and the onions should become translucent.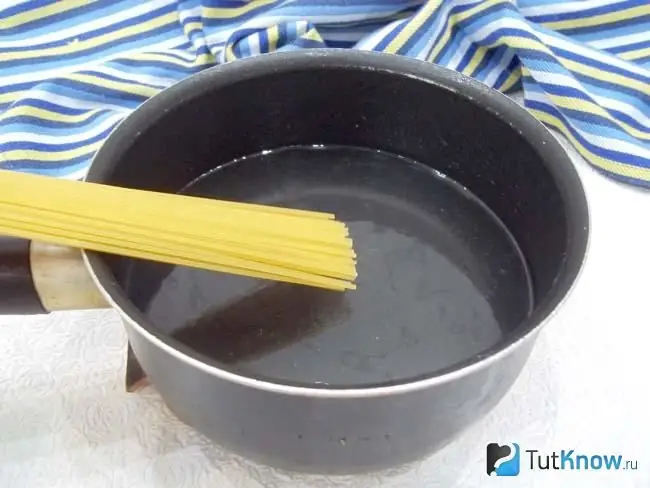 7. Fill a saucepan with water, salt and boil. Dip spaghetti into boiling water and stir. After boiling the water again, turn the heat to medium and cook the pasta without a lid until tender. The cooking time is indicated on the manufacturer's packaging. Follow this instruction.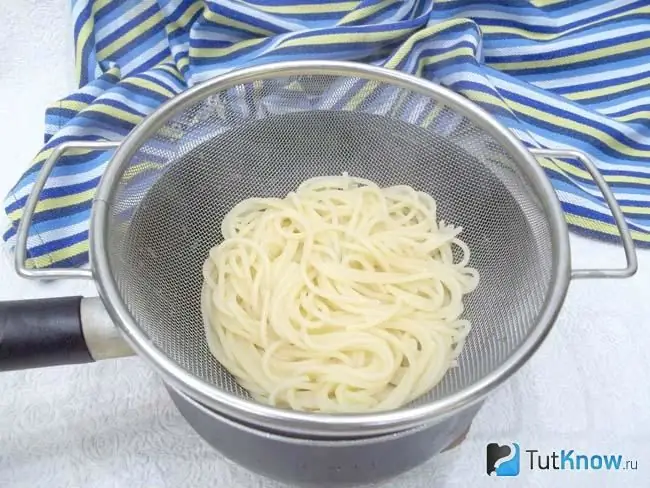 8. Turn the finished pasta into a colander to drain excess water.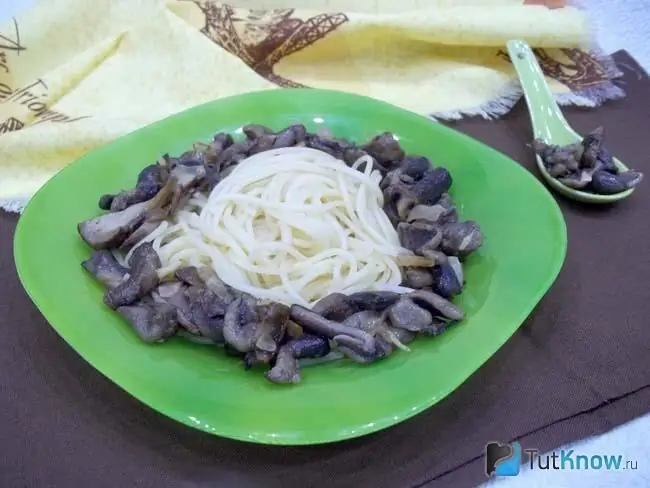 9. Serve pasta by placing it on a dish and spreading fried mushrooms around.
See also a video recipe on how to cook pasta with mushrooms. Recipe from Jamie Oliver.