A step-by-step recipe with a photo of making a salad with cabbage, cucumber and canned mackerel at home. Benefits and nutritional value. Video recipe.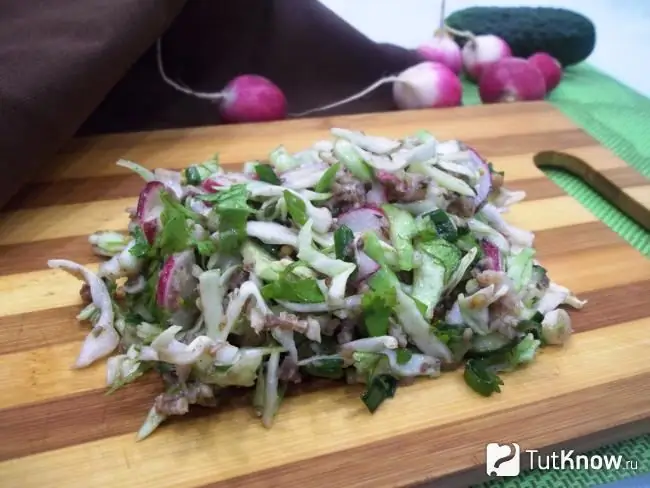 In the summer season, simple and light vegetable salads are very popular. I share a wonderful recipe with a photo of a salad with cabbage, cucumber and canned mackerel. It is perfect as a stand-alone snack or as a side dish for meat, fish or poultry. Cabbage and radish salad with fresh cucumber and spicy herbs turns out to be crispy, spicy and fresh. But it is the added pieces of canned mackerel that are the key ingredient and give the dish a pronounced taste and aroma, and transform vegetables beyond recognition.
Thanks to the fish, the salad acquires a rich fishy taste, it turns out to be unusual and very tasty. It will add vitamins and bright colors to the dining table. Therefore, mackerel salad can be prepared with the addition of a variety of vegetables that you have at home, and the taste of the dish will always be different. Such a juicy, appetizing and low-calorie salad should always be present in the diet in the summer. It can be served as a main dish or served on a festive table.
Caloric content per 100 g - 135 kcal.
Servings - 2
Cooking time - 5 minutes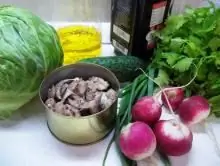 Ingredients:
White cabbage - 200 g
Vegetable oil - 2 tablespoons for refueling
Radish - 5 pcs.
Cucumbers - 1 pc.
Canned mackerel - 1 can (240 g)
Salt - pinch or to taste
Soy sauce - 1 tablespoon
Cilantro - 6-7 branches
Green onions - bunch
Step by step preparation of salad with cabbage, cucumber and canned mackerel: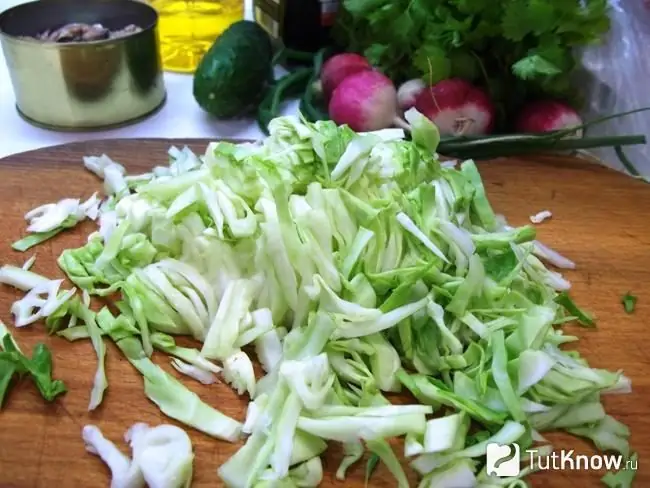 1. Most often, the top leaves of a head of white cabbage are dirty and spoiled. So take them off. Then rinse the head of cabbage with running cold water and dry with a paper towel. Cut off 200-250 g from it (you can more or less to your taste). Place the cabbage on a cutting board and cut into thin strips with a knife. Sprinkle the shredder with salt, crush it by hand (2-3 times) and send it to the salad bowl. This is necessary so that the leaves let the juice flow and become softer, then the salad will be juicier. This is not necessary if you are using young cabbage or Peking cabbage.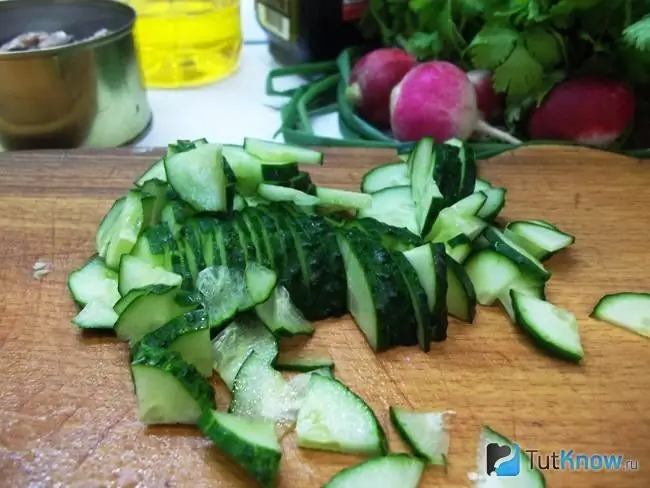 2. Wash the cucumbers, dry with a paper towel and cut off the ends on both sides. Cut the gherkins into quarters into rings 2-3 mm wide. If the cucumbers are bitter, peel them off. it is in it that the very bitterness is contained.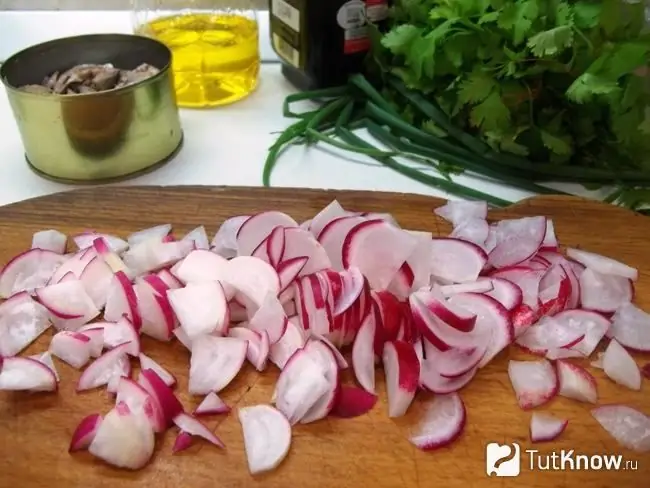 3. Wash the radishes and dry well from excess moisture by blotting with a cotton towel. Cut off the stalk on one side, on the other end. Cut it in the same way as a cucumber. It is not necessary to cut the cucumbers with radishes into half rings, you can chop them differently. For example, cubes, straws, etc. It is important to observe the cutting shape, then the salad will look beautiful on a plate.
Radish, like cucumber, can taste bitter. To remove the bitterness from it, pour the peeled fruits from the leaves and tails with salt water (1 tsp of salt for 1 liter of water) and leave for 30 minutes. Then rinse with clean water. If it is not possible to soak the fruits, then use sour cream for dressing, it drowns out the bitterness well.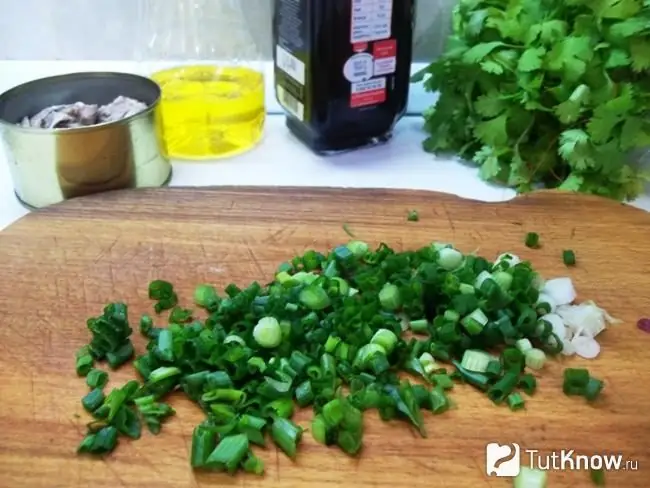 4. Rinse green onions under cold running water and pat dry with paper towels. If the white base is thick and dense, cut it off and use only green feathers for the salad. Finely chop the onion and send it to the bowl with the vegetables. Alternatively, substitute leeks for green onions.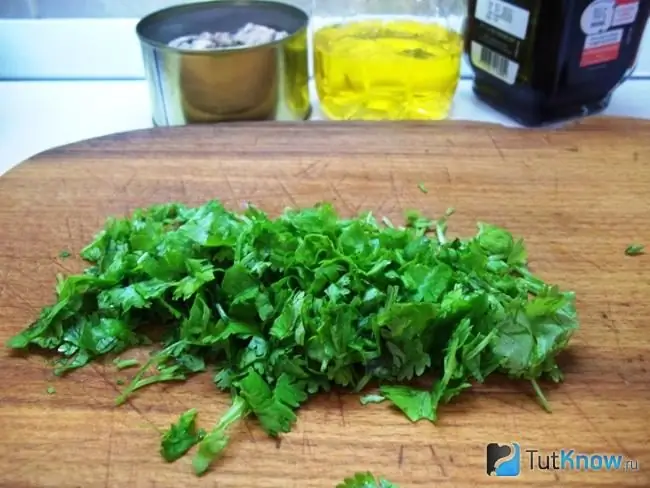 5. I use cilantro as a greenery. But this is optional. Dill, basil, parsley, arugula are also suitable here. Therefore, choose greens to your taste. You can put it frozen. You do not need to defrost beforehand, but immediately
from the freezer, add to the salad. Frozen herbs will additionally cool the dish.
So, rinse the selected greens (in my case, cilantro) with running cold water, washing off all the soil and dirt from the leaves. Dry with a paper towel, remove wilted twigs from the bunch, and finely chop the selected leaves.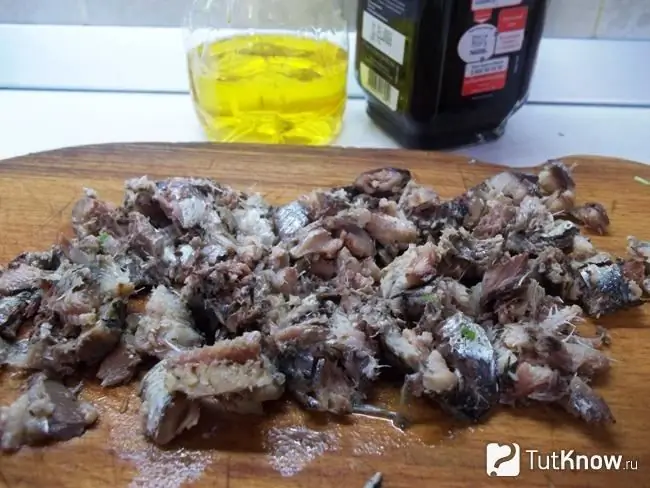 6. Remove the canned mackerel from the tin. Blot the pieces with a paper towel to remove excess oil if you do not want to add extra calories to the dish. If desired, remove large spine bones from the slices and cut the fish into medium-sized slices or mash with a fork.
This option uses canned mackerel. But you can take cold or hot smoked mackerel, it will add interesting notes to the salad. Also, instead of canned mackerel in oil, you can take any other type of canned fish, such as saury, cod, tuna.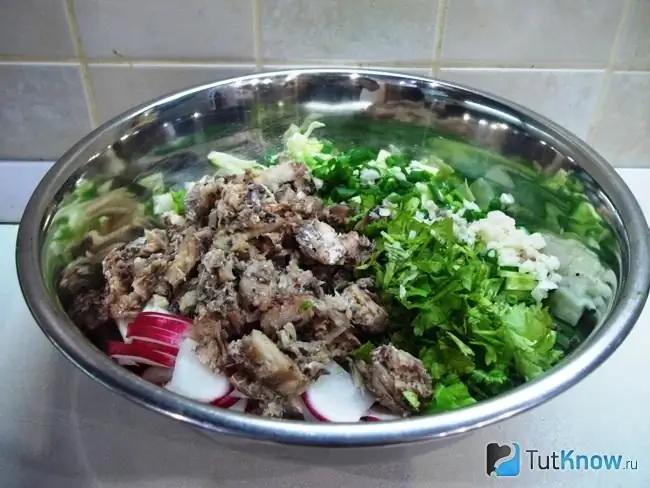 7. Place all food in a large salad bowl.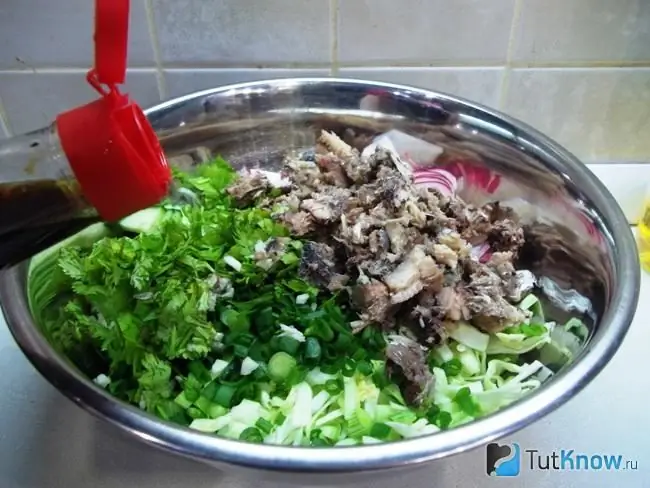 8. Season the ingredients with soy sauce.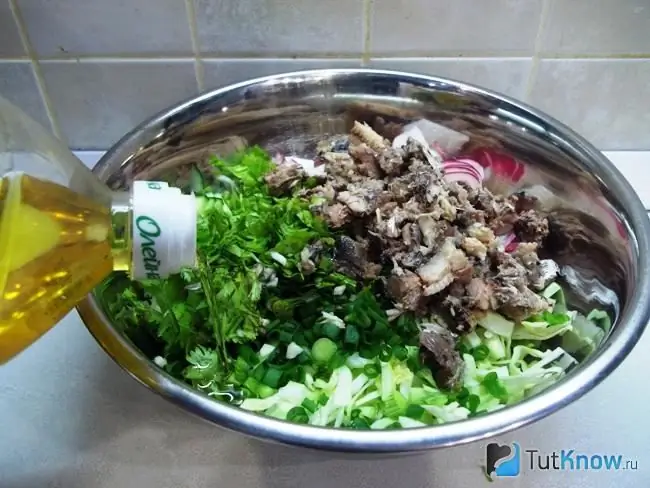 9. Pour in vegetable oil, or replace it with olive oil or any other oil, for example, sesame, pumpkin, linseed, etc. Season the salad just before serving, otherwise after 1-2 hours it will lose all nutritional value and become watery.
If you wish, you can season the salad with canned fish oil. But pay attention here that there is more oil than liquid. If on the contrary, then it is better not to do this. Otherwise, the salad will turn out to be very watery. Also, sour cream or mayonnaise is suitable for dressing, take them only fresh, and not with an expired date. But then the calorie content of the dish will increase. For a sour taste, add lemon juice or vinegar to the dressing. But I do not recommend using more than 3 ingredients for dressing, otherwise the piquant taste will be lost.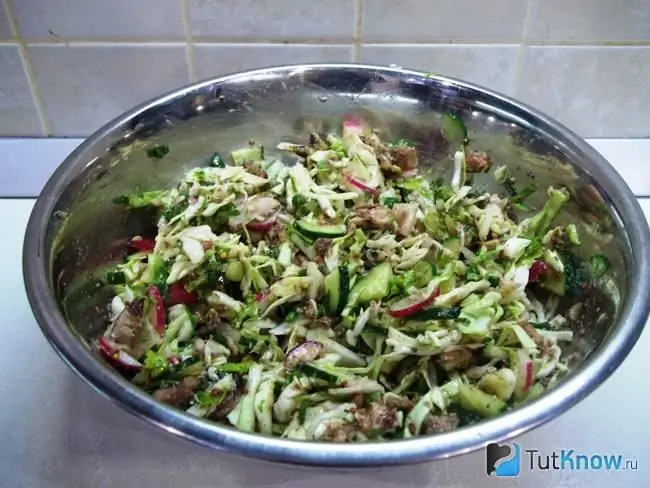 10. Mix all ingredients well. Taste the dish and season with salt. Although you may not have to salt, because the salt is offset by the salinity of the fish itself and the soy sauce. Serve the cabbage, cucumber and canned mackerel salad chilled. Garnish with sesame seeds or croutons if desired.
Vegetable salads are not prepared for future use, but served immediately after preparation. If they stand, the vegetables will let the juice out and the dish will become watery, it will lose its taste and appetizing appearance.
Watch the video recipe on how to make a salad with cabbage, cucumber and canned mackerel