A step-by-step recipe with a photo of cooking buckwheat with sausage in a pan at home. Nutritious dish and low calorie content. Video recipe.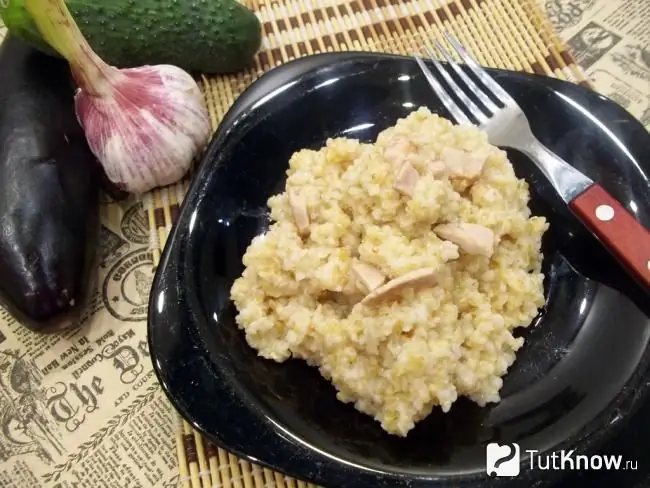 Today, most people value food not only for taste, but also for the optimal combination of taste and health. In addition, there are also qualities that are very important for many nowadays - the availability of products and the speed of preparation. Because sometimes we just don't have enough time to go through the supermarket looking for the ingredients we need. Then take some more time to stand at the stove. Therefore, we resort to the magic wand - to simple dishes that can be prepared in a minimum of time and with a minimum of effort. Today's recipe belongs to this category - buckwheat porridge with sausage.
This is a simple everyday homemade meal for every day, perfect for breakfast, lunch and dinner for the whole family. Buckwheat with sausage in a frying pan is fast, simple and satisfying! The recipe will appeal to many housewives, since there are minimal labor costs and a minimal amount of time to prepare a delicious meal. If you want to make a quick dinner with a minimum of ingredients, then this recipe is just for you. Buckwheat and a piece of sausage will definitely be in your refrigerator, but 20 minutes is not so long. Another recipe will especially appeal to lovers of buckwheat and various cooked dishes based on it.
Caloric content per 100 g - 82 kcal.
Servings - 2
Cooking time - 20 minutes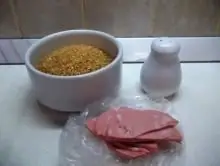 Ingredients:
Buckwheat - 100 g
Boiled sausage - 50 g
Salt - 2/3 tsp or to taste
Vegetable oil - for frying
Water - 1 tbsp.
Step by step cooking buckwheat with sausage in a pan: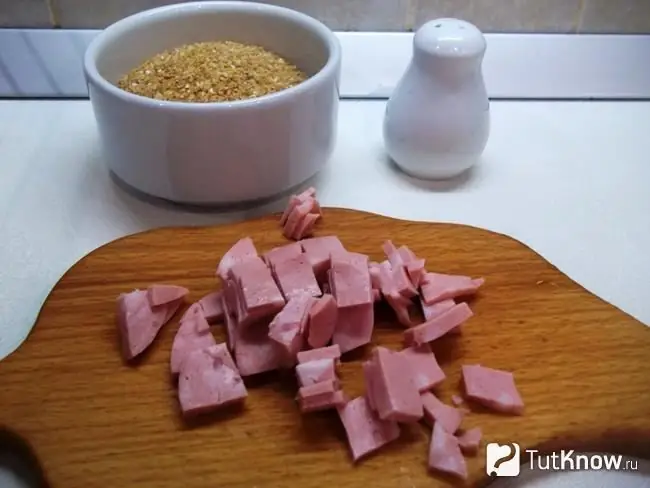 1. Peel the sausage from the shell and cut into pieces (small or medium), the size you want to see it in your plate. I have boiled sausage in my recipe, but you can take any kind of it: with lard, smoked, with various additives. Chicken breast is also suitable as a meat component. Then the dish will be more dietary.
Together with the sausage, you can additionally fry chopped onions or carrots grated on a coarse grater. The onions and carrots should be completely golden.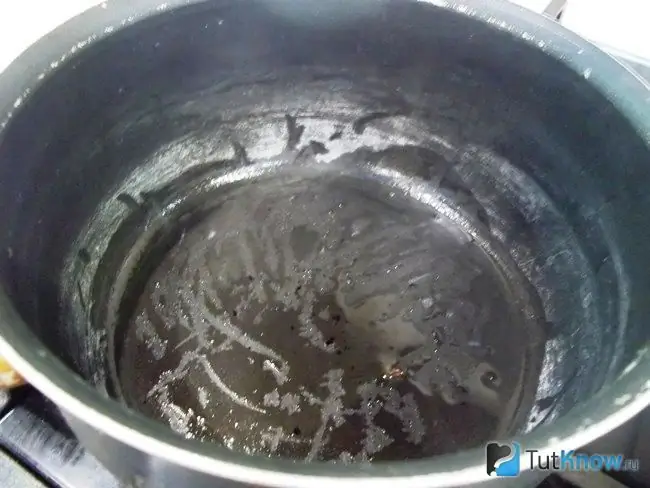 2. Place the frying pan on the stove, add vegetable oil and heat well. You can use any other vegetable oil, but butter will also work.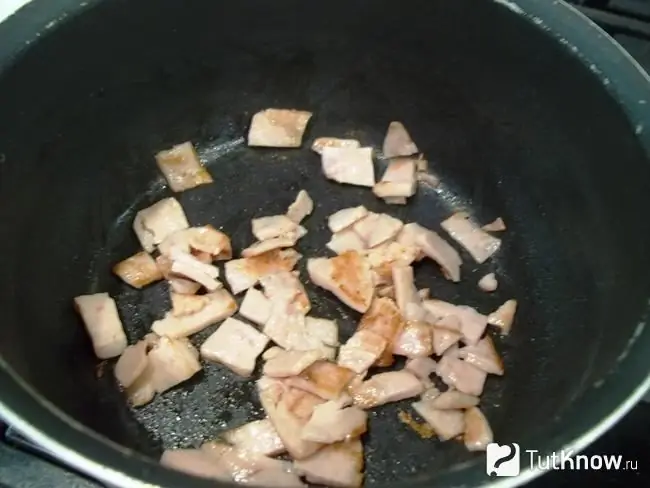 3. Put the sausage in a skillet and fry over medium heat until golden brown. Adjust the degree of roasting at your discretion. You can fry the sausage until golden brown or warm it up slightly.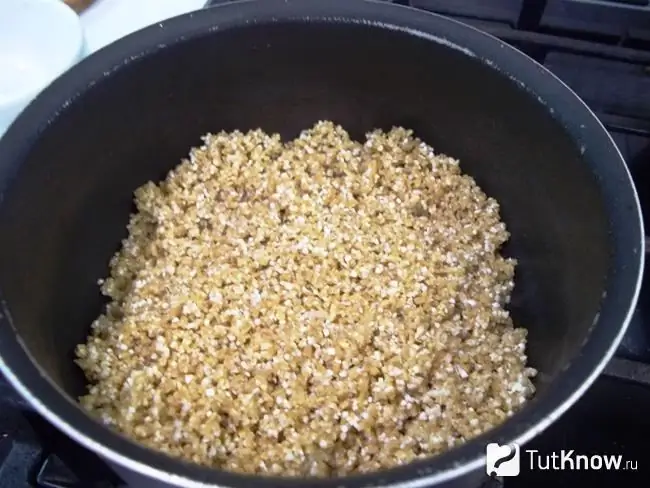 4. Sort the buckwheat, removing the burnt grains. Even if you have an expensive product, there is a chance that there may be plant debris in it. Therefore, do not be too lazy to look at the cereal and remove all foreign elements.
Pour the buckwheat into a fine sieve and rinse under running cold water until the liquid becomes clear.
Send the cereals to the sausage pan and fry all together for 3-5 minutes. Fried buckwheat will be more crumbly and aromatic. A light buckwheat aroma should appear.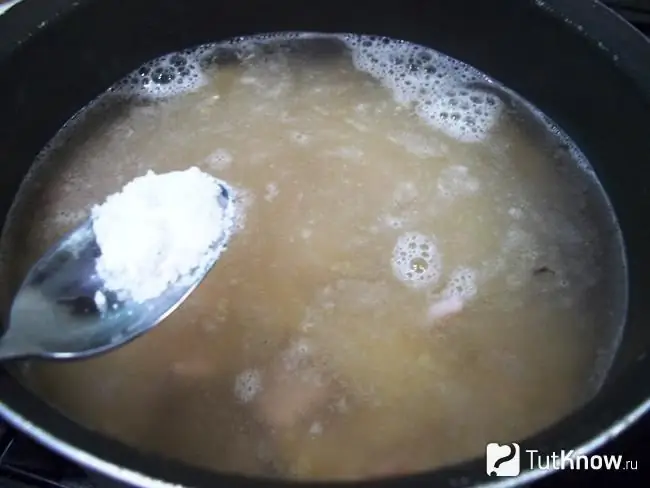 5. Fill the buckwheat with sausage with hot water and place on the stove, turn on medium heat. Add salt to food.
Do not forget that for 1 part of buckwheat, 2 parts of warm water are needed, then the side dish will turn out to be juicy and soaked. If you like viscous porridge, take a little more liquid, about 1.5 times.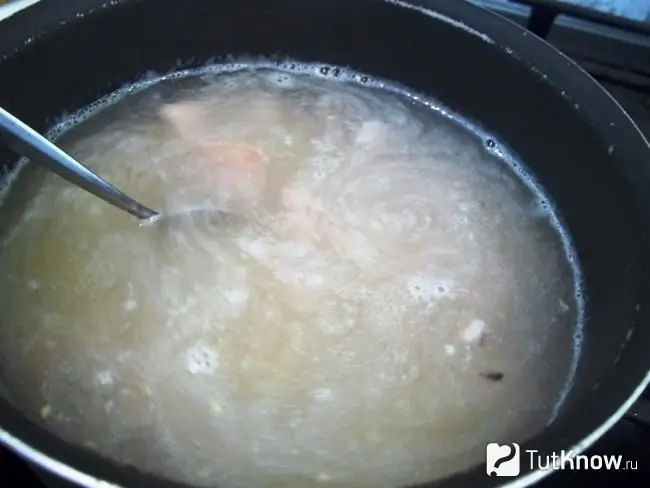 6. Stir food, heat high and bring to a boil.
When the water starts to boil, you can pour 1 tablespoon into the pan. vegetable oil or put a piece of butter.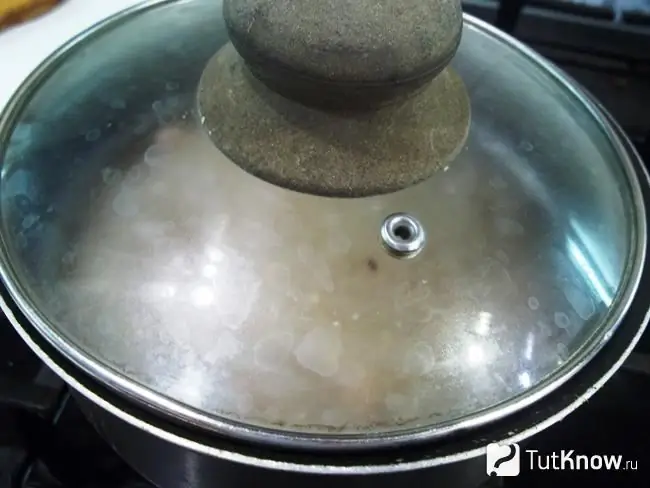 7. Cover the skillet with a lid and simmer.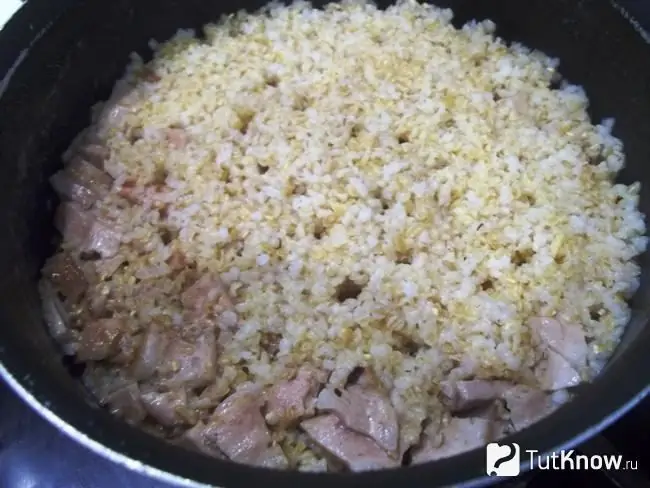 8. Cook until tender, 20 minutes. Do not stir the porridge during cooking. When there is no water in the pan, remove it from the stove. You can check the readiness of buckwheat by running a spoon along the bottom. Do not remove the lid from the pan, but wrap the porridge with a warm towel and leave it to steam for another 5 minutes. Then buckwheat with sausage in a pan will turn out fluffy and crumbly. If desired, at this moment, the porridge can be flavored with butter.
See also a video recipe on how to cook buckwheat with sausage