Features and basic rules of the vinegar diet, permitted and prohibited foods. Menu for 5 days, results and real feedback from those who have lost weight.
The vinegar diet is a diet for the lazy. It does not require any special efforts on the part of losing weight, and it also does not have significant dietary restrictions. However, its effectiveness has been equated to the results of debilitating mono diets. Basic rules, menu below.
Features and rules of the vinegar diet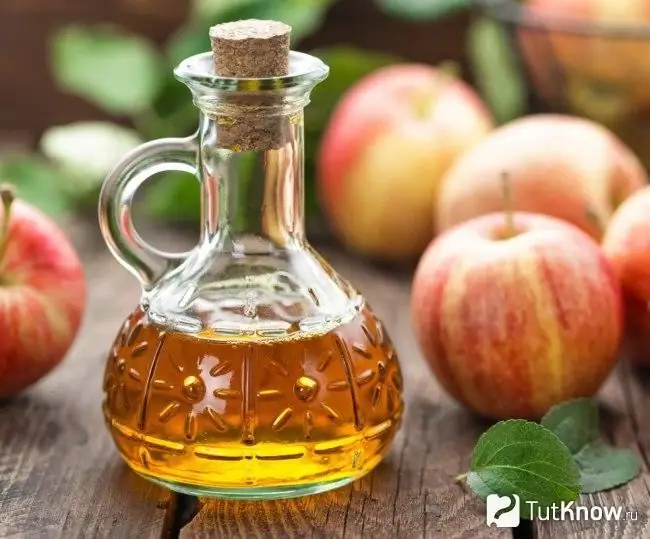 The claim that apple cider vinegar burns fat is not complete. The product has the ability to reduce appetite and speed up metabolism. Sticking to a vinegar diet for weight loss, you can lose up to 6 kg in 5 days.
Doctors still argue about the safety of the diet, but everyone agrees that apple cider vinegar in certain doses has a positive effect on the body. It is rich in organic acids and minerals, and therefore useful. Helps to regulate acid-base metabolism and improve the secretory function of the stomach, stabilizes blood pressure, removes stagnant fluid from the body.
Despite the absence of strict dietary restrictions, there are rules that must be followed for successful weight loss.
Natural apple cider vinegar is preferred for the diet. The product must be mixed with water, the effectiveness of undiluted will not increase, but there is a possibility of getting problems with the digestive system. The amount of vinegar per day should be calculated clearly according to the instructions so as not to harm the body.
Follow the vinegar diet for weight loss is allowed no more than 5 days.
Apple cider vinegar is useful, and this is a fact, but there are still a number of contraindications to its use:
Liver cirrhosis and hepatitis;
Increased acidity;
Stomach ulcer or gastritis;
Disruption of the digestive tract;
Diseases of the kidneys and genitourinary system;
Pregnancy and lactation.
See also the general principles of the color diet.
Allowed and prohibited foods on a vinegar diet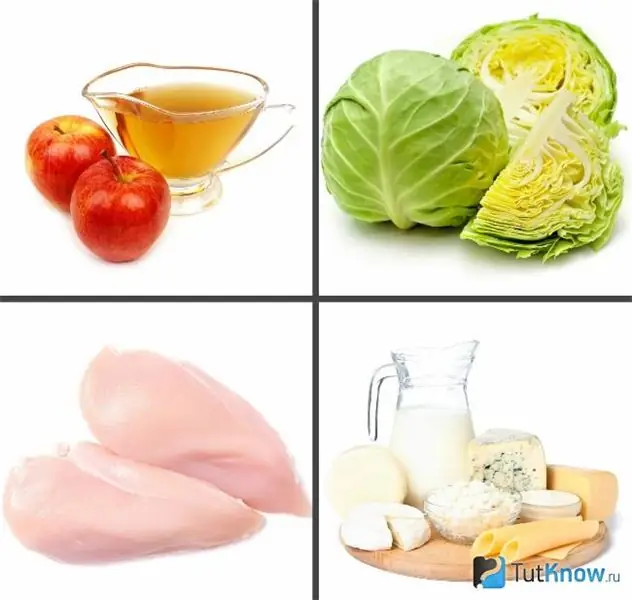 Food should be as healthy as possible. All meals are best taken at the same time during the entire period of the vinegar diet. You should have breakfast no later than 2 hours after waking up.
The vinegar diet is not very restrictive, but there are a number of preferred foods for your weight loss period:
Apple cider vinegar (homemade better)
vegetables and fruits;
cereals;
low fat dairy products;
skinless chicken or beef;
lean fish.
For breakfast, the menu should include carbohydrates - cereals, vegetables, fruits. At lunch we consume carbohydrate and protein foods. Only protein foods are allowed for dinner.
In addition, it is necessary to comply with the rate of water consumption per day - approximately 0.03 l / 1 kg of weight.
The following foods are prohibited on a vinegar diet for weight loss:
Sugar - completely exclude;
Salt - minimize, use only as a last resort;
Bakery products - 30 g of rye bread per day is allowed;
Canned food - with a vinegar diet, the use of vegetables and chicken fillets is allowed, but canned food is prohibited;
Coffee and alcohol - awaken the appetite, increase the risk of breakdown;
Fatty meat and fish;
Starchy foods (potatoes, beets, corn and others);
Fried foods;
Sauces and food additives in the form of spices.
Read more about the dangers of honey for weight loss.
Vinegar diet menu
The diet can be anything at your discretion and desire, the main thing is to follow the rules for consuming apple cider vinegar. To do this, you need to prepare a drink according to this recipe: dissolve 1 tbsp in 1 glass of warm water. l. natural apple cider vinegar.
Vinegar diet menu for 5 days:
| | | | | | |
| --- | --- | --- | --- | --- | --- |
| Day | Breakfast | Lunch | Dinner | Afternoon snack | Dinner |
| First | Vinegar drink - 1 glass, oatmeal in water with fruit - 200 g, herbal tea | Any fruit - 1 pc. | Vinegar drink - 1 glass, baked chicken fillet with herbs and tomato - 150 g, compote | Low-fat cottage cheese - 150 g, tea without sugar | Vinegar drink - 1 glass, omelet with 2 eggs, kefir 1% - 1 glass |
| Second | Vinegar drink - 1 glass, whole grain or rye bread - 30 g, fried egg in a dry frying pan, tea | Fruit - 1 pc. | Vinegar drink - 1 glass, boiled lentils - 200 g | Apple Uzvar | Vinegar drink - 1 glass, baked fish in sour cream, vegetable salad without dressing |
| Third | Vinegar drink - 1 glass on an empty stomach | Fruit salad with natural yoghurt | Vinegar drink - 1 glass, mushroom soup without potatoes, vegetable salad with sour cream | Baked fish with vegetables - 150 g | Vinegar drink - 1 glass |
| Fourth | Vinegar drink - 1 glass, buckwheat porridge with milk - 250 g, herbal tea | Any berries - 150 g | Vinegar drink - 1 glass, fish milk soup - 200 g, vegetable stew - 150 g | Cottage cheese with tomato and herbs - 130 g | Vinegar drink - 1 glass, 3 hard-boiled eggs, vegetable salad, kefir - 1 glass |
| Fifth | Vinegar drink - 1 glass, pita bread with low-fat cottage cheese and tomato, fried in a dry pan, tea | Apple with carrots, grated | Vinegar drink - 1 glass, rice porridge without oil - 150 g, chicken fillet baked with pineapple and hard cheese - 70 g | Kefir - 1 glass | Vinegar drink - 1 glass, fish fillet baked with lemon in olive oil and spices - 200 g |
Read more about the apple diet
Real reviews of the vinegar diet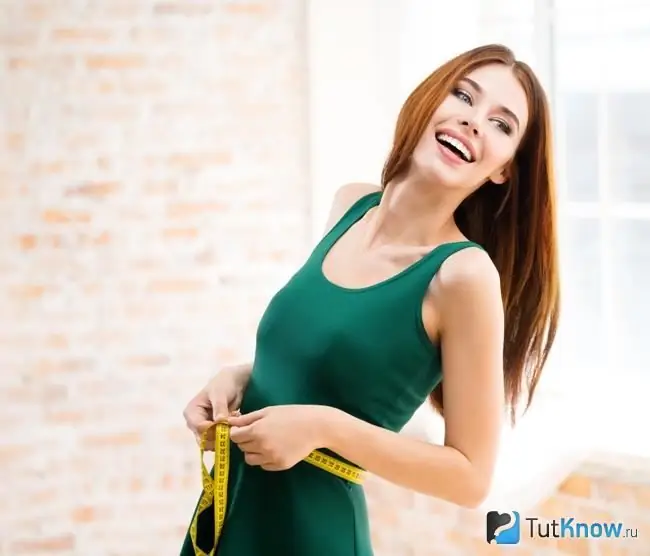 The results of the vinegar diet are impressive - up to 5 kg of weight lost. If you stick to the diet for all 5 days and do light sports, you can increase your weight loss to 6 kg. Calorie counting and sports will help you noticeably decrease in volume.
Since such a diet has been known for a long time, many have managed to lose weight with it. The diet is simple and easy to carry, gives a quick and noticeable result. Below are some of the most revealing reviews of the vinegar diet.
Elena, 47 years old
At first, I was skeptical about such a diet: how can vinegar help? But after reading the results and reviews on the vinegar diet, I decided to give it a try. I stuck to the PP and followed all the rules. My result is minus 4 kg, and that's without sports.
Valentina, 34 years old
I was scared to try, I thought that vinegar could burn everything inside. But my friend successfully lost weight with the apple cider vinegar diet, and I decided to try it too. I did not follow everything, but the sport was present, my result was minus 5 kg and 5 cm at the waist.
Inna, 30 years old
I am one of those who are constantly losing weight. I decided to check the vinegar diet too. But I also armed myself with calorie counting. In 5 days I lost 7 kg. It's incredible, I didn't hope for such a result. This is one of the few diets that are easily tolerated and show quick, noticeable results. I think to repeat it after a while.
What is a vinegar diet - look at the video: