Burlap crafts allow you to make toys, houses, decorative pillows, topiary, flowers. After watching the master class, video, you can create dolls from such a mat.
It is difficult to find cheaper and simpler material. However, you can create interesting cozy things for yourself, for home decoration, for gifts from burlap with your own hands.
How to make do-it-yourself burlap houses?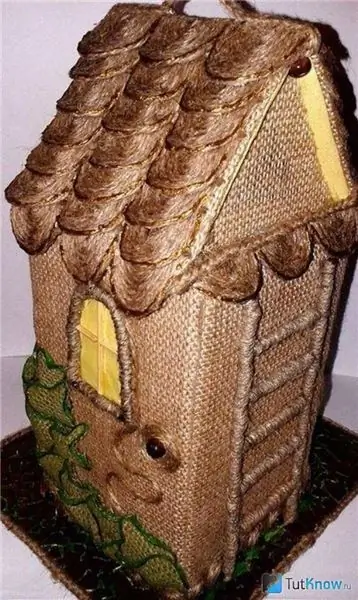 To create one, you need:
sackcloth;
small rectangular cardboard box;
threads;
wooden skewers;
toothpicks;
glue;
thick cardboard;
jute;
yellow paper;
wire;
scissors.
Take the box and place it on the small sidewall. If your box opens from the opposite side, then make a roof out of this lid by bending it in the form of a triangle. If not, then take an additional rectangle of cardboard and fold it with a corner. You will get a roof. Glue it in place, and on one of the other side, attach triangles of cardboard to the roof to make its ends. Cover them with burlap. Cover the top of the gable roof in the same way.
Cut strips of jute, make semicircular parts out of them. It will be like a tile. Glue them as shown in the photo.
Measure the sides of your box. According to this size, you will need to sew a canvas for the walls. Here's how such burlap crafts are made further. Determine where the window will be. Take a wire, bend it in a semicircle shape and wrap twine around this window. Now glue this blank in place. And inside the window, attach a sheet of yellow paper of the same shape. Make frames with two crossed toothpicks. You can pre-paint them.
Take wooden skewers. Put two in parallel, and cut the others into small equal pieces and fasten the two large ones perpendicularly. Glue the blanks or fasten them with twine, which needs to be wrapped around this ladder.
Take green threads and embroider a semblance of moss at the bottom of the house, then it will be clear that this structure is old. Decorate the stand. You can glue pieces of green and brown threads onto it, as if it were soil and grass. Attach paper or fabric flowers here, if desired. Fix the house on a stand.
You can make other structures with which you can decorate a Christmas tree or walls in the house. Make a talisman.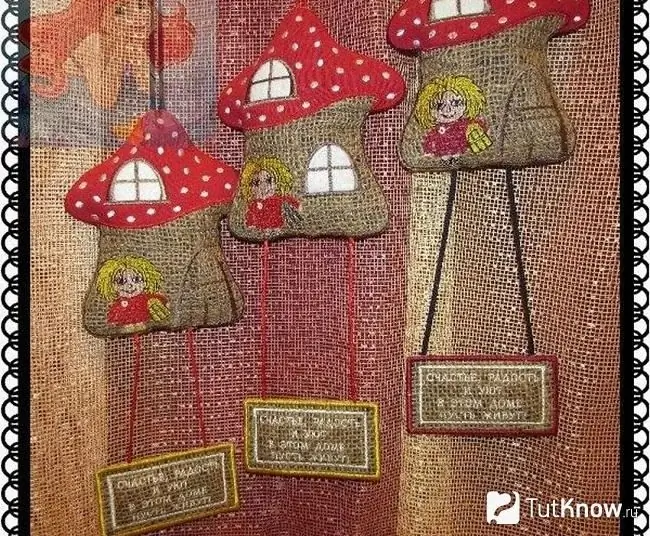 For such a burlap craft, you will need:
sackcloth;
fabric with white polka dots;
white flap;
colored markers;
cardboard;
synthetic winterizer;
strings;
scissors;
needle with thread.
Cut out the similarities of fly agarics from cardboard so that they at the same time resemble houses for Domovyats. Take a sheet synthetic winterizer and cut out a figure of the same shape from it. You will also need to cut out the leg of the mushroom, they are the walls of the house, from burlap. But this material needs to be taken with a margin, since you will wrap its edges back. Or you can cut out the front and back of the leg from burlap, put them in place, sew the sides so that both the cardboard and the synthetic winterizer are inside.
In the same way, create a fly agaric hat out of red polka dots. It will also be voluminous. Cut a window out of white fabric, draw its frames with a dark marker. You can also attach the window to the stem of the mushroom.
Draw with colored markers Kuzyu the brownie on this building. If you want to hang this amulet at home, then take a colored thread and attach it to the bottom of the house. Cut out signs from burlap on which you can write or type good wishes for the well-being of your home.
If you have a bottle of the desired shape, then you can make burlap crafts based on it. To do this, cut a circle out of this material. It will become the bottom. Sew the sides of the house to it. Cut out shingles from burlap and other material. Glue or sew them onto the top of the house instead of the roof.
To keep the shingles in shape, first glue the burlap to the cardboard. When the glue is dry, cut out the shingles.
To make a balcony, glue burlap to a strip of cardboard. And bend this blank and pin it in place. After that, glue the semicircular bottom, which also consists of cardboard and burlap.
You can use foil or other reflective material to make a window for the house. Glue it, and make the frame from matches without sulfur, from toothpicks or from strips of cardboard.
It remains to create small details of the burlap house. To make such a whisk, tie the same length of threads to a toothpick. Tie them with a thin rope. Flowers can be made of fabric. Then glue them in place.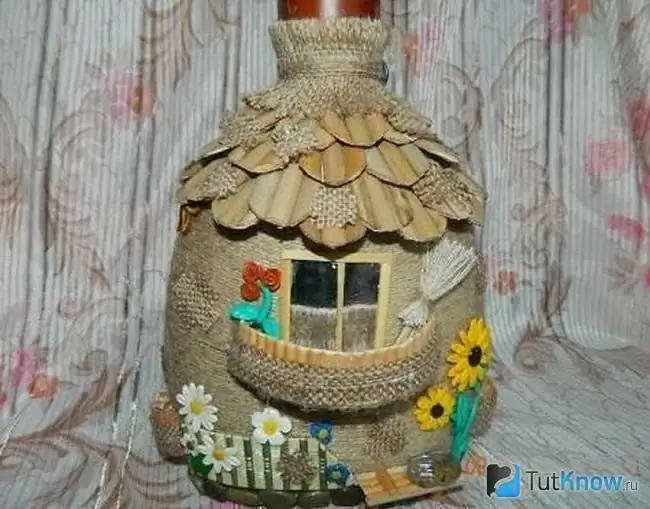 Make an original birdhouse with your child. For him, you need a piece of sewer plastic pipe. Glue the bottom of the same material here, then cut the burlap to the size of this building and glue it here.
Cut out a window for the bird. Frame it. Roll a cone out of cardboard or other material to make a roof. Decorate it in the same way with a matting.
Make natural yarn to decorate your birdhouse. You can also glue beads here. It will also be a great craft for kindergarten and school. Then help your child create a burlap bird. You need to cut it out, fill it with padding polyester, add the missing details.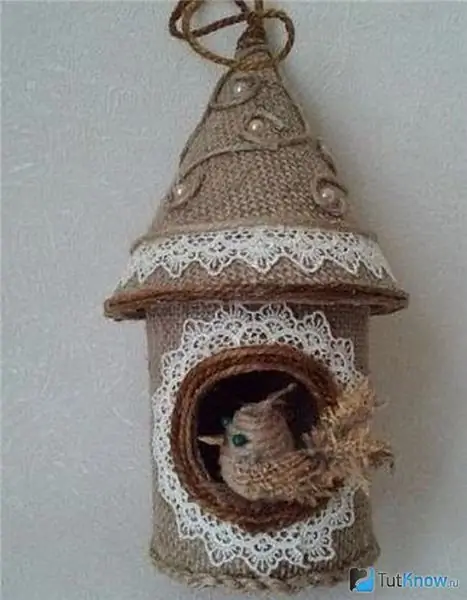 Read on: How to make toy fairy houses
How to make a decorative pillow from burlap - master class and photo
Decorate your home and add coziness to it with such beautiful things.
The pillowcase will be made of natural material. Take:
burlap;
scissors;
leg-split;
openwork braid;
bead.
If you already have a small pillow, then sew a pillowcase for it. This is easy to do, just cut a rectangle out of burlap. Sew up the sides, leaving the top edge free for now. Put your pillow here. If you will then remove the pillowcase and wash it, then provide a button or zip fastener. And if you do not plan to do this, then sew this hole on your hands.
Cut a strip from the burlap, fold it on one side and start rolling this roll to make a rose. Fix its turns with a thread and a needle, put a bead inside and glue or sew it on.
Overlock the large edges of the burlap strip. And the small ones need to be sewn together. Put this piece on the pillow, after having sewn the braid, rose and twine bow.
Check out how to make burlap crafts for another decorative pillowcase. Cut out two identical rectangles from this material, the dimensions of which are 3 cm larger on all sides than the pillow. Take a large needle and start removing horizontal threads from all sides of the square.
Make a 2 cm long fringe. Fold the pillowcase pieces with wrong sides to each other and sew on three sides of the face. Place a pillow inside, sew on the remaining side.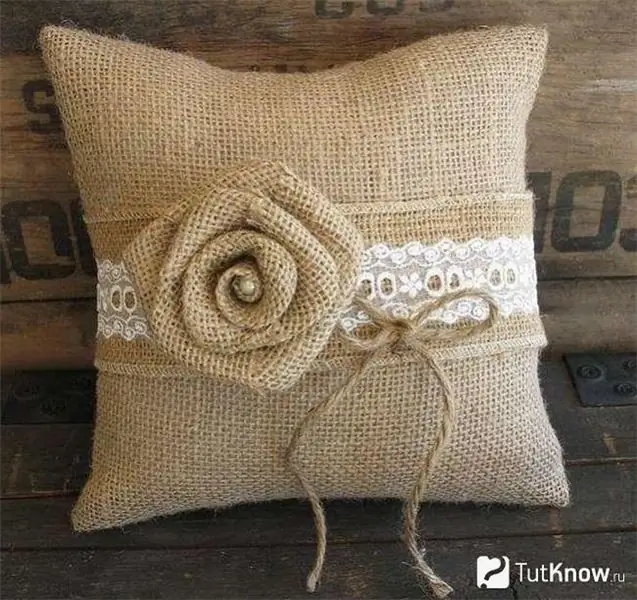 If you want to decorate this thing, then cut a heart out of the openwork fabric. Sew it to the front of the pillow. You can also decorate with other materials. If this is a ring cushion, then attach the rings here on the twine and tie it in the form of a bow.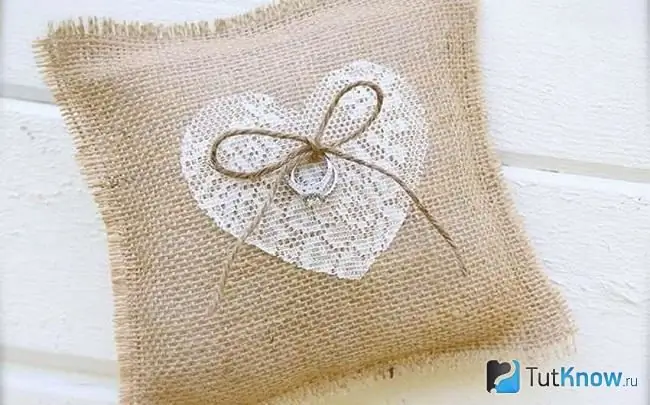 You can decorate the pillow with buttons. Collect them on a thread, tie them to a ribbon. Then sew into the center of the decorative pillowcase.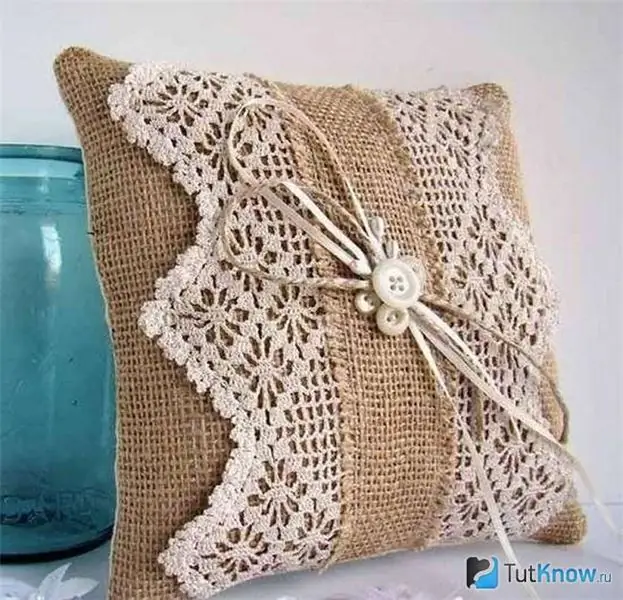 If desired, place two sewing strips symmetrically on the right side. Sew in the center of the burlap rectangle, in which you will pre-make the fringe.
You can have printed burlap crafts. Then cut out the stencil with the images you want. Take textile paint. Place the stencil on the selected area of the pillowcase, using a foam brush, begin to apply paint here. When you lift the stencil, you will be left with an image. Let it dry.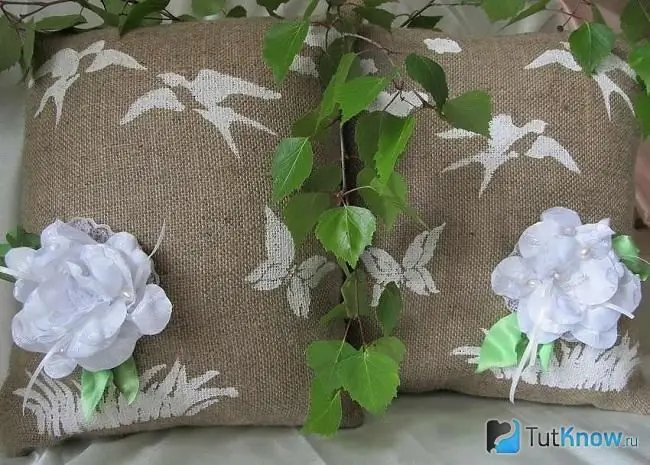 So how's the burlap? rare fabric, various decorative elements can be placed between its fibers. Take a satin ribbon, over the candle flame, make its tip harder so that it does not bloom. Now carefully lift the fibers of the burlap with an awl or other convenient device, pass the ribbon here, so continue, as if making a basting seam with this braid.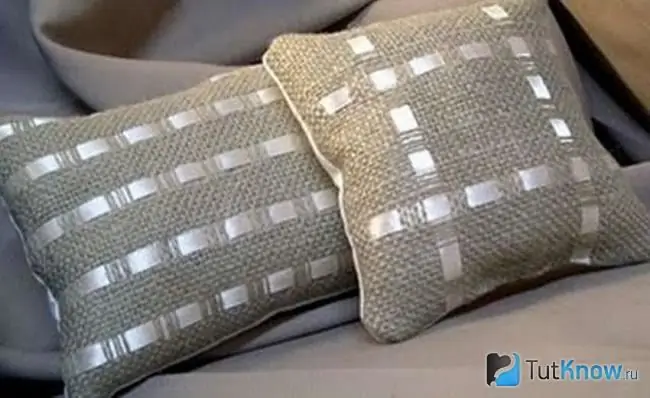 Shows how burlap is still being transformed, photo. Sew a pillowcase from this material onto a decorative pillow. Now cut out two rectangles from the mat. Each of them should be of such length that it can wrap the pillow and leave a margin to sew the sidewalls. Cut a small rectangle out of the burlap, slide it over the top strip and sew it back to the edge to create a bow like this.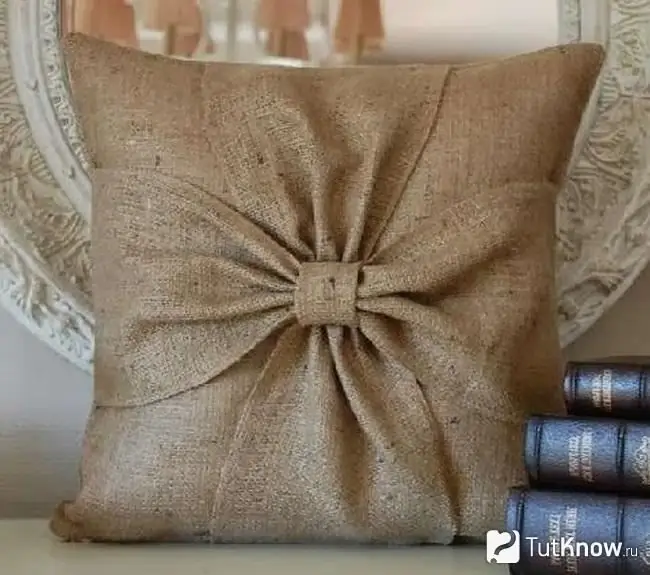 The same material will make a wonderful flower. Take a template, cut out a few sheets of it. Connect them, sew in the center. Also cut a round core out of burlap and sew it into place.
Take a strip of burlap, twist it and start forming a rose from this bundle. Using a stencil or freehand, draw the first letter of your name or the name of your loved one to whom you are giving the gift.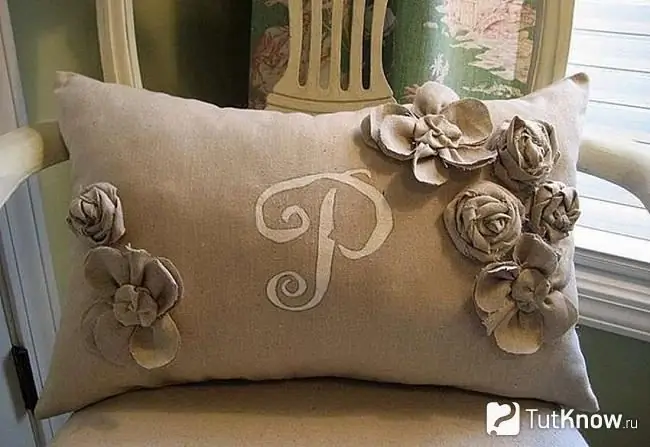 Burlap is wonderfully combined with other fabrics. Against its background, any bright canvas will look wonderful.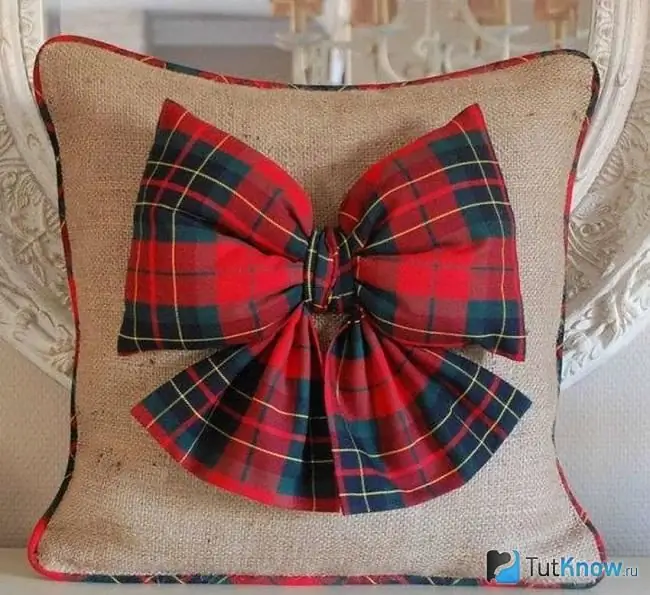 Create a bow like this out of bright matter. Tie it in the middle and sew on. And when you make your pillowcase, run a strip of the same material between the two sides.
If you need to make a gift for the New Year, use this material.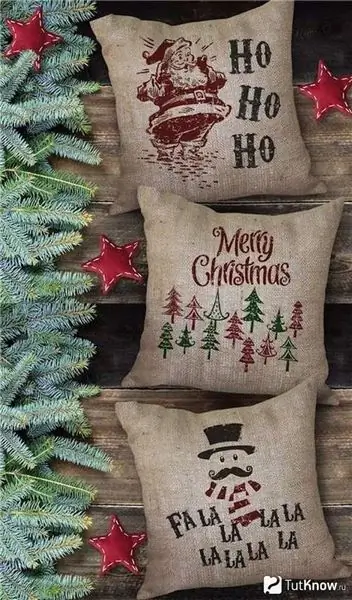 How such burlap is transformed, the photo shows. Print your favorite stencil on a piece of paper, cut out the inside to get letters, a face and a Christmas tree. Attach the stencil to your pillowcase. Apply the appropriate paint here. When they are dry, the gift is ready.
To know how to make burlap flowers to decorate various crafts, watch a specially prepared master class.
Burlap crafts - do it yourself topiary and flowers
In this case, the topiary is a small tree decorated with flowers. It will be helpful to know how to create them. Take:
burlap;
foam ball;
foam canister;
cardboard sleeve for towels;
twine;
glue;
lace;
beads;
flower pot or pots;
beautiful stones.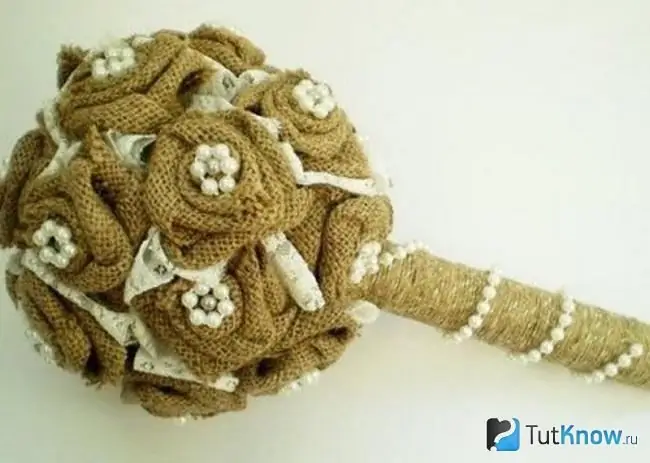 To make this topiary, first take the towel sleeve. Wrap twine around it. Take a foam ball, make a suitable notch in it, insert one end of the sleeve here and glue it.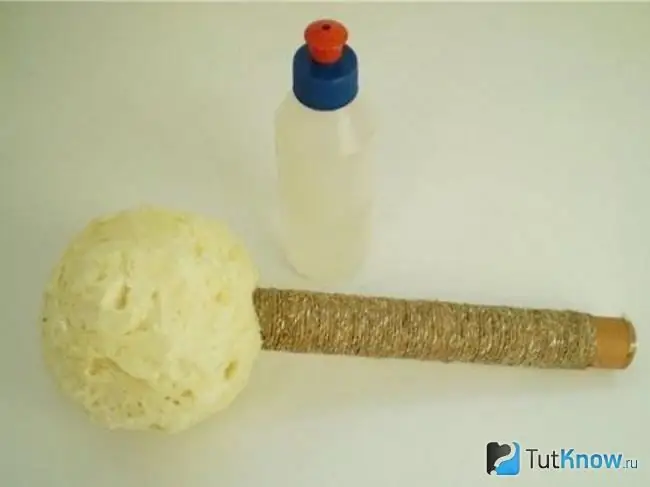 If you don't have a styrofoam ball, and you have a polyurethane foam on hand, then take a suitable shape and squeeze the foam here. You can even use a round box or a rubber balloon.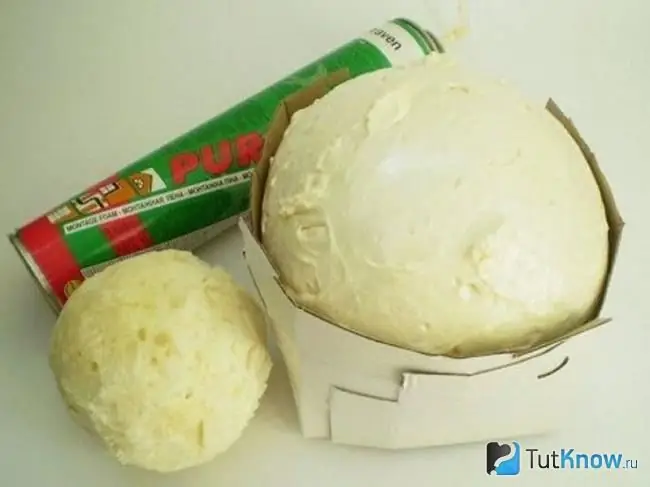 When you squeeze out the foam, do not forget that it expands a lot, so do not fill the entire container.
Cut a strip from the burlap. Fold it in half. Begin to fold one edge with a roll, fix this figure with a needle and thread. Thus, create a rose further, you will sew the remaining edge.

Then, for such a burlap craft, you will need to cut out strips of lace. In each, make a hole in the middle, pass the tails from the flowers here. The edges of the tape can be folded inward.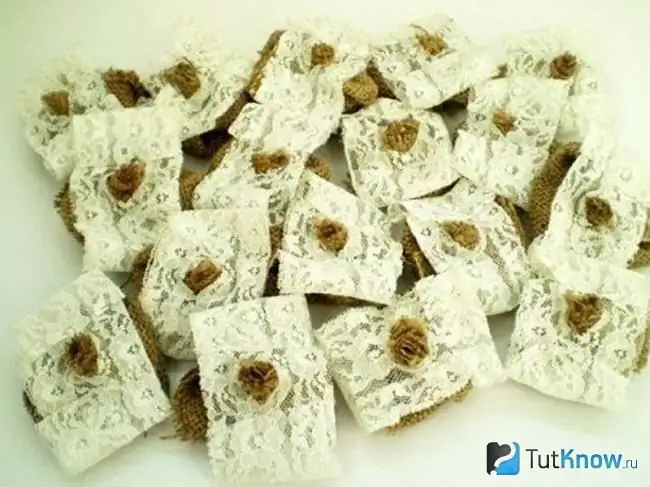 Starting from the bottom, glue these flowers to the topiary. Then fill the foam ball completely to close it. In the center of each flower, you can glue beads, also decorate the stem of the topiary with a similar necklace.
Here's how to make burlap flowers yet. With these you can decorate a topiary or other crafts. You will need to cut out a few semicircular petals. Some of them must be different in size. You will glue the largest ones at the bottom, and the smallest ones will be at the top.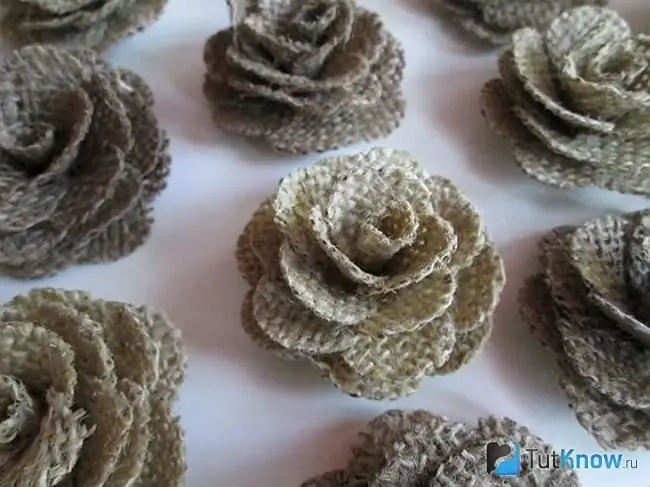 You can cut such petals, then wrap the edges of each and insert the fishing line here.
Then the blanks will turn out to be semicircular. Attach 5 petals downward, and on top in a checkerboard pattern - as many small ones. Sew them up. Stuff the burlap folded in half with padding polyester, tie a thread at the back. Do not take it out, but sew this convex center into the center of the resulting flower.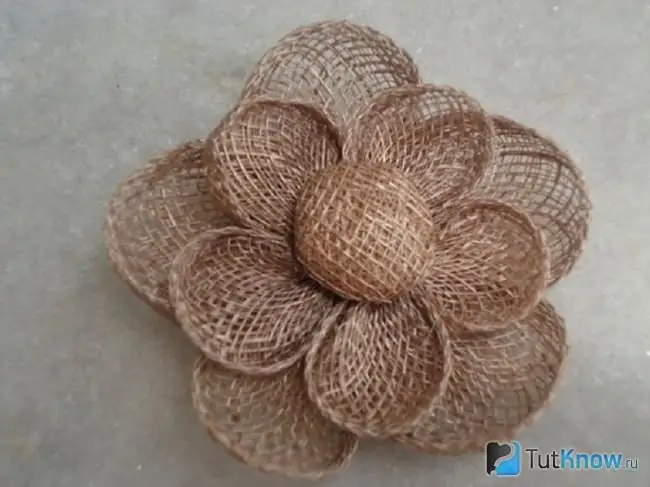 You can also make calla lilies from burlap. Take the twigs, grease their ends with glue and attach millet here, you get such stamens. Now cut a triangle from the burlap, wrap these stamens and glue these blanks to the branch. Wrap the junction of the flowers with the stem with corrugated green paper. Decorate the entire barrel with a strip of this paper. You will also make leaves from it.
You can also take burlap, cut out two leaves from it for each bouquet. Place a rose made of lace braid on top of them. Tie the stems with twine, wind the sewing on top. You can decorate such a craft with wire. You will put beads on its ends and glue them. You twist the wire itself.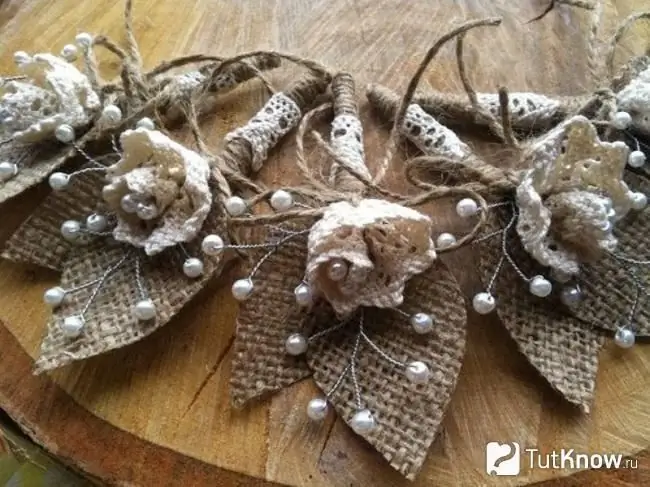 The sunflower is also a flower. See how to make it from this stuff.
You will need:
sackcloth;
hot glue gun;
coffee beans;
twine;
scissors;
gold paint;
wire;
cardboard.
Cut out a circle with a diameter of 6 cm from cardboard. Step back a little in the middle and paint it with brown paint.
Cut the thin burlap into strips 3 cm wide.
Cut petals 1, 5 by 3 cm from this material. You can use your calculations. Now take the cardboard circle. Glue the petals tightly to each other in a ring on the unpainted part. Then, in a checkerboard pattern, attach the inner row of the same petals. Use a hot gun to glue the coffee beans vertically to create a lush middle.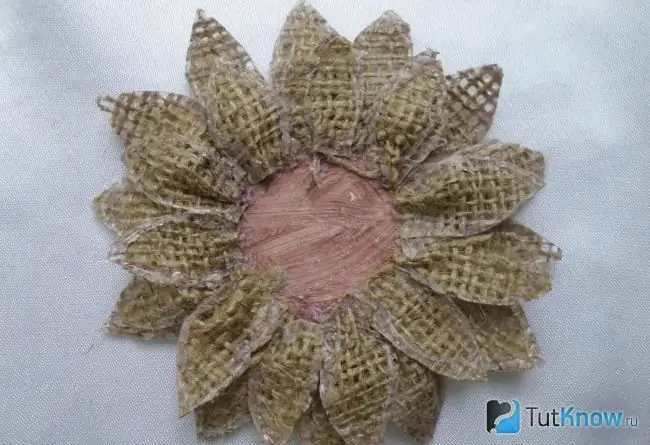 Take a wire, bend its end with a spiral. Put the second circle of cardboard in front of you, make a hole in it and wrap it with twine around it, gluing it onto this paper base. Then thread the wire here, and the twisted spiral will be on the back of this workpiece. Fix it with hot melt glue.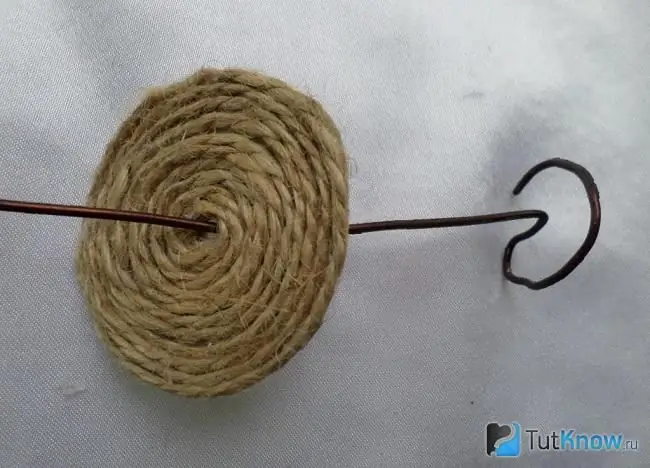 Glue this blank from the wrong side of the flower so that the stem is in the right place. Now take the wire, wrap it with twine. Glue a piece of burlap cut out here.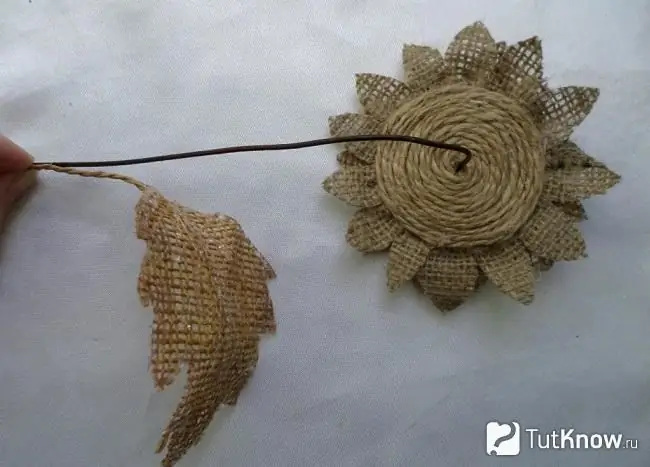 Do not remove the twine, but continue to wrap all the wire with it to get such a beautiful stem. Then take a golden paint and cover the lower parts of the petals and leaves with it to get shiny highlights.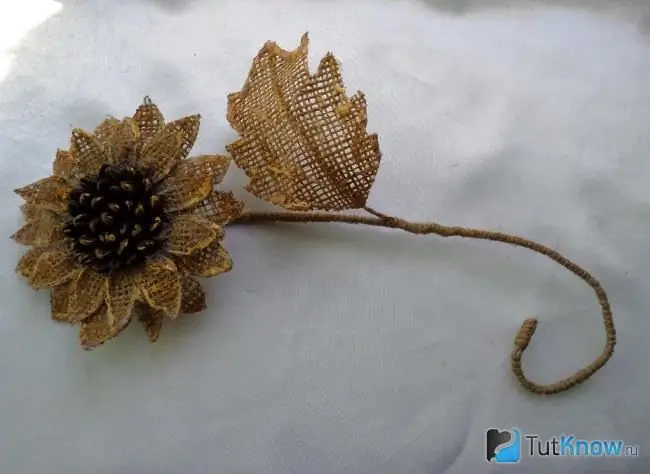 Here's how to make burlap flowers. If you want to make gifts from this material, then watch another master class.
See what kind of owlet you get if you try. To do this, you need to cut 2 identical parts for the front and back. This can be done with heavy burlap or similar material. And from a thinner burlap, create a tassel on his ears and wings. You will place the brush between the two canvases at the top when you shape these two sharp corners.
Then you can decorate the bottom of the owl with sewing flowers. Cut them out of the lace braid. Also from burlap create a hat for this character, decorate it. The legs will be pieces of wire. Form three fingers on each. Then wrap with twine and paint if desired. Paint the face of this character so that there are such expressive eyes.
A burlap pots would also be an excellent gift. In order to create it, you need to take a suitable pot, make the appropriate measurements. Leaning on them, sew a small bag slightly larger than the size of a pot out of burlap.
Add about 4cm from the top to tuck this pouch. Now you will need to put a pot with a flower here, tuck the top of the bag and tie a beautiful satin ribbon bow on the planter.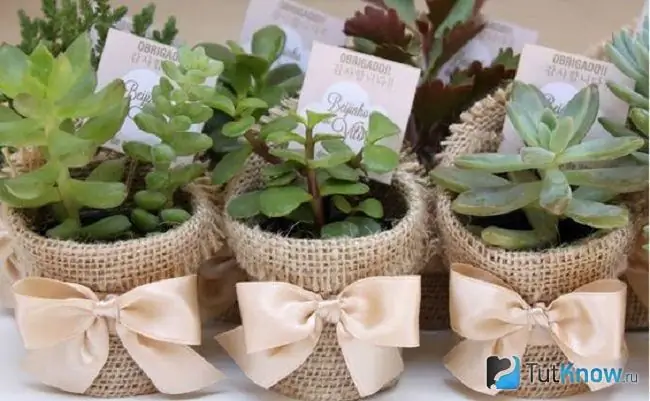 Here's how to make burlap crafts so that they turn into beautiful murals.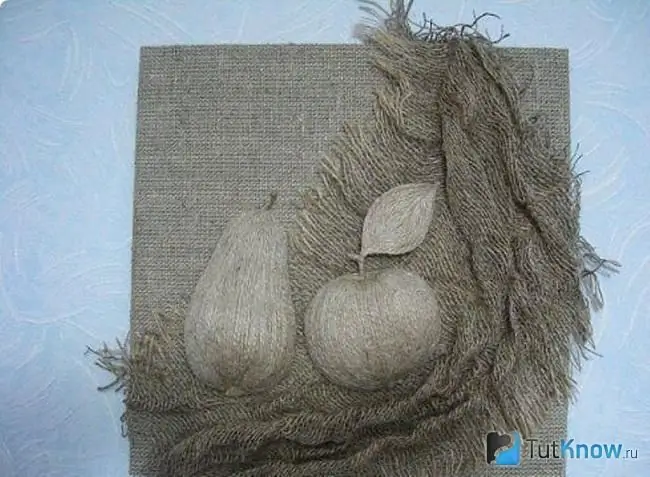 For this you need:
a sheet of cardboard;
sackcloth;
foam ball;
glue;
scissors.
Take a piece of cardboard of the right size, cover it with burlap. Sew this material inside out.
Take a round styrofoam ball and cut it in half. This will be the base for the half apple. Design the second part so as to give it the shape of a half of a pear.
Now take the jute and tightly wrap each of these pieces on the outside with twine. Stick it on. From a twig, make a tail for an apple, wrap it with a rope. Take the wire, also rewind it with twine. This will be a leaf.
Now take a rectangle of thin burlap, start crushing it and draping it to get this kind of background for fruit. Stick it in place. Attach the apple and pear on top.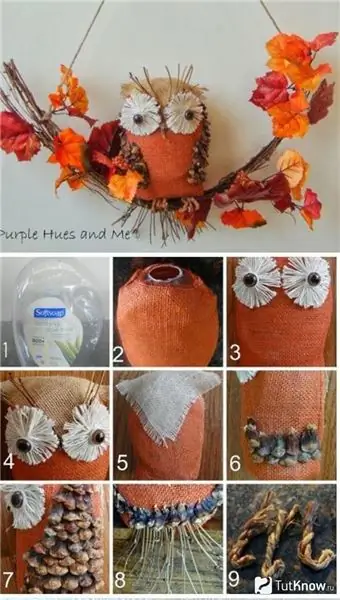 Make a burlap gift with your child. To do this, take this material, sew a bag out of it. Remove sharp corners from above to form a semicircle. Fill the bag with filler.
But you can do it in another way. Get a suitable plastic container for liquid soap or detergent. Cut the neck off it. Take two matching pieces of burlap. Glue one in the front and the other in the back. Wind the same white thread around your two or three fingers. Tie the middle of this roll, cut at the top and bottom. Fluff to create a round brush. Do the second in the same way.
Attach these blanks in place of the owl's eyes. But first, make the upper part of a burlap of a different color. To do this, cut a square and position it like a kerchief. In this case, one corner will be in the middle of the upper part, and the opposite ones in the center of the back part.
Take the cones, tear off the scales from them and start gluing in the area of the owl's wings, the subsequent rows will be located on top of the previous ones. Several branches will become her eyebrows. Take the wire, wrap it with twine and bend it so that you get the claws of an owl. Create the second leg in the same way. Here is such a wonderful gift from burlap.
How to make burlap wreaths on a door - a master class
Such adorable items are made from the same material.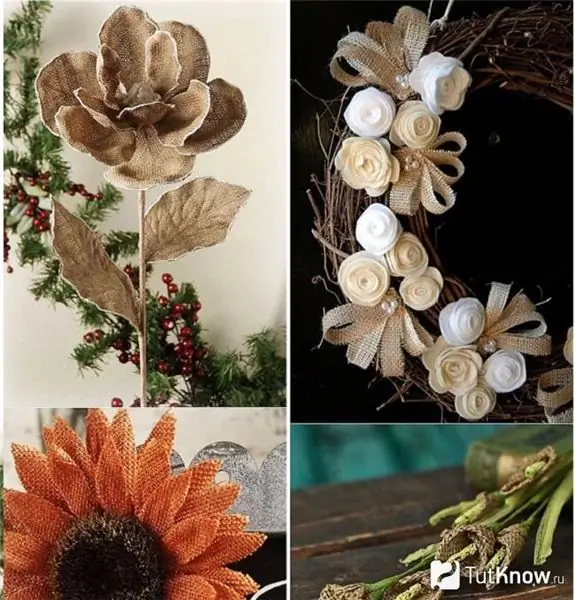 To do this, take: a child's bicycle tire; burlap; threads with a needle; glue gun; scissors.
First, wrap the bus completely with burlap.
If you don't have such a wheel, then use a foam base or other suitable one. As a last resort, you can remove several newspapers, give them such a shape and glue them. You will wrap the top with cellophane or other suitable material. Then cover with burlap. Also cut it into ribbons. Take the first strip, fold it in half and start winding it around its axis. Glue this rose and attach it to the base. In the same way, fix a few more, so that there are 7 pieces in total. You can decorate this composition with a bast bow, flowers.
If you need to make a New Year's wreath from burlap, then thick cardboard will suit you as a base. Cut identical squares, then roll triangular blanks from them. Start gluing them on the edge of the cardboard ring. Thus, make three rows. In the center of the ring, attach small bumps, previously painted white. You can also attach deer here, cut out of cardboard and painted.
Wrap jute around the edges of the ring to decorate them. You can also attach burlap here instead.
And here is an example of another wreath on the door. Take branches without leaves, form them in the form of a ring. Tie with wire to hold this piece in place. Now take strips of white braid, fold them in a spiral to make flowers. On some strips, you can first cut out semicircular elements from above, so that roses are formed as a result. Glue them to the branches.
Cut strips out of the burlap. Form bows out of them. Also attach these blanks to the wreath. You can additionally decorate it with beads and shiny elements.
How to make toys from burlap with your own hands?
Also craft them using this material. Such dolls simply radiate home warmth, and natural materials make them even more valuable.
Take:
white linen;
burlap;
some hay or natural bough;
narrow light satin ribbon;
yarn;
lace sewing;
a small bunch of artificial flowers;
filler.
Instructions for creating:
Take the filler and roll it into an even ball. If you want to make a doll from natural materials, then use cotton wool for this. Place a piece of white linen in front of you, using a compass or a suitable figure, cut an even circle out of it. Now place the center of this shape on the round ball you just created. Mark the neck on the canvas by tying a satin bow here.
To make the hair of this angel, take a little hay, shape it into a suitable shape and glue it on top of the fabric. You can use a bastard instead of hay. It is also a natural material.
You can decorate the bottom of the angel's dress with lace braid by sewing it here.
On top of the hairstyle, place the pieces of yarn rolled into a ring, which will look like a wreath.
Make the wings of this character out of burlap. Cut out these elements from this material and create hands from the burlap. Place a small bouquet in them to make this figure look a little brighter.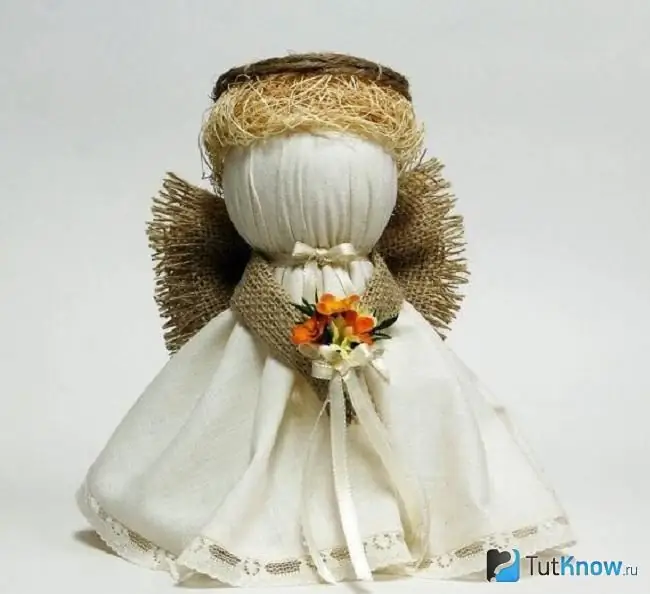 You can starch the burlap to make heart-shaped wings for the angels. This will create their outfits as well. To make the figures even better keep their shape, first take sheets of cardboard, roll cones out of them, and only then glue the starched burlap here. Take natural thread and use it to decorate the lower part of the outfits of these characters. Also from jute you will make hair, a neck for them. Create plant compositions from ears, decorate them with bows, small balls and put them in the hands of the angels.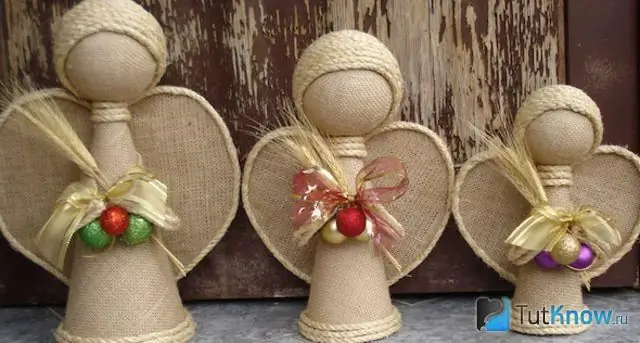 You can make clothes for toys out of burlap. Make snowmen, and sew their caps from the same natural material.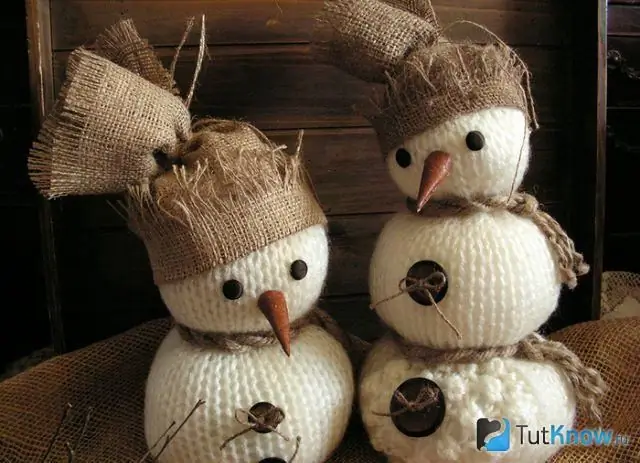 You can make toys out of burlap so that they are also amulets. Create these funny characters.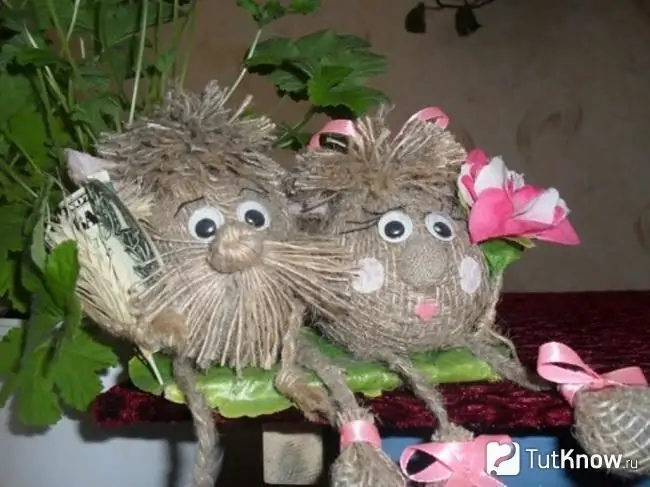 Cut a square out of burlap, place a piece of padding polyester here, tie it with a soft rubber band and cut off the excess.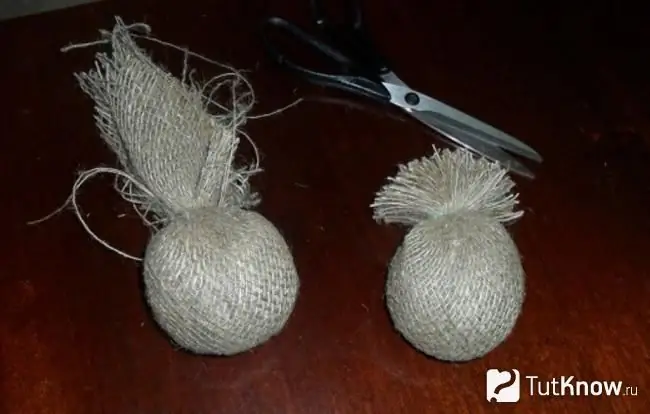 You will get these balls - blanks for two Domovyats. Take another square of rare burlap, dissolve it into fibers. From the threads obtained, you will need to weave pigtails. Two will be smaller - for the handles and 2 larger - for the legs. Do this by tying small knots at the ends of these elements.
Take the hook, use it to insert the resulting arms and legs into place.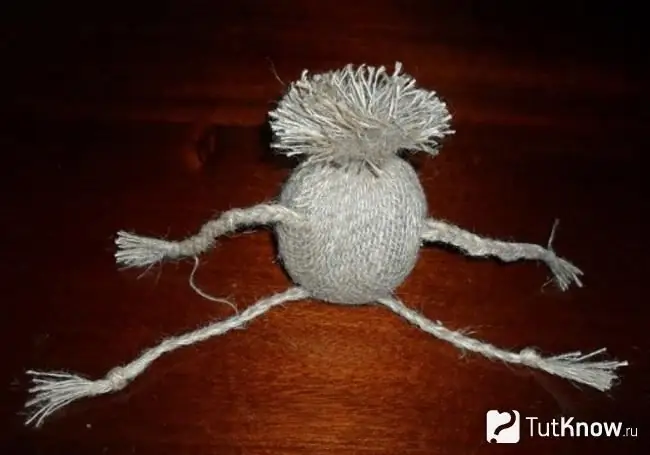 To make the burlap craft further, take another bunch of threads, tie them in the middle and bend them in half. Then step back a little from the top, tie here with another thread so that you have a nose and a beard at the same time.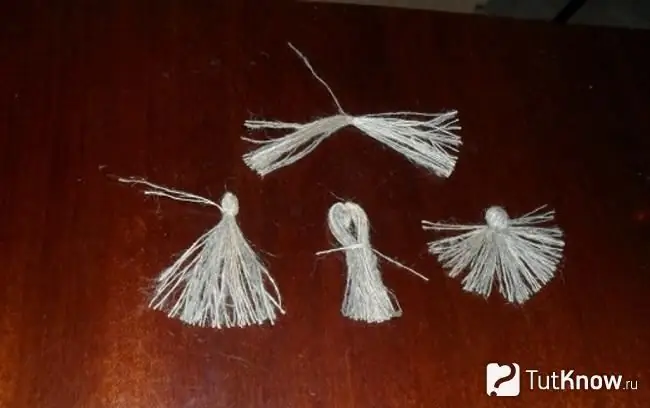 Glue this piece in place. Now cut two small squares from the burlap, put a circle of padding polyester in each, put these blanks on the ends of the legs and tie with a thread. You will have shoe soles.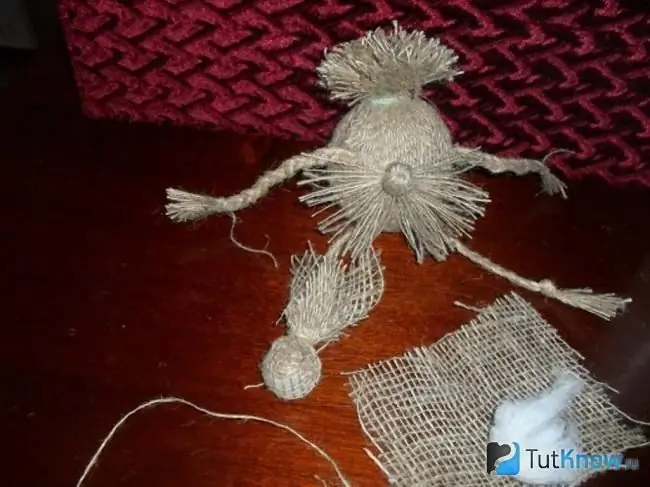 Take a suitable stand, for example, a wooden one, and glue the resulting brownie here. Attach eyes to it, embroider a red mouth. You can give a brownie bill, ears of corn in your hands. And if you are making a brownie girl, then give a flower in your hands.
Burlap makes wonderful dolls.
To make these, you need to take a piece of burlap. Give it a rectangular shape and find the middle. Place a round piece of cotton wool in the center. Then wrap the rope around to indicate the neck. Bandage opposite corners to define hands and palms.
Cut out folk sundresses from burlap, put them on dolls. Make wide armholes to thread their arms here. Weave braids from jute, glue them on the head of these toys. Other dolls can be made of burlap kerchiefs, warriors and put on them by sewing or gluing.
Burlap toys are very interesting. You can also make hair for dolls by loosening this material into threads. Create braids out of it. Make such an adorable girl.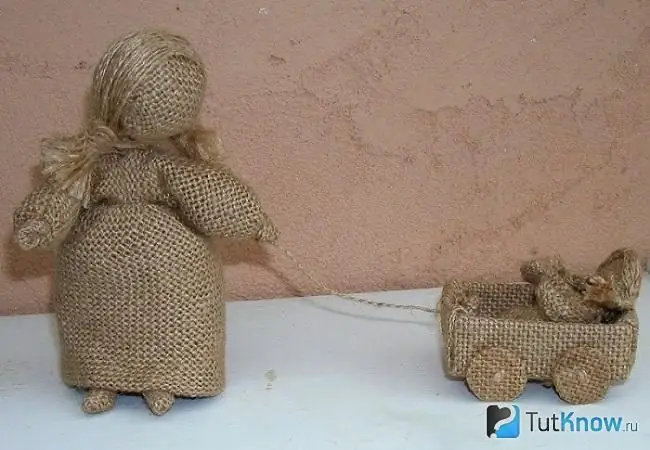 To make a stroller, take a small box or cardboard and roll it up like this. Cover with burlap. Take four circles of cardboard. Also cover them with this material and attach to the box. These will be wheels. Make another little doll and put it in the stroller.
How to sew bags from burlap with your own hands?
You will have an original bag that no one else has. To sew one, you need to cut out a round bottom and a rectangular shape. Connect the pieces of the rectangular piece and sew it to the round bottom.
Tuck the bag over the top, thread a strong thread here to tighten it. You can decorate the bag with sewing, button, original key.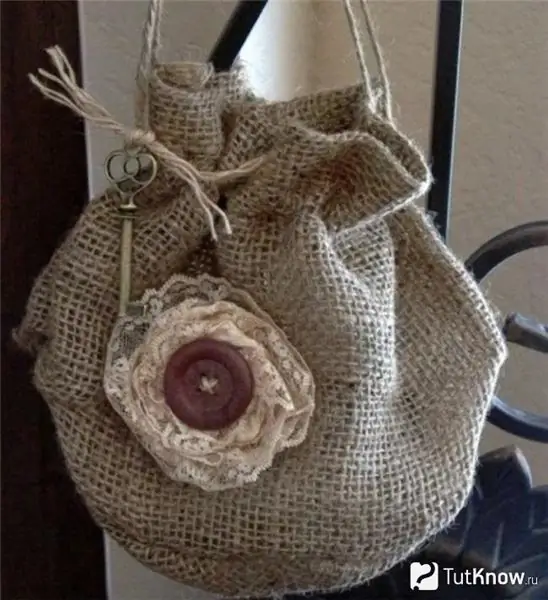 To make the burlap bag more durable, you can add a leather insert here. Then you will need to cut out two double handles from this material. Then you will sew a burlap bag here. You can sew a flower here or embroider it.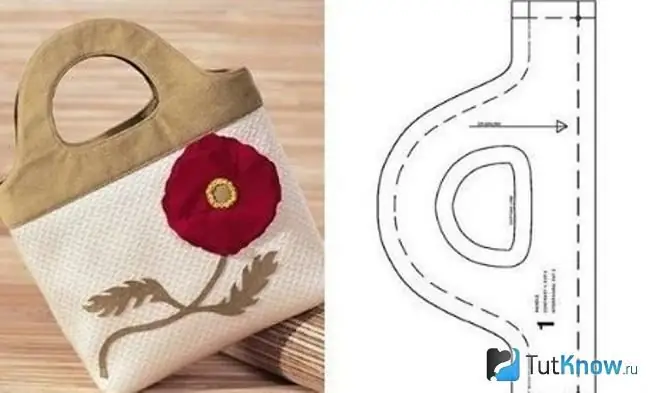 Decorate your bag this way. Take a strip of processed burlap, gather it up and sew the ruffles to the bottom of the bag. Make some of these frills. You can also create a beautiful flower from burlap.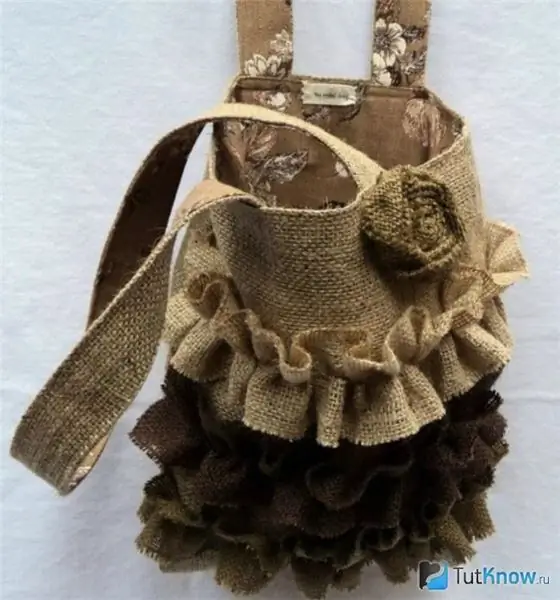 These are the burlap crafts that were offered to your attention. Master classes will allow you to observe the process of creating such things from natural fabric.
See how to make a doll amulet with your own hands.
And how to make flowers from burlap, the second plot will show.