How to make a delicious and light vegetable soup with broth with asparagus beans and tomatoes at home. Step-by-step recipe with a photo. Selection of products. Video recipe.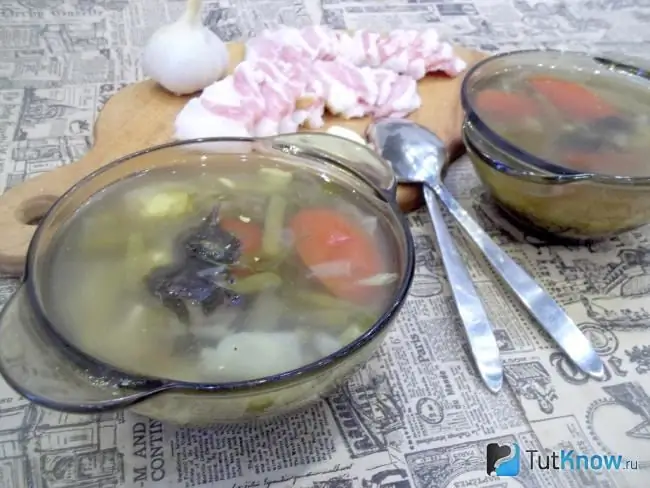 Green asparagus is a delicious vegetable that contains many health benefits. It is easily absorbed by the body and is low in calories. Tomatoes are no less useful, low-calorie, have many vitamins and minerals. Most of all these vegetables are used for salads. But we will expand the daily menu and include these products in other dishes. Combine these vegetables with chicken broth and get a healthy vegetable soup with asparagus beans and tomatoes.
This delicious and flavorful first course can be included in the menu of those who are on a diet, count calories, follow a healthy diet and want to get rid of extra pounds. Therefore, the soup can be eaten in the evening for dinner without overloading the stomach with heavy food. Despite this, the soup perfectly saturates and gives a feeling of satiety. This is a good and simple recipe, and its main advantage is its benefits and taste.
In addition, the soup is simple and quick to prepare, and only a minimum of ingredients are used. But although it is cooked very modestly, it turns out to be absolutely amazing and refined. He will not leave anyone indifferent. All products are available, especially in the summer-autumn period, when there are many varieties of juicy, fresh and ripe vegetables in the garden and supermarket counters. Healthy and dietary broccoli can be added to the proposed vegetable composition. Sweet bell peppers, carrots, onions, leeks will do just as well … You will get an equally healthy and low-calorie meal.
Caloric content per 100 g - 115 kcal.
Servings - 4
Cooking time - 30 minutes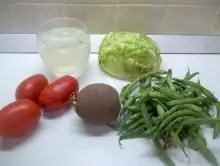 Ingredients:
Chicken broth - 2.5 l
Tomatoes - 2-3 pcs.
Asparagus beans - 250 g
Cilantro - a few twigs
Potatoes - 2 pcs.
White cabbage - 200 g
Ground black pepper - pinch or to taste
Basil - a few twigs
Allspice peas - 4 pcs.
Bay leaf - 2 pcs.
Parsley - a few twigs
Eggs - 2 pcs.
Salt - 1 tsp or to taste
Step by step cooking vegetable soup in broth with asparagus beans and tomatoes, recipe with photo: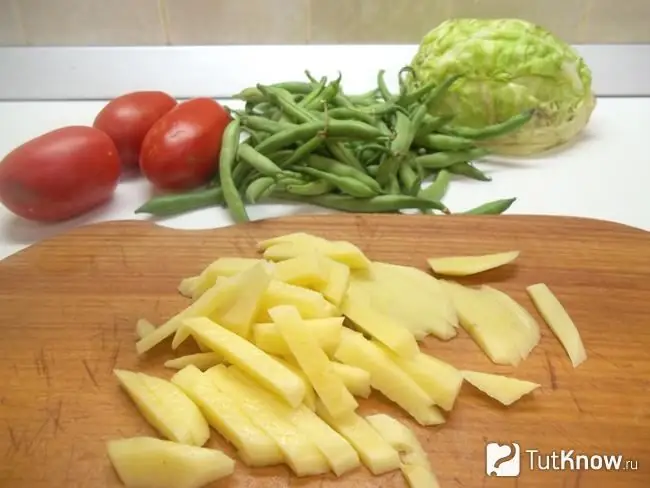 1. Peel the potatoes, wash and chop. The cutting method can be different. But since the soup contains asparagus and cabbage, which have an elongated shape, it is better to cut the potatoes into strips. This will make the soup look nicer on the plate.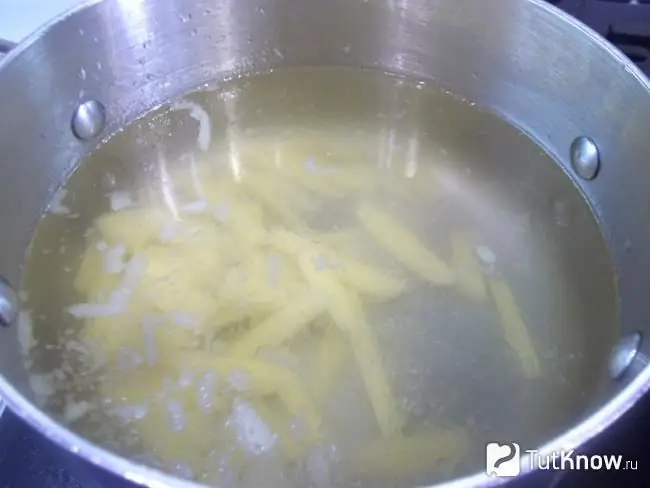 2. Pour chicken broth into a saucepan, boil and lower potatoes. The total cooking time for potatoes is no more than 20 minutes. For the rest of the products, 5 minutes will be enough. Therefore, during its cooking, prepare all the ingredients.
You can cook the broth on any type of meat: pork, veal, turkey, chicken … The calorie content of the dish will depend on the selected type of meat. The most dietary soup will be made with chicken or turkey broth, and rich soup with pork.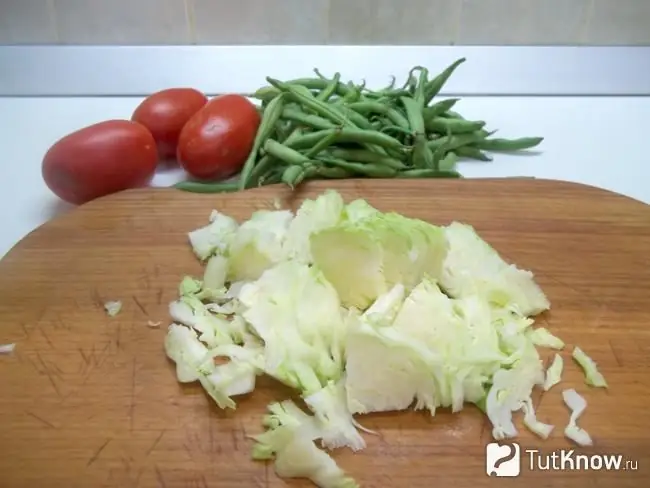 3. Wash white cabbage and chop into thin strips.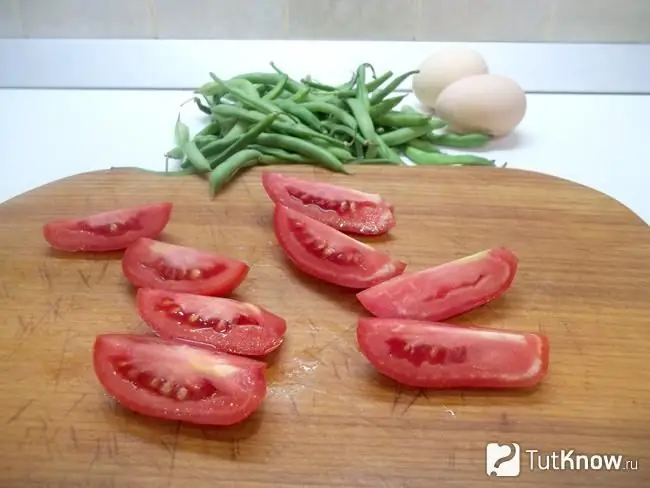 4. Wash the tomatoes and cut into 4 pieces. You can use any variety of ripe tomatoes for the soup. The main thing is that they have a dense, not soft pulp. Then the tomato slices will float in the soup, and will not turn into mashed potatoes.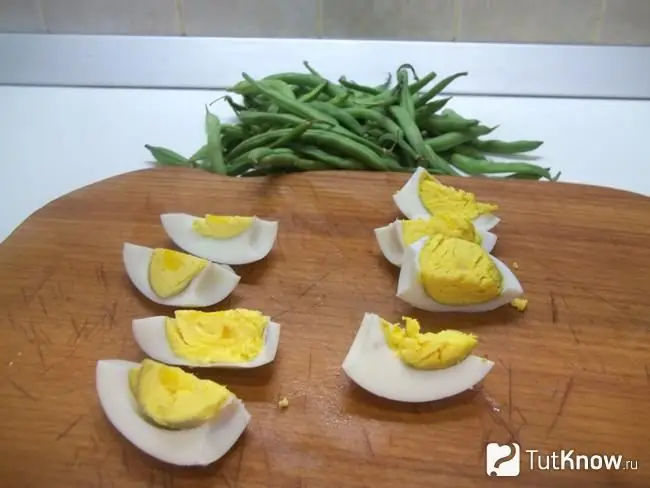 5. Hard-boiled eggs in advance. To do this, put them in cold water and after boiling, cook for 8-10 minutes. Then transfer them to ice water and cool. Peel the chilled eggs and cut them lengthwise into 4 pieces.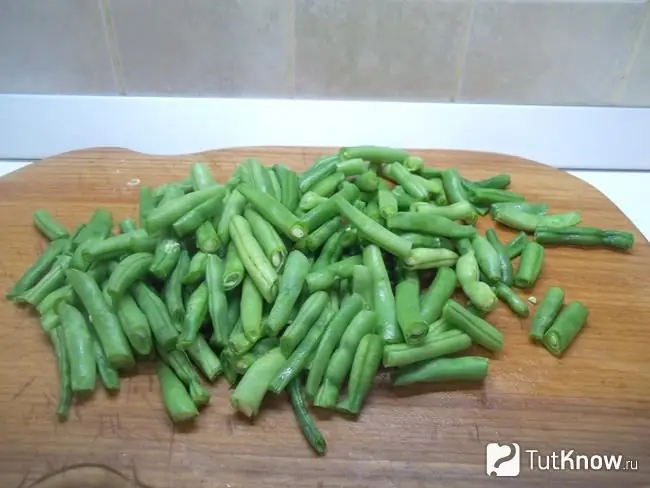 6. Wash the asparagus beans, cut off the ends on both sides and cut the pods into 2-3 pieces so that their length is 2-3 cm.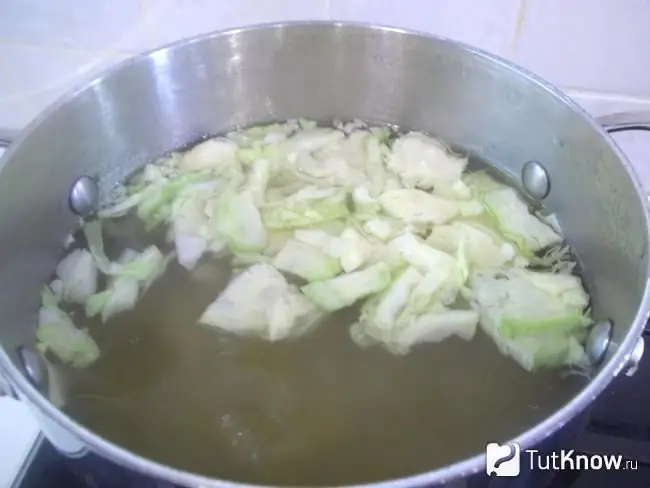 7. When the potatoes are almost cooked, send the shredded cabbage to the pot.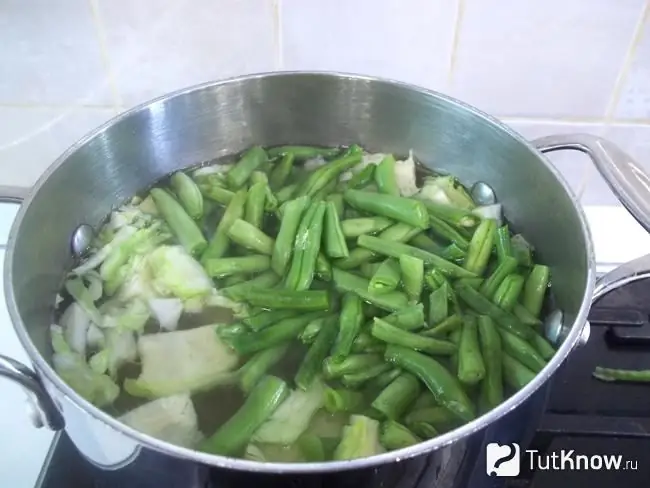 8. Place the asparagus beans next. Frozen chopped pods can be used in place of fresh beans.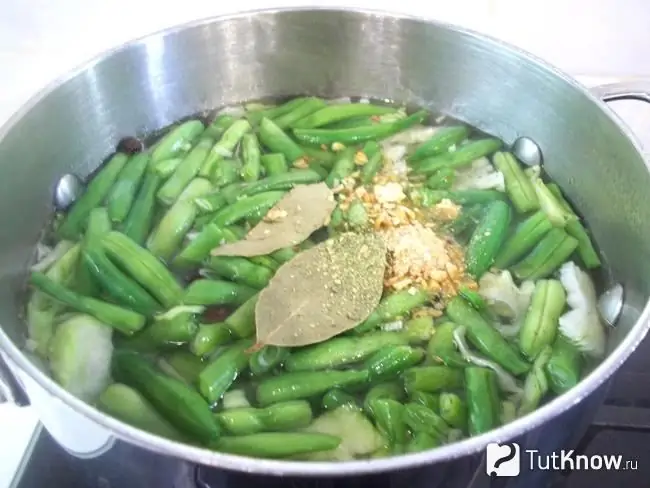 9. Then add the tomatoes to the pot. Boil food for 3 minutes over moderate heat after boiling.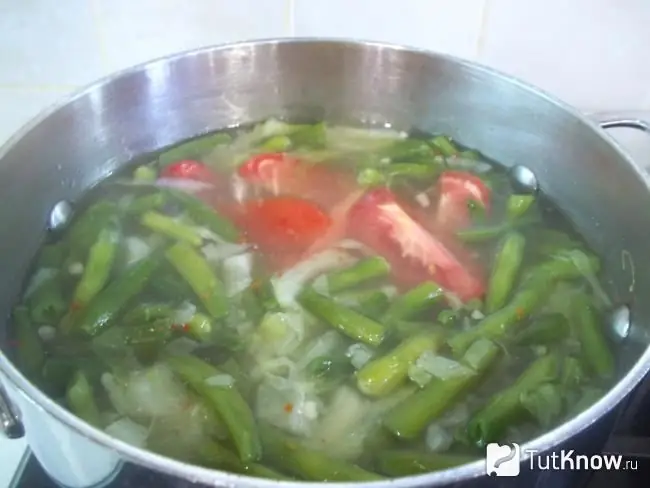 10. Then add the sliced eggs.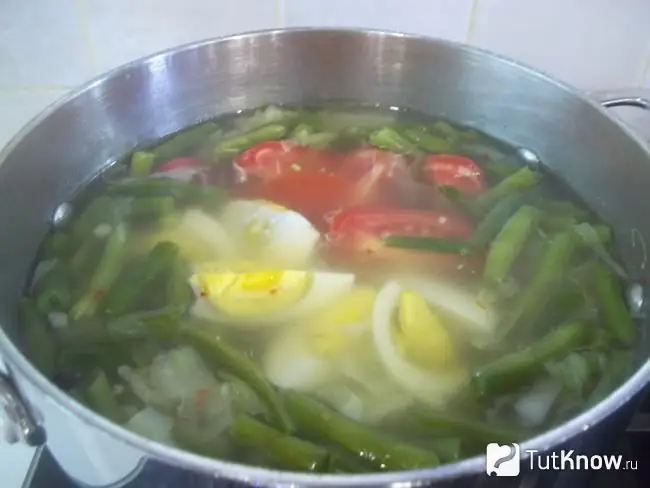 11. Lastly, add chopped parsley, cilantro and basil to the soup. The set of greens can be different. Therefore, at your discretion, you can add any other greens. Also add bay leaves, allspice and peas, season with black pepper and salt.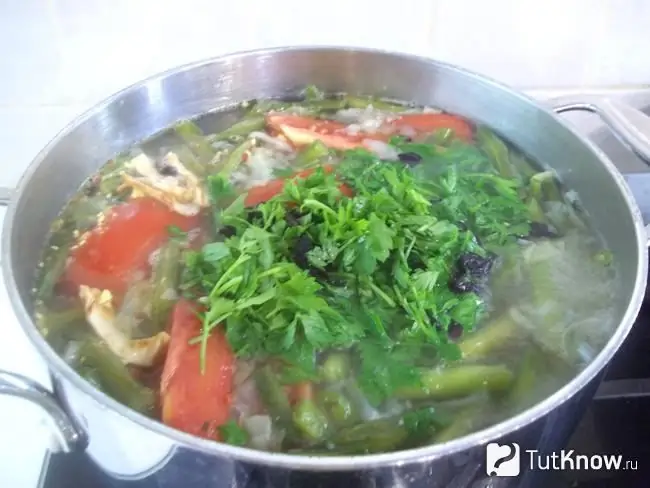 12. Boil vegetable soup in broth with asparagus beans and tomatoes for 2-3 minutes and remove from heat. The perfect soup is made if the asparagus and cabbage are cheerful green in color with a crispy texture. If these vegetables are digested, they will become overly soft, wilted and not particularly appetizing.
Of course, green bean soup is inferior in popularity to borscht or hodgepodge, but you should definitely cook and try it. It turns out delicious and bright, and if served with grated Parmesan cheese, spicy herbs, a slice of fresh crispy bread, croutons or croutons, it will surely delight all eaters.