Training a dog for procedures, caring for: ears, eyes, claws, teeth, bathing, combing and grooming, walking, vaccination, antiparasitic manipulations. If you have or already have a puppy, now all responsibility for its well-being lies with you. You must timely feed, walk, vaccinate, and carry out hygiene procedures for your friend. Some owners give their pets manicures and glamorous haircuts, and even paint in trendy pet salons. Now you will not surprise anyone with a variety of wardrobe for dogs, collars with rhinestones and various accessories.
How do I train my dog to take care of the grooming?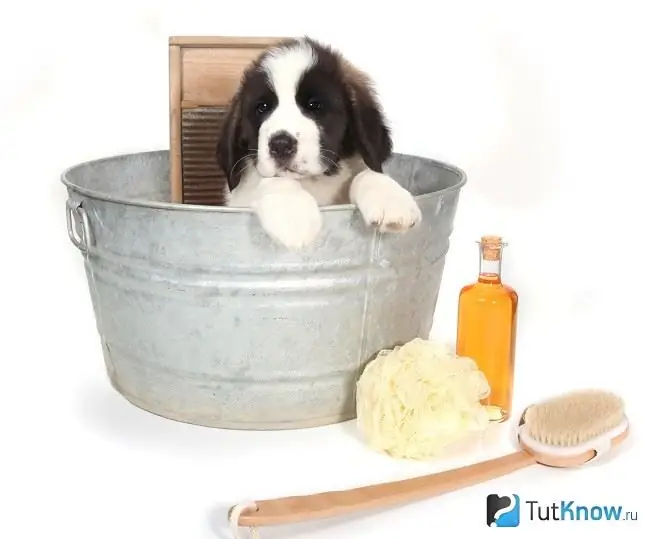 So that hygiene procedures are not stressful for you and your dog, you need to teach him to care from childhood. The beast must obey you and obey. If you don't pay enough attention to raising your pet, this is likely to become a serious problem. After all, a dog, even a small one, has teeth, and with the wrong upbringing, it can use them against you. There are two methods to teach you to obey the will of the owner: some love the owner's praise, others like to eat.
You can use both, but physically you can never punish. You risk ruining the dog's psyche, and it may become inadequate. Such animals are called aggressively shy. When they sense danger, they attack their masters. It is very difficult to correct the neuropsychic activity of such an animal later, and in some cases it is impossible.
Every time you want to do some kind of manipulation with the dog, do it not intrusively - gradually. For example, when cleaning the auricles. Call your pet to you, stroke, touch the ears with your hand, massage. If he resists, do not insist, postpone the session until next time. Increase contact time and variety of interventions. Give a sniff, and examine the auxiliary tool. Always praise the dog with the right reaction, give her something tasty.
So gradually your friend should understand that you and your actions do not pose any danger to him. Naturally, each dog has its own individual time for getting used to. It also depends on the owner's contact with his pet. The principle applies to all procedures: bathing, washing paws, trimming nails, brushing ears and teeth. You should always be attentive and observant to your pet. Notice in time if something is wrong - this will sometimes prevent serious diseases.
Dog ears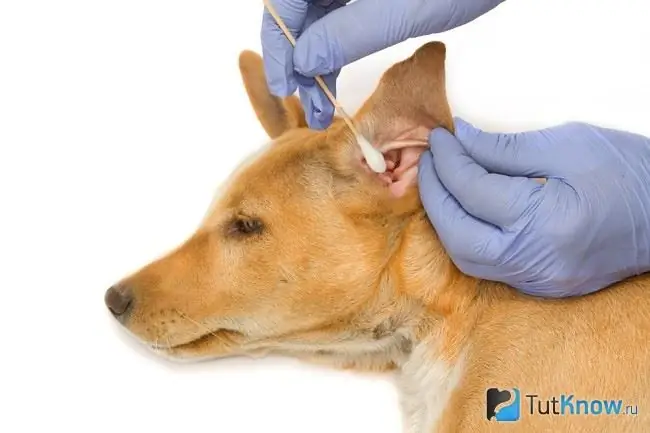 Different breeds of dogs have their own shape, length and hairline of the ears - they need to be taken care of in different ways. Usually healthy ears do not need to be cleaned, and many brushes are rarely cleaned. The inside of the sink is covered with small hairs that protect it from dirt and dust. Manipulations should not be performed once again, as they become jammed and do not fulfill their purpose. Water procedures should be carried out so that water does not enter the ear. Excess moisture also contributes to the development of acute otitis media. It happens that pets become infected with ear mites.
If we need this procedure, then it must be carried out correctly. There are special lotions that help soften and remove impurities from the outer ear. All drugs that are used to clean the external auditory canal should be heated to a dog's body temperature - 38–39 degrees. The patient's head is held, it is necessary to completely fill the ear with the agent and massage its base for better penetration. Then the dog is released, it shakes its head, and naturally removes the accumulated dirt. Remains are wiped up with a clean cotton pad. The procedure must be repeated until the ear is clean.
In some long-haired breeds, the auricle is very densely overgrown with long hair, which changes and, accumulating, clogs the ear canal. Therefore, you need to pluck the hairs periodically. If you just cut it with scissors, they will grow thicker and thicker, later sulfur will accumulate inside, there will be poor ventilation, and ear diseases may occur. To relieve this procedure a little, you first need to apply a special powder to clean the ears, and then remove the hairs.
If the dog is ill with acute otitis media, or has caught an ear mite, then it is better not to self-medicate. You will not be able to correctly diagnose and prescribe the necessary procedures. You do not have the experience and the appropriate tools for this. It is better to go to a veterinary clinic to an experienced doctor.
Eye care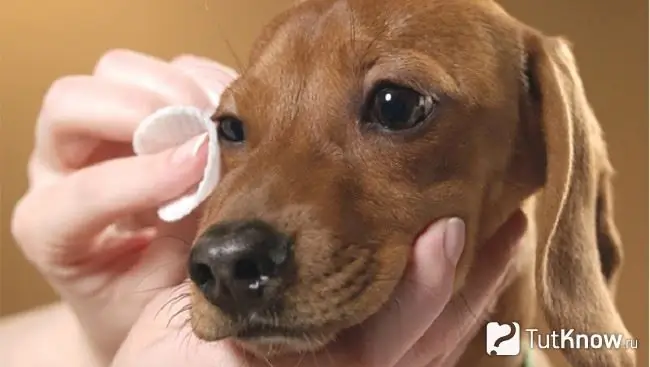 Some breeds have a special structure of the eye sockets (roll-out) and they require individual care. For example, breeds such as pug and Pekingese. They need to regularly wipe and bury their eyes with special pharmacy products. Make sure that they do not get dirt and dust. The eyes are always wiped towards the inner corner while holding the pet's head. If the dog's eyes turn sour or discharge appears in them due to the ingress of dirt and dust, then rubbing the pet's eyes with a strong brew of tea may be the first remedy. The temperature of the solution should be room temperature. At the slightest suspicion of something serious, contact your doctor at the veterinary clinic.
Taking care of your dog's claws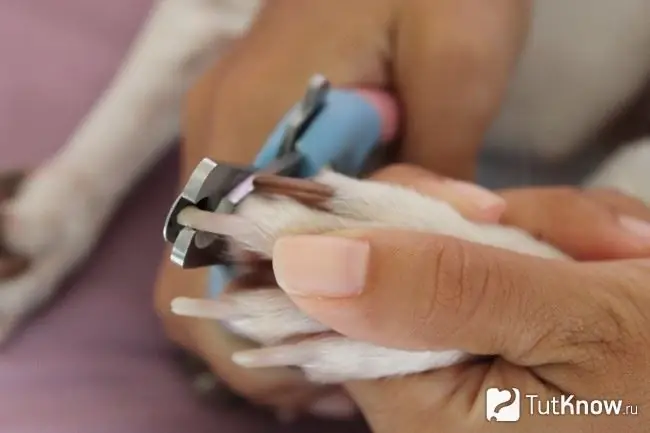 When the dog on walks does not grind its claws when walking, they grow long, and they need to be trimmed. If left as they are, they can cause a lot of inconvenience, cause unpleasant injuries, and even change the dog's gait. You cannot do this with ordinary scissors for people. At the pet store you need to buy special clippers for dogs. There are sickle-shaped (for large and hard claws), or guillotine (for flexible and thin claws). The tool must be proven by well-known manufacturers, otherwise the scissors may not be of high quality, delaminate the claws or simply break quickly.
How to carry out this procedure correctly? When cutting the claws, it is very important not to touch the vessel, otherwise blood will flow and the patient will be hurt. In this case, it is better not to finish the cut. If you are in doubt about how much to cut, then first remove no more than three millimeters, and repeat if necessary. There are owners who themselves are afraid to carry out such manipulations, well, then you have a direct road to specialists.
Inspect your animal's paw pads regularly. Make sure that the skin on them does not dry out, there are no corns, splinters and cuts. Before walking, you can lubricate the skin on the paws with protective wax, and after with a moisturizer.
Methods for the prevention of dental diseases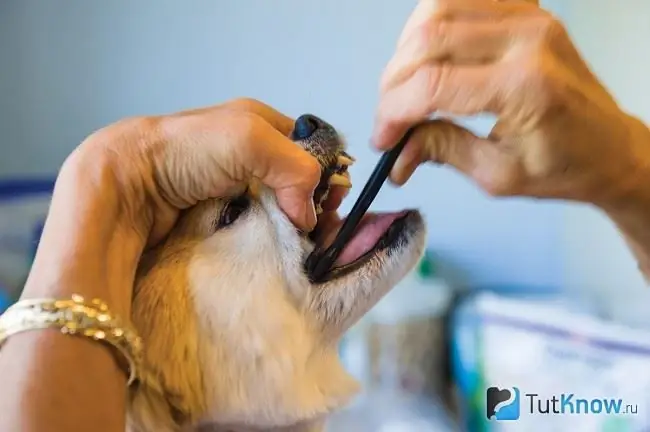 Many pets suffer from diseases of the oral cavity and teeth with age.
To prevent the development of these diseases, you need to regularly carry out the corresponding very simple procedures:
teeth cleansing with pastes;
gum treatment with special medications;
proper balanced nutrition;
availability of an assortment of toys designed for mechanical impact on the oral cavity.
It is recommended to brush your teeth at least once or twice weekly. To do this, you need to purchase a special brush and edible paste for dogs. Now the variety of these funds does not represent a deficit. Specialized pet stores will advise you and help you buy everything that is needed specifically for your pet. Pastes and brushes are not suitable for humans. Human paste consists of a complex chemical composition that can be poisoned by an animal. Human brushes have a hard bristle - there is a risk of injury to the animal's gums and infection. In the technique of execution, the procedure itself is simple. Pendulum-like translational movements are made, starting from the central teeth and ending with the chewing ones. Rinsing with water is not required because the pasta for pets is edible. Gum treatment can be carried out both by douching and rubbing with cotton pads and sticks. The selection of funds is carried out by a veterinarian.
A well-selected, balanced, individual diet for a particular animal is also important for the prevention of dental calculus. If the pet is prone to such diseases, it is better to feed it with solid food. When a dog absorbs solid particles of food, a mechanical effect is exerted on the teeth - this helps to remove plaque. At the same time, the gums are massaged - prevention of periodontal disease.
Care should be taken to ensure that the food is not very cold or hot. Temperature changes have a bad effect on the oral cavity and organs in it. The pet should eat at the same time. Chaotic feeding of food to humans is strictly prohibited, and vice versa stimulates the risk of developing diseases of the oral cavity, and only those. In order to prevent trouble with teeth and gums, it is very important what your family friend has fun with. Many people ignore this point. When an animal plays with debris of trees, objects that are too hard, it runs the risk of grinding off faster, or even breaking its teeth, and getting injuries to the oral cavity.
Specialized items for fun will not cause unpleasant damage, but on the contrary will be very useful. Professionals, through careful research, have invented many toys and tasty treats designed to prevent dental diseases. These funds should only be from well-known manufacturers.
Bathing and grooming dog's hair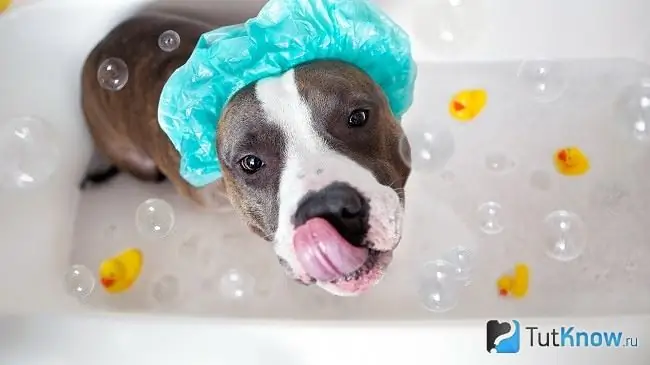 Bathing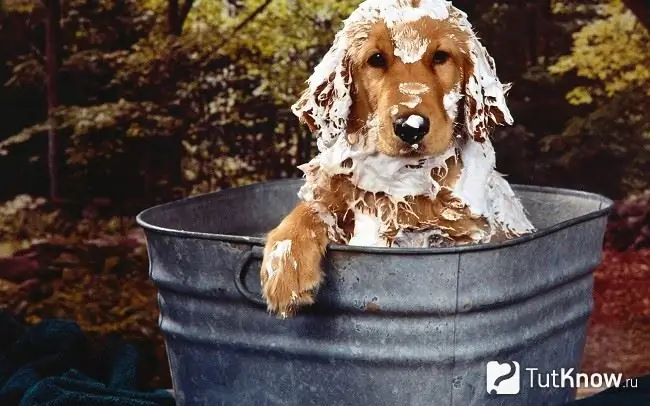 In order for the dog's coat to look neat and beautiful, it must be washed regularly. This is a simple procedure, but it must be done correctly. Basically, the frequency of bathing depends on the time of year and the type of coat of your pet. In the cold season, this is rarely done, and for puppies or pregnant bitches, only when urgently needed. Well, if you look closely, on average, the bathing operation is performed approximately once every four months, before being shown at an exhibition, after estrus, or when your "dirty" one just got dirty. In the warm season, you can pamper your pet with a swim in the lake or river.
Before the procedure, the dog is walked and combed out properly. The container is filled with warm water no higher than 30-35 degrees to the level of the pet's abdomen. To prevent moisture from entering the animal's ears, they are plugged with cotton swabs. Special shampoos for dogs are diluted with water and applied from tail to head on wet hair, the muzzle is left alone. Then all the dirty foam is thoroughly washed off under a running stream of water. After the end of washing, excess moisture from the dog is well blotted with a cotton towel, and sent to a warm place without drafts on the bedding for further drying. Some owners dry their pets with a hairdryer, but it is also necessary to gradually accustom the animal to this.
Combing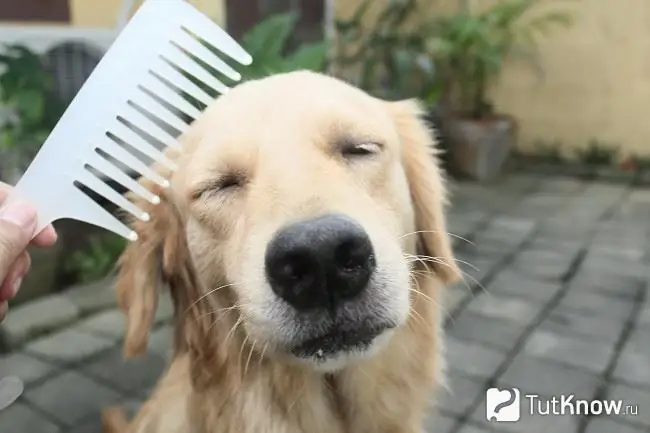 Dogs have a smooth tongue, unlike cats with rough papillae that act as a brush. They cannot remove excess dead hair on their own, and the owners must help their pets. This procedure is carried out with all dogs, regardless of the length of the coat.
It is required to comb the dog: during the molting period, to get rid of excess dead hairs; get rid of accumulated dirt particles; to distribute the grease evenly over the coat; prevent the formation of tangles; a kind of massage is carried out.
An auxiliary tool for manipulation is selected individually, depending on the type of coat of your pet. For short-haired dogs without undercoat, a special rubber glove-comb or a brush with thick natural bristles is perfect. For long-haired pets - a brush with iron teeth to untangle tangles and comb the coat properly. For dogs with a very thick undercoat, it is better to purchase a slicker comb. The pet is combed out only in the direction of hair growth, starting from the head and ending with the tail. You can carry out this procedure on a walk, it will save you from unnecessary cleaning of wool at home.
A haircut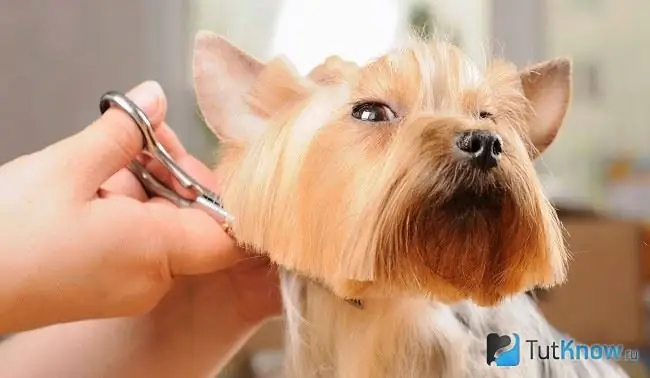 There are breeds of dogs with very long and thick, soft and hard, and even curly hair. She gets confused, closes her eyes, and in the summer, the animal is hot. In a dirty and matted coat, parasites grow faster. Therefore, the pet must be cut. Wire-haired four-legged dogs are supposed to be trimmed on the exterior - to pull out the wool. As a rule, no one can do a better hairstyle than a grooming specialist.
The main types of haircuts and trimmings for dog breeds:
Clipperwork - the shortest haircut. It is trimmed with an electric clipper, both in the direction and against the grain.
Flatwek - the coat must be of the same length. Performed with an electric machine or scissors.
Top notes - The coat on the head, paws, and tail is longer. Hair on the head is pinned with hairpins or rubber bands collected in tails.
Blending - smooth transitions are cut between long and short hair. Cut with thinning scissors.
Show trim - multi-stage hairstyle for show only. Performed exclusively by groomers.
Stripping - trimming for wire-haired dogs is done with a special knife. Before the procedure, the dog is combed out and the hair is plucked in the direction of its growth.
Plucking - pluck hair using the index and thumb.
Dog walking and accessories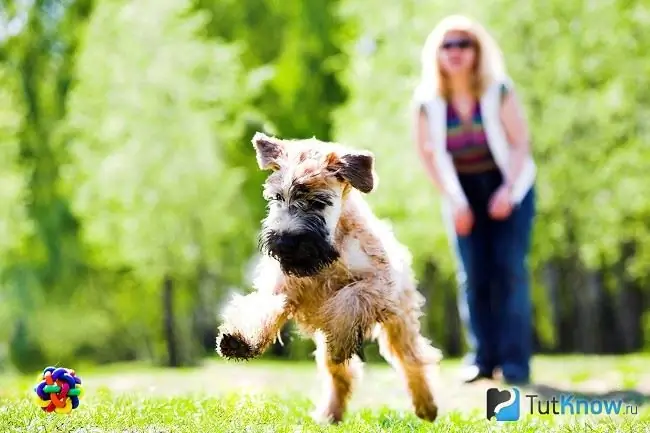 Walking the dogs. Caring for your pet includes daily walks, on average two, three times a day. The duration of the walk depends on the breed, the sex of the pet, its preferences and the time of the owner. Hunting and hound breeds need longer "forays" in the air - they need a lot of movement. For example, if a greyhound or pointing dog doesn't run a lot, it will simply be overweight. Dachshunds or spaniels, after spending a little time without playing outside, may howl near the door. Small, decorative pets only need to relieve themselves. Dogs of all breeds need to be walked longer than bitches due to the structural features of the genitourinary system.
Clothing. Due to the peculiarities of their exterior, some four-legged friends also need their minimal wardrobe. Dachshunds (or similar short-haired breeds), squat animals with short legs without an undercoat, in the cold and slushy season, in order not to catch a cold, they need a warm blanket. The body and paws of naked crested beetles are not covered with hair at all - how can they be without clothes? In the rainy season, any dog can be put on in protective clothing against dirt, so that later not to bathe it again. There are also pet shoes, usually small breeds wear them.
Vaccination and Disease Therapy Procedures in Dogs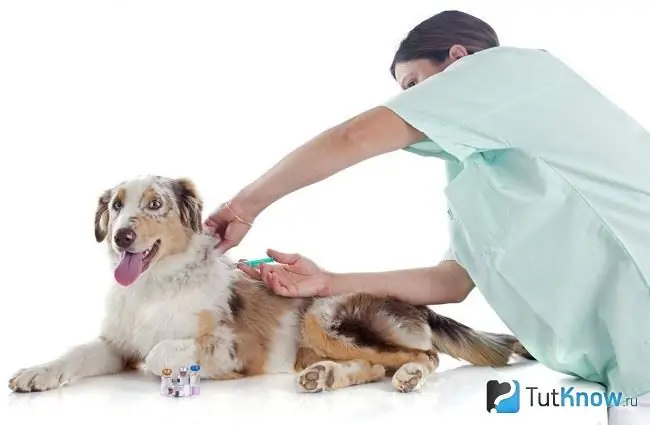 Vaccination of dogs. Be sure to do a comprehensive vaccination. It will protect him from so many diseases, and even if the animal becomes infected, the symptoms of the disease will appear in a milder form. Vaccination is carried out once a year. A week before vaccination, a four-legged pet needs to drive out worms.
Antiparasitic procedures. Since the animal walks on the street, antihelminthic manipulations must be carried out regularly, once every three months. When the warm season comes, various parasites, especially ticks, become active. The bloodsucker is very dangerous, it is a carrier of very serious diseases. Some dogs that were bitten by these parasites even died. Therefore, in the fall, summer, and spring, the dog needs to be treated with special flea and tick products.
For more information on how to take care of your dog, see here: