A very tasty and uncomplicated lean, beautiful and bright dish - a vegetable stew with eggplant. The eggplants and all vegetables in the dish remain intact, yet soft. Therefore, a different taste is obtained. Step-by-step recipe with a photo. Video recipe.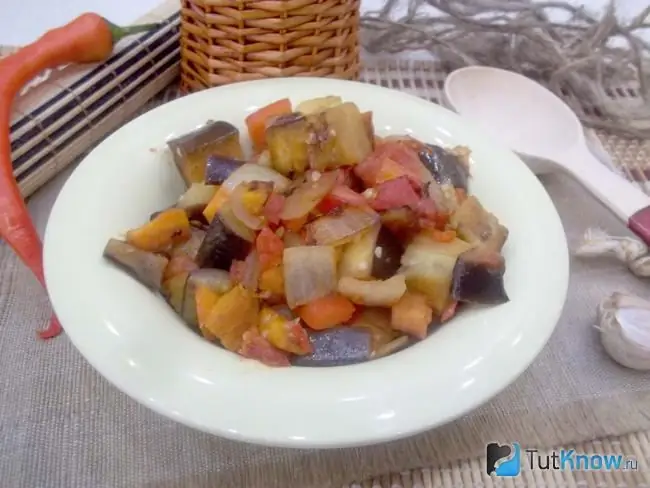 Eggplant is a vegetable, or how to correctly call it a berry, a product that is admirable. In addition to being delicious, it is used to prepare a wide variety of dishes. For many, one of the favorite eggplant dishes is the vegetable stew. This is an amazingly tasty and aromatic dish, which contains many different vegetables, but it contains the most eggplants. There are no specific proportions in the recipe, you can change the proportions of vegetables and add any other vegetables if you wish. I will write a rough list of vegetables and their amounts used, which is considered to be the most popular vegetable stew.
It takes a minimum of time and effort to prepare the dish. By stewing vegetables in their own juice, they retain the maximum amount of nutrients. This is a great dish for every day. It can be served as a separate independent dish, if you want lightness, or as a side dish as an addition to meat, fish or chicken. Although such a vegetable stew with eggplant can even be served on a festive table. It is excellent in every way.
See also how to make a vegetable stew with meat and apples.
Caloric content per 100 g - 89 kcal.
Servings - 3
Cooking time - 55 minutes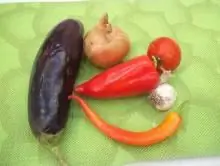 Ingredients:
Eggplant - 1 pc.
Salt - 0.5 tsp or to taste
Onions - 1 pc.
Ground black pepper - a pinch
Garlic - 1 clove
Hot pepper - 1/3 pod
Carrots - 1 pc.
Sweet bell pepper - 1 pc.
Tomatoes - 1 pc.
Vegetable oil - for frying
Step by step cooking lean vegetable stew with eggplant, recipe with photo: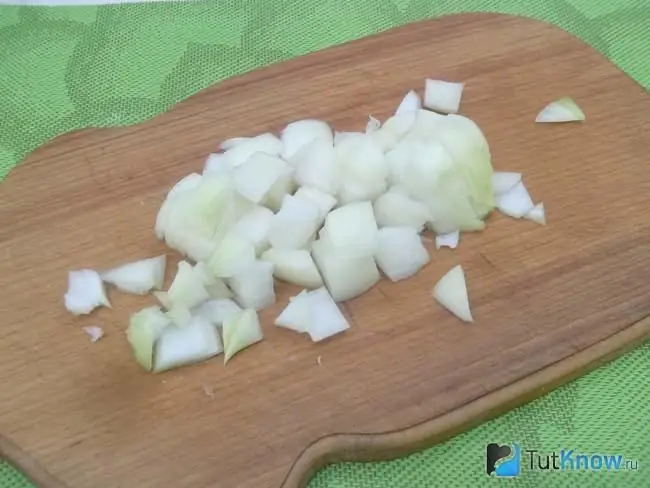 1. Peel the onions, wash, dry with a paper towel and cut into cubes or sticks.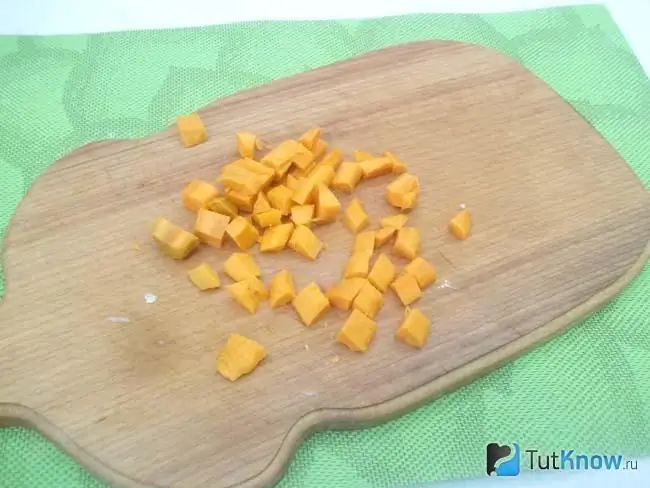 2. Peel the carrots, wash and cut into cubes.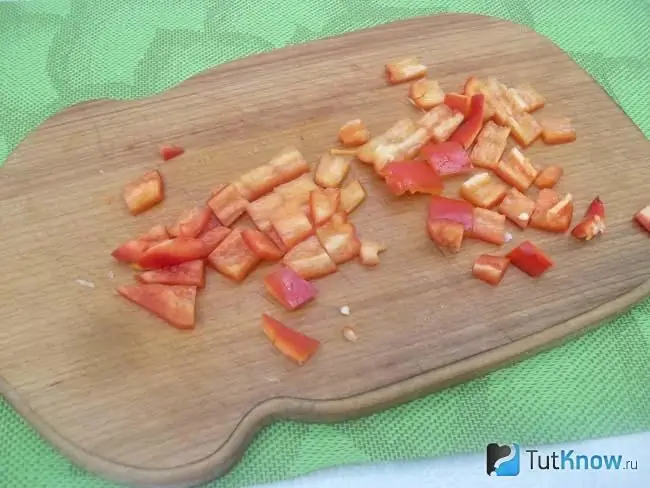 3. Peel the bell pepper from the seed box, cut off the partitions and remove the stalk. Wash, dry and cut into cubes.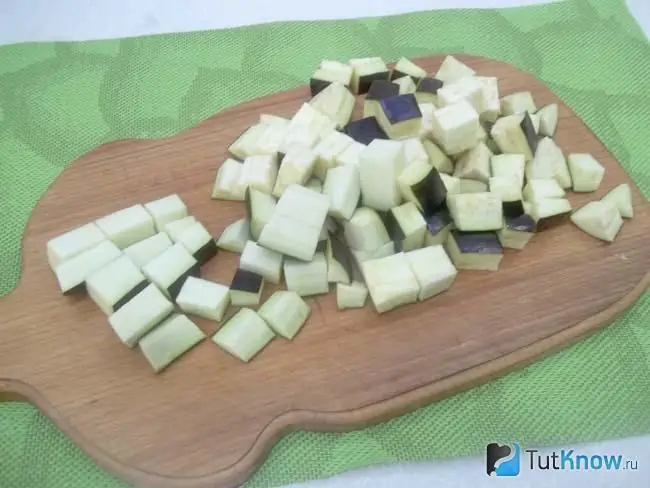 4. Wash, dry and cut the eggplants into cubes. If using ripe fruits, sprinkle with salt to release the solanine, which adds bitterness. Soak for half an hour and rinse under running water to rinse off the moisture droplets that stand out from the vegetable. It is not necessary to carry out such actions with young eggplants, because there is no bitterness in them. Although today most of the eggplant varieties on the market contain virtually no bitter juices. But there is another reason why it is better to soak them. As you know, when frying, "blue" ones absorb a lot of oil, and the process of soaking in salt prevents this.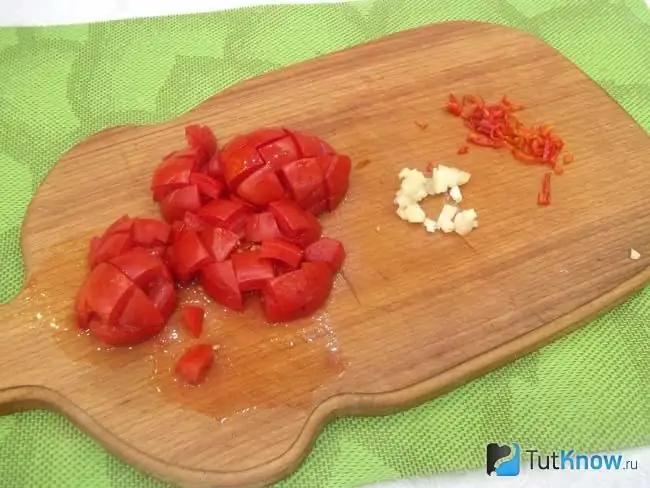 5. Wash the tomatoes, dry with a paper towel and cut into cubes. Peel hot peppers and cut into small pieces. Peel the garlic and chop finely like hot pepper.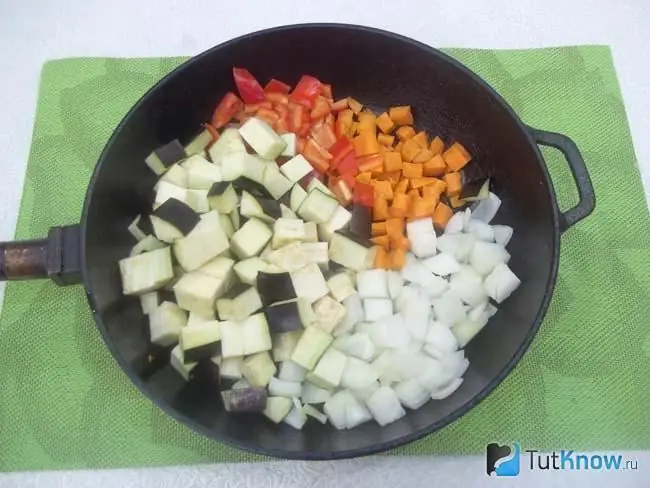 6. Pour vegetable oil into a frying pan and heat. Fold the eggplants, carrots, peppers and onions into it. Saute the vegetables over medium heat for about 7-10 minutes.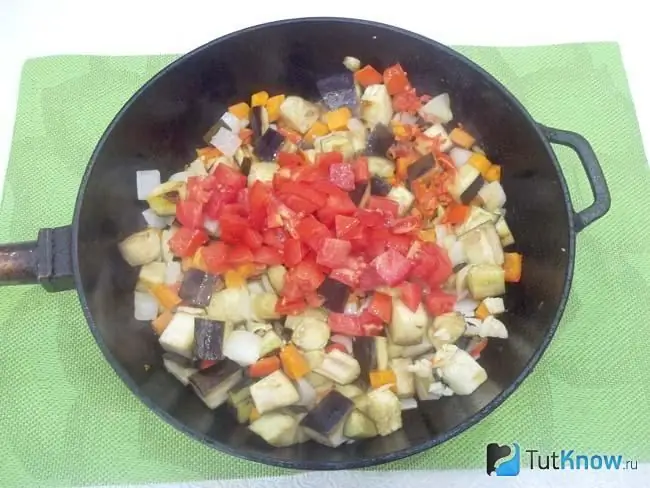 7. Then add tomatoes, garlic and hot peppers.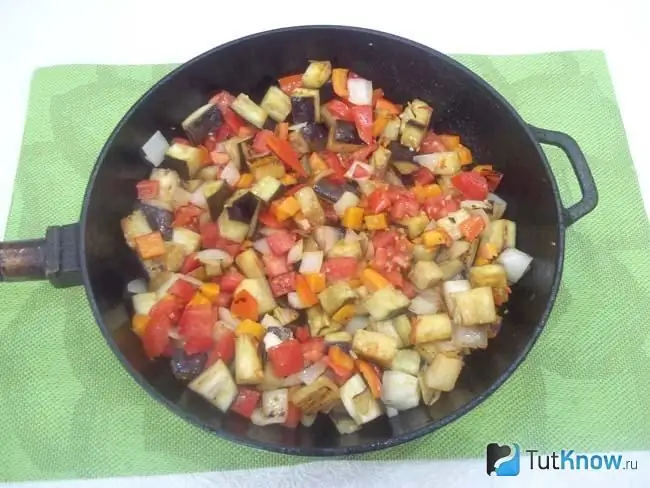 8. Season food with salt and black pepper.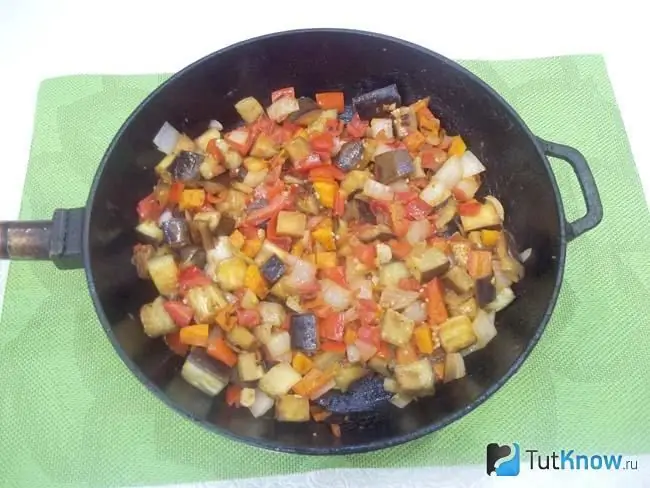 9. Stir everything well, cover the pan with a lid and cook the lean vegetable stew with eggplant for half an hour. Serve it warm or chilled.
See also the video recipe on how to cook vegetable stew with eggplant.