A step-by-step recipe with a photo of making a salad with shrimps, cabbage and tomatoes at home. Nutritious salad and low calorie content. Video recipe.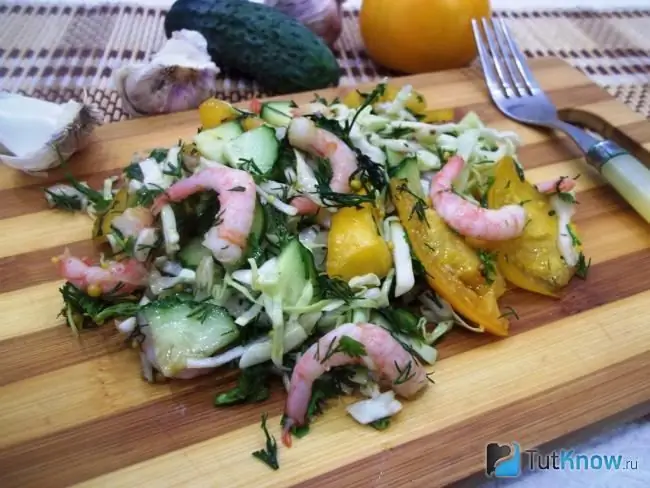 I propose to prepare a very light, juicy and, of course, delicious salad with shrimps, cabbage and tomatoes. It will be especially appreciated by lovers of seafood and fresh vegetables. The dish will suit not only the everyday menu, but will also become an original treat at a festive feast. It will look solemn on any table. I also really like this salad, that it does not contain highly high-calorie foods and you can eat it at any time of the day and in any quantity. Also, due to the high content of vegetables, the body receives a lot of vitamins, minerals and nutrients that are required for normal functioning.
This appetizing dish is prepared quickly enough and does not take much time. You will have to tinker a little with only shrimps, but this process is not long either. Although you can use shelled seafood to simplify the cooking process. All salad products are absolutely available. You may just have to spend money on shrimp. But it will be worth it because the dish turns out with a light piquant taste and bright oriental flavor. This ratio is achieved due to the ideal combination of tastes and consistencies of vegetables with shrimps.
Caloric content per 100 g - 52 kcal.
Servings - 2
Cooking time - 20 minutes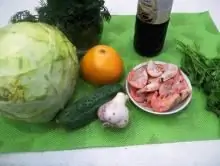 Ingredients:
White cabbage - 200 g
Tomatoes - 1 pc.
Cucumbers - 1 pc.
Cilantro - a few twigs
Dill - a few twigs
Boiled-frozen shrimps - 200 g
Salt - a pinch
Garlic - 1 clove
Refined vegetable oil - for refueling
Soy sauce - 2 tablespoons
Step by step preparation of salad with shrimps, cabbage and tomatoes: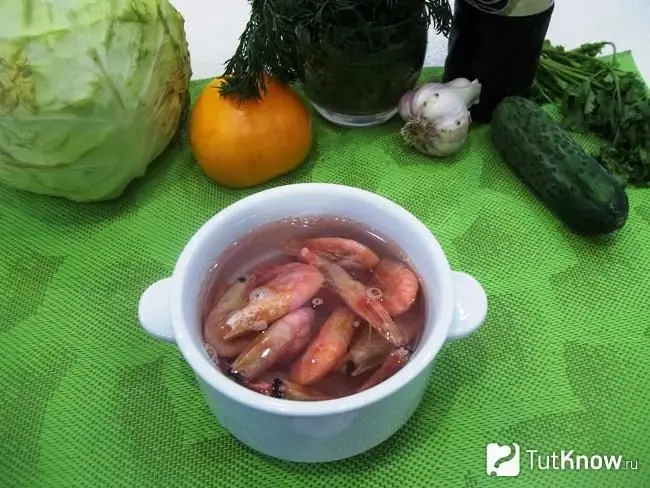 1. The first step is to deal with shrimp. You can cook a salad with any shrimp (tiger, northern, royal, Black Sea). Only the time of their preparation will differ. The larger the shrimp, the longer it takes to cook. It is also important to take all shrimp of the same size so that they cook at the same time. They must be intact, with a minimum layer of ice coat.
I have regular boiled frozen shrimps. If you have the same, take them out of the refrigerator, fill them with hot water and leave them for 10 minutes to thaw. This is the fastest way to prepare them, because then it remains only to cool them, peel and add to the salad.
But, shrimp can also be boiled. To do this, boil water in a saucepan, salt and add shrimp. After boiling the water again, let the shrimp boil for 2-3 minutes and discard them in a colander or remove with a slotted spoon.
Also, shrimp can be fried until golden brown in a pan with vegetable or butter. They are fried over medium heat for about 2 minutes on each side.
In order for seafood to acquire an interesting spicy taste, they can be supplemented with spices. For example, during cooking, add lemon juice, dill sprigs, bay leaves, peppercorns, clove buds, coriander, dried dill umbrellas, ginger, caraway seeds, rosemary, Italian herbs, special seasonings for seafood, etc. into the water. pour in soy sauce, add dried rosemary, hot pepper pods, chopped ginger, pressed garlic, or squeeze out lemon / orange juice.
In addition, if desired, shrimp can be marinated in any sauce, and then not fry or boil. Just leave them in this sauce to thaw, where they will defrost. For the marinade, use lemon juice, garlic, olive oil, soy sauce, and other spices. Leave the shrimp in this marinade for 30 minutes.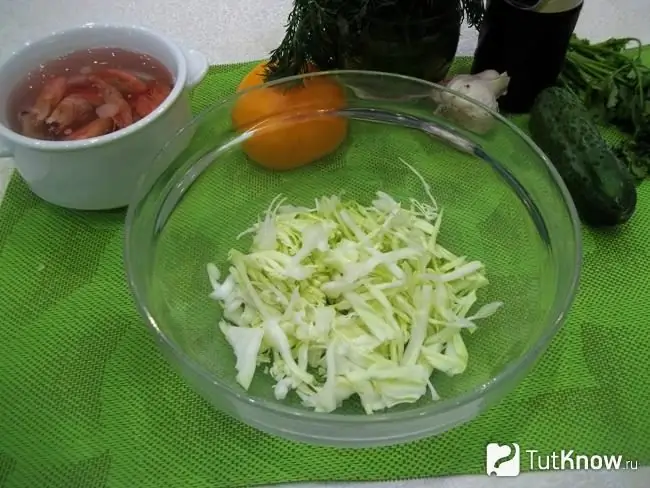 2. Wash the cabbage with cold water, remove the top leaves. they are usually flawed. Shake off excess moisture from the plug and dry with a paper towel. Cut the desired piece from the head of cabbage and chop the cabbage into thin strips (0.3-1 cm). Crush the cabbage shavings with your hands so that it becomes softer and juicier, then the salad will be softer. But if you do not serve the dish right away, then it is better not to do this, because the cabbage will let the juice out and the salad will be watery.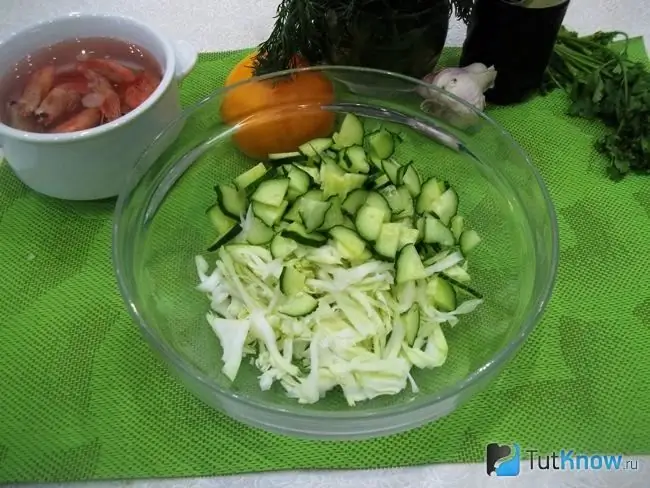 3. Wash the cucumbers with cold water and dry with a paper towel. Cut off the ends on both sides, cut the gherkins lengthwise into 2-4 pieces to make long strips and chop them into thin quarter rings. If the cucumbers are bitter, remove the skin first. it is in her that this bitterness is contained. Removing large seeds from mature fruits will not be superfluous.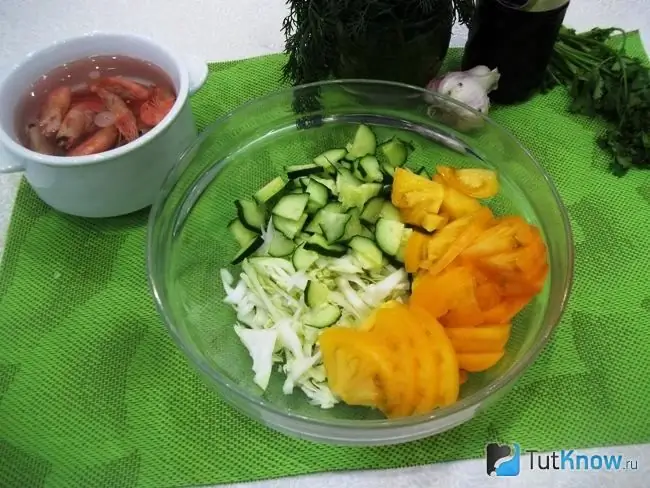 4. Wash the tomatoes with cold water, dry with a paper towel and cut into pieces of any shape.
Peel and chop the garlic.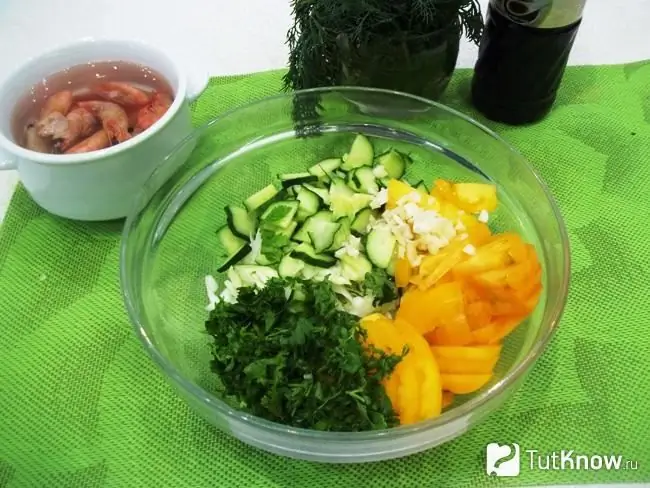 5. Rinse all greens thoroughly with cold running water. It is better to do this in a colander to wash off all the sand and dust. Then shake off all the foliage from excess moisture and blot with a paper towel.
Remove thick stems with roots from cilantro, and cut the leaves.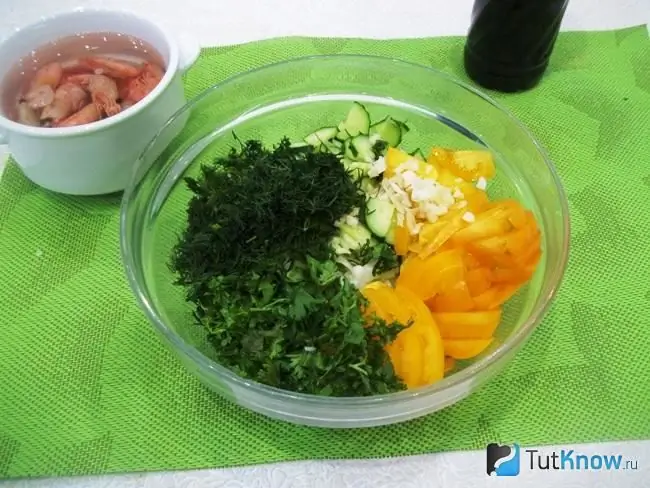 6. Also remove the coarse stems from the dill, and finely chop the grass.
If desired, you can add any other greens to your taste to the salad: parsley, basil, arugula, salad leaves, etc.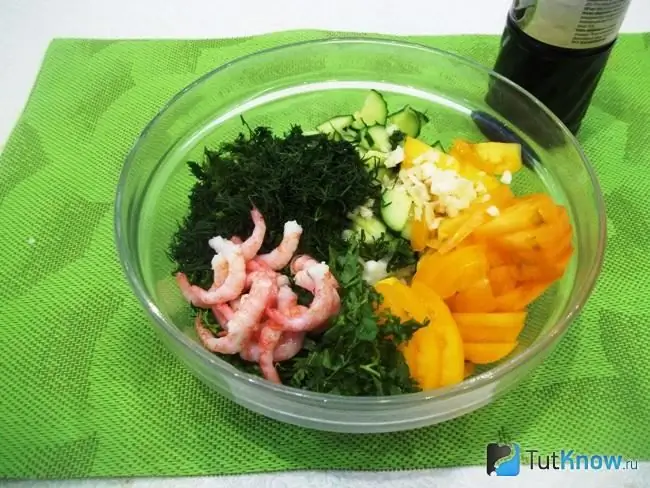 7. Let the prepared shrimp cool and dry. Then pinch your head and twist it off with your fingers. Tear off the legs by gathering them into one bun and pulling. Remove the shell, separate the plates one by one, starting from the head. If you see the shrimp esophagus (a dark line along the back), pull it out.
You can leave the shrimp carcass whole or cut into 2-3 pieces. Add crustaceans to salad with all foods. If you wish, you can sprinkle them with lemon juice first.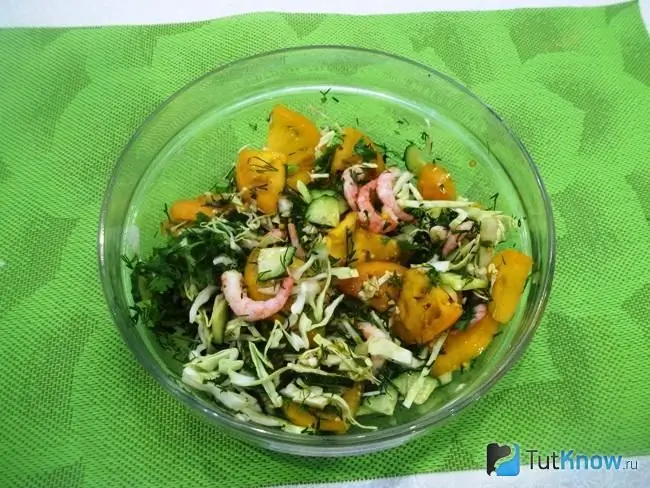 8. Season the food with soy sauce with vegetable oil, lightly pepper and stir if desired. Also, olive oil with balsamic or wine vinegar is suitable for dressing summer salad. Taste the salad and add salt if necessary. I recommend not seasoning the salad with soy sauce before, do not salt it. Otherwise, you risk oversalting the dish, since the added soy sauce is quite salty. You may not need any additional salt at all.
Chill the salad with shrimps, cabbage and tomatoes in the refrigerator for 10-15 minutes and serve immediately to the table. Sprinkle sesame or flax seeds on the salad, if desired.
Such a dish is not stored for a long time, so do not cook it in advance and for future use. Otherwise, the vegetables will flow and weaken, which will deteriorate the appearance of the dish.
See also a video recipe on how to make a salad with shrimp, cabbage and tomatoes