A very quick and budget recipe for homemade baking - a roll of ready-made puff pastry with plums in a hurry. Step by step recipe with photo and video recipe.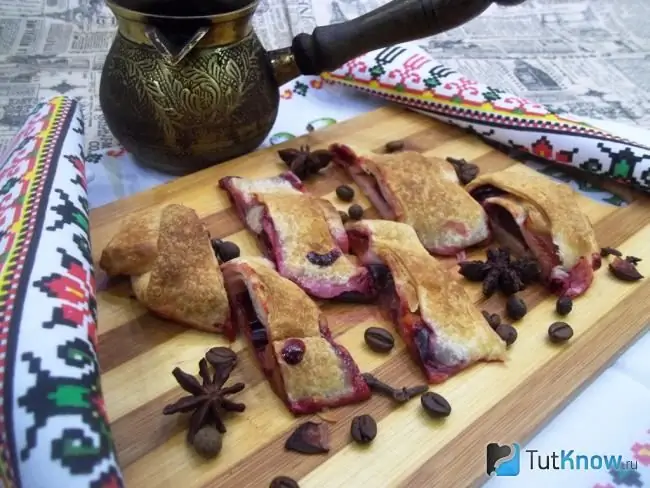 A fragrant and delicious puff pastry roll made of ready-made puff pastry with fruits is a wonderful dessert for tea, which will not cause trouble in the kitchen. Sweet and aromatic pastries always fill the house with an atmosphere of comfort, celebration and joy. Regardless of age, both kids and adults love her equally. Everyone has their own preferences for such a sweet treat, but everyone loves a puff pastry roll with plums!
Today I will use ready-made puff pastry for home baking. This is an express version of wonderful pastries and a real lifesaver for any housewife. From it, everything is always obtained with a plus, and without much hassle. And plum pie is no exception! But, although at first glance, everything here seems to be not at all complicated! But I still strongly recommend that you listen and use all the tips that are described below in a step-by-step recipe with a photo. Considering them, you will end up with a consistently delicate roll with a crispy crust, melting filling in your mouth and a magical taste. It will not be a shame to serve it not only to prepare for a family tea party, but also to feed the guests.
Caloric content per 100 g - 252 kcal.
Servings - 1
Cooking time - 1 hour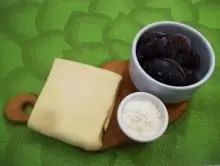 Ingredients:
Puff pastry - 500 g
Flour - 2 tablespoons
Plums - 250 g
Aromatic spices to taste
Sugar - 50 g or to taste
Step by step preparation of a puff pastry roll with plums: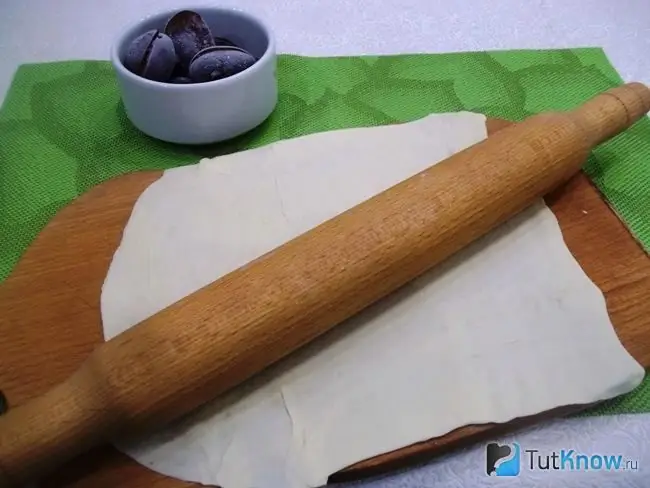 1. First of all, free the dough from the packaging and defrost it completely until soft. It is important to defrost it gradually at room temperature. It defrosts very quickly, literally in 1 hour. Do not use the microwave to speed up the defrosting process. Defrosted dough cannot be re-frozen. This means that everything that has been defrosted must be baked.
When the dough is malleable, dust the table or work surface with flour to keep it from sticking. Lay the layer and roll it out as thin as possible, about 3 mm in a rectangular shape. If cracks form during rolling, moisten them with a little water and smooth with your fingers to make the cracks disappear. And if defrosted puff pastry becomes very soft and sticky during operation, put it in the refrigerator for a while to cool for a few minutes. A high-quality semi-finished product is flexible and stretches well, and does not break when sculpted. A roll is also ideal if you use good quality dough. To do this, when buying it, pay attention to the following signs: the color should be beige, the surface is smooth without bulges and lumps.
When working with puff pastry, keep the following point in mind. From the heat, the oil in it will begin to melt, from which the layers will stick together, which means that the baked goods will not rise well. Therefore, work with the dough in a cool kitchen away from the oven on cool and not very humid days.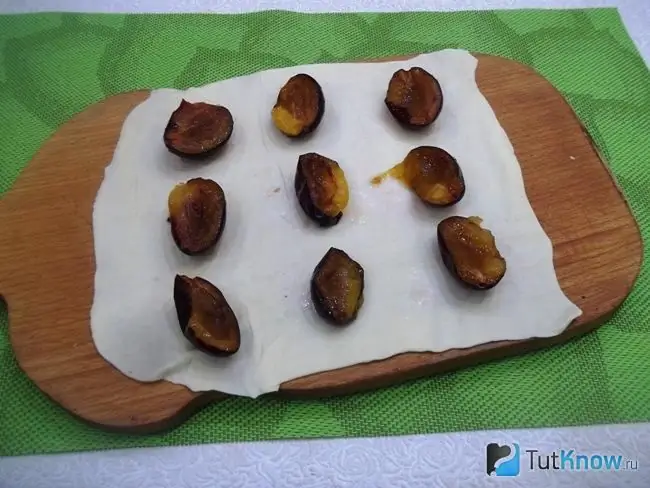 2. Next, do the stuffing, i.e. plums. They are suitable for any variety, but the most delicious pastries with fruits are sour. If the plums are very sweet, reduce the amount of sugar. This pastry has no seasonality. In summer, bake a roll with fresh fruit, and in winter with frozen fruit.
Wash the selected fresh plums with cold running water, dry well with a paper towel so that there is no excess moisture and cut in half or into 4 parts, depending on the original size of the fruit. Remove the pits and place the fruits on top of the dough, cut up, so that the skin is in contact with the dough. Sprinkle some aromatic spices over the dough, such as a pinch of ground nutmeg or cinnamon, if desired.
Frozen fruits do not need to be defrosted beforehand. Just put them on the dough right away.
Usually the dough is sold in a package weighing 500 grams and, as a rule, it is divided into 2 plates. To prepare a roll, you can use two or only one plate at once. Alternatively, make one part of the dough with plums and the other with other fruits or berries.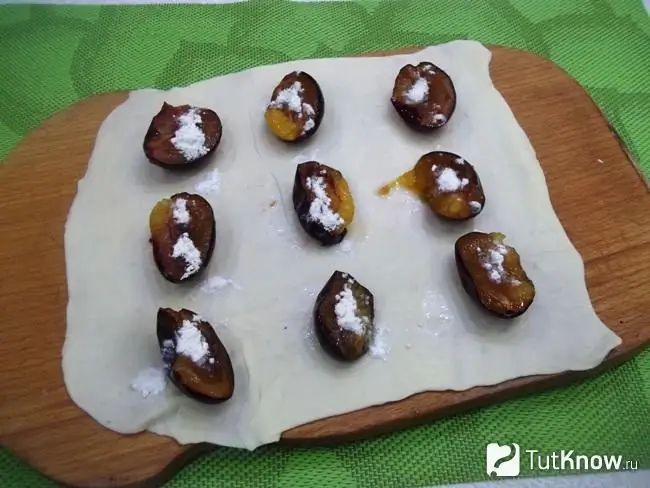 3. Sprinkle sugar over the plums until they caramelize. The amount of sugar can be adjusted depending on preference: increase for lovers of sweets and decrease for lovers of sweet and sour pies.
Then sprinkle the plums with flour so that it absorbs all the moisture released from the fruit, and the dough is not gluey. If you use frozen fruits, there is a risk that the juice will start to flow out of the roll more abundantly than from fresh fruits. From this, the product will have to cook longer or it may also turn out to be glittery. Therefore, it is better to mix frozen plums with starch or flour so that they are covered with dry mass on all sides. Starch and flour will absorb the released berry juice during baking.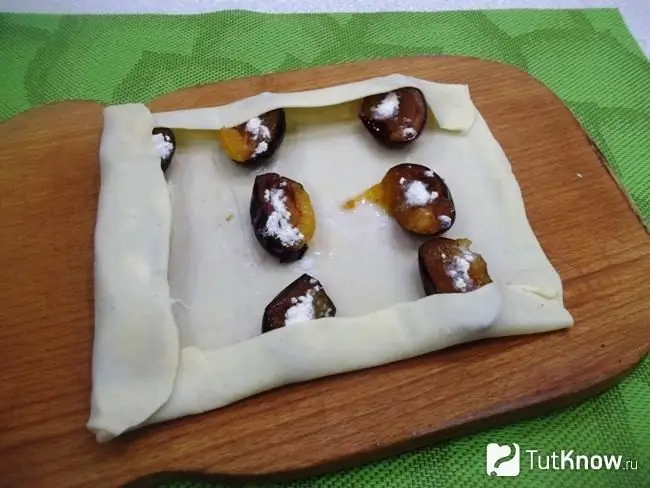 4. Tuck the edges of the dough on three sides, covering the plums so that juice does not flow out of the roll during baking.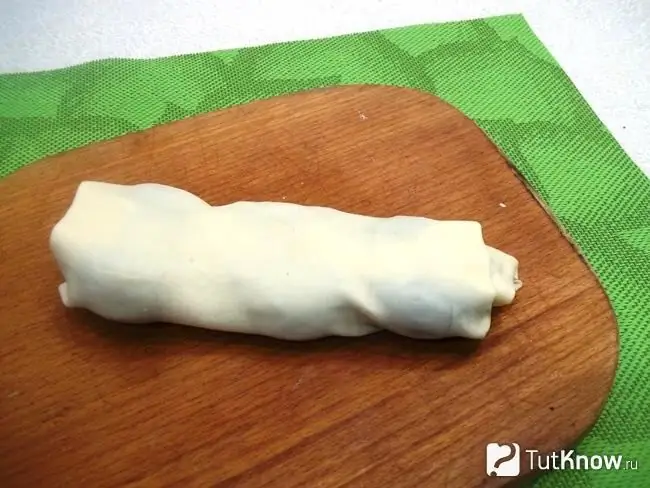 5. Gently roll up the dough sheet so that the fruit does not fall out.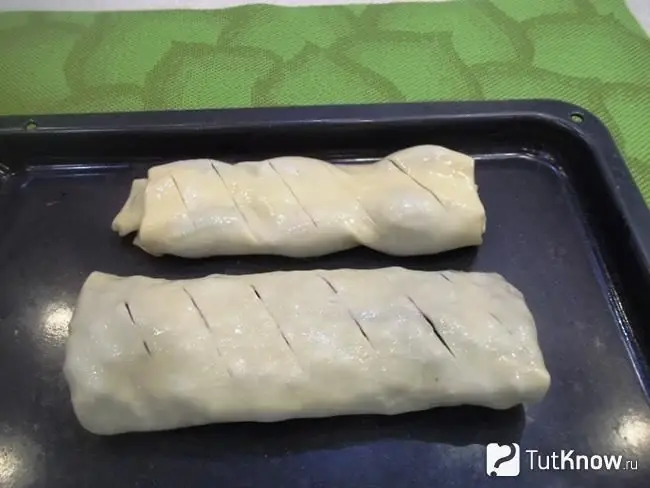 6. Place the roll on a baking sheet, seam side down. If the puff pastry is of good quality, then you do not need to grease the baking sheet with oil, because it contains a sufficient amount of fat and the baked goods will not stick. Make shallow cuts across the roll. They will give the product a beautiful appearance, and in finished form it will be easier to cut it into portions. To give the finished product a beautiful ruddy color, brush it with a thin layer of vegetable oil, milk or whipped yolk. Heat the oven to 200 degrees, or to 220-250 ° С, because puff pastry is always baked at a high temperature. Bake the roll for 20-30 minutes. But since everyone has different ovens, watch out for baking. When the cake gets a ruddy shade, try it on readiness, piercing it with a wooden stick - it should come out dry.
Cool the finished puff pastry roll with plums on a baking sheet. when hot, the product is very fragile and may break. Then remove the roll from the baking sheet, cut into portions and sprinkle with powdered sugar, garnish with cinnamon, cocoa powder or chocolate chips. Serve with a cup of coffee, tea, or a scoop of ice cream.
Watch a video recipe on how to make a puff pastry roll with plums