Calorie content and composition, the benefits of raspberry jam and contraindications for use. How to make raspberry jam, in which recipes can it be used?
Raspberry jam is a dessert made by boiling berries in sweet syrup. It is prepared mainly to preserve the benefits of raspberries for the winter - the jam is put in sterilized jars and rolled up. During cooking and further storage, many vitamins are lost, however, the dessert, nevertheless, retains some useful properties and is not only a delicacy, but also an excellent medicine, especially during a cold. Delicious raspberry jam can be eaten neat as a bite with tea or added to various dishes, mainly desserts, but it also makes excellent original sauces for meat.
Composition and calorie content of raspberry jam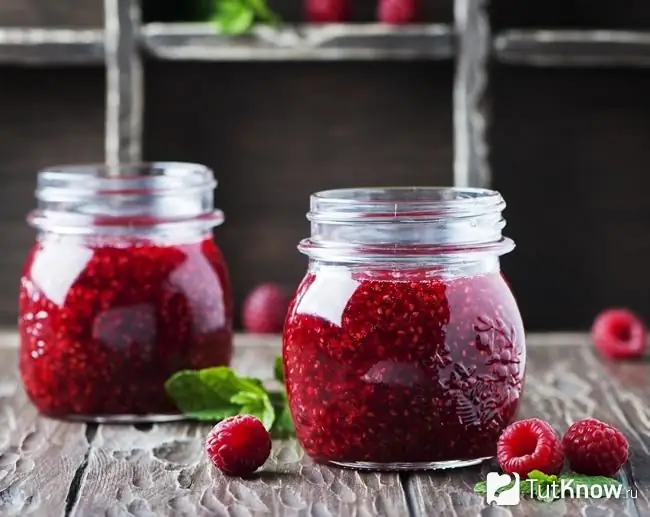 In the photo, raspberry jam
Raspberry jam is usually cooked in a rich sugar syrup, which greatly affects the nutritional value of the product.
The calorie content of raspberry jam is 273 kcal per 100 g, of which:
Proteins - 0.6 g;
Fat - 0.2 g;
Carbohydrates - 70.4 g;
Dietary fiber - 2 g;
Water - 26 g.
One way or another, in comparison with classic desserts - sweets and cookies, raspberry jam can be considered low-calorie, so if you do not spread it on a thick piece of bread, you can easily find a place for it in your diet.
Raspberry jam also contains small amounts of vitamins and minerals.
Vitamins per 100 g:
Vitamin A, RE - 3 μg;
Beta carotene - 0.02 mg;
Vitamin B1, thiamine - 0.01 mg
Vitamin B2, riboflavin - 0.04 mg;
Vitamin B6, pyridoxine - 0.04 mcg;
Vitamin B9, folate - 2 mcg;
Vitamin C, ascorbic acid - 7.4 mg;
Vitamin E, alpha-tocopherol - 0.5 mg;
Vitamin PP, NE - 0.5 mg;
Niacin - 0.4 mg
Macronutrients per 100 g:
Potassium - 168 mg;
Calcium - 19 mg;
Magnesium - 10 mg;
Sodium - 14 mg;
Phosphorus - 16 mg
Trace elements are represented by iron - 1, 2 mg per 100 g.
It should also be noted that raspberries contain essential oils, acetylsalicylic acid, and other natural antioxidants and antibiotics. When boiled, they partly leave the berries, but they remain in some quantity.
Useful properties of raspberry jam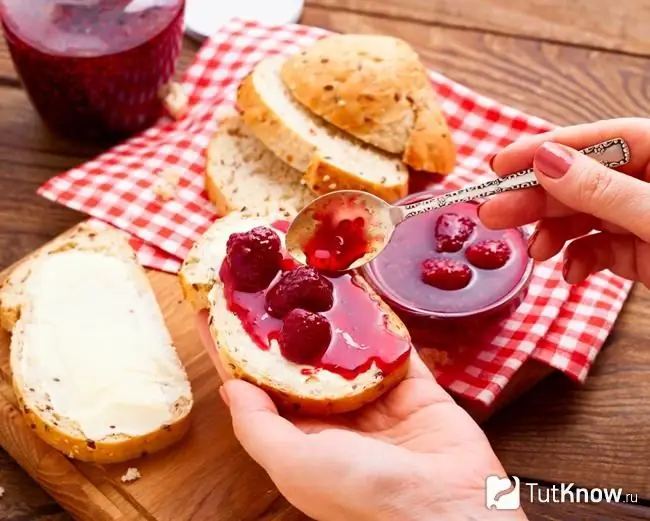 Homemade raspberry jam has been used since ancient times as a medicine for colds. Today, when the composition of the delicacy is already known, it is clear that the choice of the ancestors was reasonable. The fact is that the berries contain acetylsalicylic acid - this component is the active ingredient in the well-known aspirin tablet. Thus, just like the pill, raspberries are able to relieve fever and headaches, but unlike the drug, it is devoid of its main side effect - an irritating effect on the gastric mucosa.
Thus, the main useful property of the dessert is anti-cold, and therefore it is simply necessary to cook raspberry jam for the winter. However, it is best to take up a folk remedy at the first symptoms of the disease, or in general as a prophylaxis. Drinking hot tea with raspberry jam and honey after a long winter walk is a great way to stay safe. But treating an already neglected disease with a berry dessert is not effective.
The benefits of raspberry jam:
Improves digestion … The dessert contains fiber and natural pectin, which helps to normalize intestinal motility. Raspberry jam has a mild laxative effect and promotes stool improvement. Pectin, among other things, helps to bind toxins in the intestines and quickly eliminate them from the body.
Relieves … Acetylsalicylic acid is a universal pain reliever that is effective not only for colds. It helps especially well with headaches.
Prevents edema … Jam has a mild diuretic effect, thereby reducing the likelihood of developing edema.
Reduces the likelihood of developing thrombosis … The aforementioned acetylsalicylic acid is involved in the blood thinning process, and therefore it is effective for the prevention of blood thickening, as well as, accordingly, the development of thrombosis and acute cardiac conditions.
Fights free radicals … Raspberries contain a special ellagic acid that does not break down even after a long boil. It is an antioxidant and reduces the activity of free radicals in the body, saving cells from damage and preventing cancer. The same acid helps to neutralize carcinogens to some extent, and therefore if you eat fried foods, thick raspberry jam will be a good dessert.
It is worth noting the general positive effect of the product on the body due to the presence in the composition of a wide range of vitamins and minerals, albeit in small quantities. Raspberry jam has a beneficial effect on the nervous system, heals the skin, improves immunity and helps pregnant women to save themselves from anemia.
Read also about the beneficial properties of apricot jam
Contraindications and harm of raspberry jam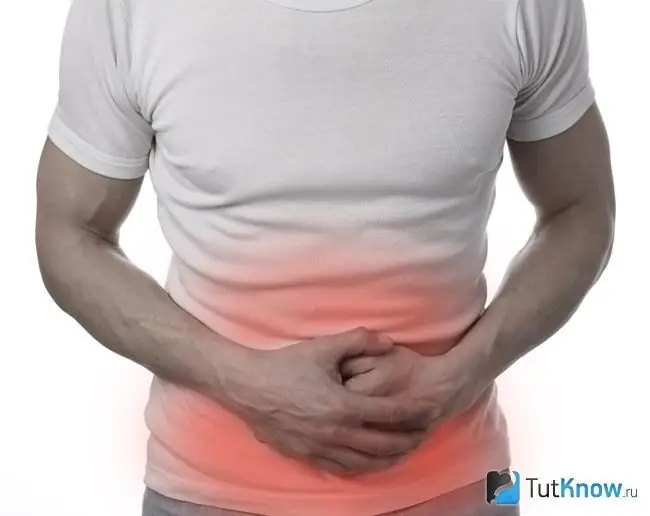 Despite its many health benefits, raspberry jam is a food that should be eaten with care. The first problem is that the dessert contains a large amount of sugar, the consumption of which is already increased in the classic diet. Eat jam only if it replaces other sweets and no more than 2-3 tablespoons per day. It is especially necessary to closely follow the norm for those who are overweight and follow a dietary diet.
Raspberry jam can harm those who suffer from diabetes or have a predisposition to this disease, as a rule, in this case, the dessert is strictly prohibited.
Raspberry jam is also prohibited for those who have diseases:
Digestive systembecause the abundance of fruit acids in berries can irritate the mucous membranes. If you have a particular disease, be sure to consult with your doctor about whether you can eat jam or not.
Blood: if you are characterized by hemophilia - liquid blood, then blood thinning products are prohibited.
Genitourinary system - in this case, the diuretic effect can provoke an exacerbation of the disease.
It is also worth noting that raspberries are a very common allergen, and sugar increases allergenicity, therefore, jam is prohibited during breastfeeding, and children should also be given caution to try it for the first time.
The quality of the jam is of great importance: it is ideal if it is cooked at home with a minimum amount of sugar and for a short time - for example, five-minute raspberry jam. If you buy a store-bought product, be sure to read the composition, in addition to sugar and berries, you can find many other additives in it that will negatively affect your health.
Note! It is forbidden to use raspberry jam as an antipyretic if the temperature is above 37.5OC. In addition, you can not eat dessert just before going out, even in a healthy state.
Some interesting recipes on how to make raspberry jam:
Minute jam … Sort out the berries (1 kg), remove the bad ones, put the good ones in a cooking bowl, cover with sugar (1 kg), leave for 3-5 hours. During this time, the berries will release juice. Without adding water, put the basin on fire, bring to a boil, boil for 5 minutes and pour into sterilized jars. Cover with a blanket, transfer to a cool place in a day.
Live jam … The step-by-step recipe for live raspberry jam is the simplest. Sort raspberries (1 kg), put in a food processor, add sugar to taste. For a light sweetness, 300-400 grams is enough, for a strong one, take 800-1000 g. Beat the berries with sugar, pour into sterile jars, store in the refrigerator.
Raspberry on honey … Before making such raspberry jam, you need to buy fresh honey - nothing good will come of honey from the old harvest. Mash the berries (500 g) with a wooden spoon or pestle, grind with honey (500 g) - it is most convenient to put some berries in already sterilized jars, pour some honey into them, knead the raspberries, then gradually add the berries and honey, continuing to knead. Close the jars, store in the refrigerator.
Raspberry jam with sweetener … Sprinkle berries (1 kg) with sorbitol (1.5 kg), leave for 5-6 hours at room temperature. Cook for 15 minutes every day for 3 days, then roll into jars.
Sugar-free raspberry jam … Put the raspberries in a jar, pour water up to the neck, put the jar in a large saucepan on a piece of cotton cloth folded several times. Turn on the fire, bring the water to a boil and boil the berries. Add more berries as they boil down. How much to cook such raspberry jam, decide for yourself by when you get the degree of density you need.
Please note that, if you wish, when cooking, you can add citrus zest, mint, other berries and whatever your imagination tells you to add variety and make the dessert as much as possible corresponding to your taste preferences.
Raspberry Jam Recipes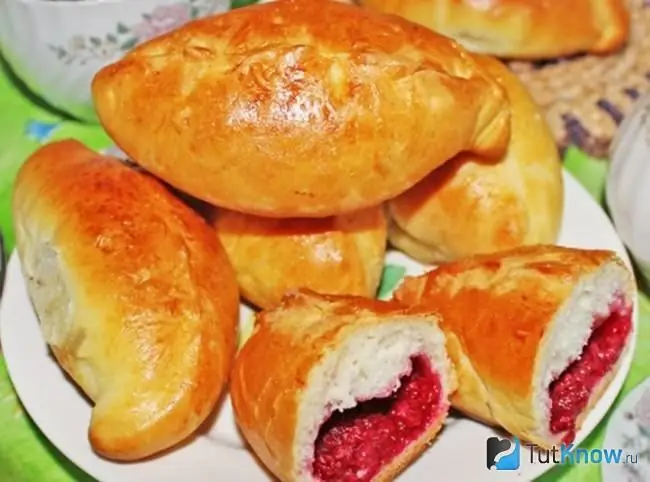 Raspberry jam itself is self-sufficient and tasty in its pure form, but it can also be added to various dishes, mainly, of course, to desserts.
Several recipes with raspberry jam:
Crispy biscuits … Whisk the yolk (1 piece) with the sugar (100 g) until bubbles appear. Melt the butter (100 g), add to the sugar and egg mixture. Sift flour (2.5 cups), add baking powder (1/2 tsp). Mix all the ingredients, knead the dough, wrap with cling film and refrigerate for a couple of hours. Take out, divide into 10-12 pieces, roll up the balls. Make a depression in each ball, pour a little raspberry jam (10 tsp) inside and cover the ball. Place on a greased baking sheet, seam side down. Bake at 220OC for 10-15 minutes.
Open pie with raspberry jam … Keep butter (150 g) at room temperature for some time to soften. Mix it with flour (300 g), add sugar (3 tablespoons), sour cream (3 tablespoons) and an egg (1 piece). Knead the dough, roll it out, put it in a mold, put it in the refrigerator for half an hour. Prepare the filling: Combine raspberry jam (5 tablespoons) with flour (1 tablespoon). Also prepare the filling separately: mix the cream (300 g), sour cream (500 g), flour (50 g), sugar (3 tablespoons). Take out the form, pour the jam first, then the filling. Bake for 30-40 minutes at 180 ° C.
Raspberry Jam Patties … Combine flour (750 g), yeast (8 g), sugar (50 g). Beat eggs (3 pieces) separately with vegetable oil (100 ml). Pour slightly warmed milk (500 ml) into the dry mixture, then add eggs with butter and knead the dough well. Then roll into a ball and put in a warm place for an hour. Divide the finished dough into small pieces, roll each piece and put raspberry jam (250 ml) in the center, then pinch. Bake the pies at 180 ° C for 30-40 minutes. Brush the finished pies with butter (50 g).
Oatmeal with banana and cocoa … Boil the oatmeal (60 g) in water or milk according to the instructions. Add butter (15 g) to the porridge. In a deep plate, cut the bananas (1 piece) into slices, put the porridge, add cocoa (1 tsp) and raspberry jam with berries (1 tbsp). Stir and eat.
Volovany with caviar and jam … Roll out the finished puff pastry (500 g), use a mold to cut out circles with a diameter of about 5 cm, you should get 60 circles. Cut rings out of half of the circles using a smaller form. Place large mugs on a baking sheet, brush with whipped egg white (2 pieces). Put the rings on top, also grease them with protein. Place in an oven preheated to 200 ° C for 15-20 minutes. Cool the volovany, slightly push the middle, put butter (50 g) on the bottom, then spread it with jam (50 g) and put caviar (300 g) on top.
Lamb with quinoa and original sauce … Combine soy sauce (2 tablespoons), olive oil (2 tablespoons), finely chopped garlic (2 heads), cilantro (1 bunch), pepper mixture to taste. Grate the lamb (400 g) with the marinade, leave to marinate for 1-2 hours, then bake directly in the marinade for an hour at 200 ° C. Boil 1 cup quinoa according to package directions. Prepare the sauce: In a small saucepan, combine raspberry jam (100 g), sugar (1 tablespoon), soy sauce (1 tablespoon), balsamic vinegar (1 teaspoon). Bring to a boil, simmer for a couple of minutes and remove from heat. Serve the lamb with quinoa and sauce.
See also recipes with lemon jam.
Interesting facts about raspberry jam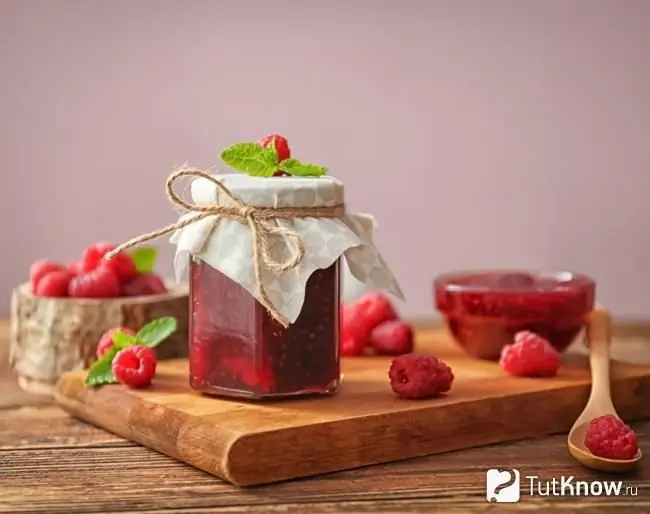 On August 16, Russia celebrates the Day of Raspberry Jam, but this holiday is young, it began to be celebrated only in 2015.
When preparing raspberry jam, it is recommended to stir it with a wooden spoon or spatula, the metal can destroy the already fragile vitamin C contained in the berries.
To protect the jam from the development of mold fungi, before rolling it, take a circle of baking paper, dip it in alcohol and place it directly on the berries.
Never add water when making raspberry jam unless the recipe requires it. The berry already gives a lot of juice, and if you add water, you will have to boil the jam for a very long time to achieve normal density, and prolonged cooking, as we have already said, contributes to the loss of useful properties.
There is a secret how to cook thick raspberry jam quickly: for this you just need to use a gelling agent - agar, gelatin, pectin.
Watch a video about raspberry jam:
Raspberry jam is a rather controversial dessert. It definitely retains useful components, but they are present in much smaller quantities than in a fresh berry. In addition, the jam contains a lot of sugar if prepared according to the classic recipe. To get the most out of it, try to cook it yourself, quickly, and add as little sugar as possible. But, one way or another, you should not overuse the dessert.