The best gift ideas for business partners for the New Year 2020. How to package and present a present? What is better not to give?
Choosing New Year gifts for partners is an important stage in business development. Stylish presentations, complemented by personal congratulations, emphasize respect for a person, a desire to cooperate with him in the future. On the contrary, an inappropriate or low-quality souvenir can spoil the impression of the company and cause a desire to revise the contract.
What to give your partner for the New Year 2020?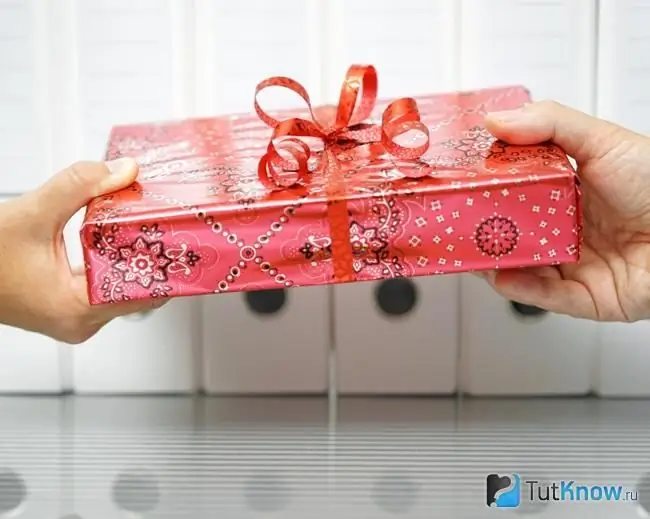 At the beginning of winter, the company's management thinks about what to give business partners for the New Year. They make a choice between a traditional neutral present and a gift with a meaning corresponding to the person's character or the nature of his work.
In any case, all gifts must be beautiful and of high quality. When buying edible presentations, pay attention to the presence of a certificate and the date of manufacture of products.
Be sure to complement each surprise with a personal greeting card with wishes of happiness in the New Year 2020.
It is considered appropriate to place your company logo on the packaging or on the gifts themselves. However, make sure that it is discreet, does not overlap information, does not look like an intrusive advertisement.
In addition, you can put several business cards in the box with a phone, email, and regular address.
The best gift ideas for partners for the New Year 2020
To the question of what to give partners for the New Year 2020, there are several answer options. The most obvious one is quality Christmas paraphernalia. In addition, sweet gifts are allowed, as well as products that are manufactured by your company.
Sweet gifts for partners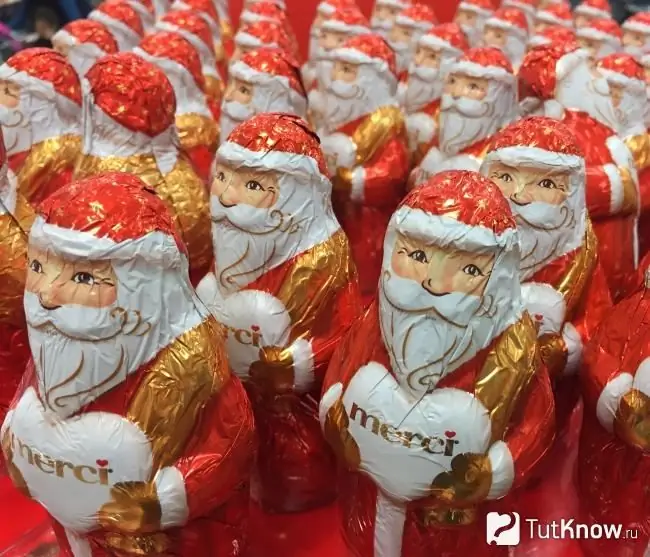 If you do not know what to give your partners for the New Year, go to the confectionery shop. On its shelves, you can find a variety of products that are suitable for sweet gifts. Choose products with a New Year theme: in the form of trees, snowmen, mittens, snowflakes. Take care of extra wrapping in brightly colored wrapping paper.
What to give business partners for the New Year 2020:
Chocolate bar … Many chocolate companies change the design of the wrapper slightly for the New Year holidays or produce a limited number of bars with special packaging. In addition, boxes are sold with a transparent "window" through which you can see unusual products in the form of a Christmas tree, pine cone, snowman. Check the freshness of the product and the integrity of the packaging. After all, most likely, this gift will be given to the child.
Set of dried fruits … Modern technology allows you to preserve the color and shape of dried fruits (dates, apricots, plums). After evaporation of moisture, they remain beautiful and appetizing. Dried fruits are placed in a box along with slices of pineapple, kiwi, citrus fruits. This set is an excellent New Year's gift for corporate partners, as it is tasty, healthy and has a stylish appearance.
Volumetric figures made of chocolate … Before the New Year, on the counter of pastry shops, you can see a large assortment of chocolate figurines - bells, Christmas trees, snowmen. They are packed in beautiful foil, painted in a fairy-tale or Christmas style. Such items are suitable as a gift, provided that there is no hollow part inside. Remember, even solid figures are fragile. Therefore, be careful when storing and transporting presents.
Gingerbread … These pastries have a pleasant spicy taste and a long shelf life. Therefore, they can be donated to business partners without fear. Pay attention to sweets in the form of a mitten, a Christmas tree, a hut, a bell. Such gingerbread cookies cheer up, create a New Year's atmosphere. Make sure that they are packed securely and beautifully, and include a personalized greeting card in the bag.
Sweets set … A special sweet present can be made for a large business partner. Present him with a set of sweets made in the same style, packed in a beautiful box with a Christmas pattern. In addition to high-quality chocolate, such a set often includes a bottle of champagne, a Christmas tree toy, or pieces of dried fruit. Present the gift in person, accompanied by wishes for a Happy New Year 2020.
Gifts with New Year's symbols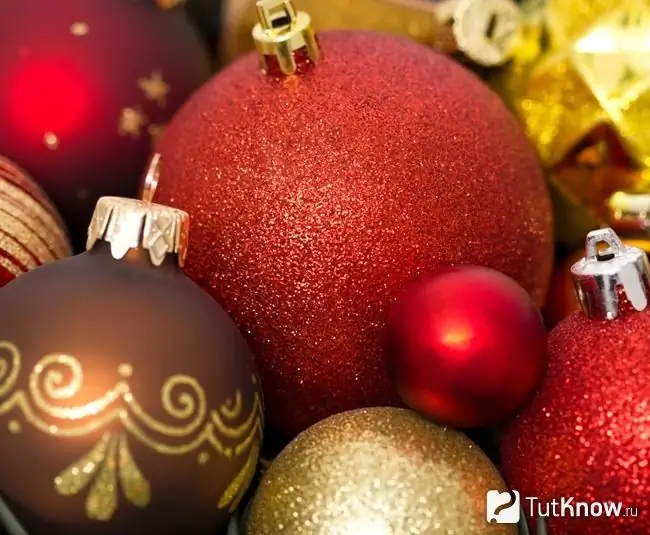 Souvenirs with Christmas symbols are a good idea of gifts for partners for the New Year. The stores have products for every taste and wallet. But it is better to choose presentations of a neutral design, but at the same time of excellent quality. It is allowed to use the symbol of the year according to the Chinese calendar (Rat), as well as the numbers 2020.
What gift to give a business partner for the New Year:
Christmas decorations … Modern Christmas tree decorations come in a variety of colors and shapes. In the store you can find exotic birds, cones, icicles, stars, houses. But as a gift for a business partner, a hand-painted ball, packed in a separate box with a "window", is most suitable. In this case, you should not buy a glass product. Indeed, in the event of an accidental breakdown, a person will have an unpleasant aftertaste for a long time.
Christmas houses … The product is a ceramic hollow house. If you put a small scented candle inside, windows and doors are illuminated with flickering light, and a delicate aroma of essential oil spreads through the room. You can choose a house in the form of a hut, an old building, a modern cottage. When buying, look at the souvenir from all sides, make sure there are no scuffs and cracks.
Aroma candles … In December, many Christmas-themed candles are sold in stores. When choosing a gift for your partner, pay attention not only to the smell and shape, but also to the quality of the product. So, candles safe for health are made from beeswax, mineral and soy wax. They absorb essential oils well, and after lighting the wick, they do not smoke and evenly spread the aroma throughout the room.
Christmas trees on the desktop … The Christmas tree on the desk cheers you up while you work, makes you feel the magical atmosphere of Christmas. A business partner can choose a stylish and elegant statuette made of metal, warm and soulful - made of wood and fabric, bright and shimmering - made of high-quality plastic. Make sure you have a sturdy box to store your gift until next New Years.
Tea or coffee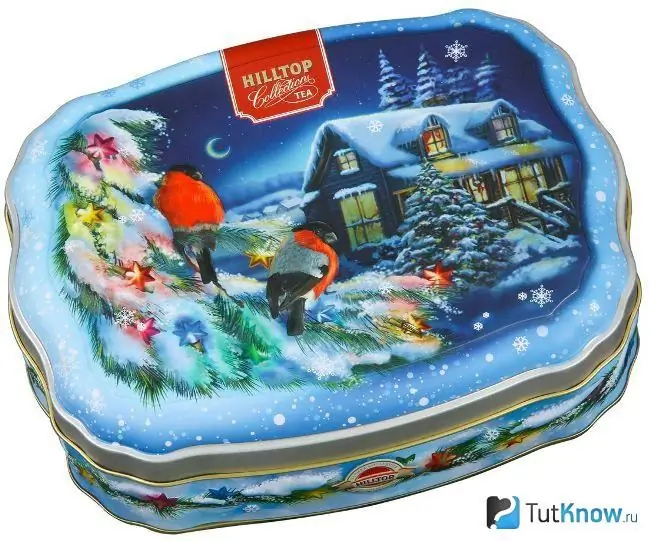 In tea boutiques, you can choose wonderful gifts for the New Year for business partners. At the same time, you should not give tea with exotic herbs or coffee with aromatic additives. It is much more pleasant to get a classic product of high quality.
Moreover, the packaging can be of any color in the New Year's or Christmas style. They also sell interesting dishes, manual coffee grinders, and Turks for brewing coffee.
In December, you can buy tea in an interesting tin box made in the shape of a Christmas tree toy, bell, clock and other New Year symbols. There are packages that, when opened, sound a merry Christmas melody. However, the most important thing is the quality of the tea. Choose large-leaved products with a natural color of dried leaves, without a bright smell of filler.
Instant coffee is not a good gift for a business partner. Many people do not like the taste of such a drink, even if it has a high price. A safe bet - high quality coffee beans. They can be packaged in beautiful transparent packaging by adding a dark chocolate bar and a personalized greeting card to the box.
You can give your partners a mug of tea for the New Year. This gift can be used both at home and in the office. After all, drinking tea is a great way to relax, refresh, chat with colleagues or family members. You can choose the classic stylish version with a comfortable handle and a wide bottom or a bright mug with the image of New Year's motives. There are models with a grooved "knitted" surface and complemented by a textile insert.
A great gift for the New Year is a manual coffee grinder. The device is a bowl for beans, a handle for grinding and a container for collecting the finished product. It has an exquisite design (antique wood, cozy home, modern chrome). Such a gift is compact. Therefore, it can be used both at home and at work. Business partners will be happy with such a present, as freshly ground coffee has a special taste and aroma.
Gift certificates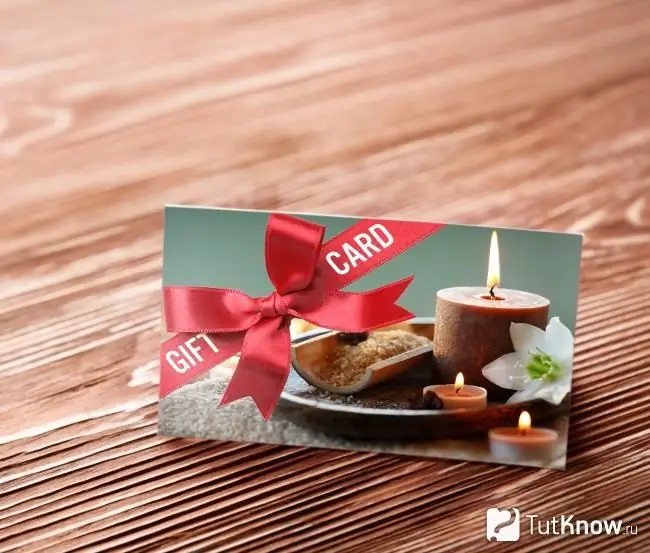 Any business partner will like such a corporate gift for 2020. After all, a person can choose the present or the time of the service himself. In addition, the gift certificate has a stylish and solid look and a discreet design, so it is suitable for people of any gender and age.
Please note that the longer and stronger your relationship with the partner company, the higher the amount should be on the certificate account.
What certificates to present to partners for the New Year 2020:
Gift and souvenir shop certificate … Such boutiques are filled with beautiful things that you want to buy, but it's a pity to spend money. A gift certificate allows you to choose the decor item that best fits into the interior of your partner's apartment or office. This present will be remembered for a long time by a person, because it allows you to experience pleasant moments of choosing the most beautiful thing.
Photo session certificate … Even a person who does not like to be photographed will like such a gift. After all, a photo session made by a professional photographer can show a partner in the most favorable light. Subsequently, such photographs become part of business cards, brochures, newspaper notes. In this case, the person himself chooses the time and place of shooting.
SPA certificate … After the New Year's rush, any person has a pleasant time in a relaxing atmosphere. Moreover, modern men also willingly visit spa salons. They prefer saunas, swimming pools, massage rooms. Women take care of the body, face, hair. There are also complex procedures for weight loss, rejuvenation, body cleansing.
Cinema certificate … In the second half of December, New Year's romantic comedies are shown in all cinemas. Watching such films relieves stress, improves mood, and creates a festive atmosphere. In addition, each person is pleased to spend time with friends or family members. Therefore, a gift certificate at the cinema is considered an excellent present for a business partner.
Products of your company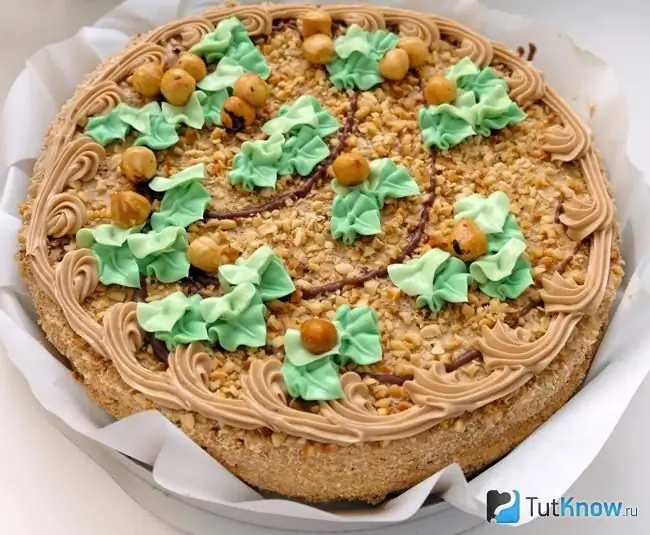 If your firm makes certain products or provides services, discounts or the highest quality products are good options for a New Year 2020 gift for business partners. Thus, you will show respect for the person and further interest in working with his firm.
It is easy for bakery owners to choose a gift for partners. Regular large partners can bake a cake with the names of two companies. For small suppliers, it is best to bake gingerbread or other long-lasting sweets. At the same time, decorate them in a Christmas style and add a postcard with wishes of happiness and long-term cooperation.
Beauty salons can donate a certificate for their services or expensive quality cosmetics. Masters of their craft are distinguished by effective drugs, therefore they confidently present them to corporate partners. At the same time, you can put a postcard, as well as a business card, a calendar for 2020 in the bag with the logo of your salon.
Construction, design or engineering companies can donate office supplies to corporate partners that remind them of their line of business. Simple pencils are most suitable for this purpose. They can be ordinary, but always of high quality, or original (giant, bendable) with the logo of the company applied.
It is appropriate to present a desk calendar to business partners of travel agencies. On their pages you can place images of the most beautiful resorts (sunny beaches, green forest, ancient architecture of Europe). Do not forget to include your phone number, email address and regular address. Large and long-term partners are advised to make a discount on a holiday package during the Christmas holidays.
What to give business partners for the New Year 2020 - watch the video: