What are Easter baskets for? What do you need for crafts? The best ideas for making baskets for Easter eggs: from paper, cups, scarves, yarn and newspapers.
A basket for Easter eggs is an important, albeit optional, attribute of the holiday of Bright Resurrection. The attention to detail emphasizes the festive atmosphere. And joint creativity with children helps not only to prepare for the celebration. For example, by crocheting an egg basket with your baby, you help your child develop fine motor skills and neural connections, while talking about the traditions of the holiday in general and your family in particular.
Why do you need an Easter egg basket?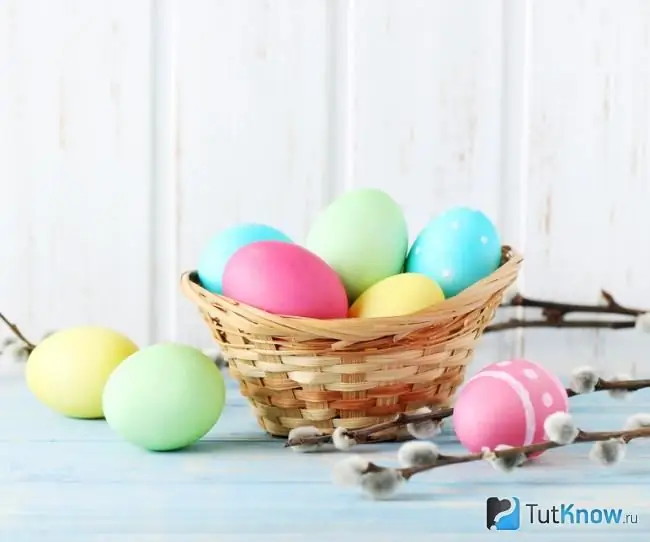 Historians are still arguing whether the tradition of painting eggs for Christ's Resurrection can be considered primordially Christian, or whether this symbol is a collective image of pre-Christian beliefs about eternal life and its rebirth. Certain traditions of the peoples of the world are evidence of the interreligious version. So, in the Balkans there are customs according to which Muslim men paint chicken eggs and give them to their Orthodox neighbors. But they themselves are also happy to receive such a gift. In this case, a do-it-yourself basket for eggs acts only as a means of transporting valuable cargo.
If we return to the peculiarities of the Christian celebration, here krashankas and Easter eggs play an almost sacred role. The painted egg was a symbol of the Holy Sepulcher and the rebirth of Jesus Christ. It is noteworthy that the Easter eggs remained raw, and only monochromatic eggs were cooked. It is this unpretentious dish, along with the Easter cake, is carried to the church for consecration and is the first to be tasted after Lent. The basket for Easter cake and eggs is decorated with bows and napkins to emphasize the importance and solemnity of such food.
But Easter eggs (beautifully painted, multi-colored eggs) after Trinity were carefully blown through holes punctured in the tops. They were used to make children's handicrafts and toys. The most beautiful Easter eggs were kept as a talisman at home until next Easter. Crochet baskets for Easter eggs began to be made only in the 18-19th century, before that the shells were kept mainly open or behind icons, which is why so few samples of Easter eggs have been preserved.
Whereas in Eastern Europe, baskets are collected and carried by adults to church, Western European culture prescribes this element of decoration for children. In some regions of Germany, France, Italy, waking up on Easter Sunday, children run to look for colored eggs left by the Easter bunny. Hilarious fun requires an appropriate attribute, namely an Easter egg basket. True, in this case, it must correspond to the miniature size of the baby.
Well, and one more way to use baskets for eggs for Easter crocheted, knitting, made of wood and other applied materials - decorating and personalizing the holiday. Such homemade home furnishings add coziness to the house, but at the same time remain within the framework of the holiday theme.
Note! Traditions today are closely intertwined with new trends. And the range of materials has expanded the boundaries for creativity. For example, a crocheted crocheted egg basket will look harmonious in a modern interior if you choose the right knitting and yarn, and the use of plastic bases will strengthen the structure and even allow you to take the basket with you to church.
What are Easter egg baskets made of?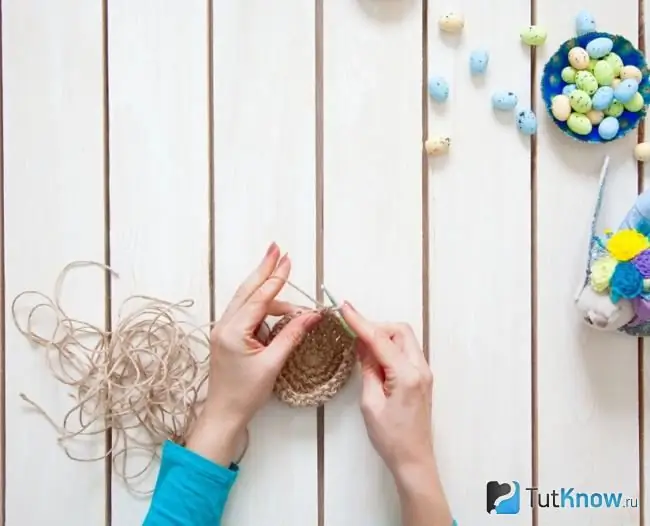 A distinctive feature of Easter baskets is their small size, enough to put a few colored eggs and Easter cakes inside. Such crafts can be made from traditional vines, willow twigs, or carved from wood, but in urban settings, of course, other materials are relevant.
Let's consider the most popular ones:
Paper … The technique of weaving in modern conditions has been modified into weaving from paper ropes. First, dense tubes of newsprint or tissue paper are twisted, and then a do-it-yourself basket for eggs for Easter is made. But thick paper can also be used to form small decorative baskets. Its disadvantage in this case is the fragility of the craft. Such a basket cannot be folded, which means that you will need to allocate a separate place for storage or create a new one next year.
Cardboard … An excellent material for creating a rigid base, which is decorated with colored paper, fabric, lace, but in this case, you will need to allocate a separate shelf for storing the basket, it will not work to fold it.
Yarn … A crocheted crocheted egg basket, if you use tight knitting patterns, does not require additional frames or rigid bases. Both a box and a tight handle are weaved from the yarn, while the finished product is not afraid of water, and in most cases, packaging during long-term storage.
Textile … It is used as a decoration material for a rigid monolithic or frame base. That is, first, a box is formed from cardboard or plastic, wire, and only then it is covered with a cloth. The exception is small decorative baskets for one egg, they can be made of thick felt without using a frame.
To decorate the finished base, you may also need ribbons, inlays, lace, sequins, beads, beads, felt and foamiran, fabric flowers. Paper baskets are also decorated with volumetric flowers made using origami technique. In general, the decoration and materials for it can be anything.
Also, do not forget about the tool base for creativity. Depending on the technique in which you decided to make the basket for Easter eggs, you may need:
a needle with a thread in the color of the fabric or the main weaving - for fastening parts or sewing on decorative elements;
hooks, knitting needles, row counters, magnifiers for patterns - an experienced craftswoman, to crochet a basket for eggs for Easter, will only need yarn and tools, but for beginners it is better to use the maximum number of elements that simplify the work;
PVA glue and gun glue;
pliers, round nose pliers and wire cutters;
scissors or a hard knife.
Recently, it has become more and more difficult to surprise someone with a craft in one technique, so many craftswomen combine various technologies, for example, the bottom of the basket is glued using the cardboard technique, and the walls are woven out of yarn.
Note! A crocheted basket for Easter eggs, like a wicker, cardboard one, looks very beautiful, but not always practical, since with a large diameter it hides dyes behind its walls. To ensure that each egg fits in its place in the basket, it is recommended to install paper or plastic egg carriers on the bottom. This is especially true if you have Easter eggs and want to show the Easter egg in all its glory without damaging it while moving.
Before preparing materials and tools for creativity, you need to decide on the main characteristics of the craft. Answer a few questions:
What is a basket for - to transport cakes and eggs, to decorate the table, to decorate the house?
How durable should a craft be - for one holiday or for long-term use?
How much time do you have to sew or knit an Easter egg basket?
After that, it will become clear what size and how strong the craft should be, whether you have enough time to implement the idea.
Best Easter Egg Basket Ideas
If you want to use the craft for going to church, then it is better to learn the technique of weaving from paper or combine textile Easter egg baskets with rigid bases. It will take a lot of time and effort to create such crafts. But simple crafts-applications are performed very quickly, although in most cases they are used exclusively for decorating a house or a festive table.
Simple decorative paper basket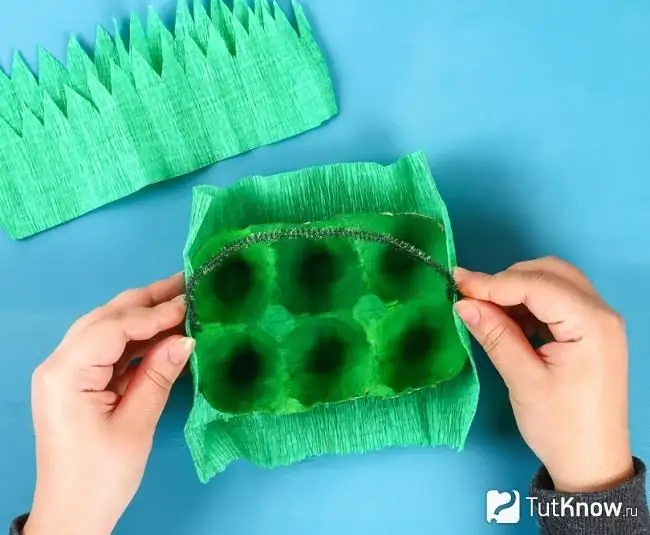 Such a basket of paper for eggs is installed as a decoration of the table, room, but also serves as a good display item for a kindergarten or elementary school.
What you need:
colored paper or loose cardboard;
glue;
satin ribbons, paints, glitters - optional
Making a simple decorative paper basket:
Cut out a circle with a diameter of 15-18 cm from colored paper or cardboard.
In the center of the cut out circle, draw another one with a diameter of 5-6 cm.
From the outer to the inner circle we draw several radial rays (no more than 8 pieces), cut such "rays".
We fold the box along the incisions so that the base of the egg basket with our own hands is 5 cm of the inner circle.
Glue the formed box walls together.
Cut out the handle for the basket from the cardboard and glue it to the base.
We decorate the craft as desired - with cut flowers, satin ribbons, decorate with paints.
Inside the basket, you can put wood shavings or the same shavings of paper so that the egg is laid on a soft surface. These Easter egg baskets will serve as a cute decor to create a festive mood.
Decorative basket made of plastic cup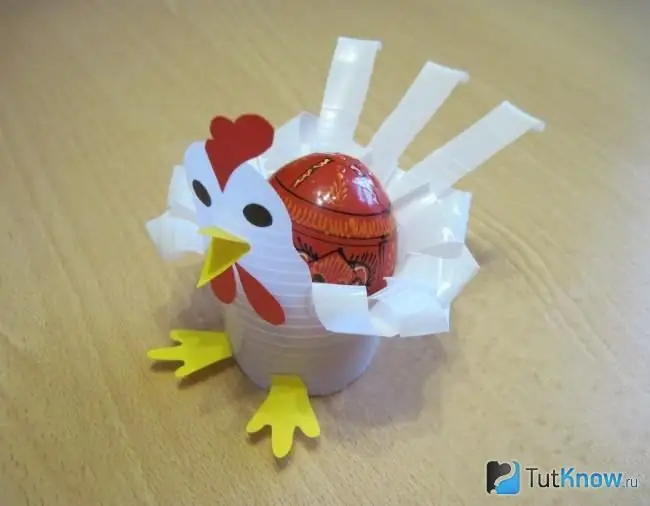 Another option, how to make an Easter egg basket, does not require a lot of preparation. In work, you can use a plastic or paper cup and any decorative elements (ribbons, soutache threads, lace). Such a craft will also be easy to implement with children.
What you need:
a plastic or paper cup (even a plastic container for sauces will work);
satin ribbon or soutache thread;
cardboard;
pistol glue.
We make a decorative basket from a plastic cup:
Cut out a narrow tape for the handle from the cardboard.
We wrap around the handle with a soutache thread or tape, after having greased the cardboard base with glue.
We attach the handle to the glass. If you cannot glue, make two holes with an awl in the glass and handle and tie the workpiece.
We put glue on the cup and lay the soutache thread or tape in dense rows from the bottom of the cup to the very top, so as to cover the place where the handle is attached.
Additionally, the finished basket can be decorated with lace, a bow on the handle, and a beautiful napkin or decorative shavings can be placed inside the egg. Instead of chicken eggs, you can use quail eggs in the decor.
Another option for creating a do-it-yourself basket for Easter eggs is vertical laying of the ribbon. In order for it to lie flat, first you need to cut off the bottom of the glass, then glue the tape in even vertical rows. The new bottom is cut out of the cardboard and fixed to the tape. It is advisable to choose the color of the cardboard to match the craft. The handle is also cut from cardboard.
Simple fabric basket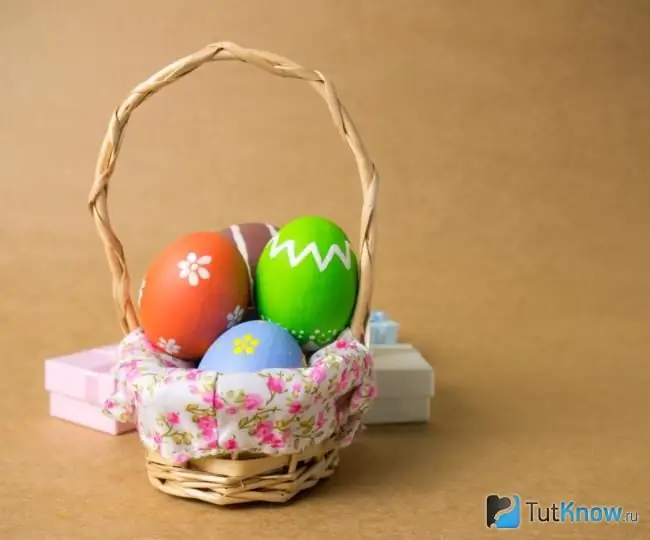 The classic basket for Easter cake and eggs is a box with a hard bottom, high sides and a handle. If you show your imagination, then such a craft can be created even from a piece of fabric (scarf) and a small saucer.
What you need:
kerchief or square piece of fabric;
saucer
We make a simple basket of available tools:
We spread the scarf on a flat surface.
Place a plate in the center of the square.
Put the two opposite ends of the scarf on a plate so as to completely hide the porcelain under the fabric.
If you flatten the folded fabric, you get a shelf equal to the diameter of the saucer. We tie knots at the edges of the plate - the base of the basket is ready.
We twist the free ends of the scarf into bundles and tie together to make a handle.
This method of making a basket for Easter eggs, although simple, is at the same time very original.
Note! Deep bowls are also convenient for the base. But the size of the kerchief should be selected taking into account the depth of the plate.
Knitted basket for Easter eggs from yarn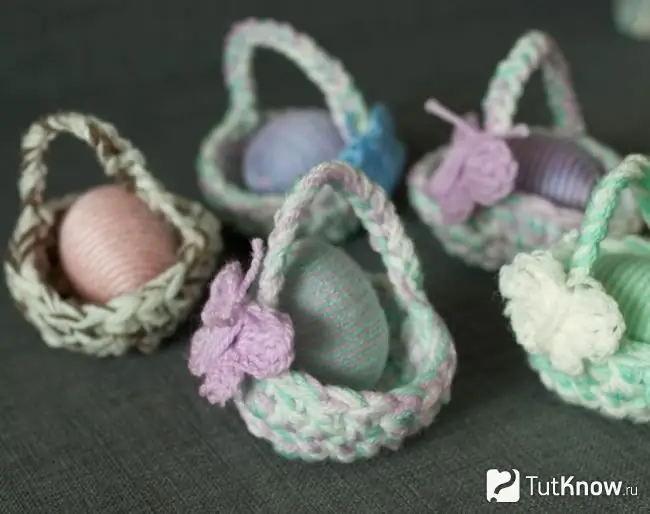 If you have enough knitting experience, then crocheting an egg basket will not be difficult. For beginners in this technique, it is recommended to start with the simplest schemes.
What you need:
yarn (it is better to take dense synthetic);
crochet hook No. 4;
ribbon for decoration.
Making a knitted basket for Easter eggs:
The base of the basket is knitted in a circle with loop loops.
When the base of the required diameter is knitted, we knit the walls of the box, without adding loops, but increasing the number of rows.
We knit a handle to the finished box.
We attach a satin bow on the handle.
These baskets will look good in miniature and are perfect as a gift for little kids. Experienced craftswomen can create crocheted baskets for Easter eggs in rigid weaves and with separate compartments for each Easter egg. Such a craft will require solid experience in needlework, even if you are working in a master class.
Wicker basket of newspapers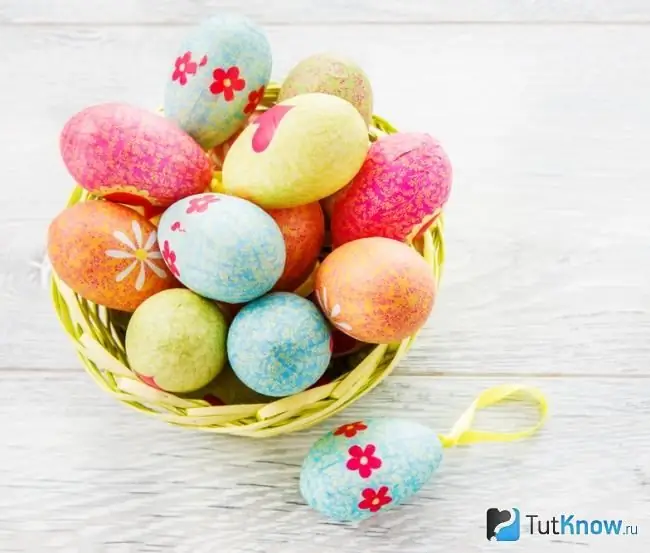 Weaving from paper using technology is very similar to traditional weaving. The resulting paper products are visually similar to shopping baskets made of twigs and in many cases are not inferior to them in strength, and in terms of exclusivity, ideas even outperform traditional baskets.
What you need:
newspaper;
PVA glue;
knitting needle No. 2 long;
paints.
Making a wicker paper basket:
First, we prepare paper twigs. We cut the newspaper lengthwise into strips 10 cm wide.
We wind the cut strips of newspapers onto the knitting needle at an angle so that the upper end is slightly wider than the lower one. Glue the free edge of the newspaper to the base with glue. The basket will require 80 of these twigs.
First, weaving paper baskets for an egg is enough to take 4 twigs and fold them crosswise.
Fold the fifth twig in half and put it in a loop on one of the "rays". We begin to braid the base in a circle. On the second circle, disconnect the guide rods.
When the base of a suitable diameter has been braided, we bend the guides up and continue to weave the walls of the basket.
For the handle, we braid several twigs like a bundle and attach to the box.
We grease the finished structure with glue and let it dry.
The paper basket can be painted in the color of a natural vine or decorated with decoupage.
How to make a basket for Easter eggs - watch the video:
A basket for Easter eggs is for many an integral attribute of the holiday, the creation of which should be approached no less seriously than baking Easter cakes and painting Easter eggs. It is not at all necessary to create heavy cumbersome structures. Even a small crocheted egg basket will give the room a festive look. And working together with children, you can easily introduce kids to the traditions of the holiday and family and convey your feeling of the holiday.