A step-by-step recipe with a photo of making chicken soup with green peas and cabbage at home. Nutritional value, calorie content and video recipe.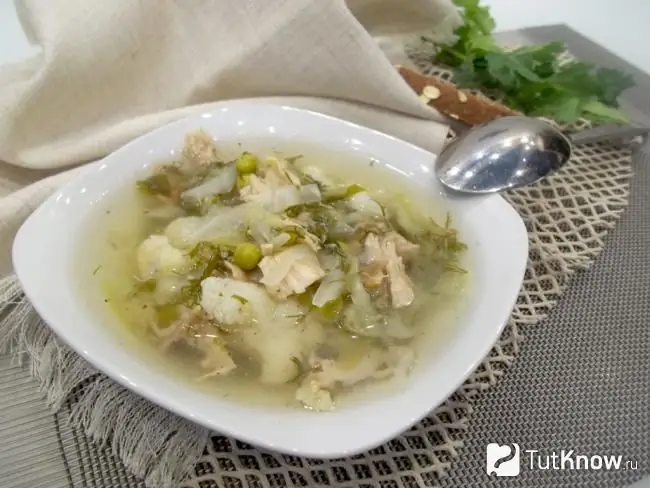 The variations of homemade chicken soups are truly endless. They must have been cooked by every housewife at least once. Today we will cook soup with chicken, green peas and cabbage at home. It is tasty and fragrant, bright and simple in execution, eaten in one sitting, and you definitely won't have to throw anything away. This is a great idea for a variety of summer menus when you don't feel like eating heavy food. The soup recipe will appeal to thrifty and busy housewives, because the set of products is inexpensive, but it is very simple to prepare, and it is very easy for digestion by the stomach. At the same time, chicken soup is notable for its satiety and saturates well, and with green peas it turns out to be even more satisfying and tasty, and it will give the dish a special delicate touch.
In winter, this first course can be cooked with canned or frozen green peas. This will not make the taste of the dish worse. Although with canned peas, the taste will be slightly different. Sweet and tasty peas can be frozen independently in the summer, or you can buy them at the supermarket all year round. The amount of vegetables does not have to be in proportion to the recipe. If desired, you can add any seasonal vegetables to your taste: tomatoes, celery, cauliflower, sorrel, carrots, zucchini, etc. You can add more broth if you like thinner soup. But it is better that the base is thick, then the soup will be more satisfying.
Caloric content per 100 g - 145 kcal.
Servings - 4-5
Cooking time - 1 hour 30 minutes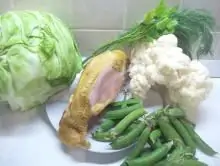 Ingredients:
Homemade chicken or individual parts to taste
Allspice peas - 3 pcs.
Young white cabbage - 200 g
Spices and spices to taste
Green peas - 50-70 g
Cauliflower - 250 g
Dill - a few twigs
Parsley - a few twigs
Ground black pepper - 0.5 tsp or to taste
Salt - 1 tsp or to taste
Bay leaf - 2 pcs.
Step by step preparation of chicken soup with young green peas and cabbage, recipe with photo: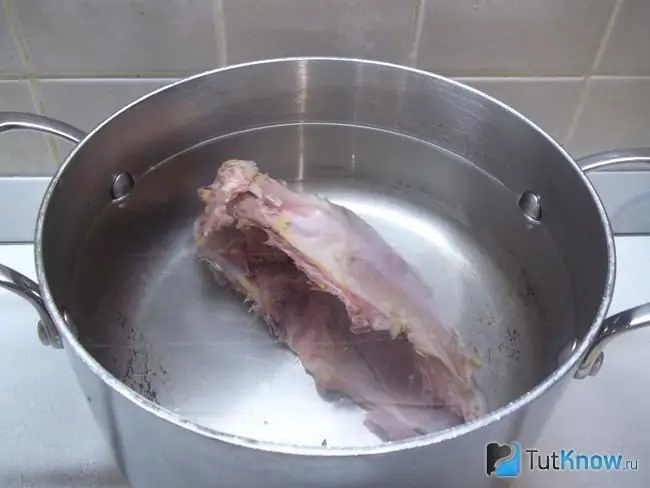 1. Boil the broth first. This can be done the day before the soup is prepared, or a day earlier. Then the next day, literally in 20 minutes, cook a hearty soup. Ideally, the correct and rich broth will be obtained from a whole homemade chicken. But if you want to save money and cook several dishes from the poultry (for example, broth and roast), then cut it into pieces and take any part for the soup. If you want the soup to be more dietary and low in calories, then take a pile or back. Love soups fatter and with broth, thighs and wings will do. Other types of meat such as turkey, chicken or veal are also suitable for the soup.
So, before placing the selected meat in the water, if necessary, remove the skin from it and remove all the fat on the surface. Although this is a matter of taste, and if you want a fatty broth, then you don't have to. Then put it in a pot of drinking water and cook on the stove. Water for broth is usually taken at the rate of 2 liters per 1 kg of meat.
At the same time, keep in mind that if you want the meat to be juicier and its taste is important, immerse it in boiling water, the proteins in the top layer of the meat will quickly curl up and the nutrients will remain in the meat. If you prefer a more rich broth, place the bird in cold water. The meat will gradually warm up and the proteins will slowly curl up. Then all the nutrients will go out into the broth as much as possible, and the broth will turn out to be rich and nutritious.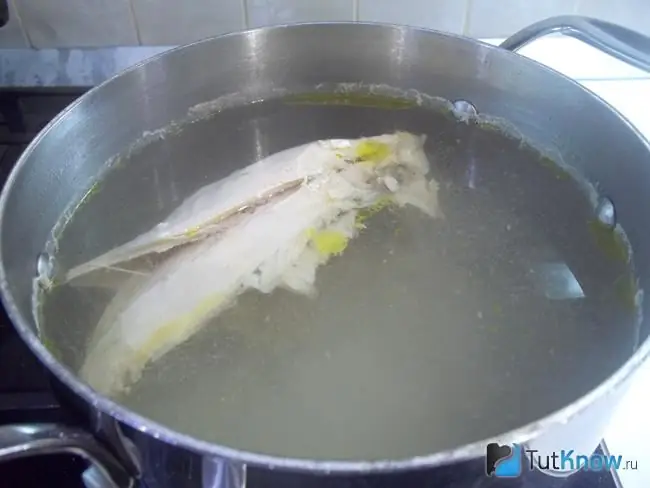 2. Place the pot on the stove and bring to a boil. Make a low heat, season with salt, cover the saucepan and cook the broth for 60-90 minutes.
After boiling, a foam forms on the surface of the broth, be sure to remove it with a slotted spoon. Also, monitor the process of its separation throughout the cooking time. If foam appears, remove it in time so that the broth remains beautiful and transparent. For the same purpose, do not allow a strong boil; only rare gurgling bubbles should be on the surface.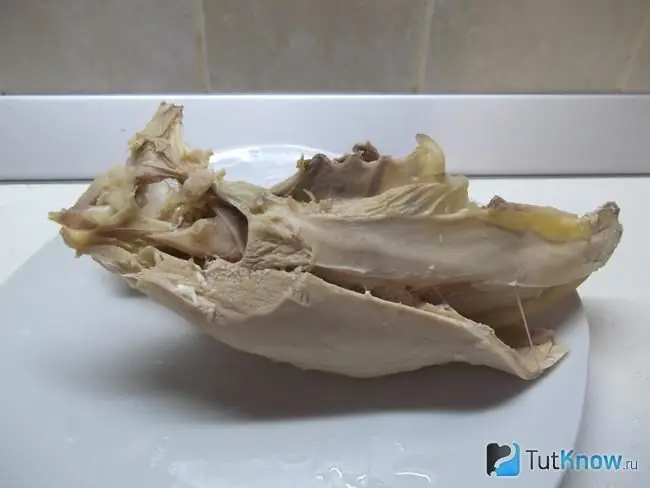 3. Remove the chicken from the finished broth, cool it a little so as not to burn itself, and remove all the meat from the bone. Although, if you cook broth on wings or chicken legs, this is not necessary, but optional. It is better to cook broth from meat together with bones, because from pure meat, it will be tasty and aromatic, but the nutrients necessary for the strength of bones and ligaments come into the broth from the bones.
Strain the finished broth through a fine sieve so that it is transparent, and proceed to "assembling" the chicken soup.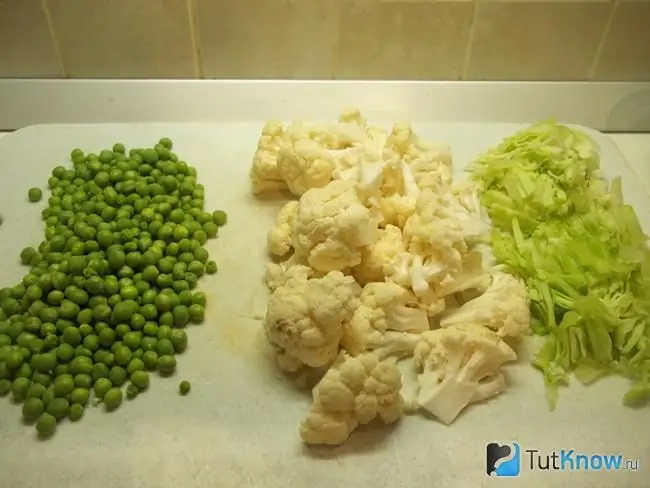 4. Wash the cabbage with cold running water and cut: white cabbage into thin strips, disassemble the cauliflower into medium-sized inflorescences. Remove the green peas from the pods.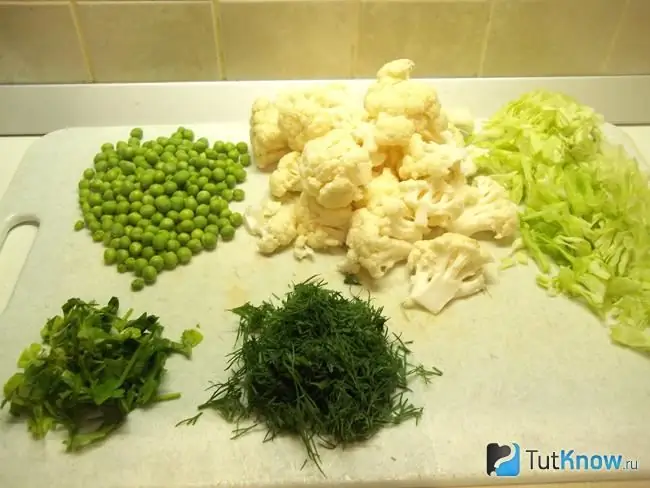 5. Wash parsley and dill with cold water and chop finely.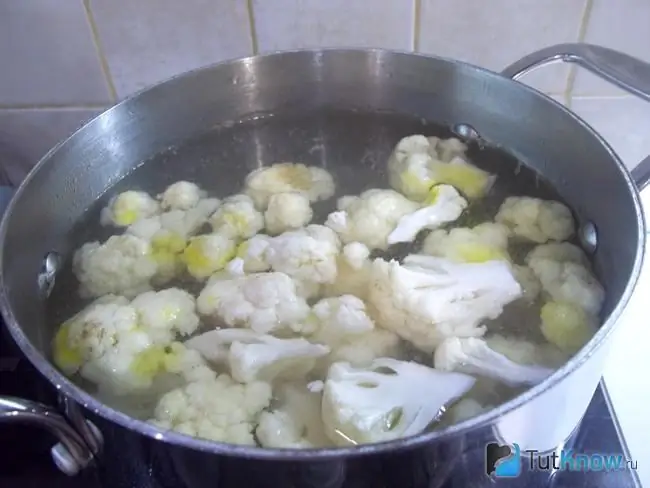 6. Leave the chicken stock on the stove to simmer and dip the cauliflower into it.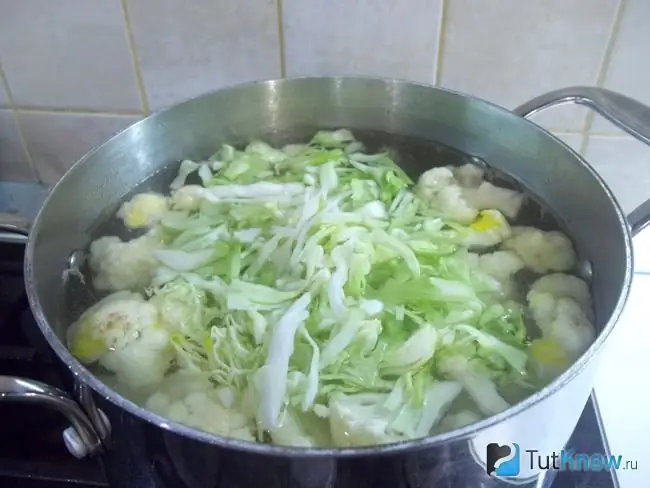 7. After 5 minutes of cooking, add the chopped white cabbage to the saucepan and stir.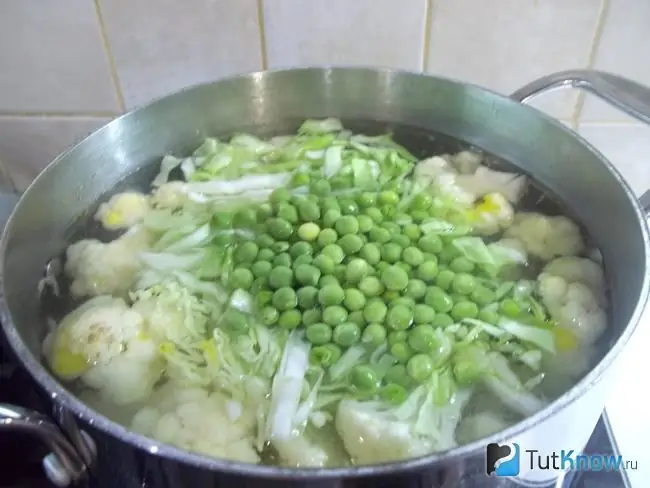 8. After another 5 minutes, add the green peas. If you use it frozen, dip it into the soup along with white cabbage, because it still needs time to defrost and thaw. Canned peas do not require cooking at all, so add them 1-2 minutes before the end of cooking. It can be added to the soup with or without water. Watch the peas so that they are not overcooked, then the peas will remain intact.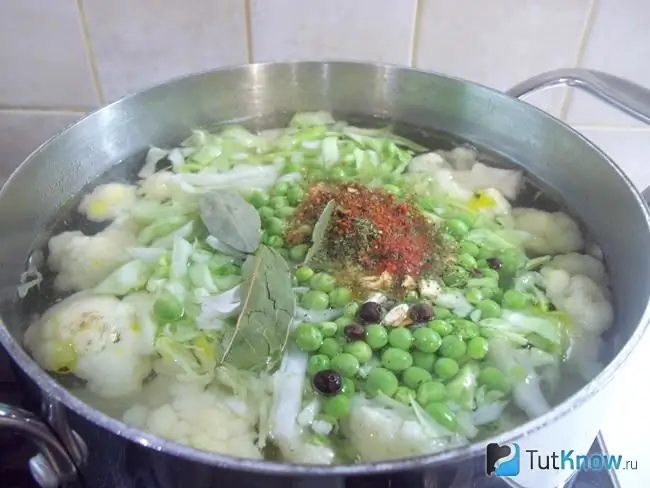 9. Immediately add bay leaf and allspice to the soup along with green peas, pepper and salt. Add any spices and roots as desired.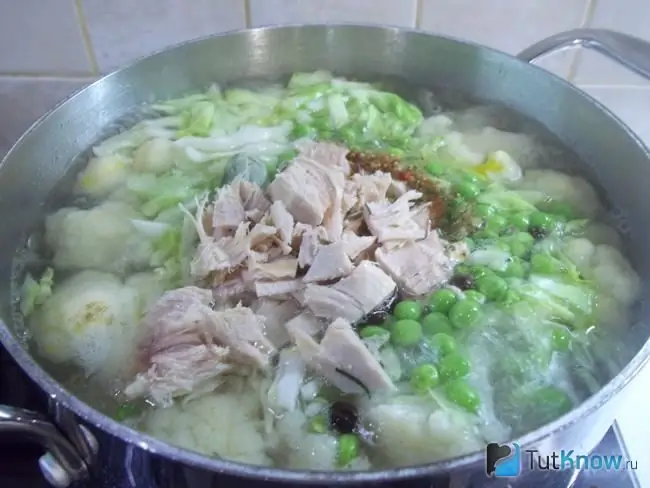 10. Next, put the boneless chicken in a saucepan, stir and bring to a boil.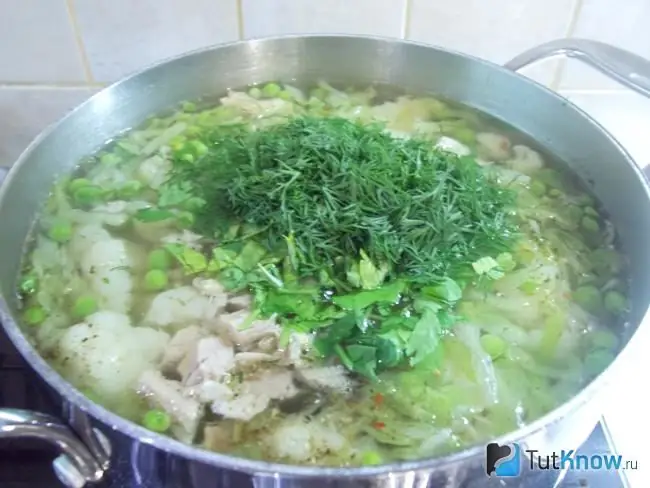 11. After 3 minutes add chopped herbs.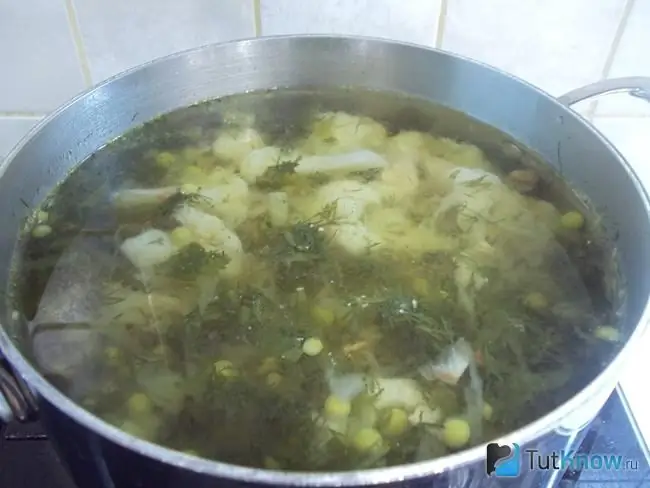 12. Boil everything for 1-2 minutes and remove the pan from heat. Close it with a lid and let it brew and cool slightly, about 15 minutes.
Delicious and healthy chicken soup with young green peas and cabbage turns out to be light, with a pleasant fresh aroma. Pour it into portioned bowls and add a spoonful of sour cream to each portion if desired. Also make croutons, croutons or croutons for the first course.
See also the video recipe on how to make chicken soup with green peas and cabbage