Rich, aromatic and delicious soup with chicken stomachs in broth. A nutritious meal with a low calorie content. Step-by-step recipe for cooking with a photo. Video recipe.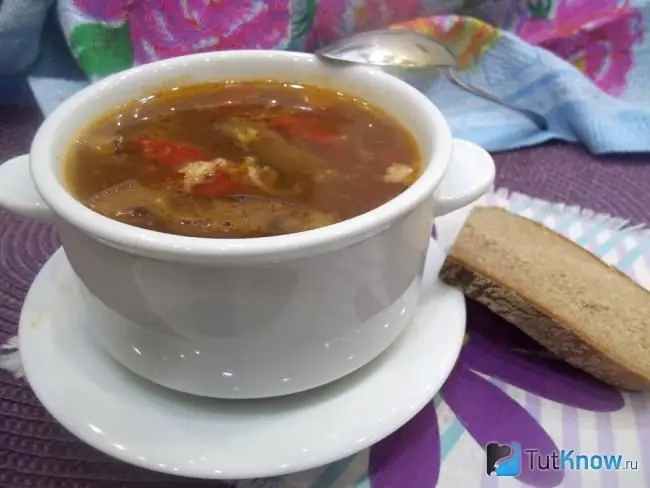 Nutritious soup with chicken stomachs in broth will captivate eaters with its amazing taste, and the hostess - with its simplicity of preparation. This is a great lunch option, especially for children. The dish is almost dietary and light for the stomach, because does not contain many calories. At the same time, it is rich, satisfying and healthy thanks to offal and vegetables. It contains many vitamins and minerals. Cooking the soup does not take much time, which can be attributed to the undeniable advantages of the recipe.
Supplementing the soup with noodles will make it more satisfying and tastier. Of course, you can add any vegetables to such a soup: carrots, potatoes, celery, pumpkin, tomatoes, bell peppers, zucchini, eggplants … all available seasonal vegetables and herbs. Moreover, the products can be both frozen and fresh or dried. You can change the vegetables for eating to your liking. In my case, these are fresh carrots with potatoes and frozen bell peppers with eggplant. The soup will get a special zest if you add a piece of butter at the end of cooking. The chowder should be served hot with herbs and croutons. For a more pronounced taste, sour cream sauce can be added to the plate.
See also how to make soup with chicken stomachs and fried pickles.
Caloric content per 100 g - 205 kcal.
Servings - 4-5
Cooking time - 1 hour 30 minutes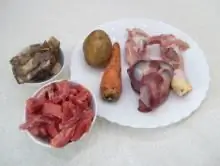 Ingredients:
Chicken stomachs - 300 g
Allspice peas - 3 pcs.
Potatoes - 1 pc.
Chicken bones - 100-150 g for broth
Sweet pepper - 1 pc. (frozen in the recipe)
Greens (any) - several branches
Eggplant - 0.5 pcs. (frozen in the recipe)
Carrots - 1 pc.
Ground black pepper - a pinch
Salt - 1 tsp or to taste
Bay leaf - 1 pc.
Step by step cooking vegetable soup with chicken stomachs in broth, recipe with photo: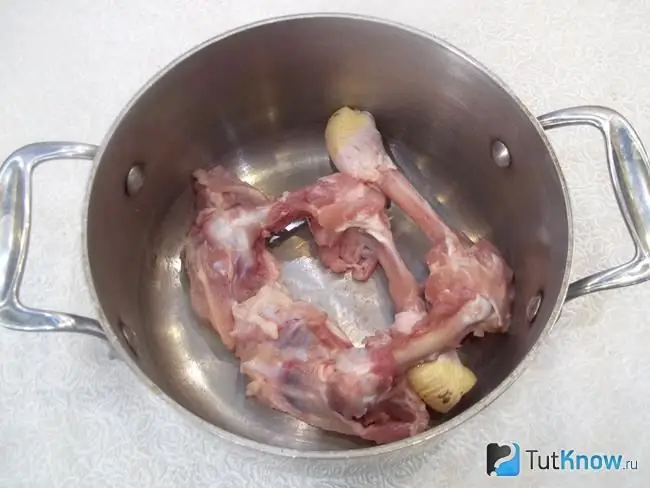 1. To boil the broth, place the chicken bones of any part of the carcass in a saucepan. Although, if desired, broth can be cooked from other types of bones. Diet soup will be made from turkey and rabbit, more filling and nutritious from beef or pork.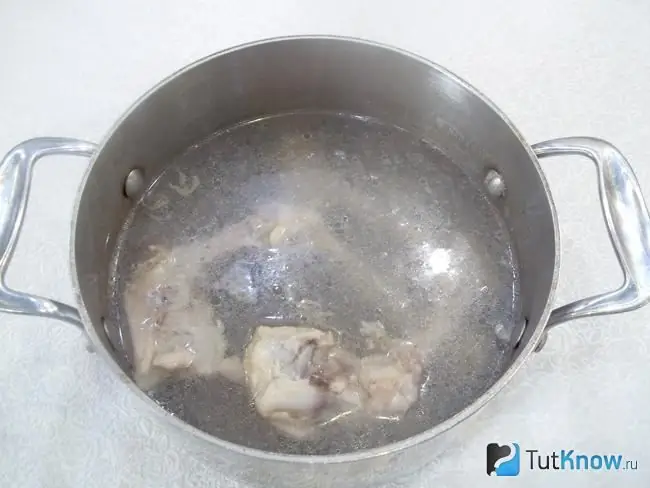 2. Fill the bones with drinking water and boil. Bring the heat to the lowest setting and simmer, covered, for 30-40 minutes. In the process of cooking, season the broth with salt and black pepper, and 10 minutes before the end of cooking, add bay leaves and allspice peas. For more flavor, add onion and garlic cloves to the broth as it cooks.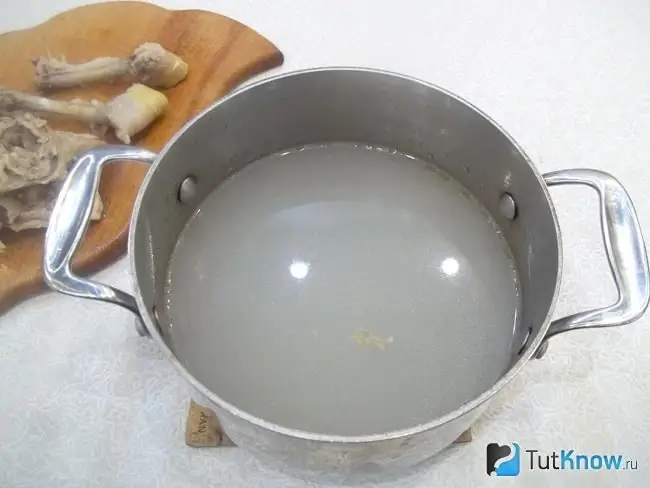 3. Remove the boiled bones from the finished broth and strain it through filtration into a clean saucepan.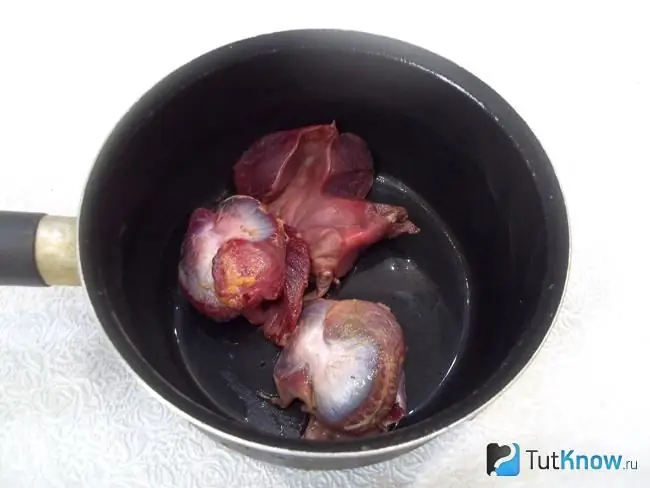 4. Thoroughly rinse the chicken stomachs, remove the remnants of yellow films, inner tough skin and fat. Cover them with cold water, bring to a boil and drain. Rinse the navels and fill them with clean cold water. Bring them to a boil, season with salt and cook for about one hour.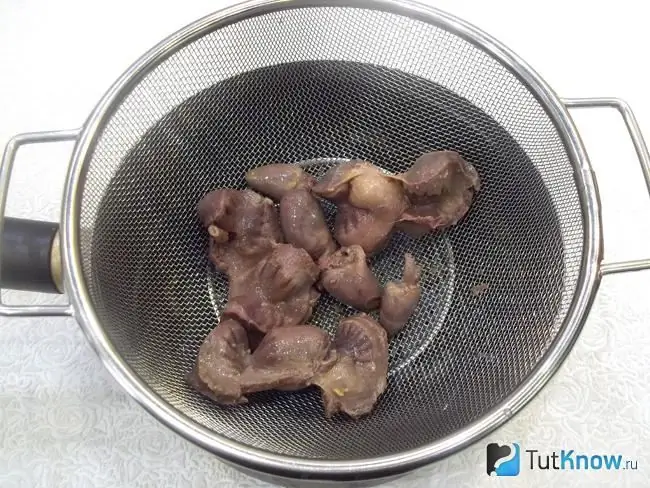 5. Remove the chicken ventricles from the broth. Strain the broth and pour into a saucepan to the meat broth.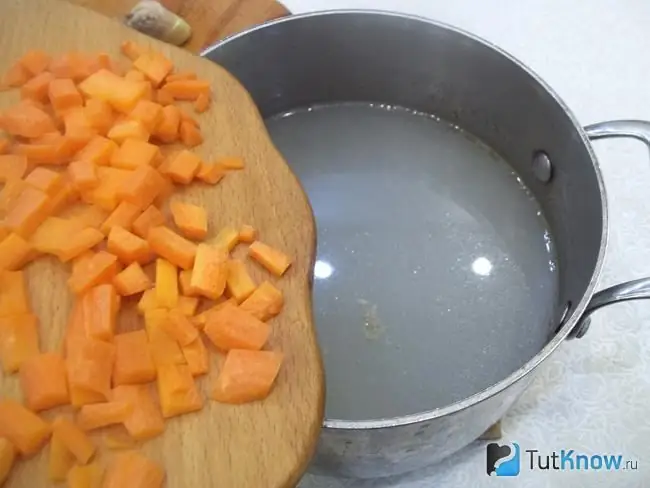 6. Add the peeled, washed and diced carrots to the stockpot and bring to a boil.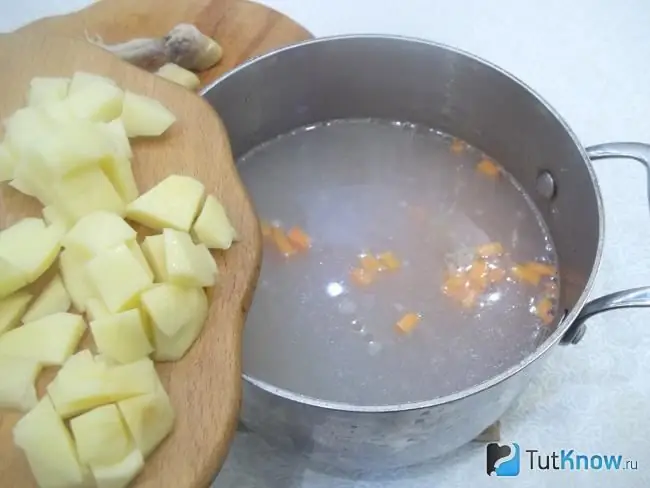 7. Next add the diced potatoes and cook for 10 minutes.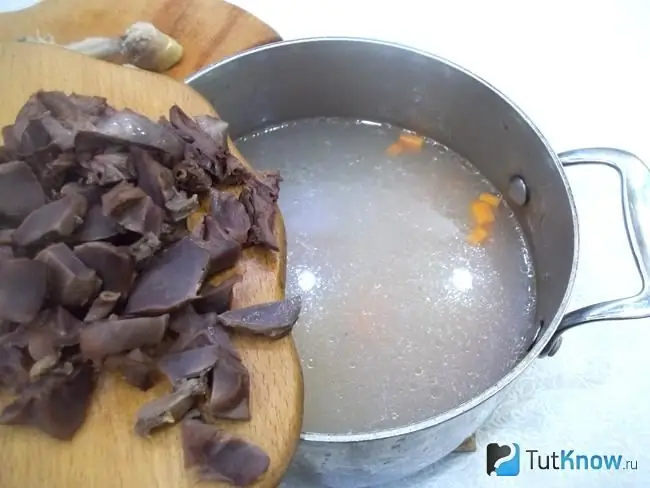 8. Cut the chicken stomachs into pieces and place in a saucepan.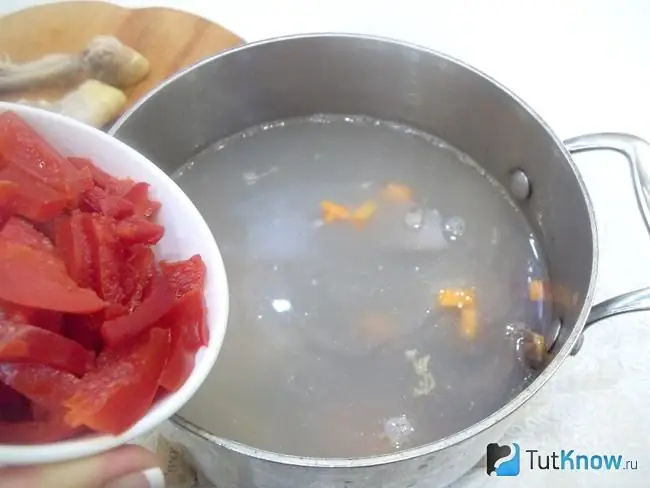 9. Next, put the sweet pepper cut into strips. Frozen vegetable, no need to defrost, dip immediately into the pan.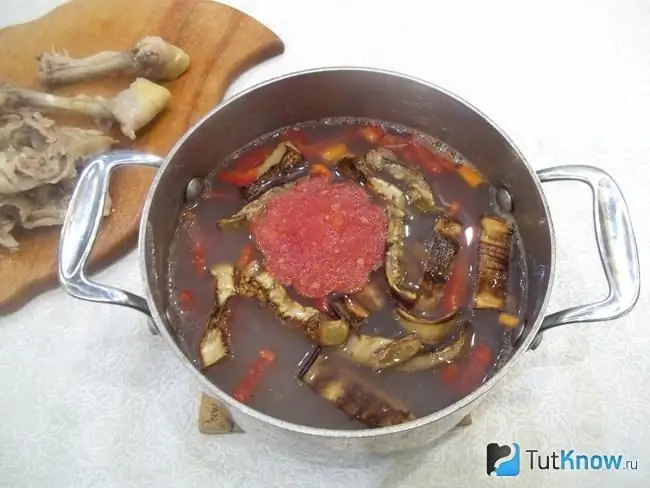 10. Then place the sliced eggplants in a dish. Remove bitterness from fresh fruits. To do this, sprinkle them with salt in chopped form and leave for half an hour. Then rinse under running water and rinse off any moisture released from them. Do not defrost the frozen fruits, put them directly into the soup. Add tomato paste, juice, puree (fresh or frozen) to the dish if desired.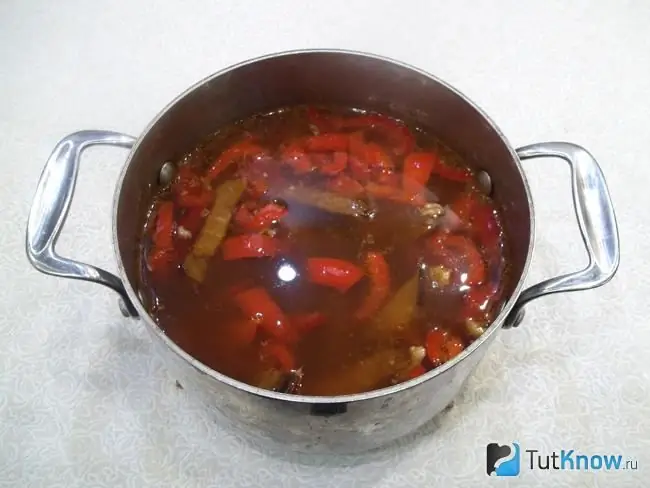 11. Season vegetable soup with chicken stomachs in broth with herbs, adjust the taste with salt and pepper, boil for 5-7 minutes and remove the pan from heat. Leave it to infuse for 15 minutes and serve.
See also a video recipe on how to make chicken stomach soup.