You can cook delicious borsch with nettle. Today in this article we will learn the recipe for borscht with beets and nettles. Step-by-step recipe with a photo. Video recipe.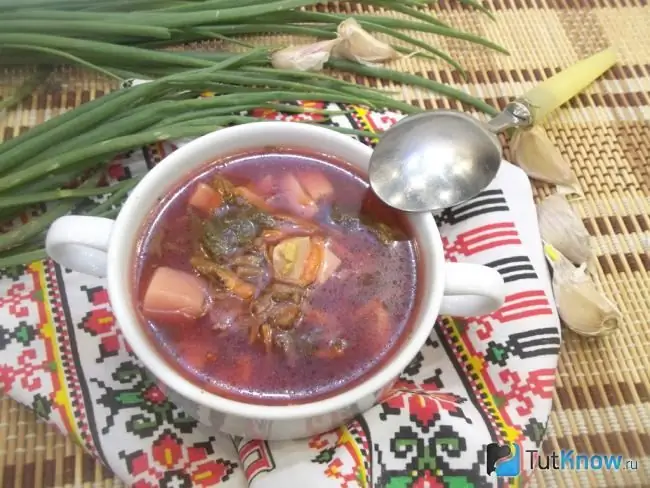 Borsch is called the first dish cooked with red beets, and cabbage is an optional ingredient. Borscht can be cooked with sorrel, spinach and loboda, but today we will make it with nettles. Borscht with beets and nettles is not only an interesting but also a very healthy dish.
Now is the most favorable time of the year for cooking nettle borscht. During this period of the year, young juicy nettle leaves with thin stalks are collected. Borscht with nettles is good for fasting if boiled in water. It will save the whole family in case of spring vitamin deficiency! After all, young nettle contains vitamins B, C, E, K, beta-carotene.
Also, if desired, in addition to nettle, you can add fresh young white cabbage, zucchini, spinach, sorrel to the dish … The more greens, the tastier and richer the dish! And in the summer, when the tomato is harvested, they replace tomato paste. Delicious borscht with nettles will be served with young beet leaves. Beet greens, like nettles, are healthy and rich in vitamins. In the winter season, frozen nettle is added to borscht. Some housewives also add dried herb.
See also how to cook red pork borsch with lard and garlic.
Caloric content per 100 g - 129 kcal.
Servings - 4-5
Cooking time - 1 hour 45 minutes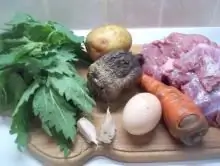 Ingredients:
Meat (any type and part of the carcass) - 300 g
Vegetable oil - for frying
Beets - 1 pc.
Nettle - bunch
Garlic - 2 cloves
Table vinegar - 1 tablespoon
Bay leaf - 2 pcs.
Eggs - 2 pcs.
Allspice peas - 2 pcs.
Carrots - 1 pc.
Potatoes - 2 pcs.
Salt - 2/3 tsp or to taste
Step-by-step cooking of borscht with beets and nettles, recipe with photo: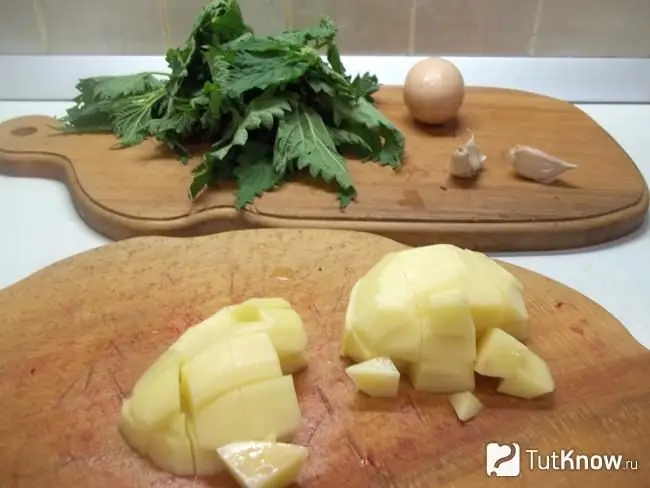 1. Peel the potatoes, wash and cut into slices.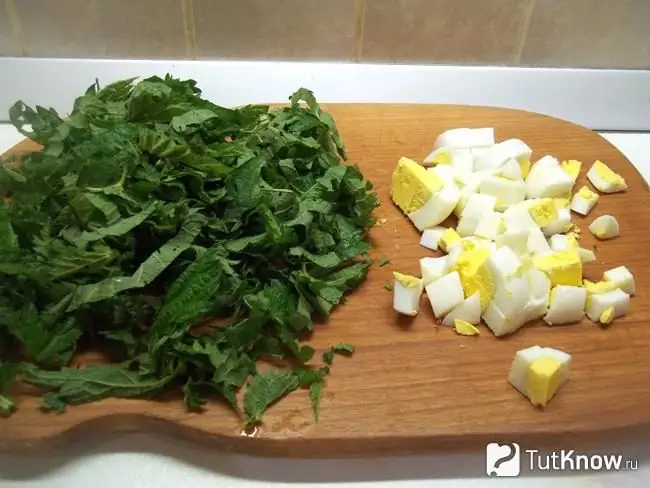 2. Put the nettle in a sieve and pour over with boiling water. Rinse with cold water and chop.
Pre-boil the eggs hard-boiled, cool in ice water, peel and cut into cubes.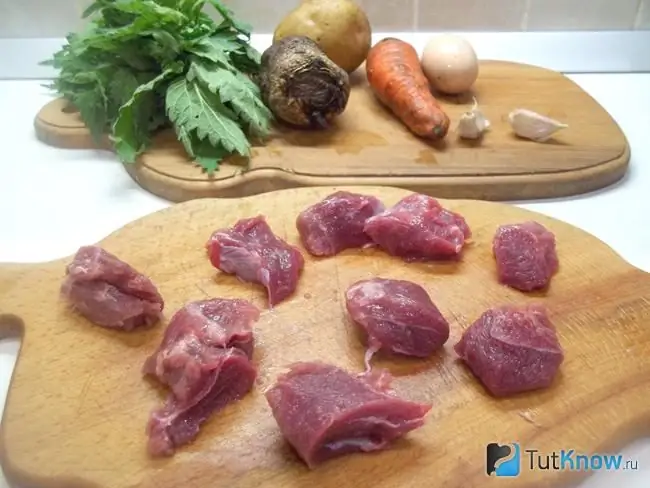 3. Wash the meat, peel off the film with veins, cut off excess fat and cut into medium-sized pieces.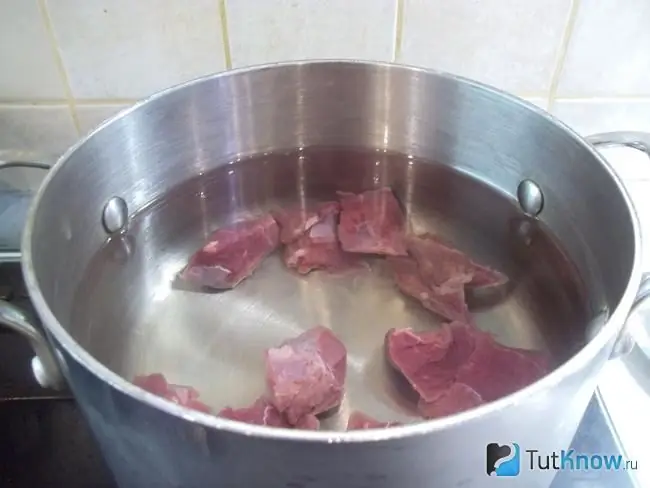 4. Place the meat in a cooking pot, fill with drinking water and place on the stove.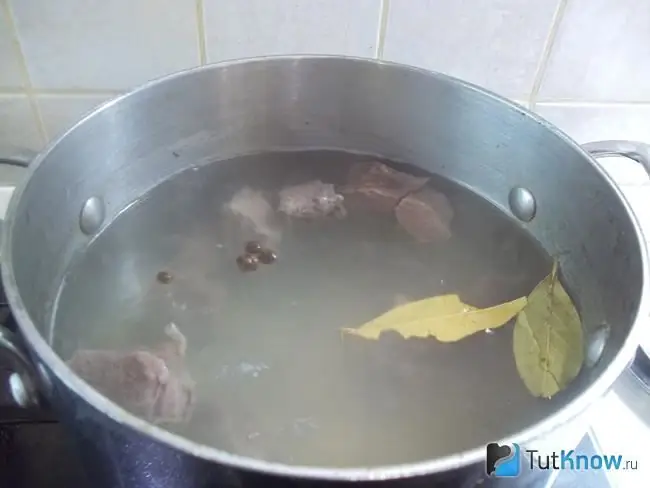 5. After boiling, remove the foam, turn the heat to the minimum setting and cook the broth under the lid for 1 hour. Then add the bay leaf with allspice peas.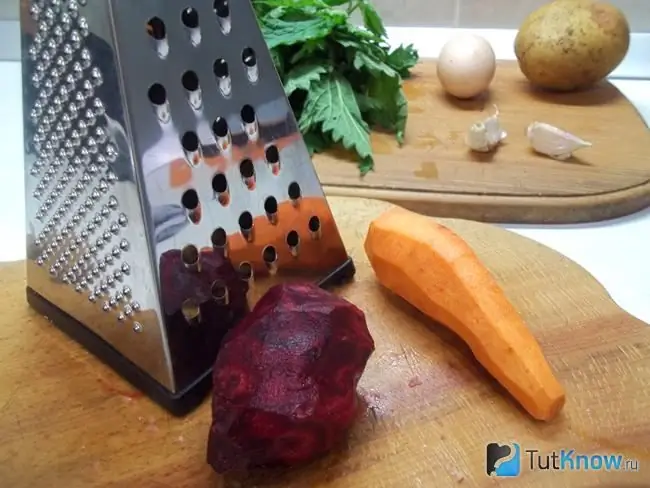 6. Peel and grate beets and carrots.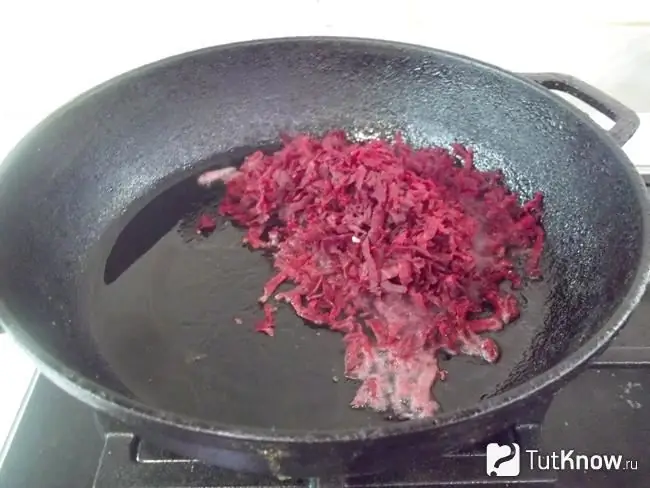 7. Pour vegetable oil into a frying pan and heat. Send the beets into it.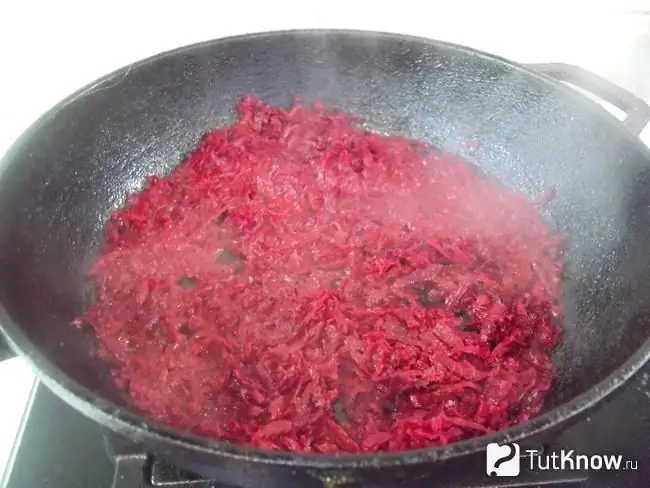 8. Add vinegar, add one ladle of broth and stir the beets. The bite is necessary for the beets to retain their bright, rich color.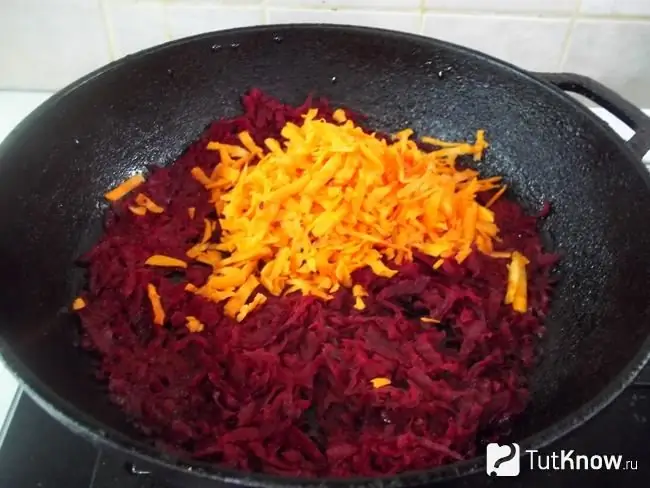 9. Add the carrots to the beetroot skillet.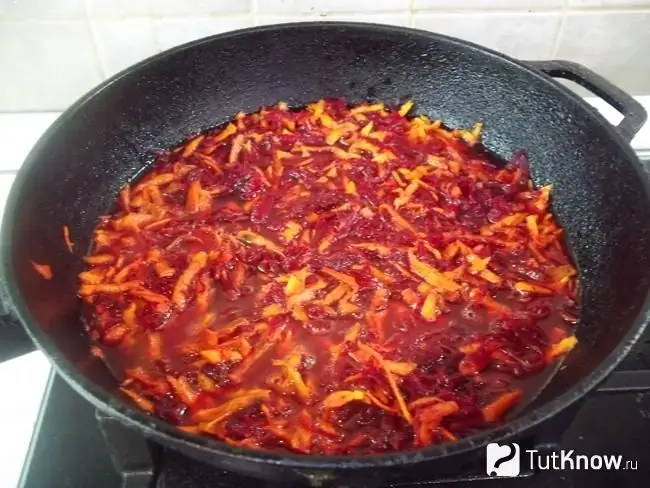 10. Stir the vegetables.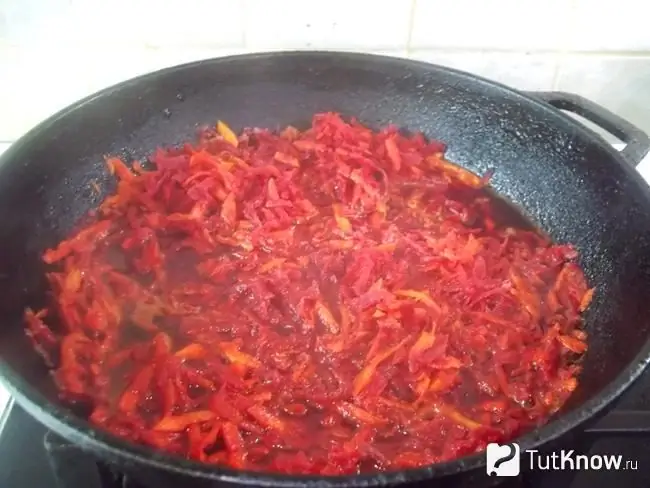 11. Simmer them over low heat, covered for 10 minutes.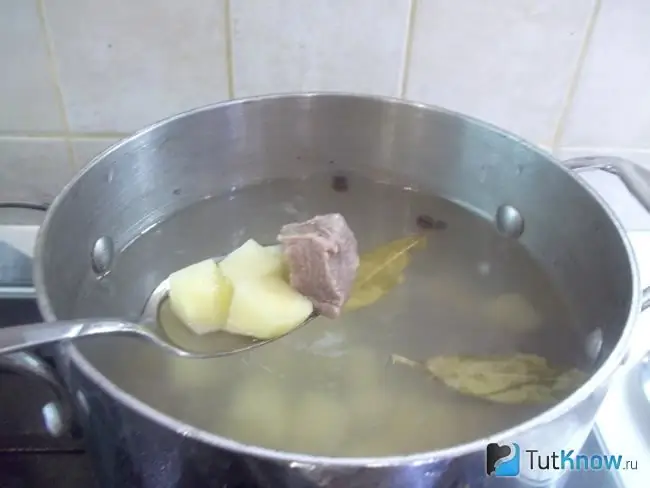 12. Put potatoes in a saucepan with broth and, after boiling, boil them for 10 minutes.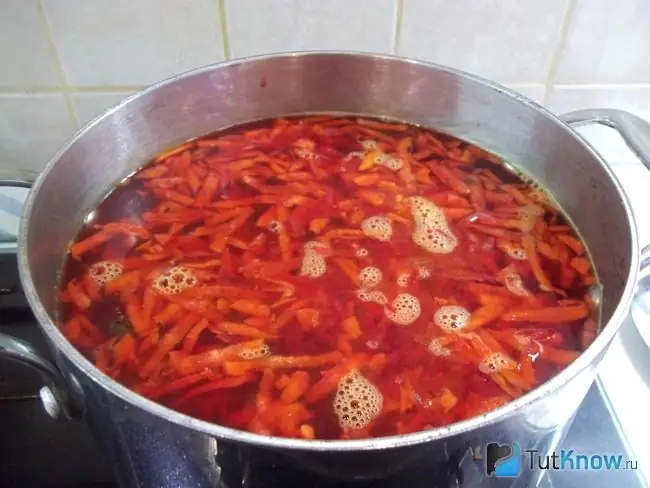 13. Next, add the stewed beets with carrots.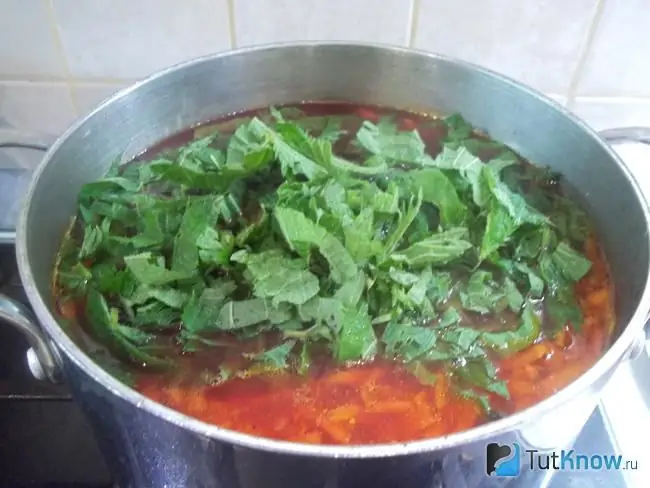 14. Add chopped nettles, season with salt and black pepper. Cook all products for 5-7 minutes.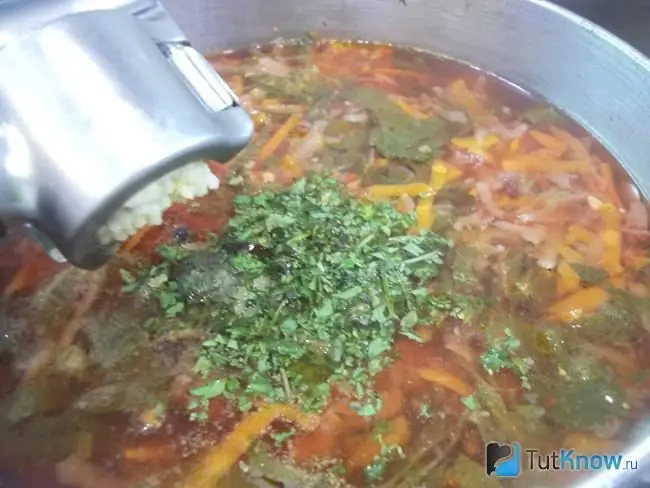 15. Add the minced garlic to the pan.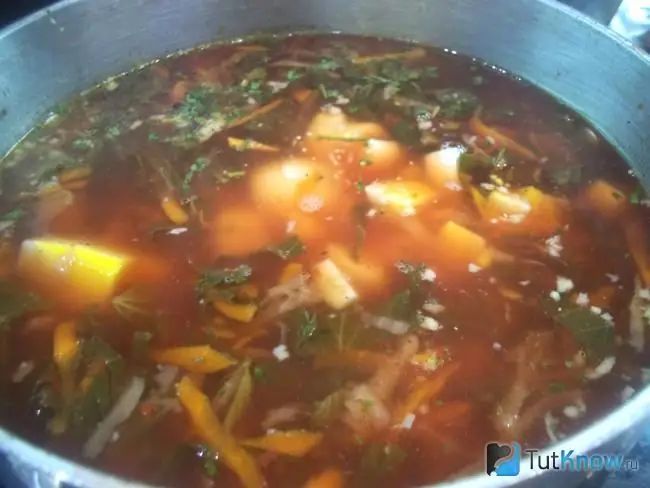 16. Next, place the sliced eggs. Boil the borscht with beets and nettles for 5 minutes and remove the pan from the stove. Leave the first dish to infuse for 15 minutes and serve.
See also a video recipe on how to cook borsch with nettle.