Deliciously delicious cottage cheese and honey soufflé with ginger on a steam bath! Incredibly airy, with a natural curd taste and delicate texture. The step-by-step recipe with a photo is very concise and simple. Video recipe.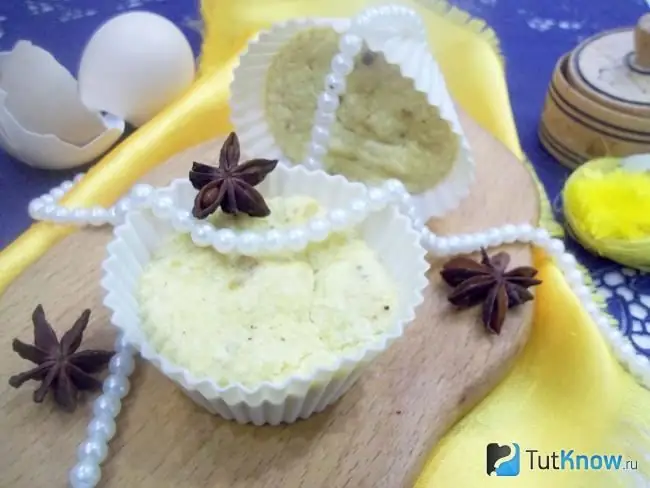 All soufflés are easy to prepare, delicious and healthy. Translated from French, "souffle" means - "airy". It is usually prepared from dairy products with eggs. Sometimes cottage cheese, fruit and berry puree and other products are added. I propose to cook a curd-honey soufflé with ginger in a steam bath according to this simple culinary recipe. Fans of cottage cheese dishes will definitely not remain indifferent to this delicacy. The main thing is to beat the cottage cheese well with a blender until a homogeneous smooth consistency, then the soufflé will turn out to be airy, light and without lumps.
With such airy portioned curd soufflés, you can replace a cake at a holiday, especially a children's event. It resembles the most delicate curd casserole. But unlike casseroles, soufflé is cooked in a steam bath, which makes it more delicate in taste and appearance. It is suitable for baby food and diet menus, especially if fresh cottage cheese is low-fat. The dessert has a natural taste and useful qualities of cottage cheese.
See also how to make cottage cheese soufflé with apples in milk.
Caloric content per 100 g - 289 kcal.
Servings - 1
Cooking time - 25 minutes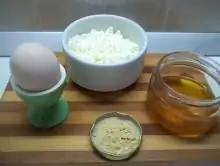 Ingredients:
Cottage cheese - 200 g
Ground ginger - 0.5 tsp
Eggs - 1 pc.
Salt - a pinch
Honey - 1 tablespoon
Step-by-step preparation of curd-honey soufflé with ginger in a steam bath, recipe with photo: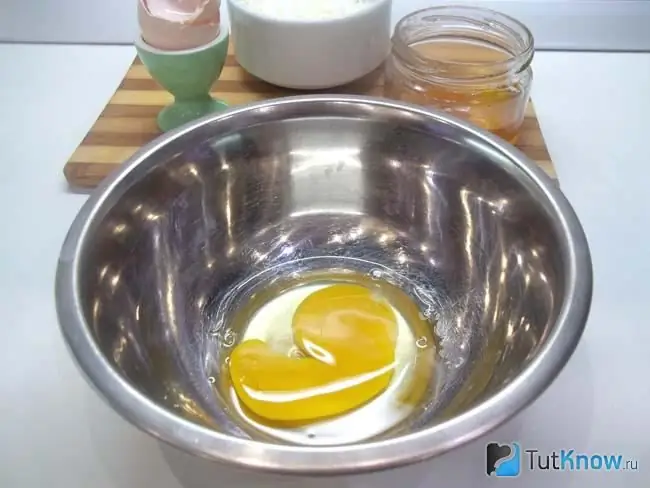 1. Place the eggs in a deep bowl.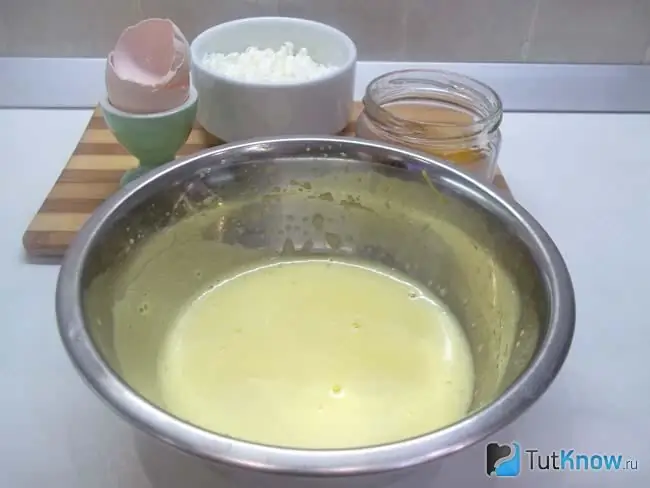 2. Beat the eggs with a mixer until they increase in volume by 2, 5 times, the formation of an airy mass of lemon color.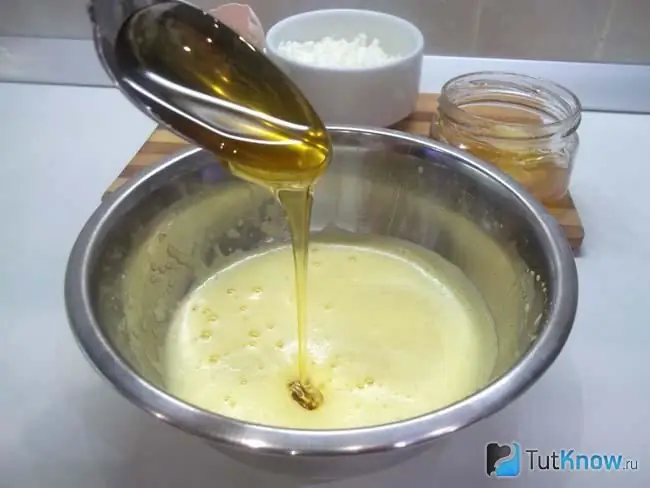 3. Add a pinch of salt to the egg mixture and add honey. If the honey is dense. Pre-melt it in a water bath or microwave.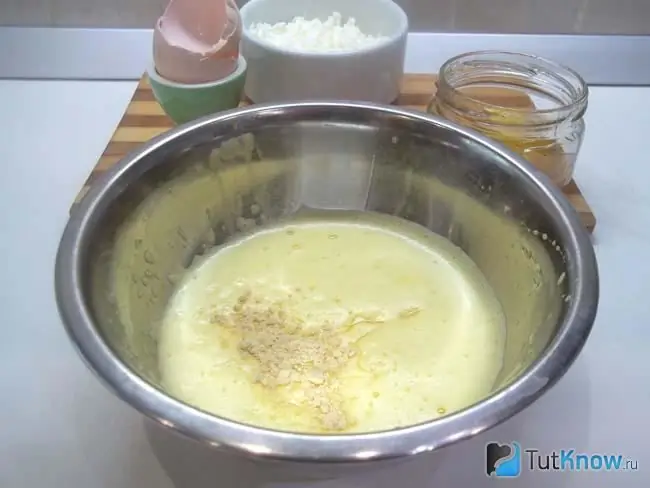 4. Then add the ginger powder and beat the egg mass again. You can use fresh root instead of powdered ginger. To do this, clean it and grate it on a fine grater. Add ginger gruel or juice separately to the products.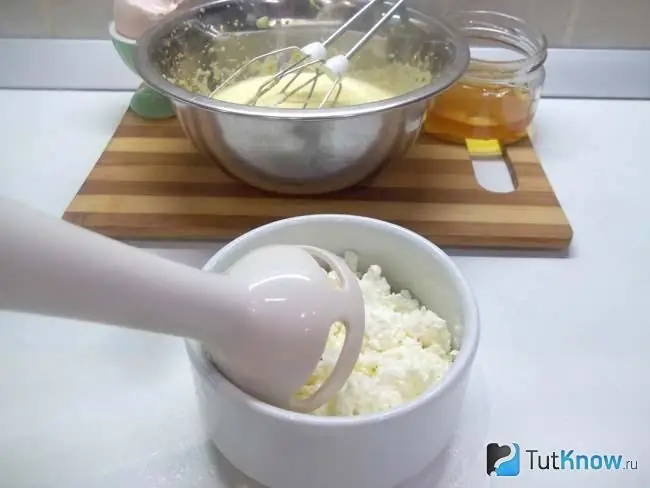 5. Beat the curd with a blender until smooth. Although you can do this at will. If you like to feel the curd lumps in the dish, then simply mash the curd with a fork.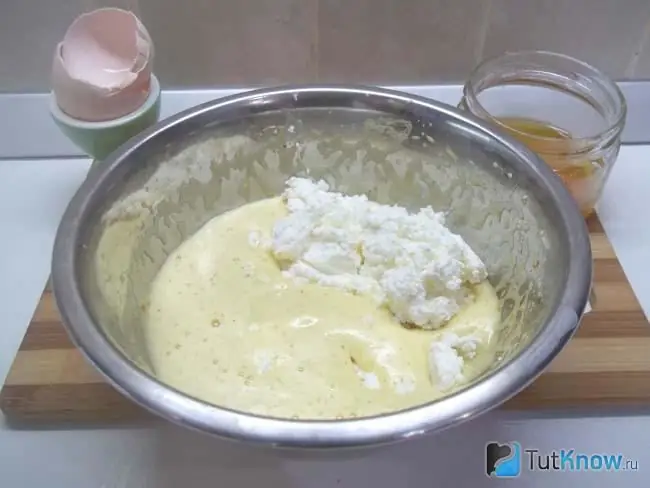 6. Add cottage cheese to the egg mass.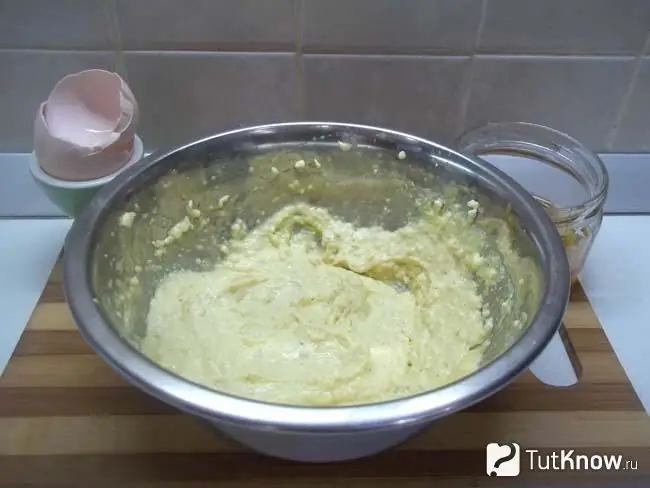 7. Use a blender to whisk the food until smooth. If you want to give the dessert a dark color, add 1 tsp. cocoa powder.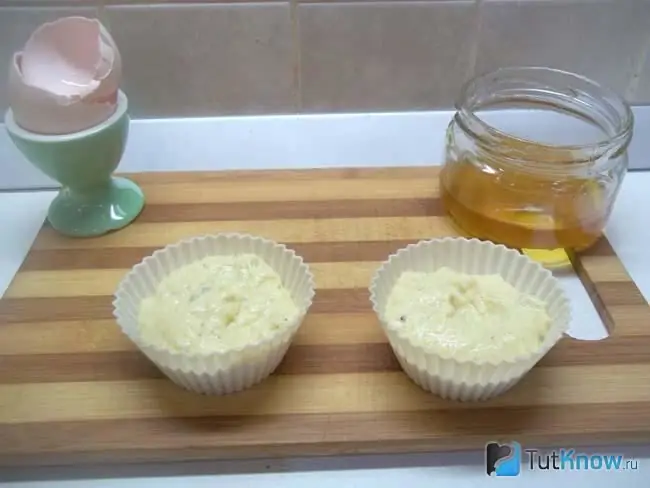 8. Divide the curd mass into portioned tins. It is very convenient to use silicone muffin tins for soufflés.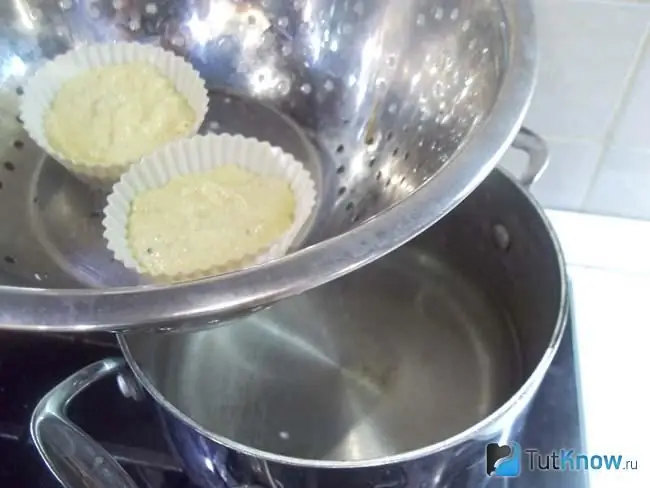 9. Send dessert to steam bath. To do this, use a steamer or build an improvised device. Pour water into a saucepan and boil. Place a colander on it so that the bottom does not come into contact with boiling water. Place the soufflé tins in a colander.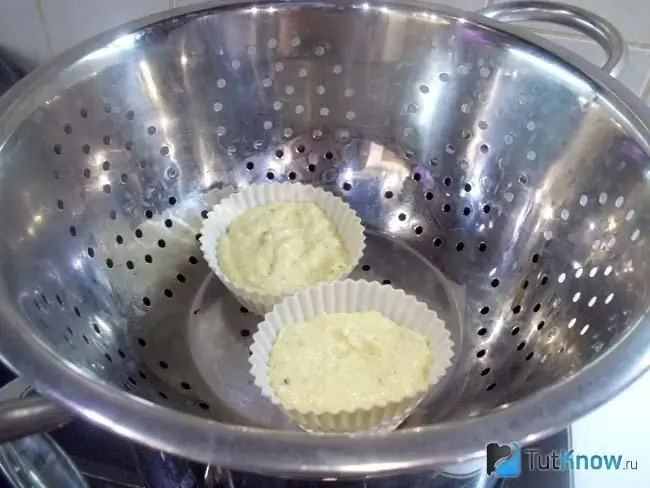 10. Cover the honey-curd soufflé with ginger and cook on the steam bath for 10 minutes. Do not open the cover during this time. Serve the finished delicacy hot, as it is the most tender. Although after cooling down, the dessert will remain no less tasty.
See also a video recipe on how to steam curd soufflé.