TOP-4 recipes with photos of pancake rolls with filling for Maslenitsa. The subtleties and secrets of cooking at home. Video recipes.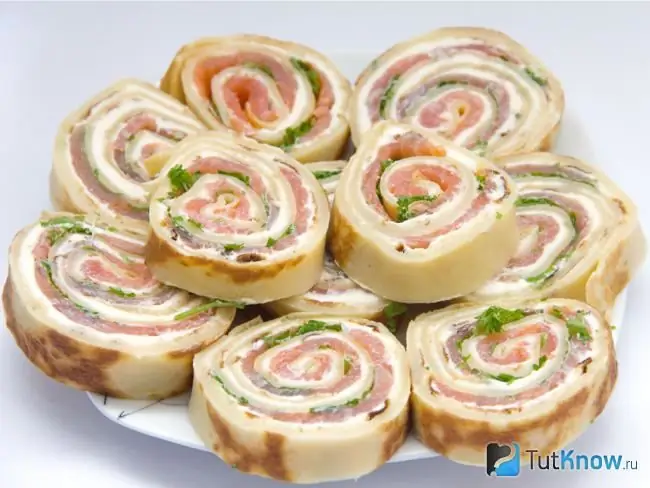 Pancake rolls are a great choice for any holiday and a great snack for the Pancake dish. They are hearty, tasty, beautiful, made from any pancake dough, and any products are used as a filling. Rolls can be a good cold and hot snack option. On the basis of ready-made pancake rolls, you can make another dish - pancake rolls. This material offers TOP-4 original recipes for pancake rolls with filling, as well as options for delicious filling.
Subtleties and secrets of cooking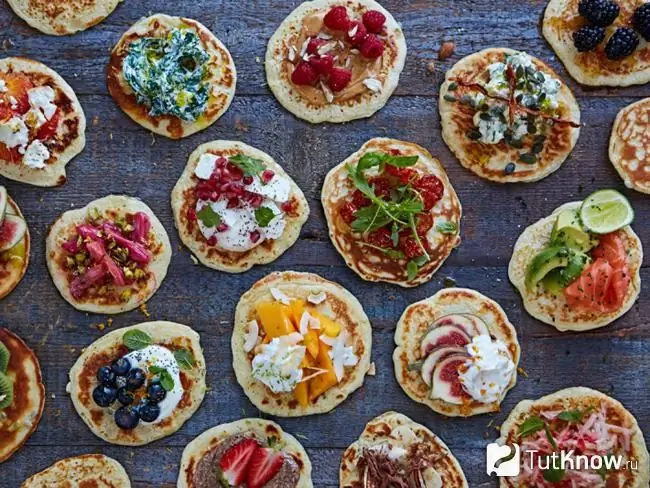 Thick pancakes are not suitable for stuffing. their structure should be thin so that they fold easily. At the same time, they must be elastic and strong so that they do not break when folding.
Choose the filling for the pancakes to taste. For snack pancake rolls, meat, fish, vegetables, mushrooms, cheese, herbs are suitable. For dessert pancake rolls in the filling, use fruits, berries, cottage cheese, cream cheese.
So that the pancake rolls retain their shape and do not unfold, wrap them with cling film and put them in the refrigerator for a while. Then remove the film from them, and, if desired, cut into several pieces in the form of rolls.
If you plan to serve hot rolls, preheat them in the oven or microwave before serving.
It is better to fry pancakes for a roll only on one side, otherwise they will dry out and will not be elastic.
Baked thin pancakes for roll with cheese filling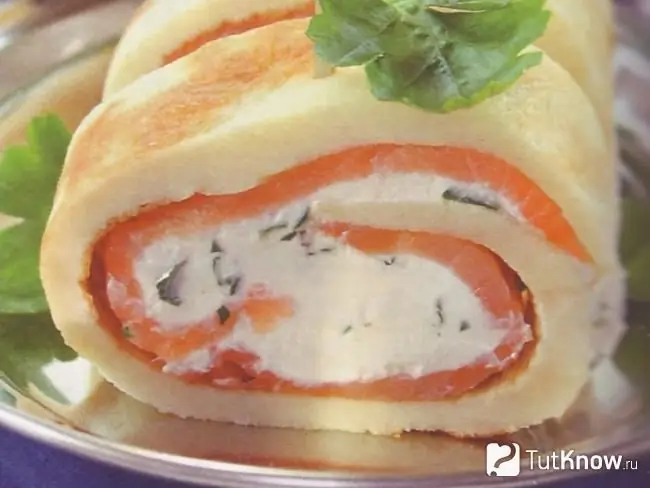 To have a fresh aromatic dish of pancake rolls on the table, you should master the classic recipe for making thin pancakes. It is important during the cooking process to ensure that the baked goods are evenly thin. Grease the pan with oil no more than 1 time for 2-3 pancakes, because with it, the dough will become juicier, and when twisted, it can slip, which is very inconvenient. For the best filling taste and consistency, choose several types of cheese, among which should be semi-hard and soft.
Caloric content per 100 g - 298 kcal.
Servings Per Container - 12
Cooking time - 40 minutes
Ingredients:
Eggs - 2 pcs.
Salt - 1/2 tsp
Flour - 4 tablespoons
Soft processed cheese (possible with additives) - 100 g
Milk - 100 ml
Refined vegetable oil - for frying
Blue cheese - 100 g
Boiled water - 100 ml
Sugar - 1/2 tsp
Semi-hard cheese - 100 g
Grated Parmesan - 1 tablespoon
Cooking baked thin pancakes for a cheese roll:
Break the eggs into a bowl, pour milk into them, add salt and sugar and mix well until a homogeneous mixture.
Pour flour into the dough and beat until the mass is thick without lumps.
Pour in water and bring the dough to a very thin sour cream consistency. Depending on the quality of the flour, more or less liquid may be required, from the specified amount in the recipe.
Pour some oil into the pan and heat well. Then pour in a portion of the dough, twirl with the pan so that it is evenly distributed. Toast pancakes on each side for 1 minute. Cool the finished pancakes.
For the filling, cut the blue cheese into cubes, grate the semi-hard cheese on a coarse grater, add the grated parmesan and soft processed cheese. Mix everything.
Spread the resulting cheese mass in an even thin layer on each pancake, leaving 1, 5 cm of a free edge on each side, and roll them into rolls.
Put the pancake rolls on a baking sheet covered with baking paper, lightly sprinkle with finely grated hard cheese and put in a hot oven for 7-8 minutes at 180 ° C. The dish should not dry out, but only melt the cheese filling inside.
Cool the hot rolls a little and cut into pieces 2-3 cm thick.
Pancakes with liver filling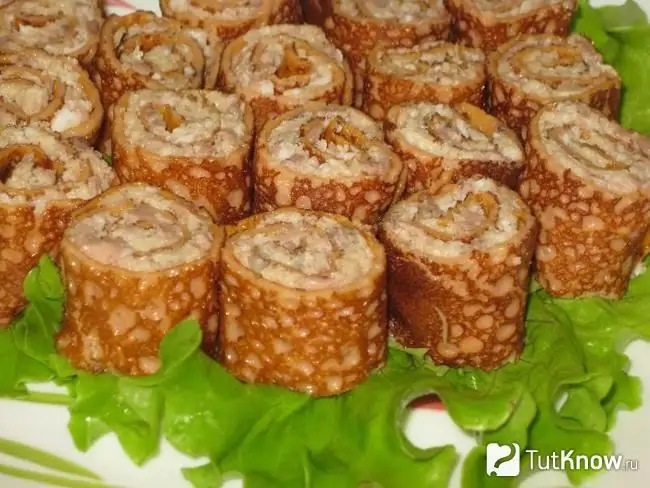 The festive table on Maslenitsa is famous not only for delicious pancake dishes, but also for their colorfulness, just to look at the treats and the appetite immediately cleared up. Pancakes with liver filling are an exquisite appetizer with an unforgettable taste and aroma.
Ingredients:
Milk - 250 ml
Flour - 8 tablespoons
Eggs - 2 pcs. in dough, 2 pcs. in the filling
Sugar - 1 tsp
Vegetable oil - 2 tablespoons
Salt - a pinch
Soda - on the tip of a knife
Liver (chicken or beef) - 500 g
Bulb onions - 1 pc.
Carrots - 1 pc.
Cooking pancakes with liver filling:
Beat the eggs with a whisk until smooth, add room temperature milk and stir.
Pour in the sifted flour with soda, salt and sugar, and stir until smooth so that there are no lumps in the dough, and its consistency is like liquid sour cream. If the dough is thick, pour in some boiled water.
Pour butter into the dough so that the pancakes do not stick to the pan and fry in a hot pan on both sides. Turn them over when they turn golden.
Wash the liver, remove the films, boil in salted water and twist in a meat grinder.
Boil eggs hard-boiled, cool, peel and cut into small cubes.
Peel the onions and carrots, wash, chop finely and fry in a skillet in oil until golden brown.
Send the liver to the pan with vegetables and fry a little so that the filling remains juicy.
Combine all the ingredients for the filling, salt and pepper.
Put the finished filling on the pancake in an even layer, roll it up and send it to the refrigerator for several hours.
Before serving, you can cut the rolls and heat them in the microwave. Or, for a crispy crust, fry them in a skillet or bake them in the oven.
Pancake rolls with salmon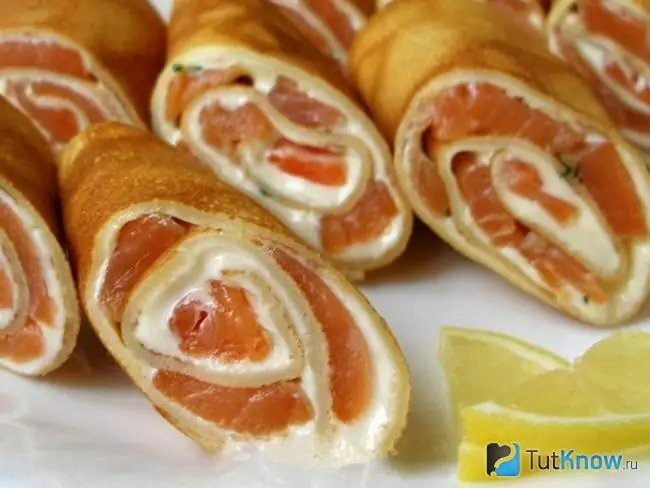 Pancake rolls with salmon will come in handy not only for Maslenitsa, but also on any festive table. Salmon can be smoked, as suggested by the recipe, or lightly salted. It can also be replaced with any other variety of red fish.
Ingredients:
Eggs - 4 pcs.
Milk - 0.6 l
Butter - 50 g
Flour - 1 tbsp.
Greens - a few twigs
Smoked salmon - 250 g
Fresh cucumber - 1 pc.
Capelin caviar - 1 tablespoon each for every pancake
Sour cream - 300 g
Lemon juice - 1 tsp
Cooking pancake rolls with salmon:
Melt the butter in the microwave.
Whisk eggs and stir in milk and butter.
Add the sifted flour and knead the lump-free dough. Leave it on for half an hour and add finely chopped greens to it.
Grease a frying pan with a thin layer of oil, heat and fry thin pancakes until golden brown.
For the filling, peel the fish, remove the bones and chop finely.
Peel the cucumber and chop finely.
Combine salmon with cucumber, sour cream and lemon juice. Season to taste with salt and pepper.
Put the filling on a pancake in an even layer, roll into a roll and cut into portions.
Pancake rolls with crab sticks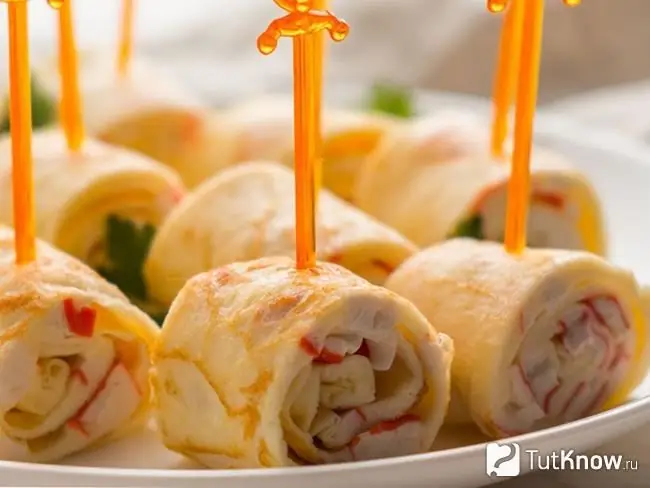 Pancakes with crab sticks, complemented with cucumber and cheese, can be prepared as an independent snack or as a main course for dinner. Also, the recipe is suitable for a festive table, and especially for Shrovetide.
Ingredients:
Flour - 250 g
Milk - 300 ml
Water - 300 ml
Eggs - 2 pcs.
Salt - 1 tsp in the dough, to taste in the filling
Sugar - 2.5 tablespoons
Soda - 3/4 tsp
Vegetable oil - 3 tablespoons
Curd cheese - 400g
Fresh cucumbers - 2-3 pcs.
Mayonnaise - 3 tablespoons
Crab sticks - 200 g
Making pancake rolls with crab sticks:
In a bowl, combine warm milk, water, eggs, salt, sugar and vegetable oil until smooth.
Sift the flour and baking soda through a fine sieve and add to the liquid ingredients. Knead the dough until smooth so that there are no lumps.
Heat the pan well, brush with a thin layer of oil and bake pancakes until golden brown on both sides.
For the filling, cut the cucumbers into small cubes.
Mash the curd cheese with a fork, salt, season with mayonnaise and stir.
Cut the crab sticks in the same way as the cucumbers.
Combine filling ingredients and stir.
Place 2 tsp on the edge of the pancake. filling and roll it up. To do this, fold the bottom edge of the pancake, then the side edges, and fold the pancake into a tube.
Video recipes for making pancake rolls for Shrovetide