To quickly cook pizza, you need to purchase ready-made puff pastry in the supermarket. Then, literally in an hour, you will prepare a delicious, mouth-watering and aromatic dish. Spoil your family with an incredibly juicy pizza!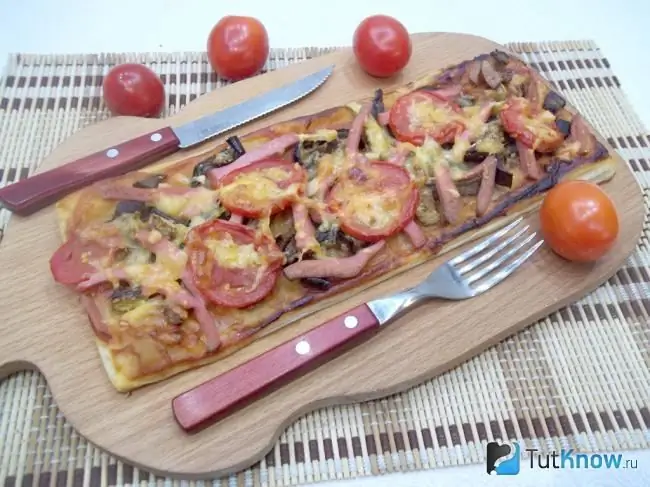 Recipe content:
Ingredients
Step by step cooking
Video recipe
Thin-based eggplant and cheese pizza is an Italian dish. Since eggplants can be bitter, soak the fruits in salted water before placing them on the dough. But if you are sure that there is no bitterness in the vegetable, then you can use them right away. As a general rule, a raw vegetable is never added to a pizza. Usually it is fried in a pan, cut into cubes, cubes, circles or thin strips. They can also be baked or boiled. If the eggplants have been soaked in a salty solution, then they do not need to be additionally salted. Since salt will add cheese, sauce, sausage to the dish.
Any dough that you like the most is used as a basis. You can knead unleavened, yeast, puff pastry. Or you can use store-bought puff pastry or purchase a ready-made base. If you don't have an oven, you can bake pizza in the microwave.
In addition to eggplant and cheese, any products are used as a filling: sausage, poultry or meat, tomato sauce or tomatoes, various vegetables, olives, spices. To prevent the filling from being fresh, you can put some pickles. And if you want the bottom of the pizza to turn out dry, bake the base without the filling almost until cooked, and then put the food on it and fry the open pie at 220 ° C for 5-7 minutes.
Caloric content per 100 g - 248 kcal.
Servings - 3
Cooking time - 60 minutes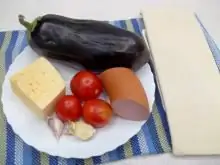 Ingredients:
Ready frozen puff pastry - 3 sheets
Tomatoes - 3-4 pcs.
Eggplant - 1 pc.
Milk sausage - 300 g
Cheese - 200 g
Garlic - 3 cloves
Ketchup - 3 tablespoons
Vegetable oil - for frying
Salt to taste
How to make a quick pizza with eggplant and cheese step by step: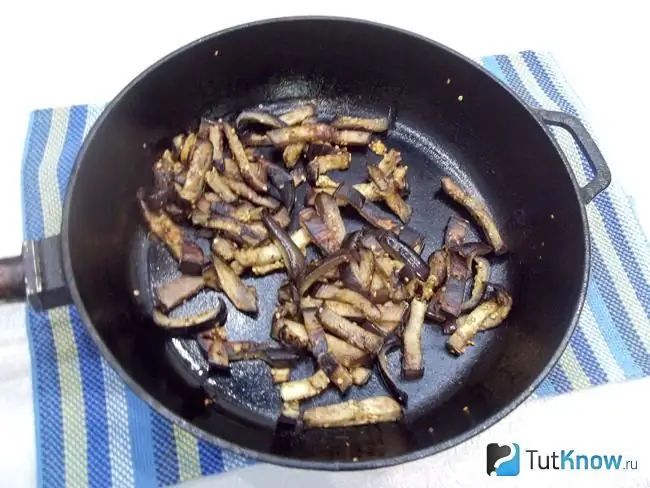 1. Wash the eggplants, cut into bars and fry in a pan until golden brown. If they have not been soaked in brine, season them with salt during frying. If the fruits are ripe, then soak them for half an hour in salt water before frying: for 1 liter of water, 1 tbsp. salt.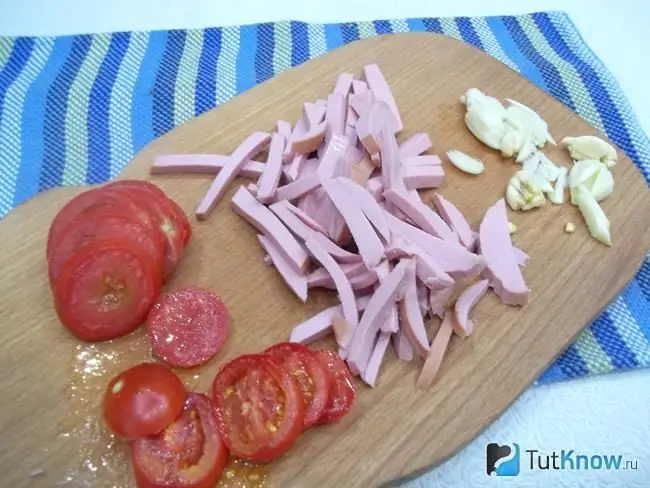 2. Cut the sausage into strips. Peel the garlic and cut into strips. Wash the tomatoes and cut into thin rings. Grate the cheese on a coarse grater.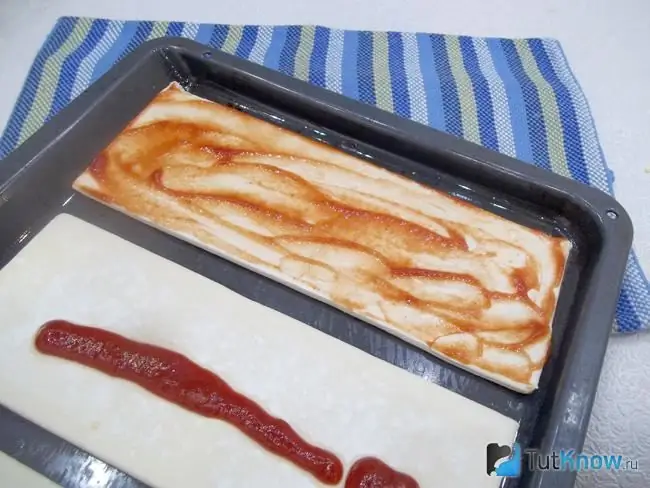 3. Defrost the frozen dough naturally. Put it on the table and leave until completely thawed. You can immediately place it on a baking sheet, on which you will then cook pizza, and leave to melt. When the dough is soft, start making an open pie. Lubricate the sheets with ketchup.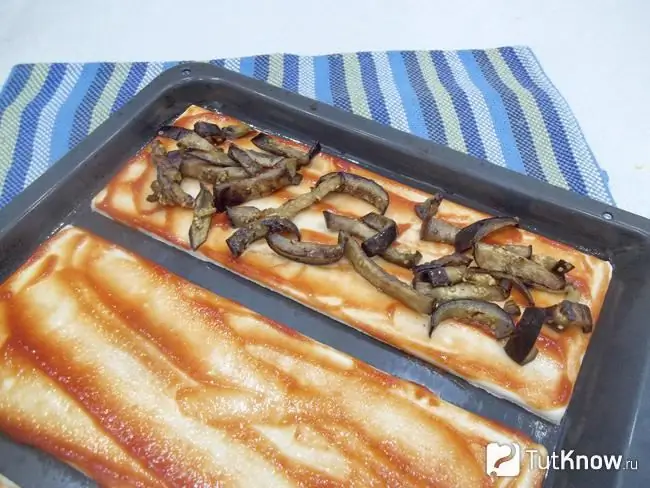 4. Top with chopped garlic and fried eggplant.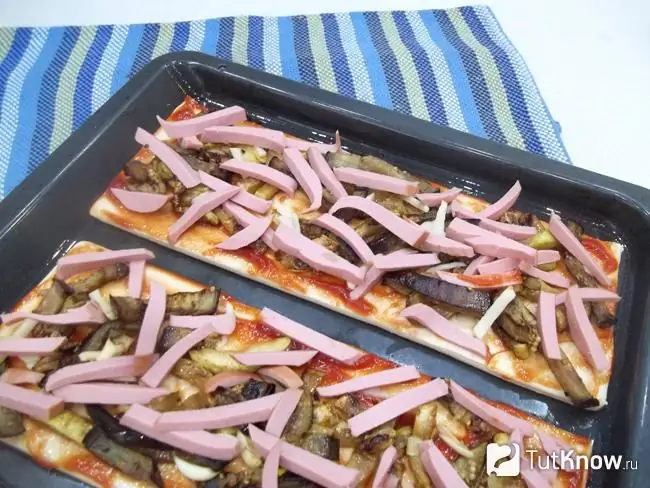 5. Then spread the sausage evenly. It can be lightly fried if desired. But then the dish will be more high-calorie.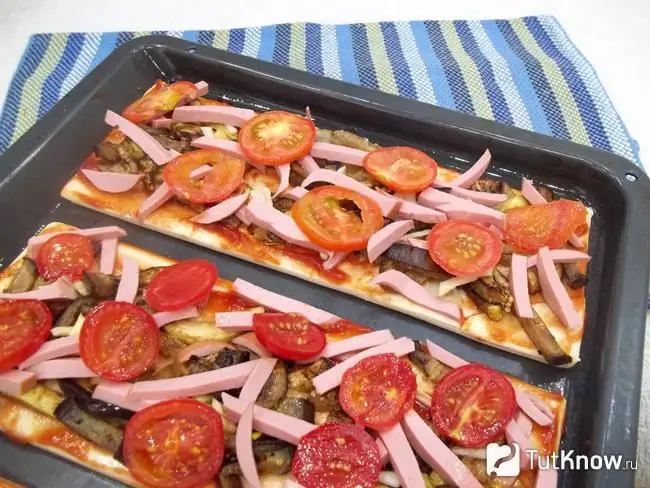 6. Place the tomato rings on the sausage.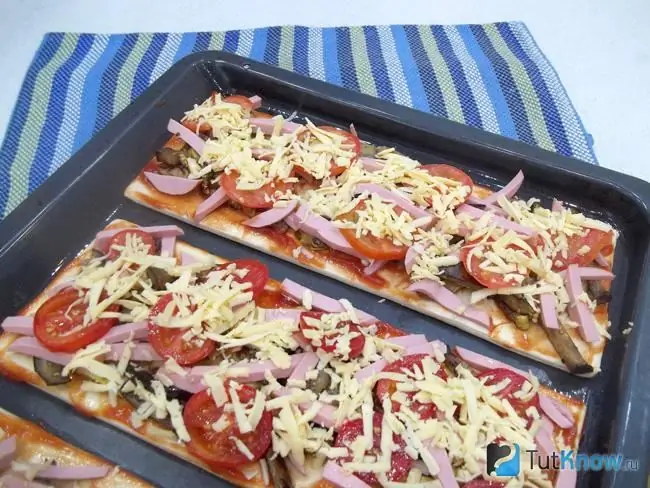 7. Crush the pizza with cheese shavings.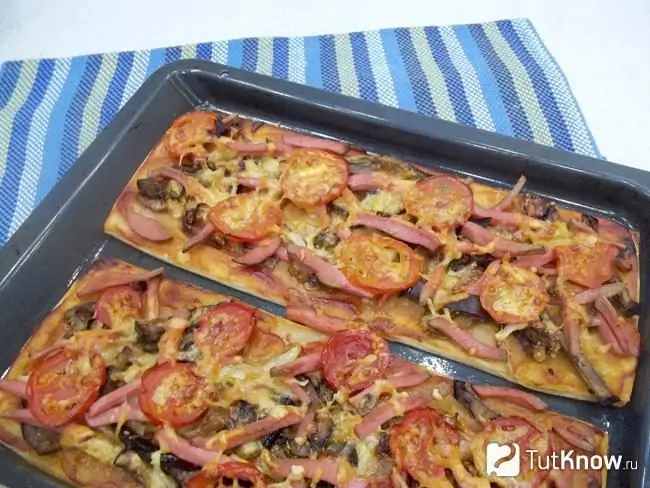 8. Heat the oven to 180 degrees and bake the pizza for 30-35 minutes. When the cheese has a golden crust, the pizza is ready. Thin puff pastry bakes very quickly, so don't overdo it in the broiler.
See also a video recipe on how to make a tender and crispy eggplant pizza.
[media =