Benefits and contraindications of the Bonn diet, effectiveness and results. Basic rules of the diet, how to make Bonn soup, reviews and impressions.
Bonn soup is a dietary vegetable dish, an indispensable weight loss basis for the so-called Bonn diet. All the components of this soup are extremely affordable, and the recipe is simple. The diet brings results very quickly: only with minimal restrictions in 7 days you can lose from 3 kg or more.
Benefits of Bonn Soup for Weight Loss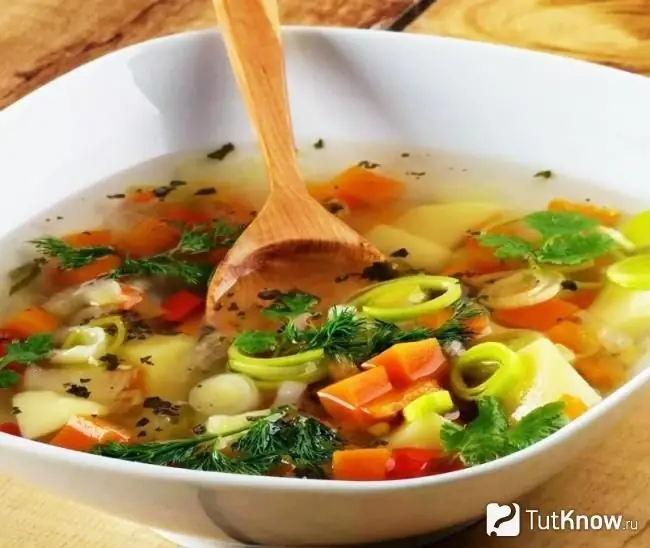 Pictured is a Bonn slimming soup
For weight loss, Bonn soup is necessary as a main course throughout the diet due to its energy value and the content of proteins, fats and carbohydrates.
The dish turns out to be extremely light: the calorie content of Bonn soup is only 30-40 kcal per 1 serving (350-400 grams). On average, 100 grams of soup accounts for:
proteins - 1% or about 0.6 g;
fat - less than 1%;
carbohydrates - 2-3%, about 2, 7 g.
With practically no energy value in itself, Bonn soup suppresses hunger with a feeling of fullness in the stomach.
It is rich in fiber that stimulates intestinal motility. Celery root, if you choose to add, has diuretic properties. In total, there is a cleansing and anti-edema effect. Thus, the soup can also be used as a maintenance diet, for example, after poisoning.
Contraindications of Bonn slimming soup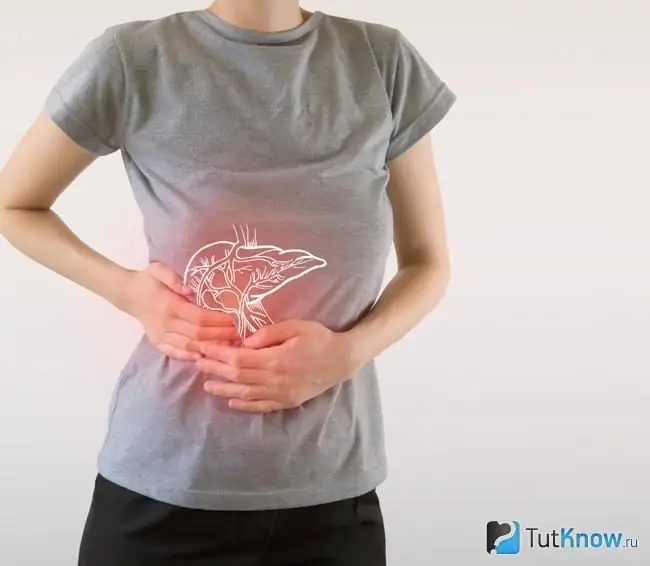 The Bonn soup diet puts a significant strain on the body and is not recommended for weakened and emaciated people. It is also categorically contraindicated for those for whom it is important to maintain or gain body weight.
The use of such a soup during pregnancy and lactation is not recommended. In addition, people suffering from diseases of the gastrointestinal tract, liver, and kidneys can face the negative result of the Bonn diet. An individual allergic reaction to the components of the soup is also possible.
The Bonn diet uses a lot of fruits and vegetables, so it is better to start it in the spring or summer, when they are readily available, and in winter and autumn, abstain and choose something more practical for losing weight.
Bonn soup diet rules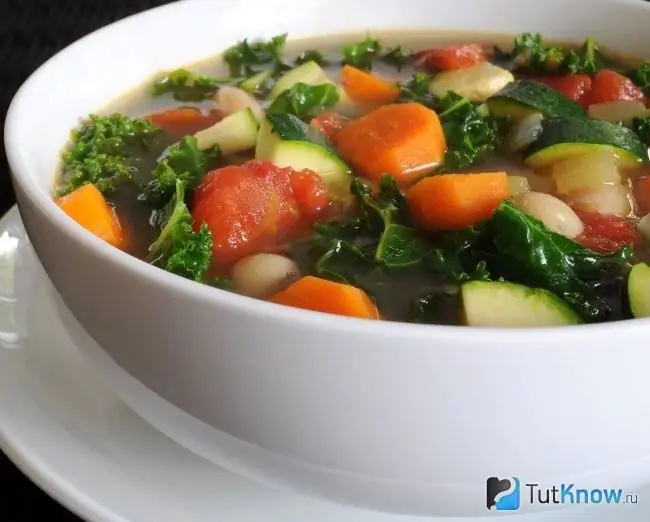 The Bonn Diet has a special 7-day menu in which Bonn soup is used as the main course, and in addition to it, some pleasant (and different every day) addition is prepared. Soup can be eaten in unlimited quantities on any day.
However, some requirements and restrictions should be observed. You need to drink plenty of water - at least 1.5 liters per day. The use of alcohol, sweets (including sugar, honey and sweet soda), flour products, fried and smoked meats are prohibited. Coffee and tea - only sugar-free. Dairy products - on strictly defined days and in small quantities.
In general, it is better to draw up your menu with an eye to the proposed Bonn diet plan:
First day … In addition to soup, you can and should eat fresh fruits and berries - anything except watermelons, melons, bananas and grapes.
Second day … We replace fruits in the diet with vegetables - especially raw green ones. Make a cucumber salad for breakfast. For lunch or dinner, in addition to the soup, you can boil one potato.
Third day … We combine both fruits and vegetables, but without potatoes and other prohibited foods. For breakfast, you can prepare a salad of grated apple and carrots, for dinner - a salad with radishes, cucumbers and tomatoes, seasoned with olive oil.
Fourth day … In addition to soup, we eat fruits, you can afford 3-4 bananas or apples, as well as a couple of glasses of milk or unsweetened yogurt.
The fifth day … You can eat meat! In addition to the soup, we cook 0.5 kg of lean beef. The meat is cooked without salt or baked with onions in the sleeve.
Sixth day … Add green vegetables to the meat. You can eat some sugar-free oatmeal for breakfast.
Seventh day … In addition to soup, we introduce brown rice, vegetables, low-fat boiled fish fillets into the diet.
Do not forget, of course, to eat at least one bowl of soup a day. It is desirable to eat it separately from other products, without eating anything.
Bonn Slimming Soup Recipes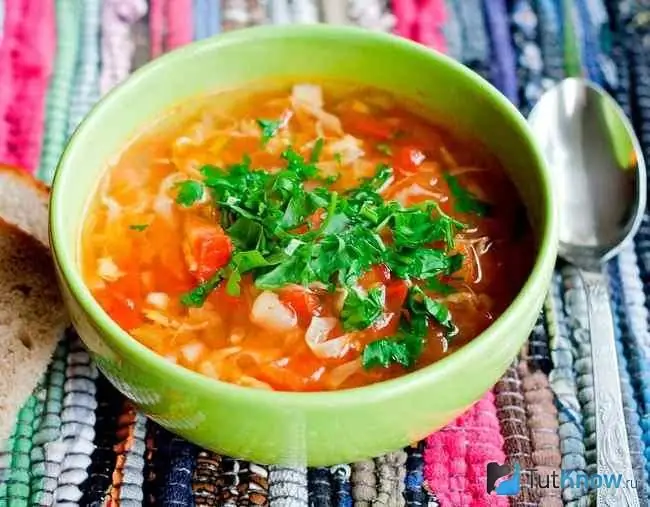 Before preparing the Bonn soup step by step, prepare the following ingredients (for 10 servings):
1 medium head of cauliflower or white cabbage;
5-6 fresh or canned tomatoes;
3-5 medium onions;
a bunch of celery greens or 2-3 roots;
2-3 large bell peppers;
a bunch of dill;
a bunch of parsley;
2 bay leaves;
a clove of garlic;
salt and pepper to taste.
If desired, the recipe for Bonn soup can also include carrots (4-5 pcs.), Green peas, hot peppers or a bouillon cube.
The recipe for Bonn slimming soup is simple: cooking can be broken down into a few simple steps:
Peel the onions, chop finely and fry in a little olive oil. We need the onions to become transparent, but have not yet had time to deeply fry.
Finely chop the pepper, cabbage, celery root, carrots and tomatoes. Place in a pot of cold water and bring to a boil. We take water at the rate of 300 g of ingredients for 0.5 liters of water.
Add sauteed onions, salt, pepper and other seasonings to taste. Instead of salt and pepper, add one bouillon cube. Bring vegetables over low heat until cooked.
The greens should be added last, when the soup is almost ready.
Let the soup sit for 10-15 minutes before serving.
If the texture of the soup does not suit you, you can use the same ingredients in a blender to make a Bonn puree soup - without additional thickeners.
Vegetables can be added, removed or slightly changed proportions, only the base should remain unchanged - cabbage and onions. It is also recommended to leave celery in the recipe. Tomatoes can be taken canned and added to the soup, grated without peel.
Results of the Bonn soup diet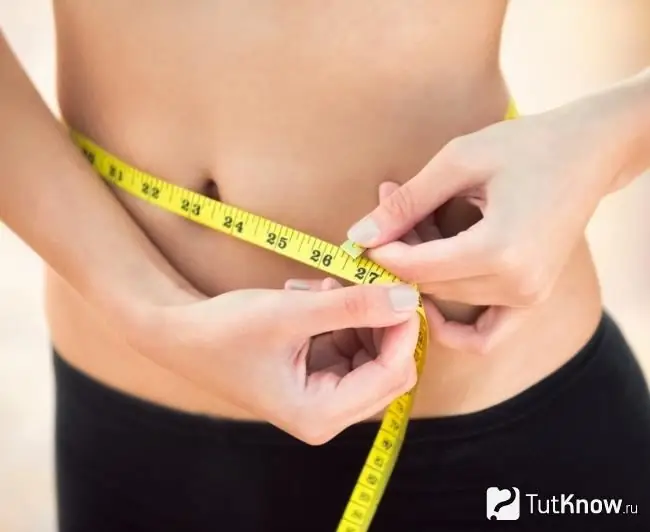 The complete 7-day diet course will not go unnoticed. The Bonn soup shows very good results: from 3 to 7 kg are guaranteed. Moreover, these results are easy enough to consolidate with further proper nutrition and a personal set of exercises. However, Bonn soup can spoil a diet, turning it into a torment that is unlikely to pay off.
Before adding Bonn soup to your menu, think about how your body will react to such stress, whether you will have the opportunity to consolidate the course, and if you have any diseases that can be aggravated by such an extreme diet - this is especially true diseases of the stomach and intestines.
Real Reviews of Bonn Slimming Soup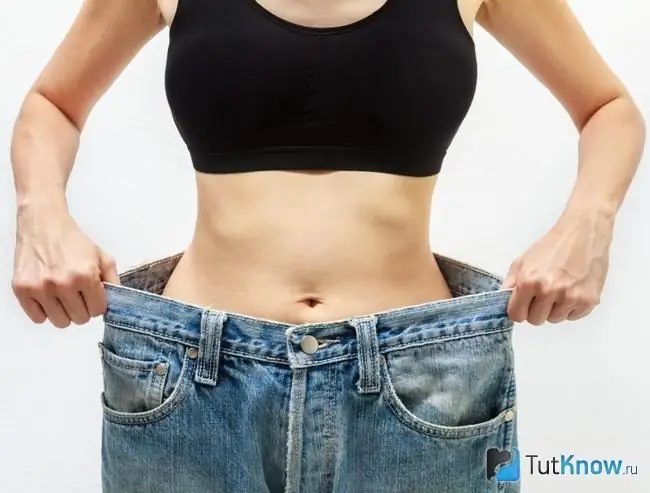 Reviews of those losing weight Bonn soup (and the Bonn diet in general) are mixed. On the one hand, people certainly note the effectiveness of such a diet: the results can be seen after 2-3 days, and it is more than real to lose those extra pounds. On the other hand, not everyone likes the taste of the soup, those who use a diet complain of a loss of strength literally a couple of days after the start, everyone talks about a bad taste in the mouth and bad breath, and those suffering from gastrointestinal diseases even emphasize its health hazards. Before and after Bonn soup - what do the reviews say?
Marina, 33 years old
I have been working as a cook for almost 10 years, a lot of stress. I was thin as a child, but when I started working, I steadily gain 10 kg per year. I got married here, we constantly cook something tasty, usually we do not limit ourselves to anything. In general, I gained almost 90 kg.
The Bonn diet was one of the first I tried 6 years ago. After all, relatives began to criticize and ask constantly when I would lose weight - and I decided to try this wonderful diet. Moreover, once my mother also used it, she says that Bonn soup has good reviews.
Made some soup. It seems that you can eat as much as you want, but the taste is such rubbish that you don't want to at all. Your stomach growls, you sit over a plate, but you can't eat. All these extra fruits and vegetables only tease and whet your appetite more.
The squirrel is sorely lacking. I tried to cook in my own way - in weak chicken broth and add a little soy sauce and sour cream. It became more or less possible to eat, but on the fourth day there was already a breakdown, I could hardly get out of bed. A glass of milk seemed heavenly semolina. A piece of meat the next day - like in heaven.
Somehow she lasted a week, went to the store, bought goodies, then chose a set of exercises for myself. For all the suffering - minus 5 kg plus another minus 1.5 kg the next week. Diet is very disciplined and makes you look at food in a new way, after it it becomes really easier to start eating right. Is it worth it? I don't know, after three months my kilos returned.
Ekaterina, 23 years old
I decided to get myself in shape a little with this wonderful soup. Didn't last a week. It tastes good, but I cannot say that this is a balanced and harmless diet.
I cooked without celery, added a pinch of bouillon powder. In principle, you can eat. Weight, as expected, also began to fall - with this, everything seemed to be in order, it took almost 2 kilograms in the first 3 days.
But. On the second day I felt irritable, apathetic and tired. The feeling passed away only when I ate a boiled egg.
On the fourth day, I open my notes and prepare for the session. I look at the text and understand that I do not understand anything. Information is not perceived absolutely, I can not remember anything. Coffee and means of stimulating cerebral circulation had no effect. I was able to prepare only when I had a full breakfast.
In the last days, when meat becomes possible, the weight has ceased to fall. Then I put on a kilogram on top. For a week, according to the results, I dropped a little less than a kilogram, and then he still came back. To be honest, it seems like it's just the extra water gone.
Tatiana, 27 years old
I chose Bonn soup for weight loss according to reviews. I still disentangle the results, 5 years later.
I used to be thin, but the tendency to be overweight has always been. It was lucky that the lifestyle did not allow me to get too fat - I worked as a nurse, the constant running around at night to call anyone will make me slim.
But then I gave birth to a child. During pregnancy, she took hormonal drugs, and doctors recommended limiting physical activity. I recovered by almost 15 kilos.
It was terrible stress. In addition, I stuck to stress. Add to this the round-the-clock fiddling with the child and the jokes from my husband, who did not like how I had changed outwardly. In the meantime, I will note that other people told me that I looked normal, but I didn't think so. In short, I started looking for something radical.
I needed to lose 6 kg. I tried to do small workouts - I was tired and lazy. Found a recipe for Bonn soup, attracted positive reviews about the Bonn diet. At first glance, a really miraculous diet: the ingredients are cheap, onions and cabbage are always in the house, the soup can be eaten without restrictions. I cooked it, tried it, even liked it. To celebrate, I somehow lost sight of the fact that I am still breastfeeding, that I have an old (and not disturbed for a year before) duodenal ulcer.
The first couple of days went well, although my stomach was very swollen, especially noticeable at night. By the end of the second day, my head began to spin, I felt tired, I almost did not take a walk with the child. On the third day, the headache, abdominal cramps and weakness intensified, and bad breath was added. Weighed in, there - minus two kilograms! Inspired, she continued to eat the soup.
My stomach got worse at night. The next morning, heartburn, shortness of breath was added, as soon as I bend over for something, I almost fell. But - minus 3.5 kg.
I should have started thinking like a doctor and remember that I have all the symptoms of an exacerbation of peptic ulcer disease. But for the euphoria from the scales, where can I remember? In addition, I did not say anything to my relatives - I did not want them to think that I was complaining or demanding attention.
On the fifth day, I realized that just a little bit more, and I would have to call an ambulance. I made myself some sweet tea sandwiches. In general, this cannot be done, an adequate and not very abrupt way out is needed from any diet.
As a result, I lost 4 kilograms in 4 days. I got into an old little dress, surprised my friends and husband. And on gastroscopy after a while I was told that I had a second ulcer, and it deformed the duodenal bulb. This is for life. I recommend everyone who wants to lose weight to lose weight gradually, with comprehensive programs over several months and not rush to extremes.
How to make Bonn soup - watch the video: