Main characteristics of encephalopathy. The causes of organic brain damage and recommendations for the treatment of the disease. Encephalopathy of the brain (encephalopathia, brain dystrophy) is a disease in which cells of the main organ of the central nervous system of a person are affected and killed. A similar pathology of an organic nature is diagnosed in both adults and children. If the disease is not treated in a timely manner, a person may become disabled, therefore, one should understand the features of the ailment in question.
Description and mechanism of development of the disease "encephalopathy"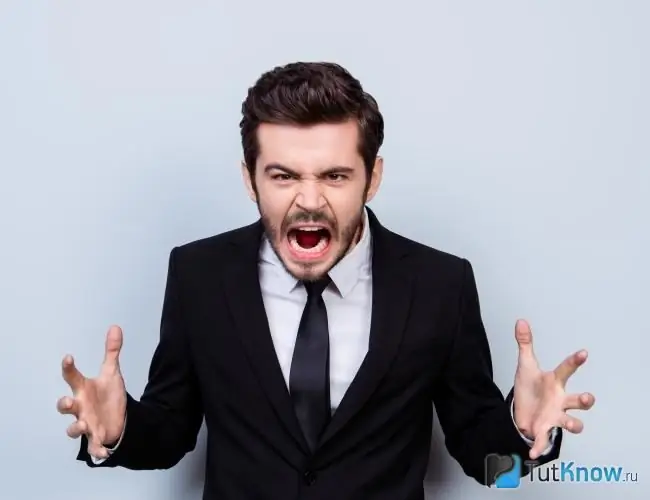 This brain damage is not accompanied by an inflammatory process, as with the same encephalitis. Diffuse-dystrophic changes in the tissues of this main center of the human nervous system ultimately lead to a disorder of consciousness and memory in the patient.
With the clinical picture of the described pathology, anisocoria (pupils of the eyes of different sizes), hyperkinesis (involuntary movements), ataxia (impaired motility in the form of a coordination disorder), nystagmus (repetitive uncontrolled eye movements), dysarthria (impaired phonetic functions) and decreased mental activity are observed.
In some cases, a combination of a similar disease with lead meningitis can be observed, in which a positive reaction to Kerning's and Brudzinsky's symptom (damage to the meninges) is diagnosed. In this case, the patient will also have manifestations that are characteristic of delirium tremens, progressive paralysis and schizophrenia.
The described pathology from an early stage of its formation begins to slightly disturb the patient. Quite often, he attributes it to migraines, fluctuations in atmospheric pressure or overwork at work. However, such inconveniences do not cause significant discomfort, so the person does not consult a doctor and the mechanism for the development of encephalopathy is triggered:
First period … The compensated stage at which people develop hyperexcitability and increased irritability is determined solely by means of a diagnostic study. At the same time, the patient himself feels some fatigue, but does not fully feel the main symptoms of encephalopathy.
Second period … At the subcompensated stage, the overall clinical picture of organic brain damage becomes clearer. Constant headache and tinnitus are accompanied by tearfulness, lethargy, and depressed mood. In some cases, there are problems with coordination of movement.
Third period … The decompensated stage (severe encephalopathy of the brain) already indicates that the disease is in a neglected state. At the same time, speech is very seriously impaired, and the coordination of movements is so deformed that a person is unable to maintain any posture. In severe cases, the victim has all the signs of dementia (dementia).
If the sounded disease develops rapidly, then in a short period of time a person begins to vomit repeatedly with visual disturbances and dizziness. A similar surge is then replaced by apathy, lethargy and severe impairment of consciousness.
The causes of encephalopathy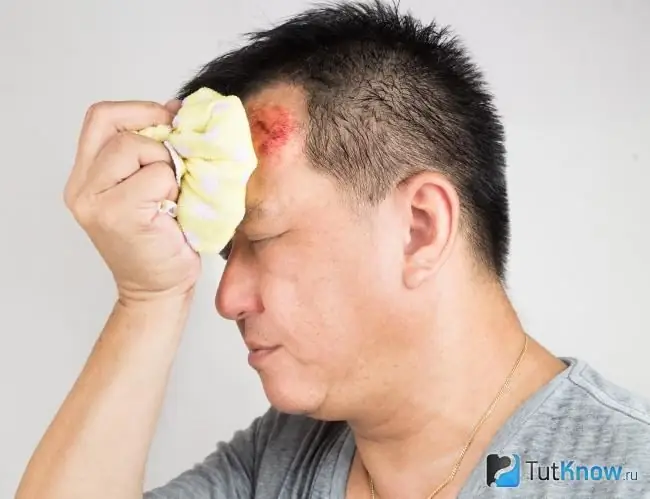 Organic brain damage is an accompanying disease that can be triggered by the following factors:
TBI (traumatic brain injury) … Quite often, a diffuse lesion of this main organ of the central nervous system is diagnosed in people who are involved in contact sports. Encephalopathy can also occur in those individuals who have experienced an accident, a fall from a height or an everyday quarrel that ended in assault.
High blood pressure … With this problem, the risk of not only stroke, but also encephalopathy increases. If a hypertensive crisis lasts a long time and is accompanied by cerebral edema, then small foci of necrosis begin to localize in it.
Severe pregnancy and childbirth … Quite often, people attribute all health problems in a newborn exclusively to genetic diseases. However, at the same time, they forget about the injuries that the baby can receive during labor with his mother.
Genetic predisposition … Outside the risk zone are those individuals who initially have protection that does not allow the development of atherosclerotic deformities. Other people are less fortunate in this regard, because if they have relatives with this disease, they can inherit it.
Poisoning … Long-term exposure to chemicals, poisons and heavy metals usually does not go unnoticed for a person who has to deal with such hazardous materials.
Bad habits … A well-known fact is the statement that with the abuse of nicotine, alcohol and drugs (if at all it is appropriate to talk about the permissible limits of this addiction), the death of brain cells occurs.
Hypodynamia … In most cases, this pathology affects people who lead a sedentary lifestyle. Experts insist that a person should walk 8 km a week so that he does not have health problems in the future.
Diabetes … In case of metabolic disorder, one of the first organs is hit by the human brain. The affected side has significant vision loss and significant weight loss (especially in type 1 diabetes). Then irreversible changes occur in the form of death of brain cells.
Lack of vitamin B1 in the body … A deficiency of the so-called thiamine provokes in most cases various pathologies of the nervous system. As a result, the patient has all the symptoms that indicate the presence of encephalopathy.
Severe illnesses … With malignant tumors and HIV infection, the body's resistance is so reduced that the death of brain cells begins to progress. In addition, for cancer, radiation therapy is prescribed, which leads to radiation damage to many human organs.
Varieties of brain encephalopathy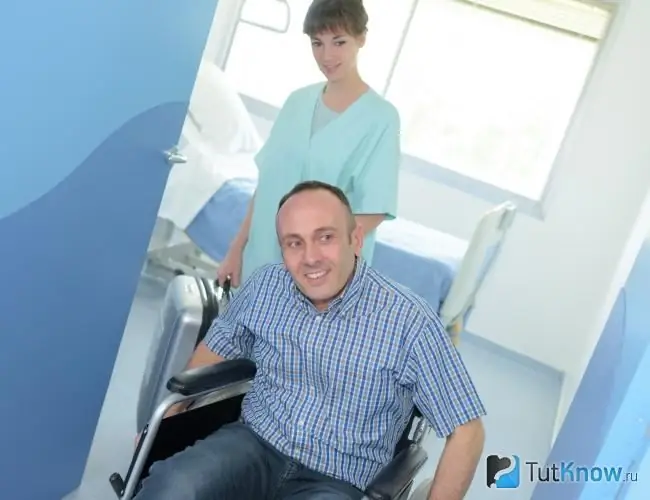 By the nature of education, two forms of organic brain damage are distinguished: congenital and acquired.
Experts identify the following types of this disease:
Perinatal … It can occur even in the womb if the pregnancy becomes problematic in the third trimester (after the 28th week of fetal development). The formation of pathology in a child also provokes traumatic brain injury during pathological childbirth. We should not forget about the genetic predisposition, which is the main risk factor for encephalopathy in the baby.
Toxic … This type of acquired disease often occurs in those people who are forced to come into contact with harmful substances. Toxic encephalopathy also occurs among drinkers and drug addicts with experience.
Post-traumatic … The risk group in this case is made up of boxers, racers, climbers and American football players. However, no one is insured against traumatic brain injury in an accident or living conditions.
Metabolic … With a serious pathology of internal organs, disturbances in human metabolism occur. Distinguish between hepatic, pancreatic, uremic and dysmetabolic encephalopathy.
Beam … It progresses imperceptibly for the injured party, because with a small dose of exposure to the body of a harmful factor, pathology develops rather slowly.
Dyscirculatory … Vascular encephalopathy is formed due to an imbalance in the blood supply to the brain. The subspecies of the sounded pathology are atherosclerotic, hypertensive and venous disorders in the work of the human body.
How does encephalopathy of the brain manifest?
It should be remembered that this disease is still a pathology in adults. Experts say that bypassing each of his decades, a person risks 5, or even 8 times more than in adolescence. It is for this reason that it is necessary to consider the symptoms of brain encephalopathy from the point of view of the patient's age category.
Brain cell death in children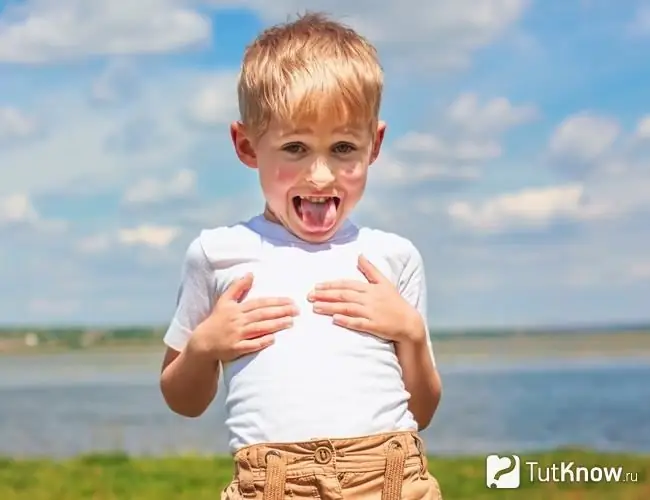 Due to a genetic predisposition, intrauterine infections and pathological childbirth, the child may then experience the following symptoms of encephalopathy:
Oppression … Depressed mood in children may not be the norm when it has become systematic. If a son or daughter is trying to retire and stop making contact, then parents definitely need to sound the alarm.
Lethargy … With the death of brain cells, the child's thought process is disrupted. He is simply unable to analyze the causal relationships that are available for his age.
Speech problems … Her disorder may be due to birth defects, but quite often the reason for such difficulties lies in a more serious disease.
Narrowed horizons to a minimum … Childhood is a period when a child wants to learn everything at once. In case of a loss of interest in the world around them, parents should check their offspring for such a problem as encephalopathy.
Lability of the psyche … Such a pathology provokes mood instability in a child. Even to a minor event, children with organic brain damage can react very violently and inadequately.
Encephalopathy in youth and middle-aged people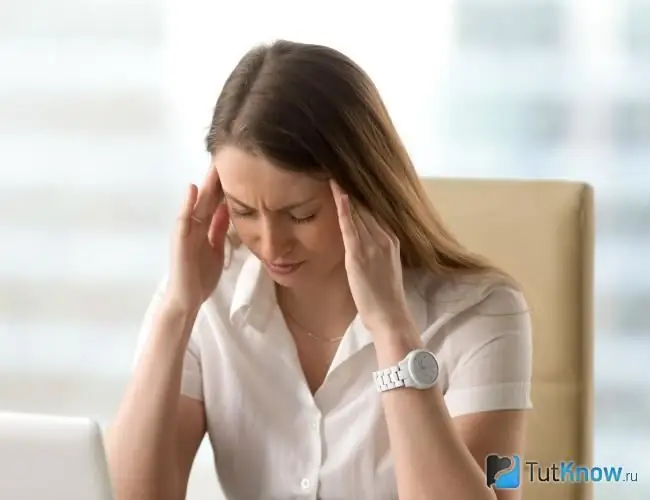 The older a person becomes, the more clearly the clinical picture of the described disease is manifested in him:
Paresthesia … A similar neurological disorder in the form of partial loss of sensitivity is characterized by tingling, burning of the skin and a feeling of "goose bumps" on it in the patient.
Migraine attacks … If in childhood, with encephalopathy, a child may experience episodic headaches, then with an acquired disease they are already significant.
Fast fatiguability … The voiced age category of people is usually considered the most efficient labor unit. With obvious signs of cerebral encephalopathy in adults, the vitality of the affected side is reduced to a minimum as the disease progresses.
Sexual impotence … Such dysfunction is directly related to the fact that a person experiences attraction (libido) to the opposite sex due to the participation of the cerebral cortex in the process of arousal. If, however, a significant failure has occurred in the main catalyst of sensual desires, then there is no need to talk about a full-fledged sexual life.
Encephalopathy in the elderly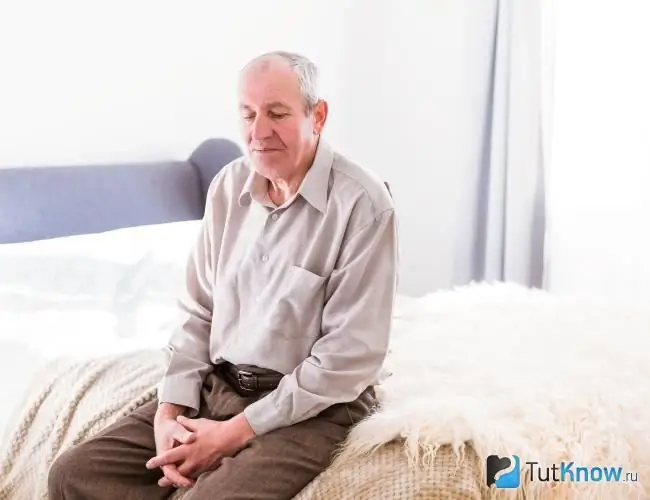 At an advanced age, a person often exacerbates existing chronic diseases. Encephalopathy in the elderly usually manifests itself as follows:
Severe migraine attacks … They take on a systematic nature and are not stopped even with the help of potent pain-relieving pills.
Limb tremor … At the same time, one should not confuse the essential form of such trembling of the legs, arms or head, characteristic of the elderly, with one of the symptoms of encephalopathy.
Impaired memory and speech … If at an earlier age the voiced problem could be attributed to the peculiarities of the formation of the organism, then in this case we are already talking about serious changes in the brain of an organic nature.
Suicidal tendencies … A mature person who suffers from an advanced form of encephalopathy often begins to reflect on the frailty of life. With the death of brain cells, such thoughts visit him more and more often, sometimes pushing him to rash actions.
Diagnostics of the brain encephalopathy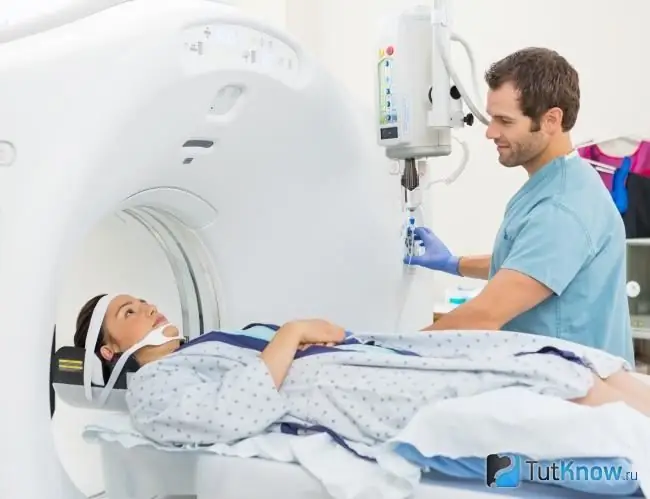 You can get reliable information about your health only after going through the following procedures:
CT scan … Cone-beam CT scans the head to identify the disease at the earliest stage of its development.
Rheoencephalography … Thanks to REG, specialists can determine the state of the patient's vessels and the functioning of his cerebral blood flow.
USGD of the neck and head … Such Doppler ultrasound allows you to determine the areas of vasoconstriction, cholesterol plaques and areas of aneurysm formation in the patient.
General analyzes … In addition to traditional studies, tests are carried out for the presence of autoantibodies and drugs in the blood (in case of toxic poisoning).
Features of the treatment of brain encephalopathy
Brain damage always has a reason for the development of a pathological process in the body. Fighting the underlying disease, not its consequences, will help get rid of the existing problem.
Medicines for encephalopathy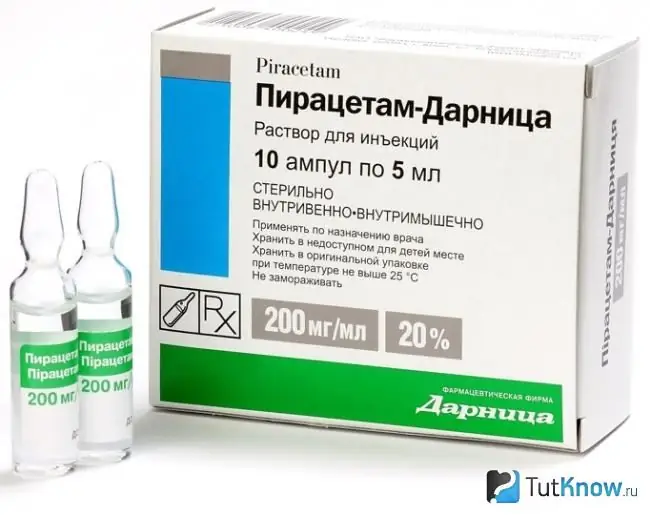 The use of medications for patients with the death of brain cells should be strictly controlled by a specialist. In most cases, encephalopathy is treated with the following drugs:
Nootropic substances … They are intended to regulate metabolism and improve blood supply. Among the huge assortment of drugs in this pharmacological group, experts usually recommend that a patient with a similar diagnosis take Piracetam and Pyriditol.
Antiplatelet agents … In order to prevent blood clots from forming and blood thinning during encephalopathy, the patient is prescribed drugs in the form of Aspirin or Pentoxifylline.
Vitamins … In this case, it is best to take retinol (improvement of vision when it is lost against the background of death of brain cells) and tocopherol (protection against heart attack and stroke). The sounded vitamins A and E are found not only in medicines, but also in potatoes, carrots, beef liver, eggs and milk.
Angioprotectors … Treatment of cardiovascular diseases is not complete without these drugs. For encephalopathy, nicotinic acid and Cavinton are usually prescribed.
Biostimulants … A similar gift from nature in the form of aloe, ginseng, lemongrass and zamanihi extract helps the body fight chronic diseases that can cause brain damage.
Essential amino acids … Methionine is prescribed for metabolic and toxic encephalopathy. It helps the liver to function properly in the presence of adverse factors.
Adaptogens … The most popular among them are herbal preparations, which can speed up the work of cell membranes. Eleutherococcus, a plant with a tonic effect, is prescribed for radiation, toxic and metabolic encephalopathy.
Drugs that regulate lipid metabolism … In this case, we are talking about Cetamifen and Essentiale, which are prescribed to patients with death of brain cells with an underlying disease in the form of dysfunction of the biliary tract and liver.
Therapeutic procedures in the fight against encephalopathy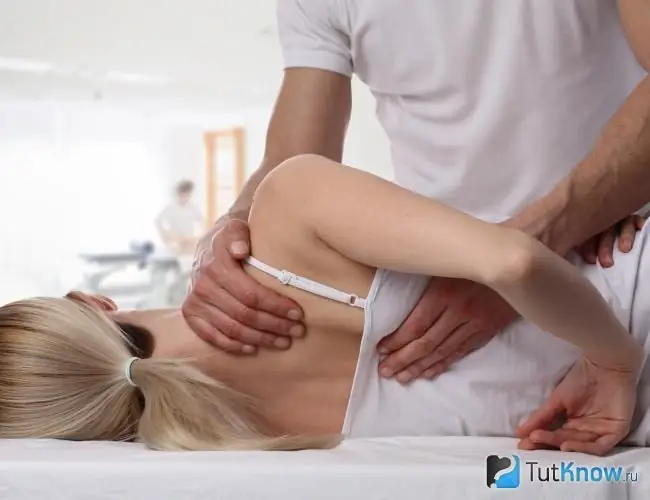 In addition to the sounded drug treatment, the patient is prescribed the following set of restorative measures:
Massage … Such a reflex effect on the muscular system of a person favorably affects his general well-being with progressive migraine and tremor of the extremities.
Manual therapy … Some incompetent persons confuse these sessions with massage, in which only the patient's muscles are developed without involving the joints. Practice shows that manual therapy significantly reduces headache in a patient who suffers from encephalopathy.
Acupuncture … Experts believe that this technique is more suitable for women. If a person has no contraindications to this procedure in the form of pathological pregnancy, infectious diseases, oncological and mental disorders, then acupuncture will help alleviate the symptoms of encephalopathy.
Physiotherapy … Electrophoresis helps the affected side turn on the defenses of their body. Magnetotherapy allows you to correct the physical and mental state of the patient. UV (ultraviolet light of blood) is a necessary method for a beneficial effect on the human body at the cellular level, which is so important in encephalopathy.
Physiotherapy … The so-called exercise therapy is selected individually for each patient. A special set of exercises serves both for preventive purposes and in the case of stage 3 of the disease, when the patient becomes disabled.
Folk remedies to combat encephalopathy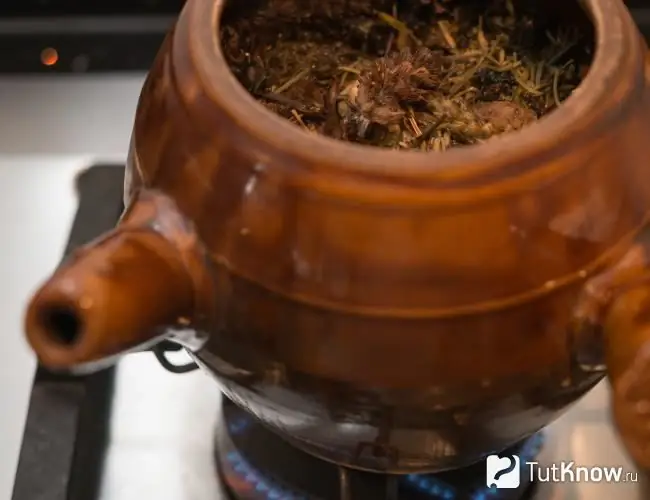 Such therapy cannot replace drug treatment, but it can be an excellent companion in the fight against brain cell death.
With a significant migraine, you need 2 tablespoons. Pour 400 ml of boiling water over hawthorn, leave for 12 hours and then drink 20 minutes before eating.
If we are talking about encephalopathy of the brain in children, it is better to use rose hips (2 tablespoons of fruits per 0.5 liters of boiling water). Three hours is enough for the tincture to be ready. You need to give a child a miracle drink 3 times a day, 100 ml each.
With perinatal encephalopathy, you can make infusions of valerian, lingonberry leaf and motherwort. A spoonful of one of the sounded ingredients should be poured with 200 ml of boiling water and a dessert spoon should be given to the baby three times a day.
Elderly people with this diagnosis are often worried about tinnitus, which will help to get rid of clover flowers. For this, 2 tbsp. raw materials must be poured with 300 ml of boiling water, insist 2 hours and take half a glass before meals.
In case of toxic encephalopathy, it is recommended to take 20 g of valerian root and hop cones, 30 g of mint and motherwort each. The crushed mixture should be poured with 200 ml of boiling water and simmer for further 5 minutes in a water bath. Before eating, you need to drink 100 ml of this chilled and strained broth.
A mixture of meadowsweet, strawberry leaves and hawthorn will also help. Taking equal proportions of the sounded ingredients, pour 250 ml of boiling water over them and cook the broth over low heat for 5-7 minutes. It is recommended to insist the finished drink for 2 hours, and then take 100 ml three times a day, regardless of the meal.
If we are not talking about alcoholic encephalopathy and at the same time taking drugs that are incompatible with alcohol, then you can try a similar treatment. It is necessary to take 5-6 heads of meadow clover, pour 150 g of vodka over them and insist for a couple of weeks. The healing agent is taken 4 times a day before meals and in proportions of 1 tbsp. tincture per 100 ml of water.
How to treat encephalopathy of the brain - look at the video:
Encephalopathy of the brain is not just a temporary malaise, but a serious violation of the most important functions of human life. To avoid the onset and further development of this dangerous ailment, it is necessary to adhere to the recommendations of the proposed article. Encephalopathy of the brain usually has favorable prognosis when it comes to the first stage of the development of this pathology.