What are Christmas balls? Manufacturing methods, decor features, useful tips.
Christmas balls are traditional Christmas tree decorations that are also used to decorate Christmas wreaths and compositions composed of pine branches. They are sold everywhere on the eve of the holiday, however, only Christmas tree decorations made with your own hands can make the interior unique, especially hand-made is now in trend, and materials can be found in any home, it would be a fantasy.
Best ideas on how to make Christmas balls
If you are fond of needlework, then it will not be difficult to make Christmas balls for the Christmas tree on your own. But even for beginners, we suggest making exclusive toys following our recommendations.
Christmas balls made of paper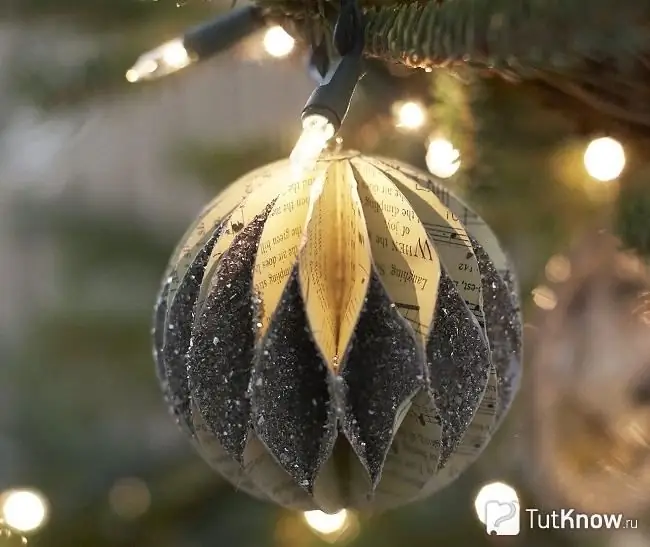 Of course, on the eve of the holiday, an incredible assortment of Christmas tree decorations appears in stores. However, it is much more pleasant to make Christmas balls with your own hands. For this, various materials at hand will fit. The most common option is to adapt the paper for this purpose. Not only different types of it are used, but also old postcards, for example.
Several popular options:
From colored paper … Prepare thick material - 120 g / m22… Cut 12 strips from it (you can make straight or with uneven edges using curly scissors) having a size of 1, 5 by 10 cm. Fix the blanks with pins, keeping a distance of 10 mm from the edge. Straighten the strips and make a sphere, attach a ribbon to its base to hang a paper ball on the Christmas tree for the New Year.
Corrugated paper … This method allows you to make a beautiful pom-pom ball. Make 2 blanks, cutting off 5 cm from the edge several times. The interval between the stripes is 1 cm, do not cut to the base 1, 5 cm. Dissolve one workpiece and glue it with a "flower" in a circle. Repeat the same steps with the second workpiece and connect them together using glue. Decorate the place of fixation with a loop in the form of a ribbon.
Double-sided colored paper … Cut 8 circles that are the same diameter and fold each in four. You will also need another additional circle, but of a smaller size, to the center of which you need to glue all the blanks with corners - 4 pieces each. from each side. Unfold each fold and secure at the joint using glue between each other. Don't forget to attach the ribbon to hang the Christmas ball for New Years.
Advice! You will get cute products if you use old postcards as the main material. You can also decorate the craft using weaving from paper or paper cuttings - various figures made with a curly hole punch.
Christmas balls from napkins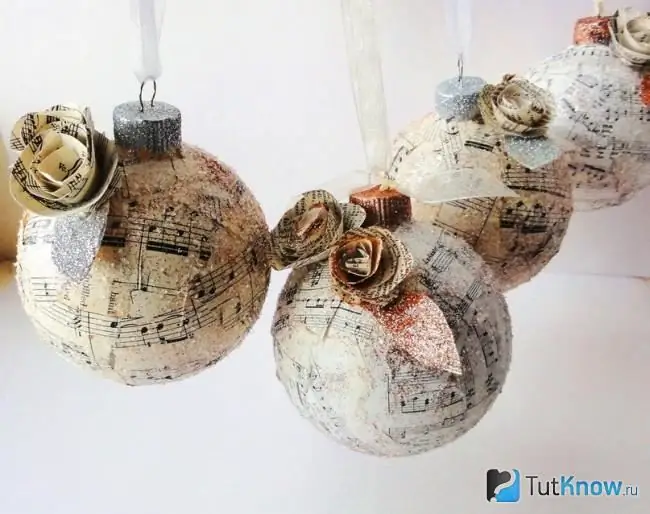 Another idea of how to make a New Year's ball is using decoupage technique. To do this, you will need three-layer napkins or thin paper. They are glued to the base, which are foam, plastic or wooden blanks, and then the surface is painted with a brush - a unique hand-painted painting is obtained. You can also initially choose napkins with New Year or Christmas motives.
How to make a Christmas ball with your own hands:
If you use an old Christmas tree toy for decoupage, then you must first prepare it: remove the fasteners with wire, clean from sparkles and rhinestones using sandpaper, wash off the paint with nail polish remover, rinse with water.
Next, the work surface must be primed with PVA glue (5 ml) and white acrylic paint (30 ml), mixed together. Wait for the applied layer to dry and do a second.
Glue to the base using 1 to 1 PVA diluted with water, napkins with the selected pattern, cutting them slightly so that the picture can repeat the shape of the ball, and wrinkles do not form. Take care not to tear the fragile material.
Decorate the craft with sparkles and rhinestones. With their help, by the way, you can hide the roughness and unevenness that formed when fixing the napkins.
When the New Year's ball for 2020 is ready, cover it with a glossy varnish.
Christmas balls made of fabric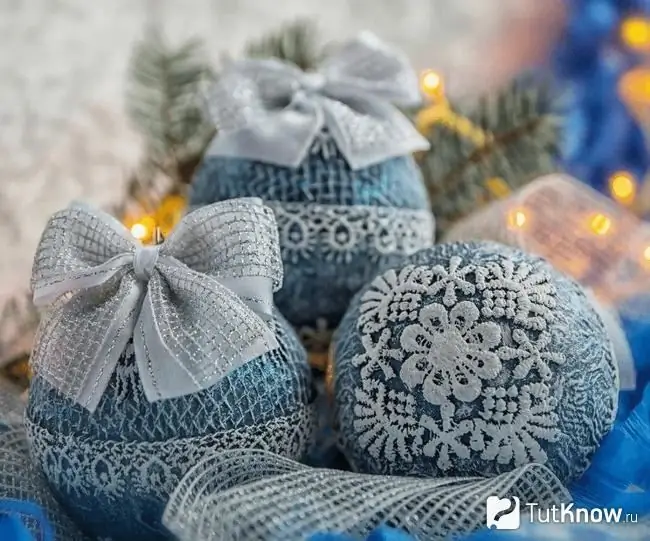 In the closet of every girl there will certainly be an old blouse that has not been worn for a long time. Perhaps there is a model with rhinestones out of fashion, but nevertheless bright and shining. Do not rush to throw it away. Such a little thing can serve as an excellent material for making beautiful Christmas balls.
How to make a toy:
Cut the fabric into long strips approximately 1 cm wide.
Stretch each piece until the edges curl.
Cut a 10 x 20 cm base out of cardboard and wrap strips of fabric around it.
Connect them using a thread from each side in the center.
After fixing the blanks, pull out the cardboard and cut the formed loops.
Fluff up the craft.
Attach a ribbon in the form of a loop to the Christmas ball on the tree.
Note! Instead of cardboard, you can take a foam or plastic blank as a base. Also, a sock filled with rags can serve as its capacity, the main thing is to get a tightly stuffed bun.
To decorate Christmas balls, you can use fabric of different colors, cutting it into rectangular patches, you can also make shaggy crafts using fabric ruffles. Buttons, beads, rhinestones, sequins, ribbons, braid will help to create appliques for a winter theme. Another trend in decorating Christmas tree decorations is embroidery decor.
Christmas balls made of threads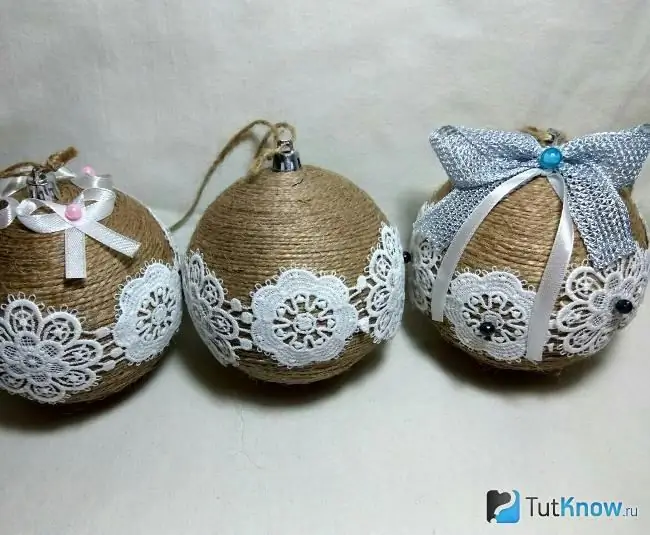 Such crafts are very effective, and their use in home decor and as a lampshade is endless. Using several balls of thread, you can make a snowman or a bird.
To make toys, prepare threads, which contain a large percentage of natural fibers, so they can be well saturated with glue. You can use yarn of any color. If desired, the material can be painted.
How to make an openwork Christmas ball from threads:
Prepare PVA: if you have a very thick glue, you need to dilute it with water until you get a state of thick sour cream. The recommended proportion is 3 to 1.
Next, you need to inflate the balloon to the expected size of the toy, give it a round shape and tie it with a thread.
Sew thread lengths of about 1 m.
Soak them in PVA glue for about 5 minutes. Also for this purpose, you can use a paste prepared on the basis of starch, or sugar syrup.
Spread the cream on the ball.
Wrap the ball with threads according to the "cobweb" principle, it should resemble a cocoon. The free areas should not exceed 1 cm. If you cannot wind the yarn impregnated with glue, you can take a dry one and then soak it using a brush or sponge.
Set the product aside and wait for the glue to dry, but at least 12-14 hours.
After the specified time, carefully deflate the ball and remove it from the thread lampshade.
Attach the fastening tape to the ball.
Now you can decorate the craft using glitters, multi-colored paper cuts, sequins, beads, tinsel, stars.
Openwork balls made of threads for the New Year can be painted using paint from a balloon or acrylic. But watercolors and gouache can ruin the product.
Following these instructions, make a New Year's ball out of lace. It can be dyed if desired to give it a vintage look. A ribbon made of organza goes well with lace.
Helpful advice! Use copper wire instead of yarn and lace to decorate Christmas toys.
Christmas balls made of satin ribbons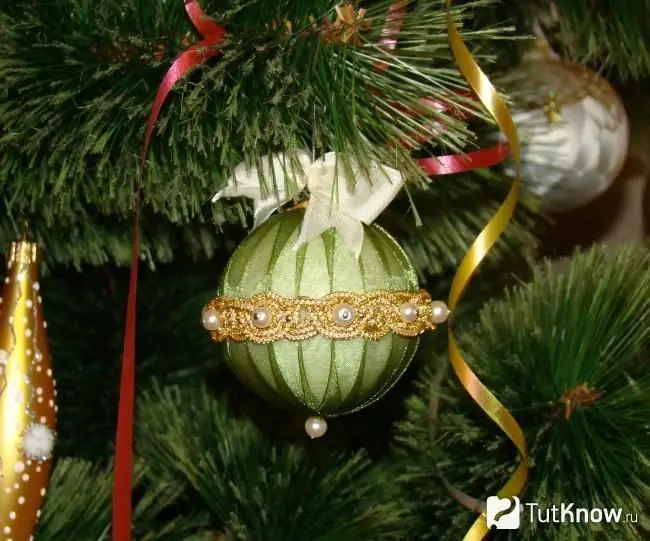 Another type of Christmas balls is made using the artichoke technique. Individual parts, according to the method of making the craft, are sewn and glued to each other, as a result, the finished product resembles an artichoke fruit, hence the name of the technique.
A method of making a ball for the New Year with your own hands:
Prepare the base for the craft: usually a foam blank or a plastic ball is used for this.
Cut the strips into strips of medium thickness, for example 2.5 x 6 cm.
Also, cut out the square to be pinned onto the ball using a needle.
Roll the prepared strip into a small triangle and attach to the square. Make the first rad and fasten each triangle tightly.
Make the next row, adhering to the checkerboard pattern. For a more dramatic balloon look, alternate different colored ribbons.
Fill in the entire surface and tie a thin satin ribbon to the craft for attaching to the tree.
Note! From satin ribbons, you can make various geometric patterns and monograms on the New Year's ball.
Christmas balls made of beads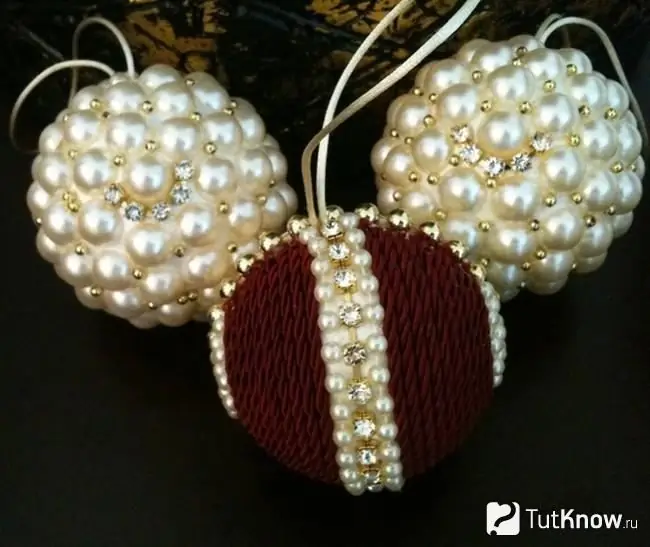 Another version of the original Christmas balls. Foam spheres act as a blank for decoration. Also prepare pins - sewing needles with hats like on studs, a ribbon and the beads themselves.
How to make a balloon for the New Year:
Prepare beads of the same size. This way you fill the base as tightly as possible and avoid the formation of empty spaces. It is better to use beads of the same color.
Take a pin and put a bead on it.
Attach the pin to the base, which is the foam sphere in this case. Such actions must be performed until you fill the entire sphere.
It remains only to attach the loop in the form of a loop, which is needed to hang the ball.
Note! Instead of a foam base, plastic balls are suitable for making a Christmas ball on a Christmas tree. But in this case, not pins are used for fastening, but hot melt glue.
Button Christmas balls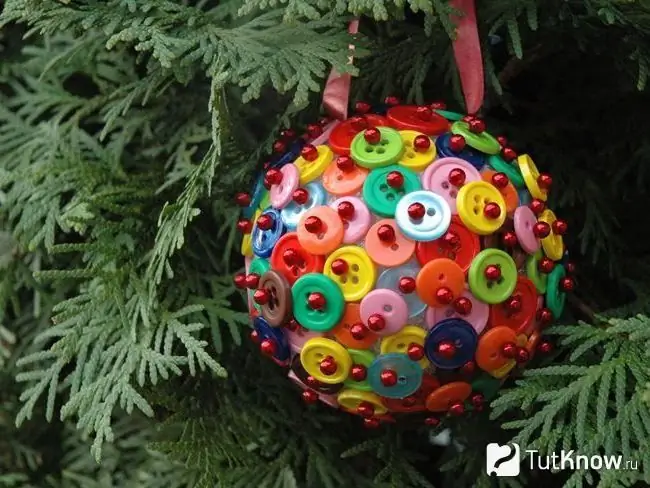 For the manufacture of Christmas tree balls, old unnecessary buttons with through and hidden fastening will fit. You can use multi-colored products, because if you wish, you can always repaint them. Gold, silver and bronze shades, metallic spraying look the most effective.
Method of making balloons for the New Year 2020:
Prepare a foam or plastic craft blank.
Attach to the base of the button using hot melt glue until you have covered the entire surface.
Attach the ribbon to hang the Christmas ball.
Advice! When decorating a Christmas tree, make sure that too many colorful balls are not concentrated in one place, "dilute" them with other toys.
Useful tips for making Christmas toys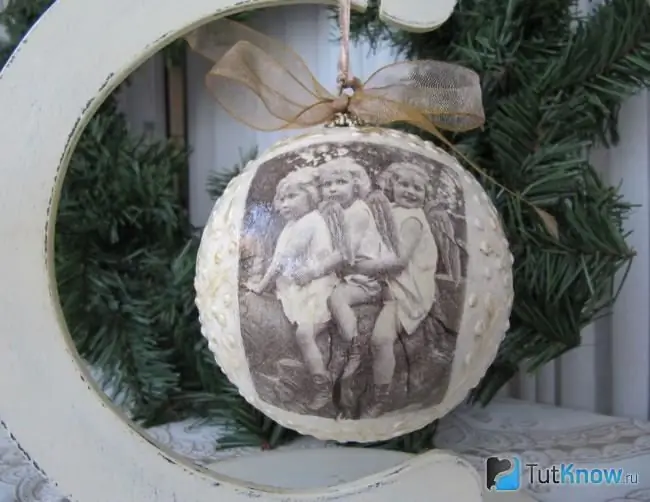 Foamiran is considered a good material for Christmas tree decorations, from which hairpins and headbands are traditionally made. In fact, this is a foam rubber that looks like suede, which is able to change shape when heated. The material is easy to cut, and there is no need to process the edge. Therefore, making Christmas balls from foamiran is not difficult. For crafts, they use colored material and decorate it with small beads. You can also buy glitter foamiran.
You can make a big Christmas ball using a floral sponge. Cut out a blank from it, in the shape of a sphere, on which you want to attach the decor. Wire pins are used to fix it. Take spruce branches and small toys as decorations.
Make an original Styrofoam Christmas ball that looks like a cake. Cut out a blank in the shape of a sphere, coat with glue and roll in sparkles. A fake cherry and a "skirt" will act as a decor. Remember to attach the tape to hang the toy.
How else to decorate Christmas balls:
Sequins … Wind the sequin tape around the circumference of the garment. You will need hot melt glue to fix it. For a more striking effect, use a decor in different colors.
Felt cuttings … Make various New Year and Christmas-themed figurines and attach to the balls using a heat gun.
Old jewelry … Unnecessary brooches, necklaces and earrings, which are not planned to be worn, in combination with other decor will give a special chic to toys.
Unusual filled balls look spectacular. To make them, you will need transparent plastic Christmas tree decorations. Open the holder and pour confetti, pieces of tinsel, colored cotton wool inside. By analogy, make a New Year's ball with beads.
You can also pour paint that has a different color inside the transparent ball. Shake the toy a little and its interior will be miraculously colored and unique. Such a toy can be filled with some kind of decor, however, after the walls are dry.
To make a Christmas ball with a photo, roll the picture into a tube, focusing on the diameter of the toy, place it inside and straighten it.
How to make Christmas balls - watch the video:
Having made Christmas balls, you can decorate any corner of the house with them. Such toys perfectly complement hand-made candlesticks, compositions from coniferous branches, Christmas wreaths. And if you combine them with a garland of light, you get an interesting effect.