An autumn wedding is a great option for romantics. We offer ideas for decorating a celebration, making wedding arches, recommendations for creating images of the bride and groom, ideas for a sweet table.
If you decided to get married after the summer, you did the right thing. Indeed, at this time of the year there is no sweltering heat, and the air is clean and fresh. An autumn wedding will show the beauty of this time of year, which will perfectly fit into your unforgettable celebration.
Autumn wedding - hall decoration
This is the most fertile time of the year. After all, the main harvest ripens by autumn. Use vegetables and fruits of this period to decorate the table and the festive area.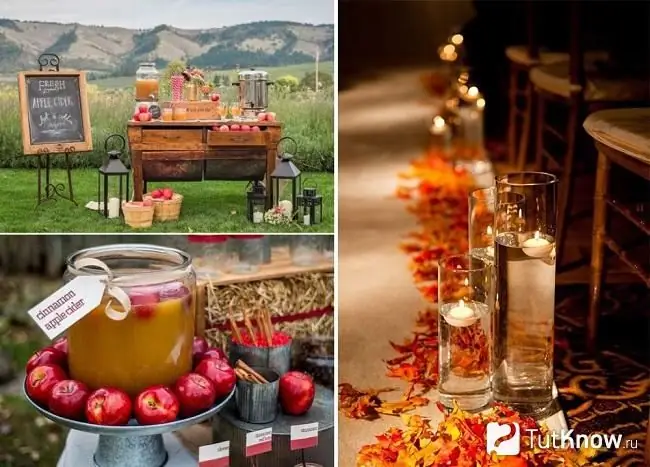 Golden autumn, of course? it's time for apples. You can make natural juice out of them and serve it to your guests. Put these fruits in baskets, boxes, vases, and fruit molds to decorate your fall wedding.
Also, stock up on leaves in advance to decorate this celebration with them. This time of year, the wedding will be inexpensive, as most of the attributes can be found almost under your feet. There are now many abandoned orchards where you can pick apples. And the leaves, painted in autumn, are literally underfoot. They can be used to make not only excellent decorations, but also invitations to a wedding.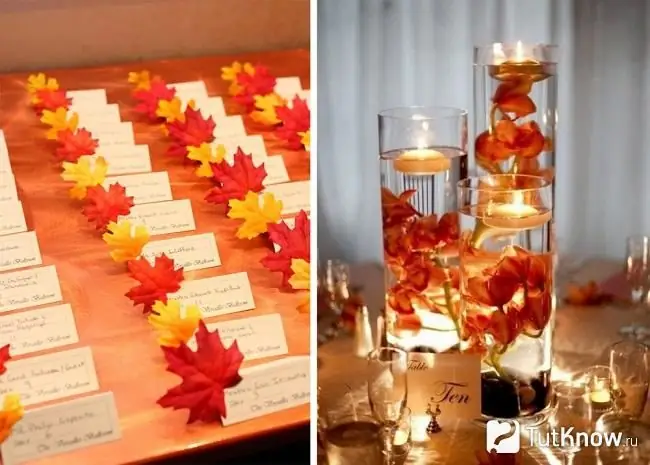 To do this, it is enough to take sheets of thick paper, write or print a message on them to the addressee, bandage, folding this postcard, and glue a piece of paper to each.
But the autumn leaves of trees do not need to be dried, otherwise they will break and crumble on such cards. Take fresh, fallen, or straight from the tree.
Use these attributes as well when styling your menu. When you have an autumn wedding planned, then print the menu directly on thick white paper. Put it on a larger burgundy.
Make bouquets of maple leaves, acorns, autumn berries. Attach these boutonnieres to the menu.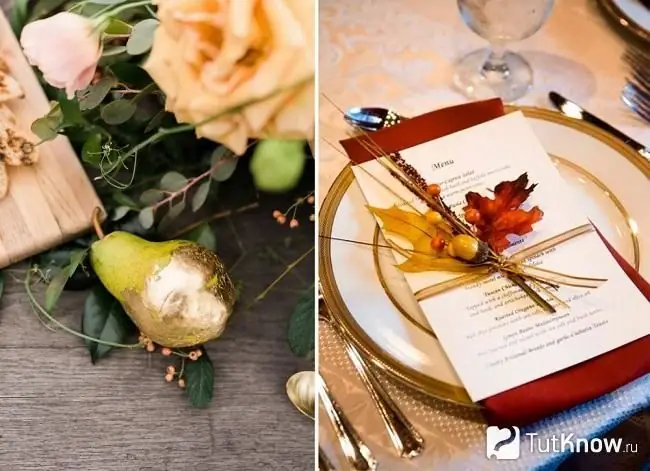 Here on the tables you can place pears wrapped in foil. Create romantic arrangements of autumn flowers, some are in transparent containers of water. On top, you will place the floating candles.
Don't forget about pumpkins, when thinking about an autumn wedding, what kind of decoration needs to be done? You can spread them everywhere if you intend to celebrate outdoors or in the country.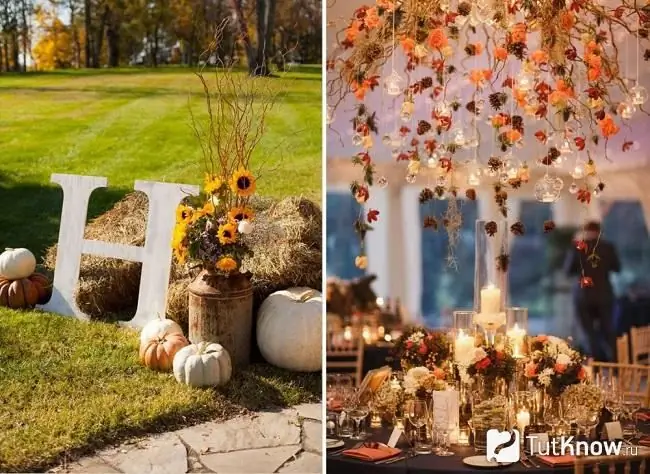 Place the pumpkins in a photo zone, place them near the tables. And on the tables, place compositions from orange flowers, from spruce, pine cones, from hop cones. These elements need to be strung on a thread and collected in such bouquets. Small ones you place on tables, larger ones hang over them.
You will have a free decoration for an autumn wedding if you pick a few spikelets in a nearby field, and take pretty grass in a clearing. Then tie these bundles up and place them directly on the tables.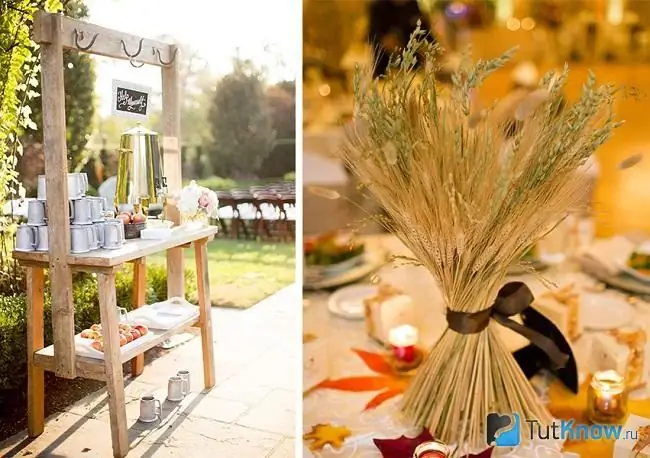 Take a few twigs with leaves, tie them and attach them at the table of the young to get such a composition. And on the tables, bouquets of red and yellow plants with green twigs will be appropriate.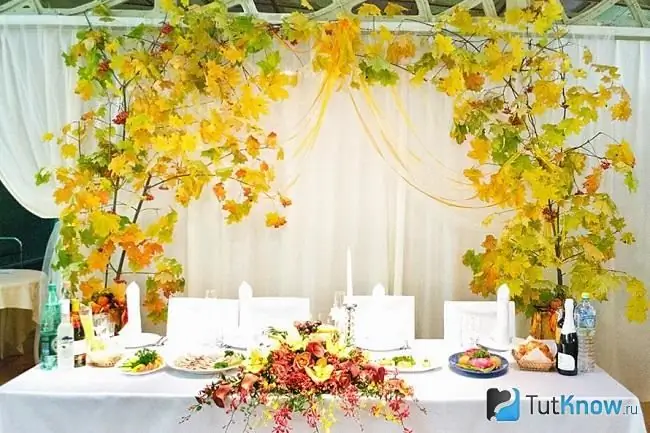 Use physalis to decorate your fall wedding. Its bright orange boxes will look wonderful against the background of yellow and green autumn leaves. Place some small decorative pumpkins here. Place candles between these garlands.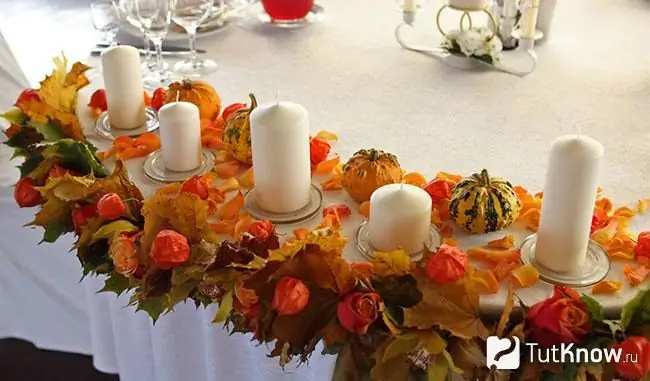 If you have miniature decorative pumpkins, then place them in a transparent jar to decorate your fall wedding. You can not use tablecloths, but take a wooden table and put decor items, cutlery directly on it.
Decorate it with armfuls of autumn leaves. To prevent them from scattering, first tie them into bouquets, and then place them on the tables, as in the upper left photo. Flowers of autumn colors can be laid out directly on the plates.
And so that each guest knows where a place has been prepared for him, take an apple each, tie here leaves cut out of cardboard, on which the name of a particular person will be written.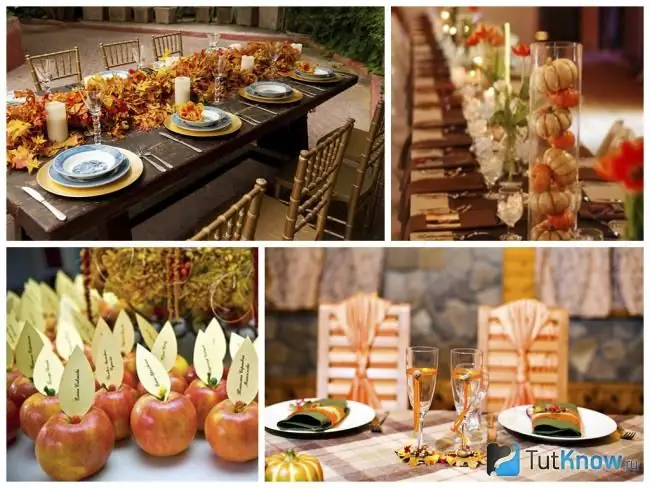 When decorating chairs, napkins, also use bright autumn colors.
You can take a cut of trees to decorate a corner. Here you will place jam in transparent jars of yellow and orange colors, which is made from pumpkin, oranges or apples. Place an open planter of treats here so guests can feast on at any time.
To decorate a bottle of champagne for an fall wedding style, you can decorate one with an orange satin ribbon. This will be a type of the groom. In this case, the bride can be in a classic white dress. Then decorate the second bottle with a satin ribbon of this color.
If you are celebrating outdoors or indoors, install a plywood tree here. Cut out its components and fasten them vertically.
Paint this tree white, then attach maple leaves here, cut from orange and yellow thick paper or cardboard.
And hang a wreath of autumn plants on the gate. Place several bouquets nearby and place pumpkins.
Provide backlighting. If you are celebrating in nature, then place an LED or electric garland directly on the branches of the trees. But do not use bulbs that are too powerful to avoid a fire. The same applies to the lights that will adorn the path leading to the wedding arch.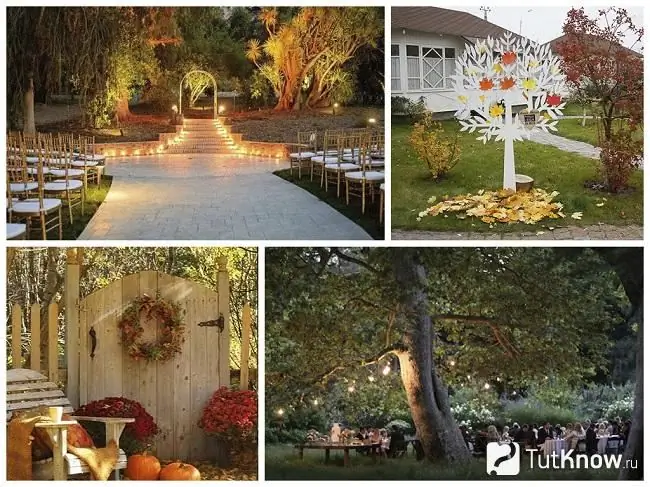 For a very creative bride and groom, we recommend combining an autumn wedding with Halloween. Such a make-up will be appropriate for them.
A husband can wear a classic suit, but a wife? black leather corset and white skirt or stay in a classic white dress. Then orange corsets, bouquets of the same color, black long skirts and short dark bolero vests with long sleeves will be appropriate for the bridesmaids.
In the same colors you decorate the table. Put a dark napkin for each person, place an artificial or decorative pumpkin on top, on the tip of which an invitation for a specific person is tied.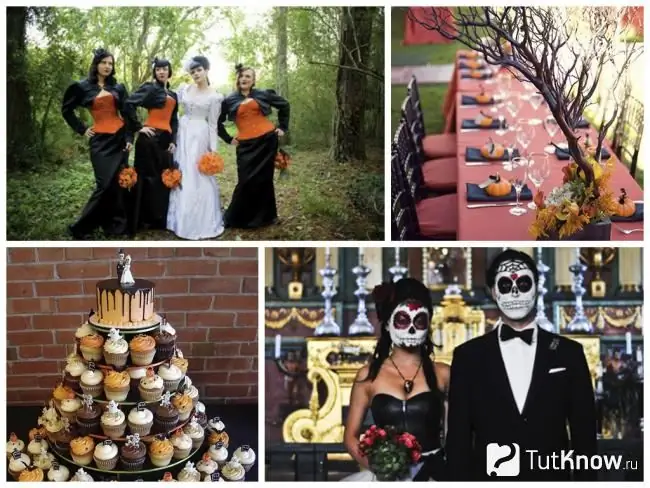 How to make an arch with your own hands for an autumn wedding - decor ideas
Western traditions have come to us. Now, at the exit registration, the bride and groom stand near the arch, which symbolizes the entrance to a new life. You can do it yourself. And for this, use logs, beams, overgrown trunks.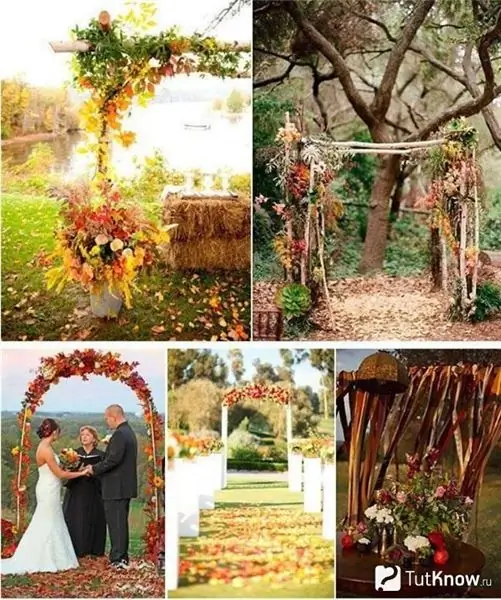 If you have beams, logs available, then dig a depression in the ground, put rubble, sand inside, pour a little water and tamp. But here in this recess there should be enough space to insert the end of the wooden beam 50 cm.
Then cover the hole with this material, that is, rubble and sand. Pour water again, tamp well.
In order for the arch bars to be fixed more firmly, it is better to additionally pour a cement mixture into the prepared hole.
When the solution hardens, beat a log or a similar bar on top of these two bars.
Decorate this arch with branches with autumn leaves. Nearby, you can put a hay head. Place bouquets in yellow and orange colors in the flowerpots in front. An example of such an arch in the upper left photo. And on the upper right, an even simpler version is made. It only needs the trunks of young trees. It is best to use unnecessary growth for this.
Remove the branches, dig in four trunks opposite each other in pairs. You can take 6. Then fill on top of each pair with one more lag. You will have a spacious square arch. Also decorate it with autumn plants.
If you like the classic version, then use a metal arch, the ends of which are stuck in the soil. It is also decorated with autumn flowers and leaves on branches.
To make a different kind of wedding arch, you will need a metal or wood base for it and regular curtains in red, yellow or orange. After all, this color is inherent in autumn.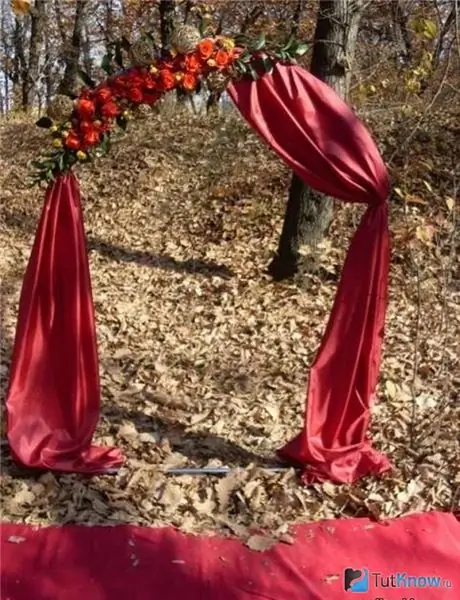 And if you do not have the opportunity to make an arch, then you can simply use low beams. Place them at a sufficient width from each other, place a composition of greenery on top, decorate the arch with climbing plants or twigs with leaves.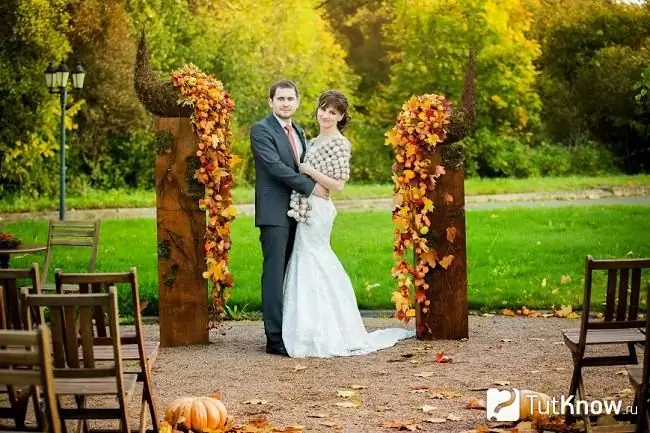 The path leading to the arch can also be decorated with leaves. To do this, lay a white linen, put leaves here.
You can make a simple border for the newlyweds' path using pumpkins. Lay them even on the steps of folding stairs to decorate your wedding with your own hands cost-effectively and beautifully.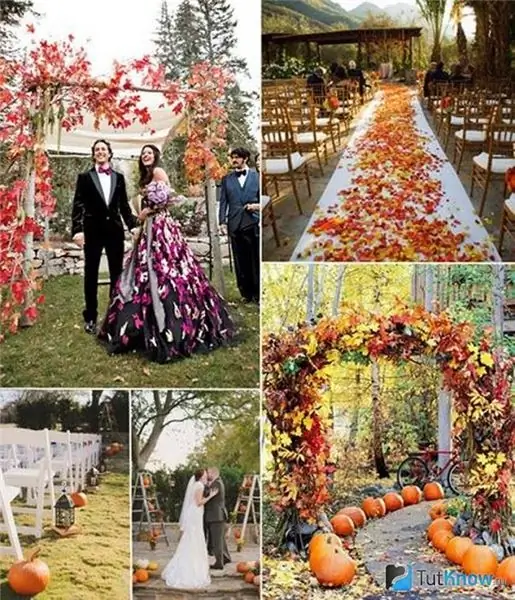 If you wish, the arch will resemble a bride's wedding veil. To do this, attach a light white cloth to the base. Secure the fall flowers on top to achieve this effect.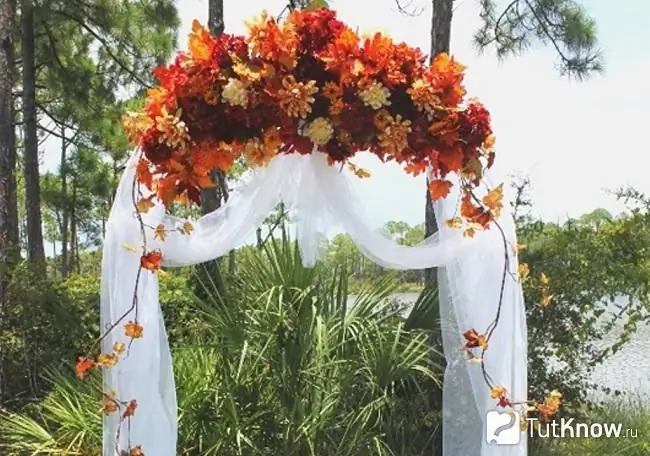 If you're celebrating outdoors, then you might have a rustic fall wedding. Then a wedding arch would be appropriate, this massive one, made of logs. You can simply decorate it with branches and attach several flowers here.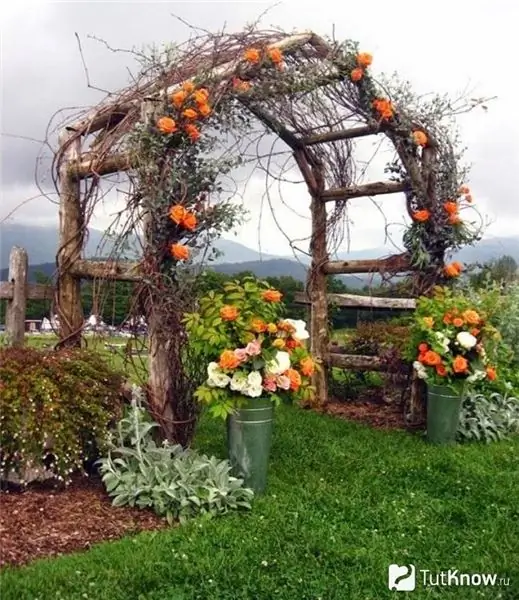 You can make a wedding arch from scrap materials. Use doors if you don't have a different foundation. Secure them by placing the beams at the back. Also connect with a bar at the top. On top you will put candles, apples, lanterns, candelabra. Also, twigs or varietal grapes and other climbing plants will be appropriate here.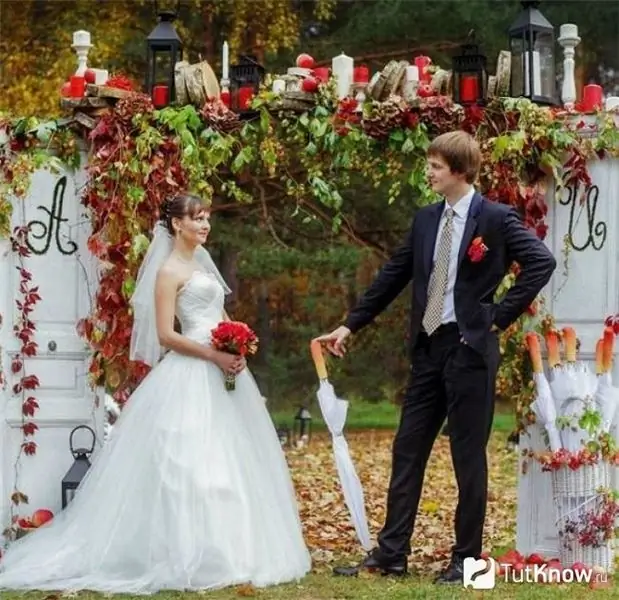 If you decide to celebrate this event indoors, then you can also decorate the space near the door so that it looks like an arch. Here you can hang branches with leaves so that they resemble a rectangle or semicircle.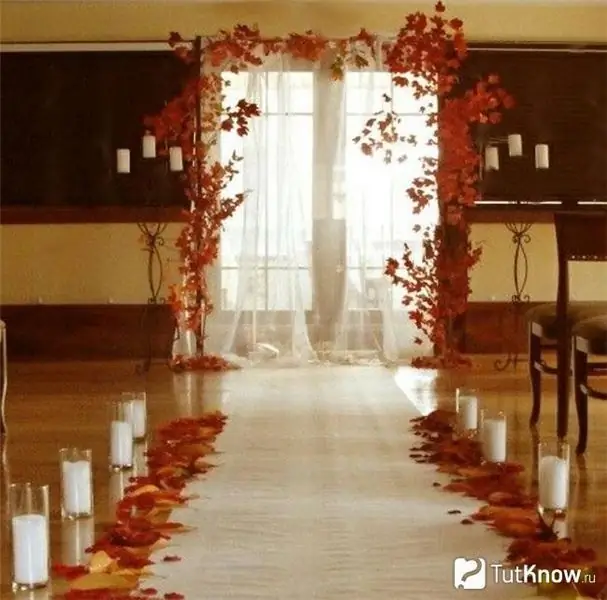 If you have fluffy grass growing nearby, then attach it, turning these spikelets over, to the wedding arch. Do not forget to fix the bouquets of flowers upstairs to make it look more picturesque.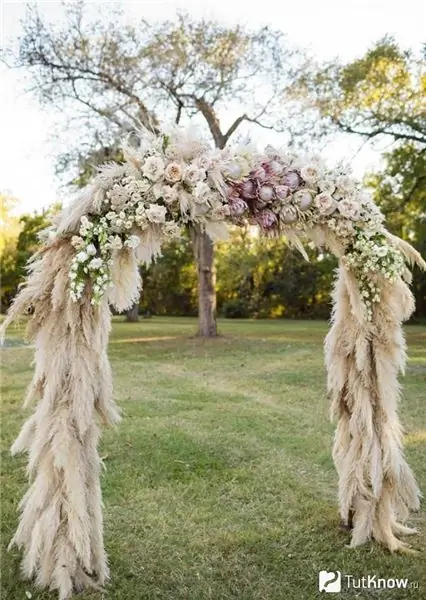 The image of the bride and groom for a wedding in autumn style
When choosing outfits, pay attention not only to the desired beautiful appearance, but also to the weather. Since this is an autumn wedding, the breeze can blow at any moment, it will become cool. The bride can wear a classic white dress, a jacket in the color of autumn will also be appropriate here. On the right left photo you can see how the girl's blouse is in perfect harmony with the groom's pullover. Therefore, when choosing outfits for the bride and groom, pay attention to the fact that they are combined. In the top right photo, the young people decided to choose light-colored robes. The groom has a beautiful light gray jacket, and the bride's dress is decorated with puffed sleeves.
The following images of the young ones also blend beautifully. The bottom right photo shows how the girl's blouse and the groom's suit are in harmony. The bride can look like a real princess in a light orange dress. Against her background, the groom will look wonderful in a classic black suit with a tie.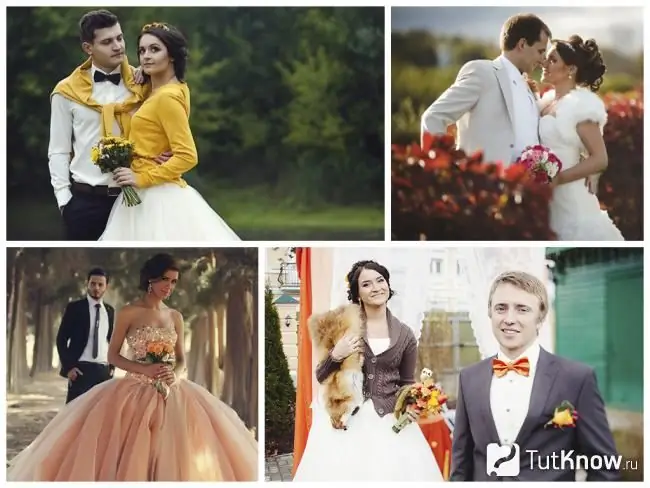 Here's what else the image of the bride and groom can be for an autumn wedding.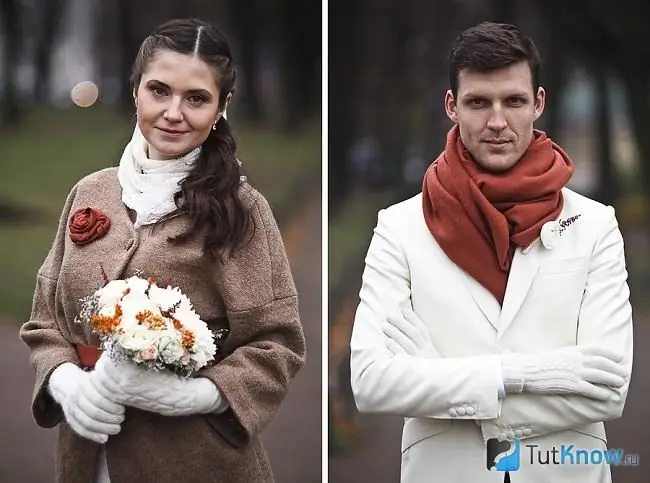 This young couple will not freeze even on a cold autumn day. See how wonderful they are wearing light colored gloves. And the bride's white scarf and the groom's light suit are as great as a girl's jewelry and belt with her lover's scarf. The image is completed by a bunch of beauty.
If you have to go out into the countryside, but it's damp here, then creative couples can wear rubber boots, even those bright ones, in the color of autumn.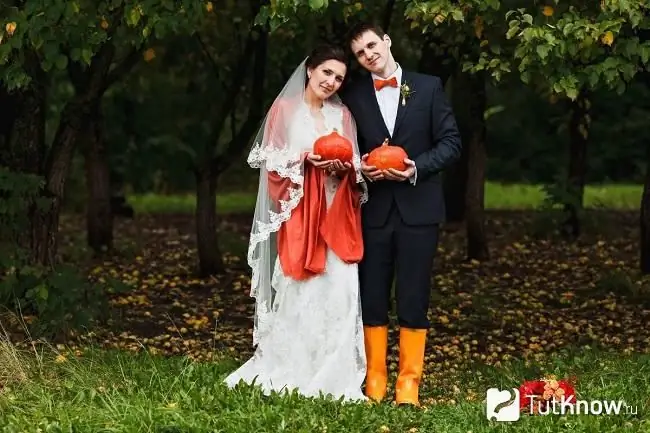 Moreover, such shoes will be appropriate not only for the groom, but also for the bride.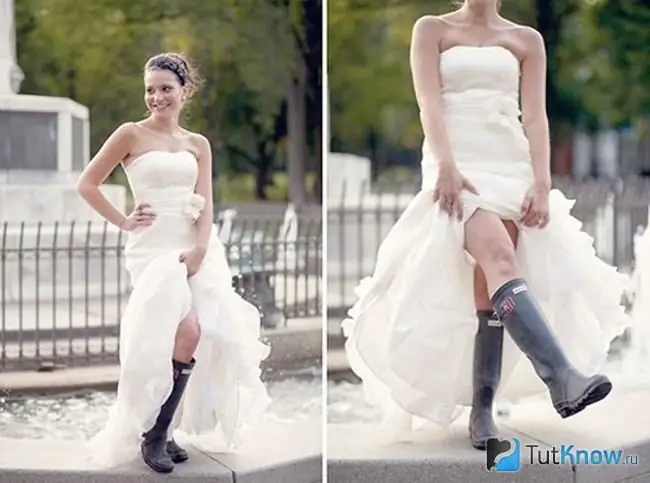 She can agree in advance with her friends to buy and wear the same ankle boots that day. They will also be warm, and such similarity will add cheerful notes to the wedding.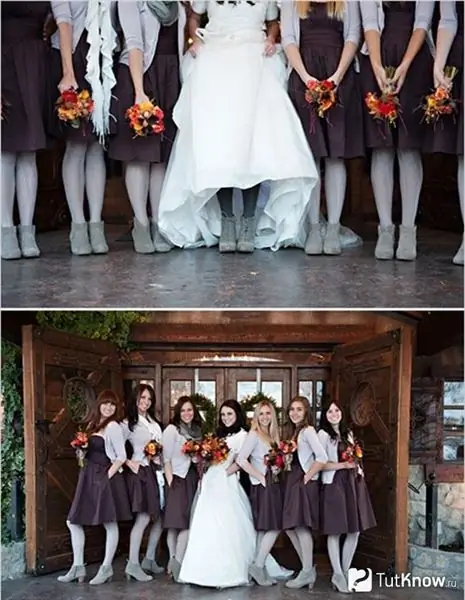 An important detail of the images is the bridal bouquet and the groom's boutonniere. See what these accessories can be.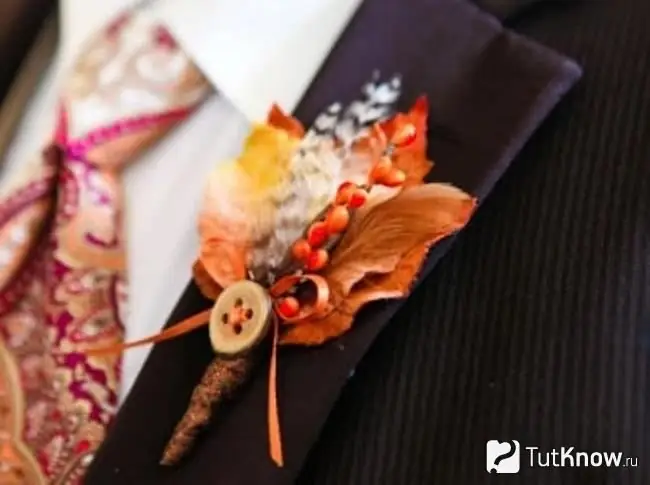 For this attribute, use autumn leaves and a feather. Put a sprig of artificial rowan here, rewind it all with a wide ribbon, then attach a button and fix it with a thin ribbon. On this day, acorns will also look great, because they ripen at this time of the year, so this boutonniere will also be very appropriate for an autumn wedding. Fasten the acorns to the wire, fix a few feathers and artificial twigs in the back. And rewind the bottom of the boutonniere with a thread, at the same time attaching a pin here.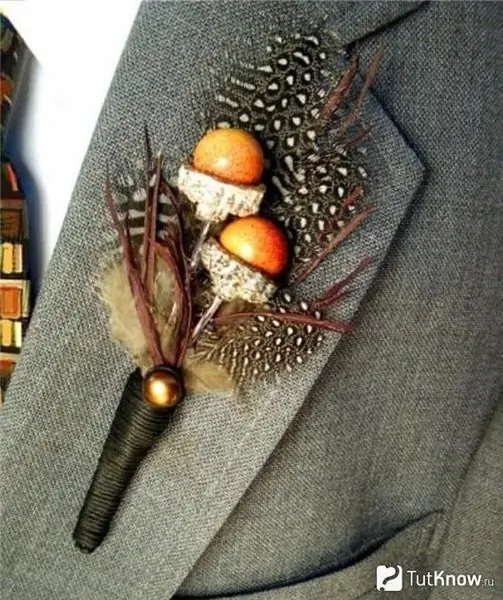 Let the groom once again remind the audience of his love for his young wife, that he gives her the keys to his heart. To do this, you need to fix a beautiful key on the flower boutonniere and attach a pin here to fasten this attribute to your jacket.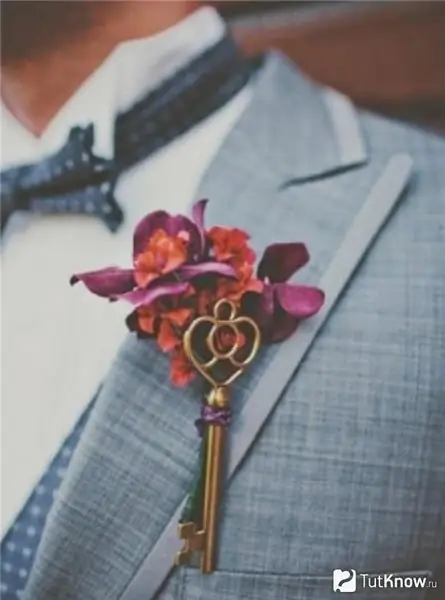 The next master class will show you how to make a bridal bouquet. You can make any of the presented ones.
How to make an autumn bouquet - a master class and a photo
If you need to make a small bunch, then take:
thin wire;
cones;
teip tape;
autumn flowers;
rose hips with branches;
leaflets;
suitable tools.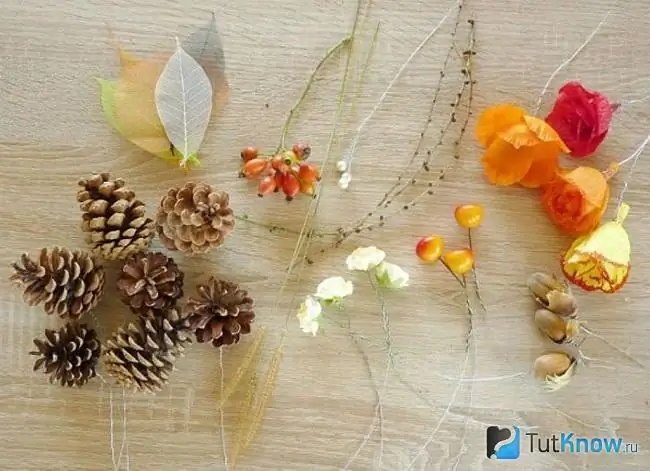 Run the wire behind the scales of the pine cones and secure each in this way.
The wire should have a rather impressive tip, so that later a kind of stem will turn out from it.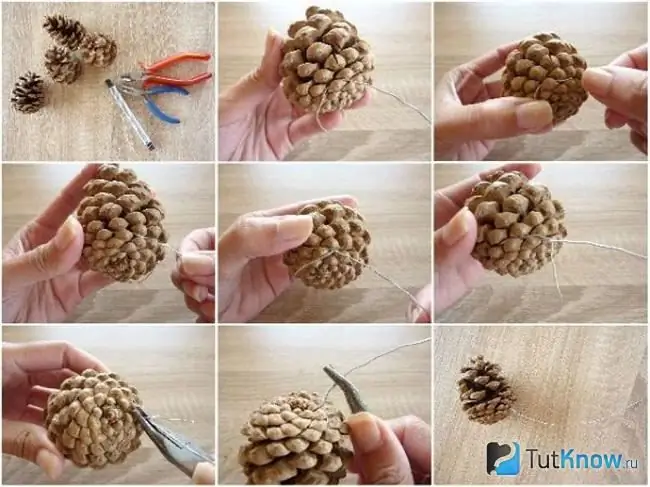 Now take three such cones with wire and fasten them with tape. Attach the selected flowers, leaves, rose hips along with branches here. You can also place acorns on the stems. And in order for the acorn cap to sit firmly on them, you can additionally glue these elements.

Make taffeta flowers and add them to this bouquet. Tie it all up with a beautiful ribbon, wrap the bouquet, after which it is ready.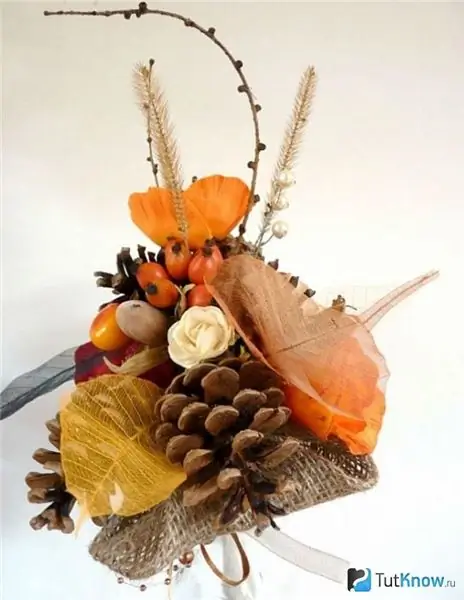 You can also make an autumn bridal bouquet from maple leaves. Find beautiful ones with long stems. And in the center, place the branches of mountain ash, rose hips or other autumn berries. Don't forget to put flowers here as well.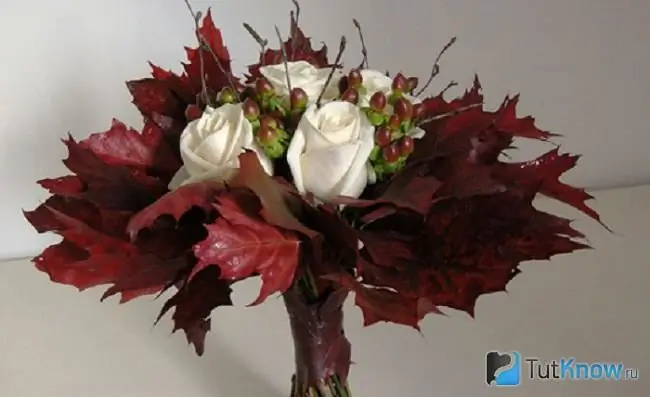 If you roll up maple leaves, then they will turn into roses. You will also make a bridal bouquet from them, and put a few maple leaves around these adorable creatures.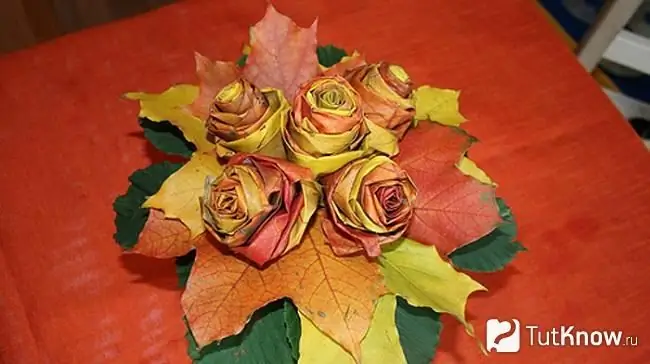 Another autumn bridal bouquet can consist of:
rowan;
branches of acacia;
maple leaves;
apples.
You string apples on wooden skewers. Place the rest of the small components in between, and outside with bright maple leaves. Tie up this masterpiece with tape.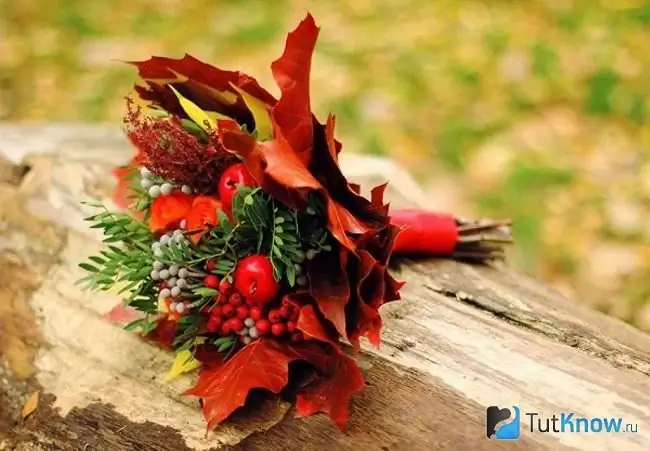 Even a small pumpkin can be used for the bride's bouquet. Put chrysanthemums here, orange ranunculus, place a sprig of chamomile, hydrangea
Hydrangea symbolizes respect and dedication. Ranunculus do not fade for a long time, there are orange shades, so they are used for autumn bouquets.
Use beautiful cereals in your compositions. These can be wild-growing grasses or ears. Small flowers will look great among them.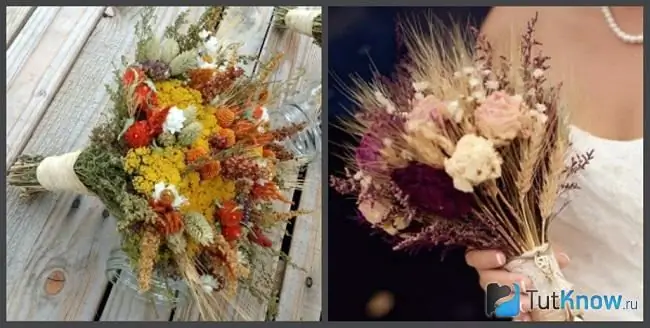 Also, for the autumn bouquet of the bride, you can advise the use of branches of mountain ash, viburnum, black elderberry. These berries ripen by autumn. Among such a composition, gerberas of red shades and roses look beautiful. Other bouquet may also include roses, calla lilies, echinacea. Decorate these compositions with amaranth brushes.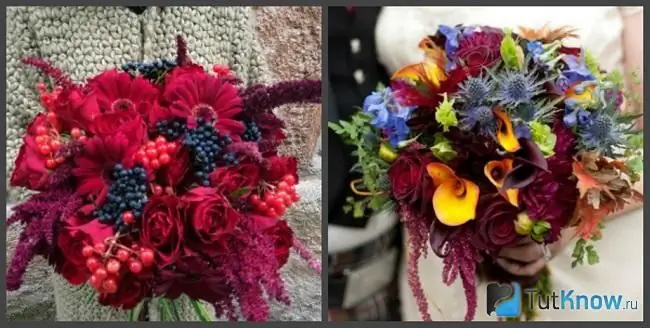 Wedding cake for a sweet table for an autumn wedding
The cake is also made on this theme. Since a fall wedding should have yellow and orange colors, use them for this sweet main course. You can decorate it with dried slices of oranges, decorate it up with leaves, flowers. To make it all edible, make the leaves from marzipan mass or sweet mastic.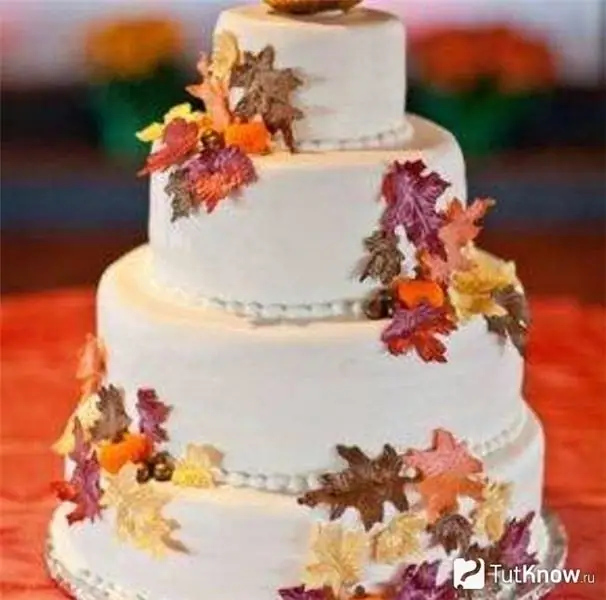 You can put a large edible flower on top of this masterpiece or decorate the tiered white cake with small edible pumpkins. If the husband and wife represent two birds, then make figurines and attach them to the top of the birthday cake.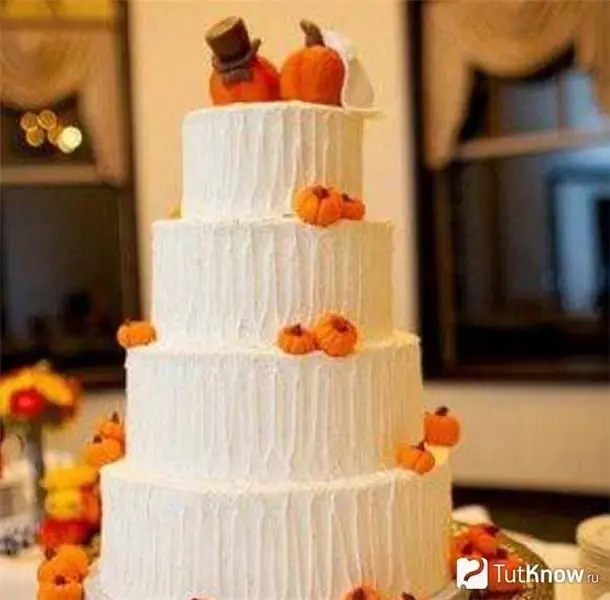 For a sweet table with your own hands, you can make sweets with wishes. To do this, write good wishes on small thick pieces of paper. Place each one under the candy. Place these blanks on rectangles of red and orange cloth. Tie with strings. Guests will take sweets, eat them with pleasure and see what wishes they have.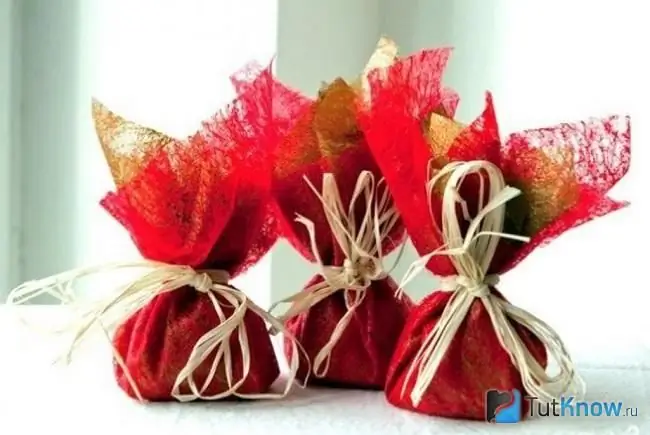 Candy swans will also look charming on the table.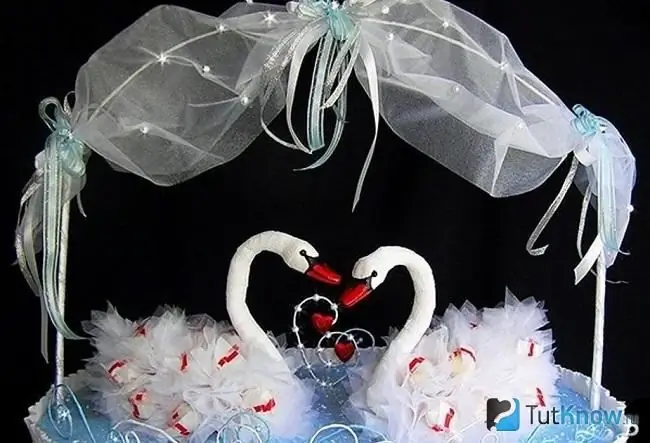 To do this, you first need to make a head blank from thick foam, paint it.

Make two of these for two swans. Make the neck of these birds from a flexible pipe. You can take a corrugated one. She bends well. Make a hole at the bottom of the head, Insert here the neck, which you wrap with padding polyester to make it softer.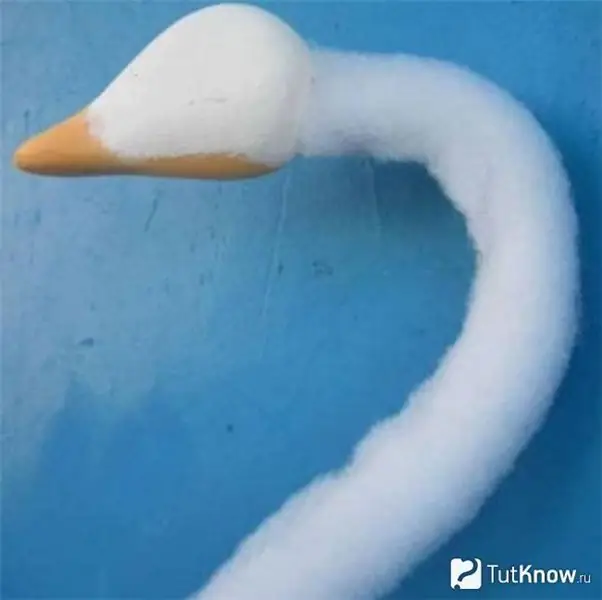 You can make the body out of foam rubber. Cut it to fit this workpiece. Then start inserting Raffaello candies here, which are previously wrapped in tulle and attached to each with a toothpick tape. Also make some flowers from this material and stick them between the candies. Wrap a white satin ribbon around the swan's neck. Finally, you can paint it. All that remains is to install the swans and go to celebrate the autumn wedding.
This is how you can celebrate this holiday by making the necessary attributes with your own hands. See how romantic an autumn wedding looks.
In the first plot, you are waiting for design ideas, for holding an autumn wedding.
In the second video, you will learn how you can use autumn and fruits such as apples throughout this celebration.
In conclusion, listen to the song of the same name by Alexander Serov. Perhaps she will help you fall in love with this time of year, and you will want to celebrate your wedding in the fall.