TOP 4 recipes with a photo of cooking lean borscht. Secrets of cooking the first course at home. Video recipes.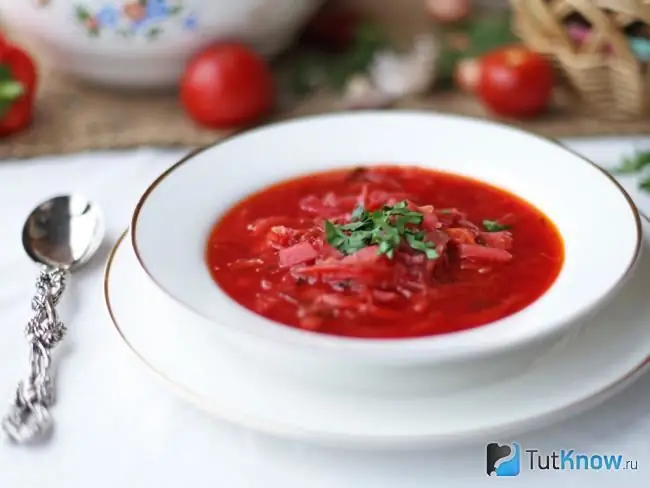 Many people think that lean borscht is neither tasty nor nutritious. However, this first dish turns out to be fragrant, rich, thick and very healthy. At the same time, special skills are not required for cooking delicious lean borscht. The process of making it is not complicated, especially when all the ingredients are at hand. This material offers the most popular TOP-4 recipes for lean borscht, as well as all the secrets and tips for making it with a rich taste.
Cooking secrets and tips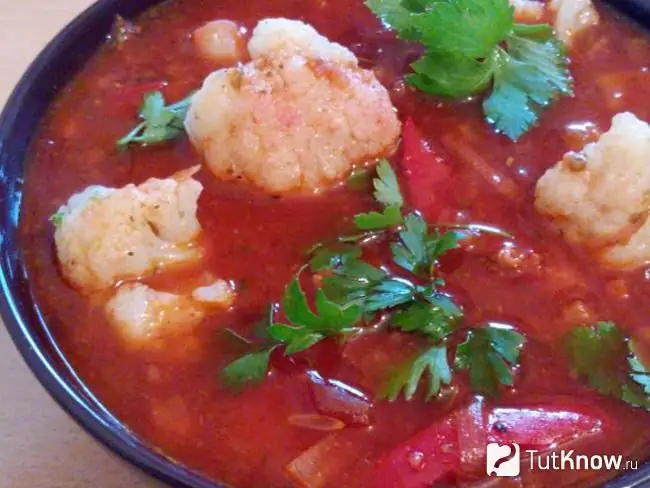 Lean borscht is prepared with mushrooms (fresh, frozen or dried), sprat, sorrel, beans. Especially popular is borscht with beans (red or white), because beans make borsch more satisfying.
The dish is cooked in water, vegetable or mushroom broth.
Borsch will be especially tasty if cooked in the oven or slow cooker.
Additional ingredients for the lean first course will add flavor and flavor. These are sweet peppers, fresh or prepared for future use tomatoes, zucchini, cabbage (fresh, white, sauerkraut) of any varieties and other vegetables. It all depends on taste and preferences.
Lean borsch with sprat in tomato sauce has an exquisite and intriguing taste.
Enhances the taste and aroma of a lean treat with herbs, spices and herbs added at the end of cooking.
It is preferable to use tomato paste for cooking at home.
Add a little sugar, a little chopped garlic and mustard to the dish. Then the dish will become a real masterpiece of the lean table.
To make the borscht red, add beet juice, and to add a sour taste, add beet kvass or whey.
What will be the lean borscht - thick or liquid - for the cook to decide. But real lean borscht is only thick, rich and rich in ingredients.
Red beets for borscht can be pre-boiled in a peel or baked in foil, or stewed. It is not recommended to put raw beets in a pot with borscht, because when boiling for more than an hour, almost all bright color will go out of it.
Lean borsch with white cabbage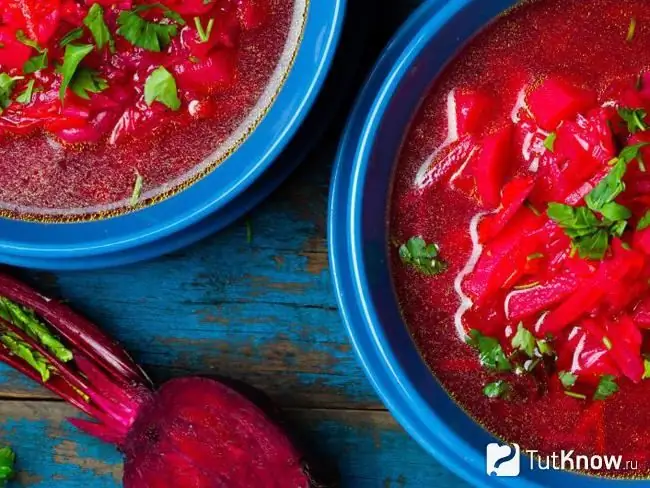 Lean borscht consists of some vegetables and seasonings, while it turns out to be very satisfying and rich in taste, with a rich color and aroma.
Caloric content per 100 g - 159 kcal.
Servings - 4
Cooking time - 1 hour
Ingredients:
Carrots - 1 pc.
Salt to taste
Bulb onions - 1 pc.
Ground black pepper - to taste
Red bell pepper - 1 pc.
Beets - 1 pc.
Tomato paste - 2-3 tablespoons
White cabbage - 1/3 part
Garlic - 4-6 cloves Lemon - 1 pc.
Tomatoes - 1 pc.
Parsley - a bunch
Potatoes - 3 pcs.
Vegetable oil - for frying
Dry adjika - 4 tsp
Cooking delicious lean borscht with white cabbage:
Peel, wash and chop all vegetables. Cut the onion into thin quarter rings, the pepper into thin strips, the garlic - into strips, the potatoes - into cubes, the tomatoes - into slices, the carrots and beets - grate on a coarse grater, the cabbage - finely chop, the parsley - chop.
Heat oil in a skillet and sauté onions, carrots and peppers. Fry vegetables over medium heat until half cooked, stirring occasionally.
Pour water into a saucepan, boil and send fried vegetables into it, and after 2 minutes add cabbage.
Fry the grated beets until cooked in vegetable oil, and add the tomato paste for 5 minutes. Stir, simmer and squeeze out the lemon juice at the end. Send it to a boiling pot.
Fry the tomatoes in a vegetable frying pan for 1-2 minutes over high heat and add to the borscht.
Add dry adjika, parsley, garlic and boil the food for 2-3 minutes.
Turn off the heat, cover the pan with a lid and leave to infuse for 30 minutes without stirring.
Lean borsch, classic recipe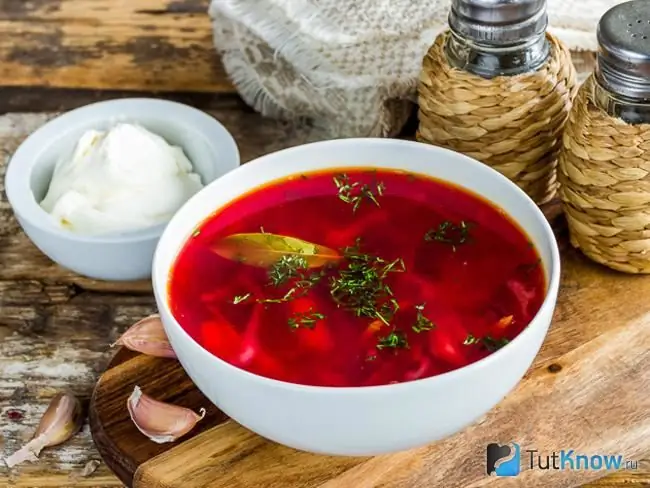 The simplest possible cooking process. Therefore, you can feed your family with delicious food in record time. And you can serve this dish with donuts and any delicious bread.
Ingredients:
Beets - 2 pcs.
Carrots - 1 pc.
Potatoes - 2 pcs.
Bulb onions - 1 pc.
Cabbage - 0.5 heads of cabbage
Tomatoes - 2 pcs.
Vegetable oil - 2 tablespoons
Sugar to taste
Table vinegar - to taste
Bay leaf - 1 pc.
Salt - 1 tablespoon
Garlic - 2 cloves
Cooking lean borscht according to the classic recipe:
Peel, wash and cut beets, carrots, potatoes and onions into thin strips.
Peel the cabbage from the top leaves and chop finely.
Scald the tomatoes with boiling water, remove the skin and cut into cubes.
Peel and crush the garlic through a press.
Boil water in a saucepan, salt and add potatoes and cabbage.
Put onions and carrots in a preheated pan with vegetable oil and fry, stirring occasionally, for 5 minutes.
Add beets, sugar and vinegar to the skillet. Stir, reduce heat to low and simmer for 10 minutes.
Then put the tomatoes in the pan, season with salt and pepper, cover and simmer for another 20 minutes.
Put the stewed vegetables in a saucepan with potatoes and cabbage, add bay leaves, garlic, boil, cover and turn off the heat immediately.
After brewing under the lid for 10 minutes, serve the lean borscht to the table.
Lean borsch with beans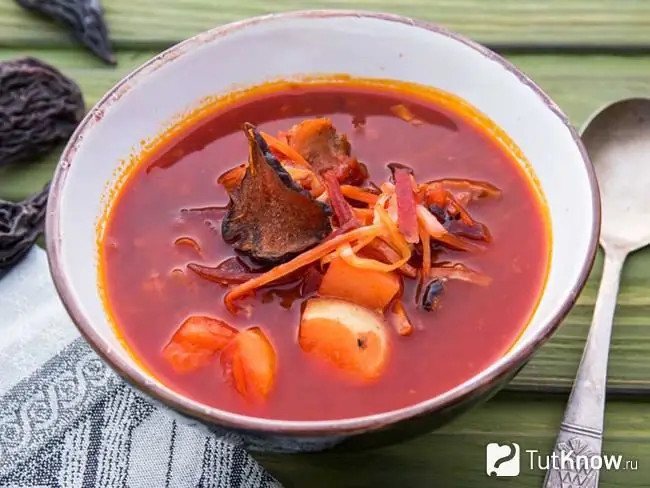 Lean borscht with beans has an amazing taste. Its taste, nutritional value and satiety are not inferior to ordinary meat borscht, despite the fact that it is lean. It turns out the dish is fragrant, rich and rich.
Ingredients:
White beans - 1 can (400 g)
Vegetable broth - 1.5 l
Boiled or baked beets - 2 pcs.
Potatoes - 2 pcs.
Carrots - 1 pc.
Onions - 1 pc.
Garlic - 4 cloves
Dill - medium bunch
Tomato paste - 2 tablespoons
Lemon juice - 2 tablespoons
Sugar - 1 tablespoon
Bay leaf - 1 pc.
Salt to taste
Ground black pepper - to taste
Cooking lean borscht with beans:
Peel boiled or baked beets, grate on a coarse grater, sprinkle with lemon juice and stir.
Cut the onion into half rings, grate the carrots and fry the vegetables in hot oil until golden brown.
Dilute the tomato paste with water (3 tablespoons), add to the pan with vegetables and simmer for 5 minutes.
Boil the vegetable broth or water, dip the diced potatoes in it and simmer for 10 minutes at a slow boil.
Add beans, vegetables, grated beets, and peppers to a saucepan. Continue cooking for 10 minutes.
Make a spicy dressing by whisking the garlic, dill, sugar and salt with a blender and add it to the saucepan. Bring to a boil, turn off heat and leave to infuse for 15 minutes.
Lean borsch with mushrooms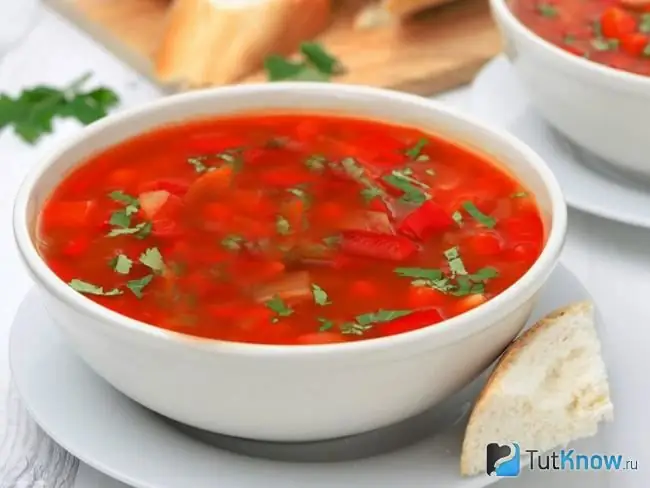 Lenten borscht with mushrooms is not only a dish especially for fasting. You can cook it at any time. For the recipe, not only dried, but also fresh mushrooms are suitable. Although the taste of borscht will turn out to be not so rich. Therefore, it is advisable to use dried mushrooms.
Ingredients:
Dried mushrooms - 60 g
Beets - 2 pcs.
Potatoes - 2-3 pcs.
Onions - 1 pc.
Carrots - 2 pcs.
Tomato paste - 2 tablespoons
Beans - 1 tbsp.
Sugar - 1 tablespoon
Salt to taste
Black peppercorns - 10-12 pcs.
Bay leaf - 3-4 pcs.
Cabbage - 200 g
Garlic - 3 cloves
Vegetable oil - for frying
Greens - a bunch
Cooking lean borscht with mushrooms:
Soak the beans in cold water overnight. The next day, drain the water, and put the swollen beans in a saucepan, pour in fresh water and cook. To make it cook faster and turn out crumbly, add 1 tsp. Sahara. The average cooking time for beans is 40-50 minutes, depending on the variety.
Cover the dried mushrooms with cold water to swell for 30 minutes.
Peel the beets, cut into strips and sauté in vegetable oil to cook them faster.
When the beans become soft, send the mushrooms to the pan, pour out the liquid in which they are soaked, add the beets.
Peel the potatoes, cut into pieces and add to the borscht. Cook everything together until the beets and potatoes are done.
Then send the finely chopped cabbage and finely chopped garlic to the saucepan. Place bay leaf and peppercorns.
For dressing, peel the onion and chop finely into half rings, cut the carrots into strips. In a frying pan with vegetable oil, first simmer the onion, and when it becomes soft, add the carrots. Continue simmering for 5-7 minutes over medium heat.
Dissolve the tomato paste in 0.5 tbsp. water, add to the pan with carrots and onions, season with salt, sugar and pepper to taste. Simmer for 3 minutes and place in a saucepan.
Cook everything together for 10-15 minutes, turn off the heat and let it brew for half an hour.
Video recipes for cooking lean borscht