A step-by-step recipe for chicken soup with bulgur: a list of ingredients and the technology for preparing the first course. Video recipes.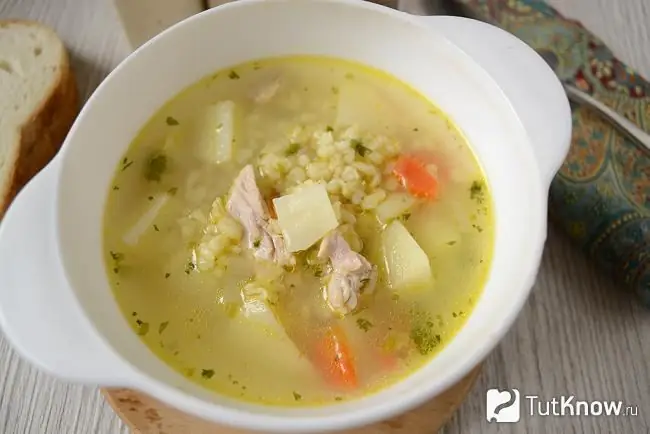 Chicken bulgur soup is an appetizing, hearty and delicious first course. Of course, it is not prepared for a holiday, but it takes its rightful place in the everyday menu. So, in addition to good taste and captivating aroma, such a soup is very useful, therefore it should be in the diet of both adults and children.
Only the lazy does not know about the benefits of chicken broth. This product is rich in vitamins and minerals. It supplies healthy protein and fats to the body. At the same time, it has a moderate calorie content. Due to its beneficial properties, it plays an important role in restoring an exhausted body, improving the functioning of the digestive system, and also helps to quickly overcome colds.
On the basis of chicken broth with pieces of meat, you can make many soups, for example, with buckwheat, rice, pasta. These are the most common product combinations. But lately, bulgur groats are becoming more and more popular. This is wheat processed in a special way. The initial raw materials are steamed, peeled, dried and crushed. This technology allows you to make the product cleaner and more convenient to cook, as well as improve its taste characteristics. Bulgur is cooked for only about 15-25 minutes and retains its shape well after heat treatment.
We suggest that you familiarize yourself with the recipe for chicken bulgur soup with a photo of the step-by-step process and prepare this first dish for dinner.
See also how to make green pea chicken soup.
Caloric content per 100 g - 52 kcal.
Servings - 6
Cooking time - 1 hour 20 minutes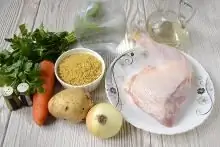 Ingredients:
Water - 2 l
Chicken - 300 g
Potatoes - 2 pcs.
Carrots - 1 pc.
Onions - 1 pc.
Bulgur - 100 g
Vegetable oil - 1-2 tablespoons
Greens - 1 bunch
Salt - 1 tsp
Step-by-step preparation of chicken soup with bulgur: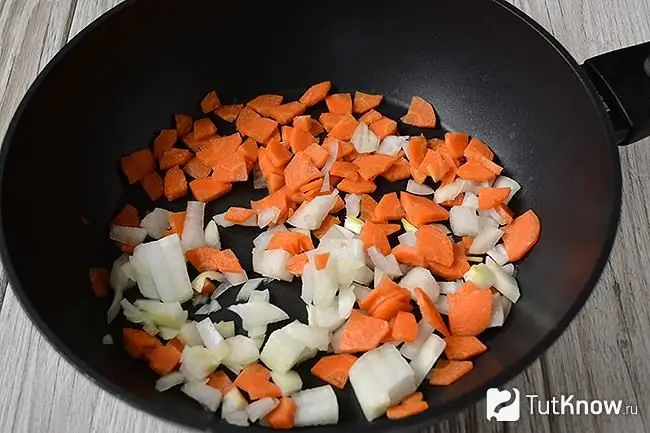 1. Cooking chicken soup should start with boiling the broth. The chicken carcass must be washed well, placed in a saucepan, covered with cold water and put on low heat. If you pour hot water on the meat, the broth will be less rich, which makes the usefulness less. After boiling water, add salt and cook for at least an hour. During cooking, you can add bay leaves. In this case, the fire should be quiet. At this time, clean and chop the onions and carrots.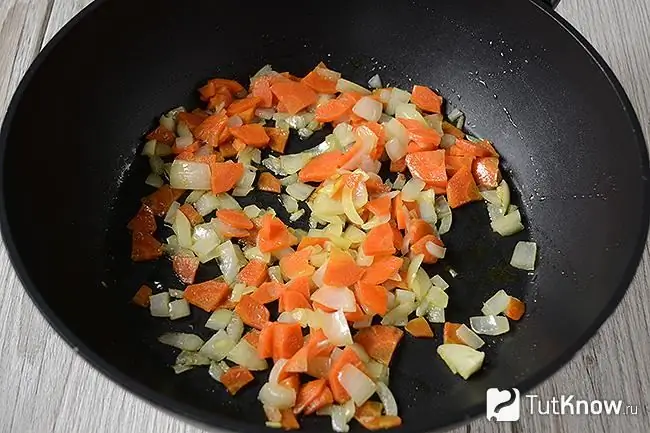 2. Saute the carrots and onions in a frying pan with a small amount of vegetable oil for about 10 minutes. We also prepare potatoes - peel, chop and leave in warm water to isolate starch.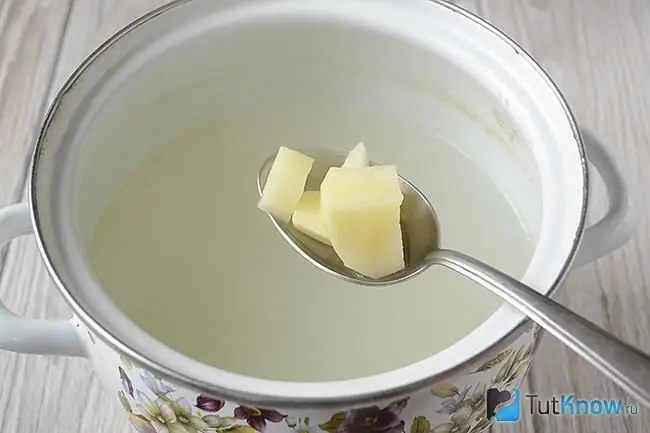 3. When the broth is ready, take out the chicken pieces with a slotted spoon. If necessary, pour all the broth through a fine sieve so that it becomes clean and transparent. Then we drain the water from the potatoes and send it to the pan with the broth. Bring to a boil.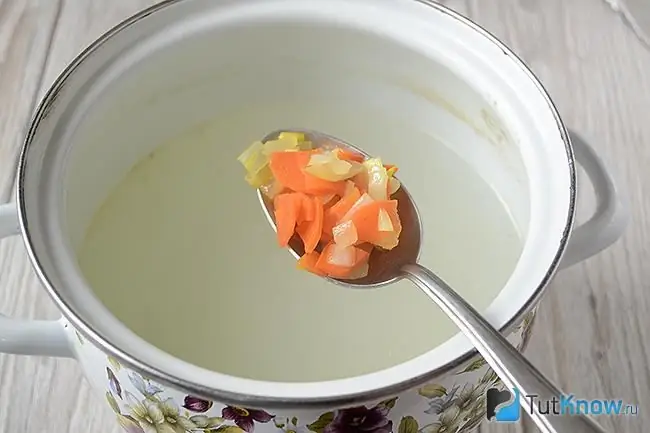 4. Add the carrot and onion roast. Finely chop fresh herbs and place in a saucepan.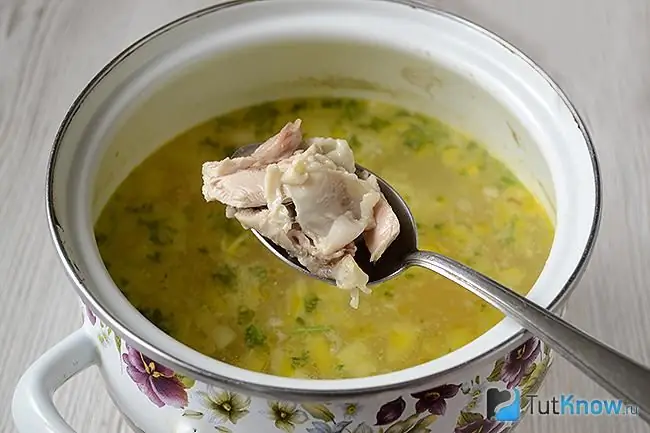 5. We select the meat from the chicken carcass: we disassemble it into small pieces or chop it with a knife. Put it back in the broth and continue to cook.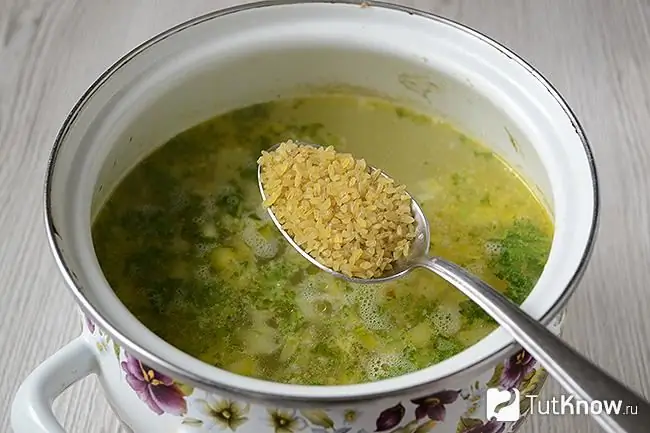 6. Add bulgur. Mix thoroughly. Cook over medium heat for 15 minutes. During this time, the potatoes and cereals are completely cooked, and the greens will give the broth their aroma and taste.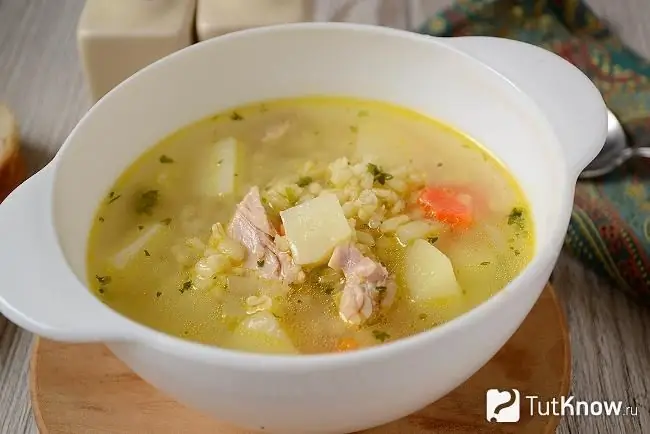 7. Delicious and rich chicken soup with bulgur groats is ready! We serve it in portions with fresh bread or croutons. Season with black or red pepper if desired.
See also video recipes:
1. Delicious and hearty chicken soup with bulgur
2. Soup with bulgur and lentils