Do you want to combine tasty and healthy? I propose a step-by-step recipe with a photo of vegetarian sweets made from dates, nuts and almonds. Be sure to try, they turn out amazingly tasty. Video recipe.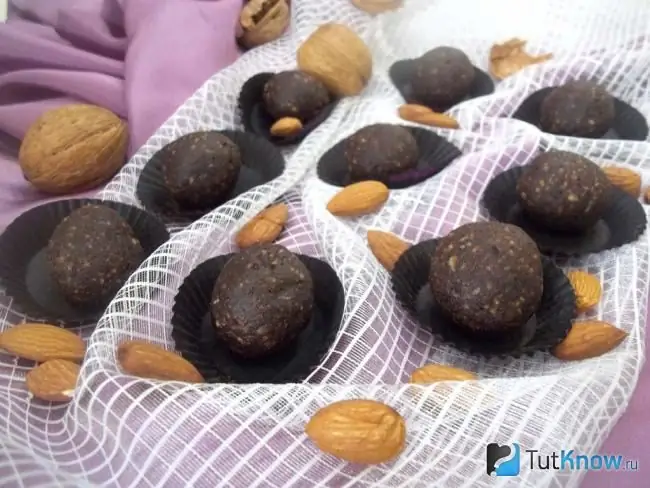 Delicious raw food sweets made from healthy products are a wonderful dessert, both for every day and for a festive event. These candies are a healthy and tasty alternative to chocolates. The composition and filling of the treat can be varied according to preferences and tastes. They are free of animal products, preservatives, stabilizers and even sugar! But this does not prevent them from being delicious, but most importantly useful. Their taste is in no way inferior to your favorite store truffles or roasted nuts. These veggie sweets will not harm your health or shape!
You can approach the choice of ingredients with imagination. For example, instead of dates, use dried apricots, prunes, figs, raisins and other dried fruits. Of course, it is better to use dried fruits prepared at home. But if this is not possible, buy the finished product is dry and dull, and not oily and not greasy. The bright colors and glossy crust on the fruit is a sign of the presence of chemicals, dyes and sugar syrup.
Walnuts will replace sunflower or pumpkin seeds, peanuts, hazelnuts, cashews and other types of nuts. If desired, such delicious balls can be coated with chocolate icing. To do this, melt the chocolate bar in a water bath, put the vegan candy in there and send it to the refrigerator to freeze.
See also how to make chocolates with nuts.
Caloric content per 100 g - 499 kcal.
Servings - 20
Cooking time - 30 minutes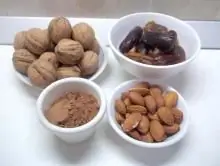 Ingredients:
Dates - 100 g
Almonds - 20 pcs.
Cocoa powder - 1 tablespoon
Walnuts - 100 g (shelled kernels)
Step by step preparation of vegetarian sweets, recipe with photo: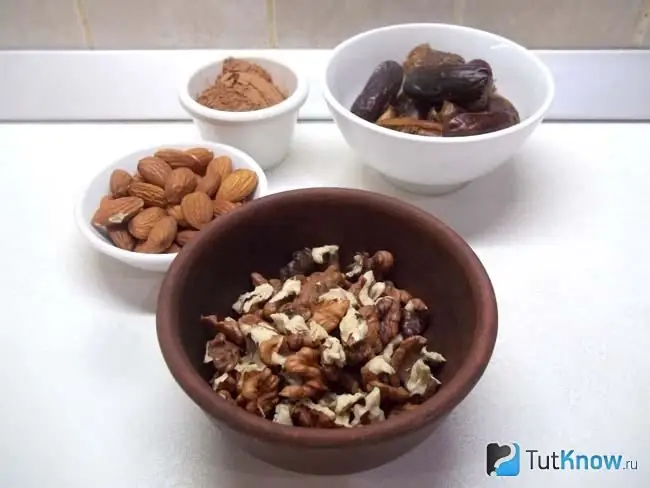 1. Peel the walnuts from the shell using a special device or in any other convenient way. Pierce them in a frying pan, stirring occasionally. Roasted nuts are richer and more flavorful. Although you can use the nuts raw, or dry them in the oven or microwave.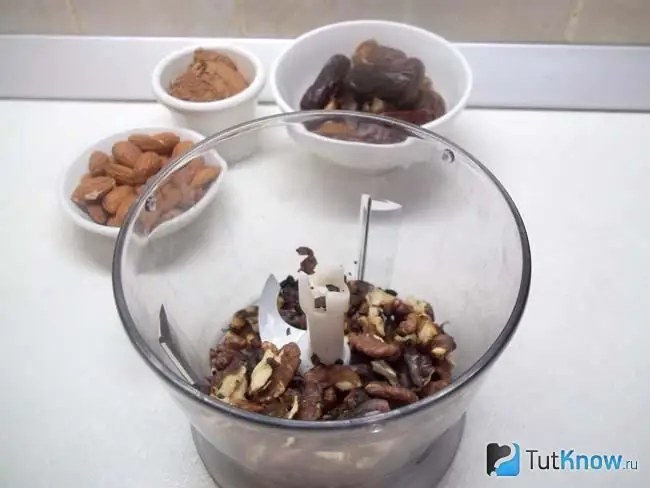 2. Place walnuts and chopper or coffee grinder.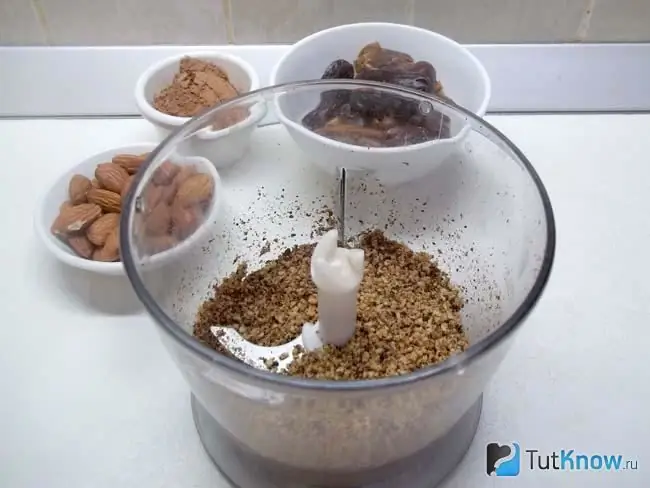 3. Finish the nuts until they are finely crumbled. You can detail them with a rolling pin so that there are larger pieces. So the taste of the nut will be more felt in the dessert.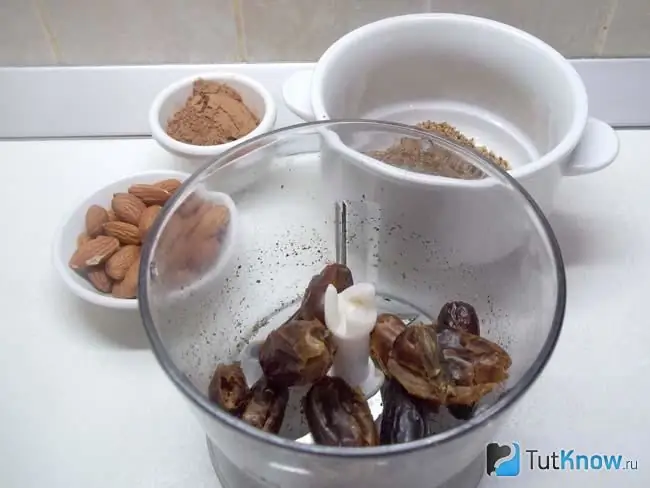 4. Wash and dry the dates with a paper towel. Remove seeds and add dried fruit and chopper.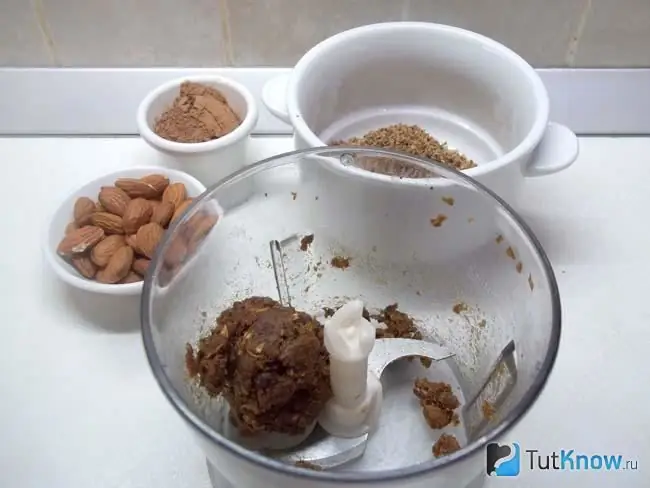 5. Turn the dates into a smooth smooth paste. You can twist them through a meat grinder or chop them very finely with a knife.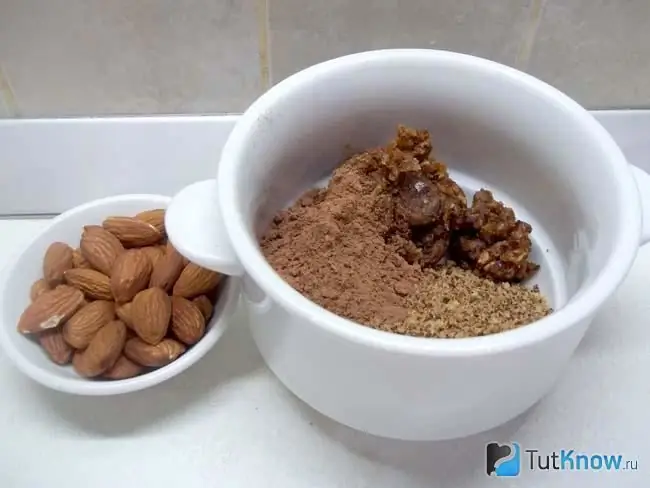 6. In a deep bowl, combine the nut crumbs, date puree and cocoa powder.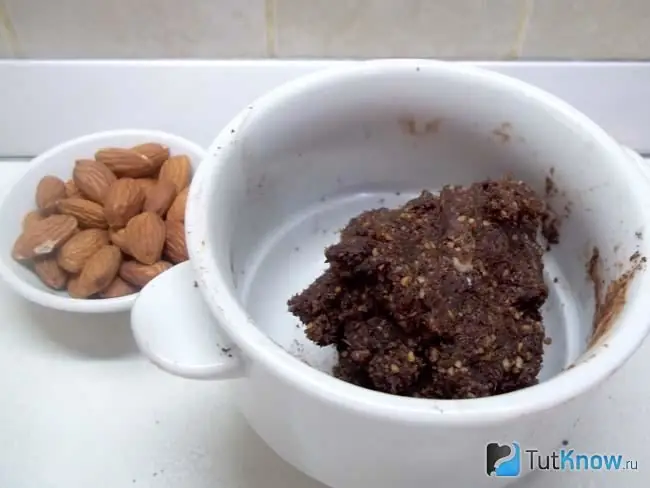 7. Stir the mixture well. It is most convenient to do this with your hands.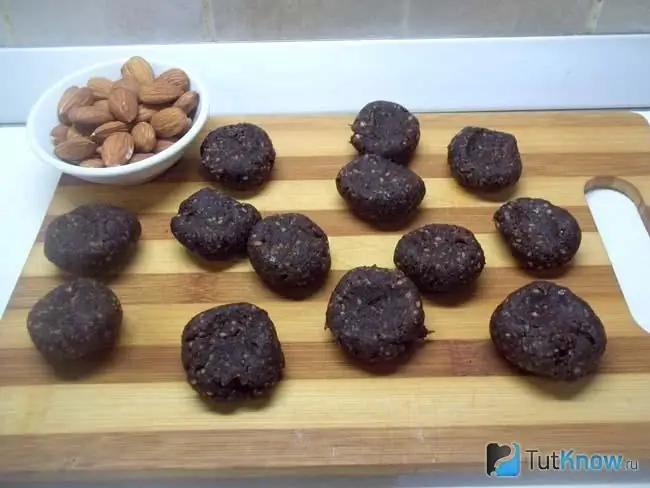 8. Divide the resulting mass into small pieces and roll them into balls, which are slightly flattened.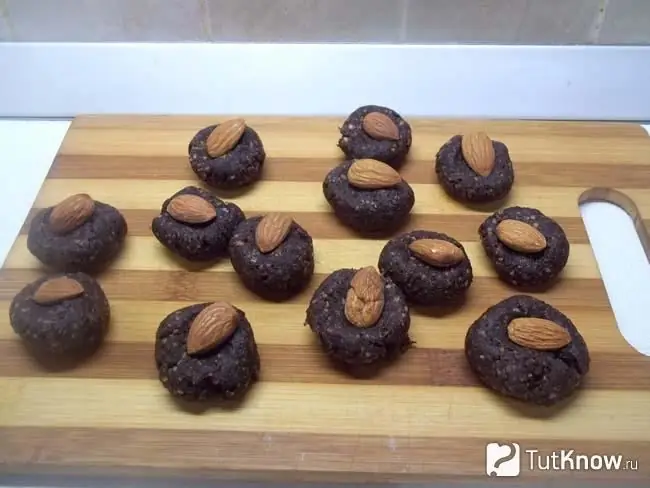 9. Place almonds on each candy. Also pre-fry it in a clean, dry skillet.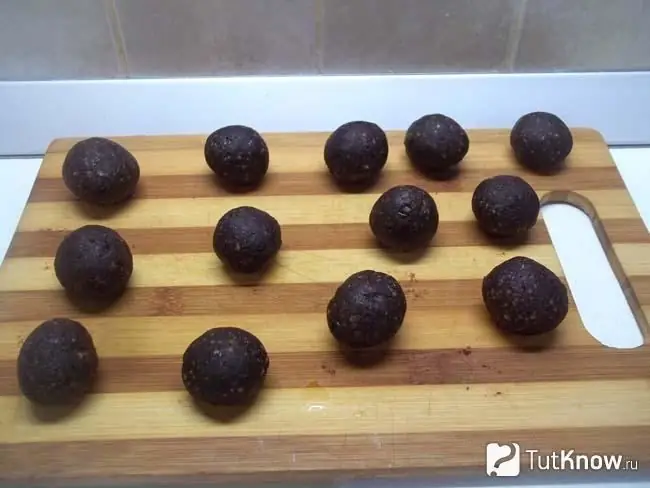 10. Roll the round candies with your hands so that the almonds are inside. Sprinkle ready-made vegetarian sweets with cocoa powder, chill in the refrigerator for half an hour and serve to the dessert table.
See also the video recipe on how to make vegetarian candy.