The most delicious DIY baked goods. Today we offer you to cook delicious puffs with cottage cheese and cherries. Cook with our detailed recipe and enjoy.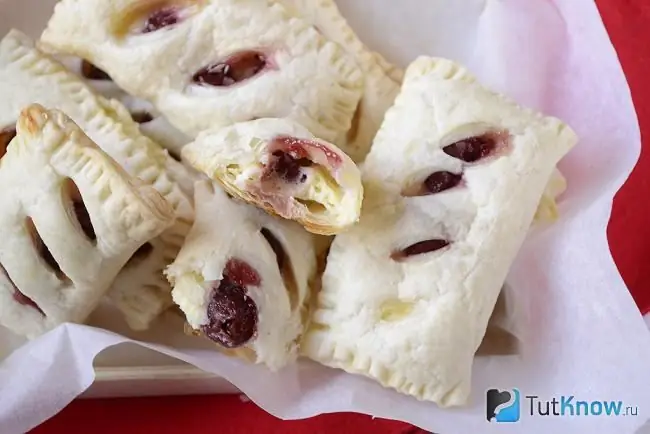 Recipe content:
Ingredients
Step by step cooking - recipe with photo
Video recipes
Delicious baked goods do not need to be cooked for a long time, and expensive products do not have to be used for them. We will prove it to you using the example of puffs with cottage cheese and cherries. A very successful combination of delicate cottage cheese and sweet and sour, juicy cherries. For puffs, you can take pitted fresh plums, or use canned ones in your own juice. Such cherries are preliminarily thrown into a colander so that the excess liquid is glass (by the way, it is better to just drink it, otherwise it will turn out like in that joke about pineapple juice).
Let's take the purchased puff pastry. Both yeast and yeast-free will do. Also note that for ruddy puffs, brush the dough with yolk before sending it to the oven. We greased the puffs with water, as indicated on the package (that is, any liquid will do to brown them). In general, our ruddy puffs did not work out. They were pale, but this did not affect the taste in any way.
Caloric content per 100 g - 286 kcal.
Servings - for 6 people
Cooking time - 30 minutes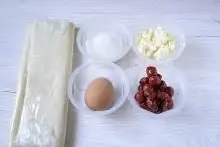 Ingredients:
Puff pastry - 400 g
Cottage cheese - 300 g
Pitted cherries - 300 g
Egg - 1 pc.
Sugar - 3-4 tbsp. l.
Yolk for lubricating puffs
Step-by-step preparation of puffs with cottage cheese and cherries from ready-made puff pastry - a recipe with a photo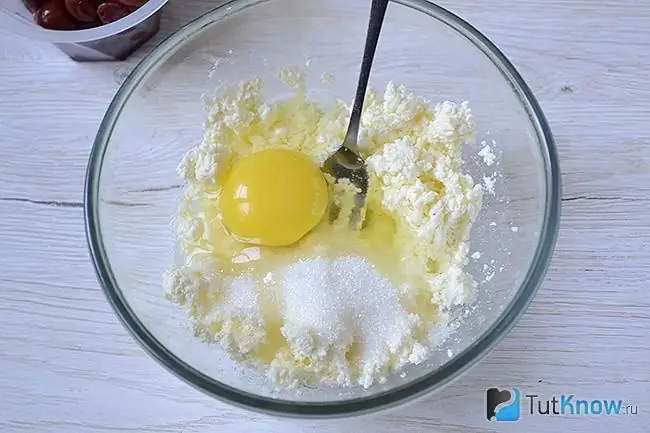 The first step is to prepare the cottage cheese. It can be rubbed separately through a sieve or kneaded well with a fork. Add the egg and sugar to the curd. Mix everything well with an immersion blender or mash with a fork. The cottage cheese will turn out to be quite liquid. This is how it should be after baking, it will grab.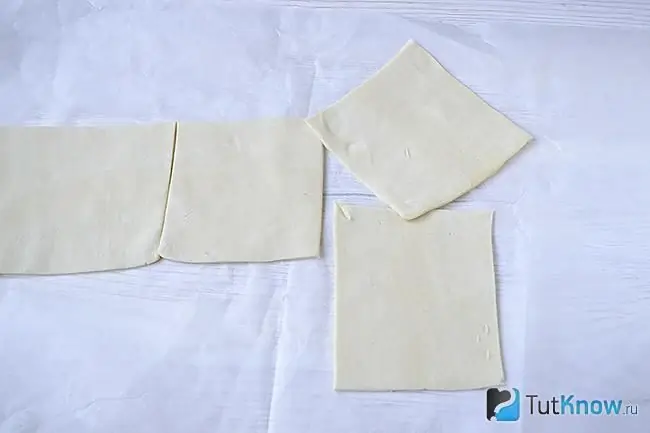 Roll out the yeast dough up to 2 mm in thickness and cut into squares convenient for you.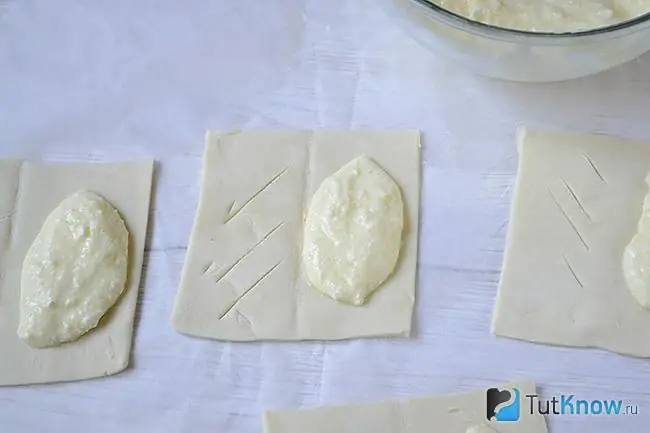 We bend each square in half and unfold it again. Then we make cuts on one of the halves. Put 1 tbsp on the whole half. l. cottage cheese (or more).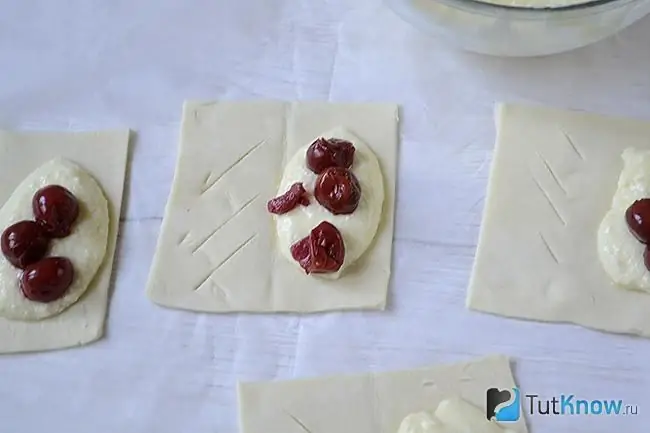 Put the cherries on the cottage cheese. Adjust the quantity at your own discretion.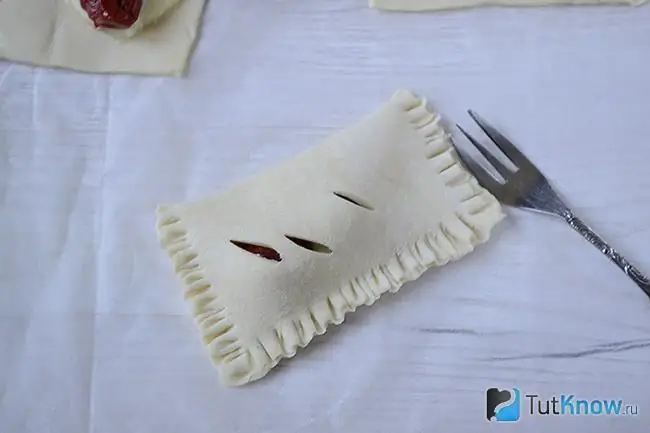 Fold the puff in half and pinch the edges with your hands or a fork. The latter option is not only reliable, but also beautiful.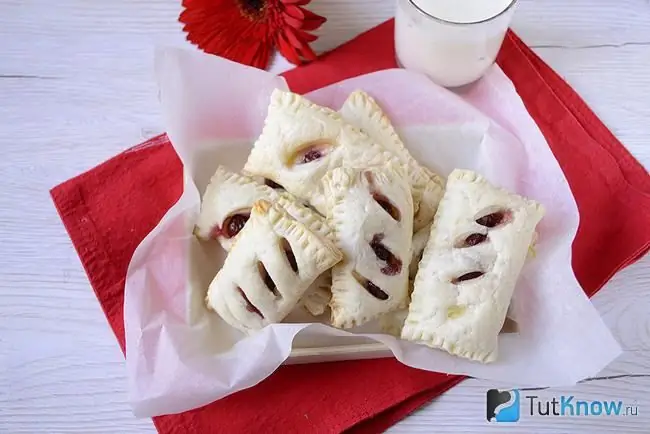 Lubricate the puffs with water or yolk (which is preferable) and send them to the oven heated to 220 degrees. And no less. It is this temperature that is ideal for puff pastry; at a lower temperature, it sticks together, and the finished baked goods do not turn out to be so fluffy and flaky. We bake the puffs for 15–20 minutes. Cool the finished puffs a little and serve. It is very tasty to serve them with tea or milk.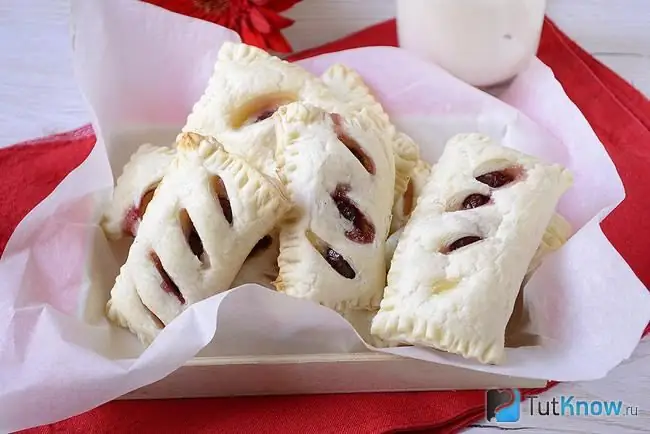 See also video recipes:
1) Puffs with cherry filling
2) Puff pastry pies with cherries and cottage cheese