An interesting salad with Chinese cabbage, ginger and crab sticks turns out to be very tasty and fresh, and ginger gives a special spicy note! How to cook it, read the step-by-step recipe with a photo. Video recipe.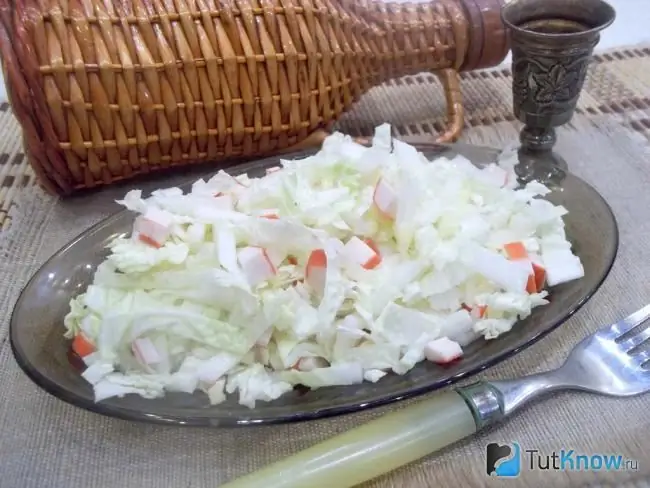 All lovers of ginger will find the salad to their liking. Since ginger perfectly burns fats, which means it contributes to weight loss and is suitable for a diet aimed at weight loss. The next food in the salad that many people like is crab sticks. Of course, not every manufacturer can boast of the good quality of this product. Because not all crab sticks contain crab meat. But this is not a reason not to buy them. Sometimes you can afford and cook a delicious dish with them. The main thing when buying crab sticks is to pay attention to the packaging, where surimi should be the first in the list, and its quantity should be at least 70%.
The third main ingredient in the salad is Peking cabbage, which is also known as "Chinese cabbage", which appeared in our country relatively recently. It was previously cultivated in China, Japan, Europe and the United States. Now she is very popular with us. But most importantly, it is undoubtedly very useful, it is dietary and contains a large amount of useful vitamins and minerals. The salad turns out to be very juicy, but if you wish, you can also add fresh cucumbers to the dish. They are also healthy, undeniably tasty, low in calories and juicy. In addition, they perfectly satisfy hunger, and the water they contain is an excellent natural diuretic.
See also how to make Chinese cabbage and pickled mushroom salad.
Caloric content per 100 g - 87 kcal.
Servings - 1
Cooking time - 15 minutes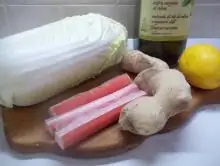 Ingredients:
Chinese cabbage - 4-5 leaves
Crab sticks - 3 pcs.
Olive oil - for dressing
Salt - 0.5 tsp or to taste
Lemon juice - 1 tsp
Ginger root - 1 cm
Step-by-step preparation of salad with Chinese cabbage, ginger and crab sticks, recipe with photo: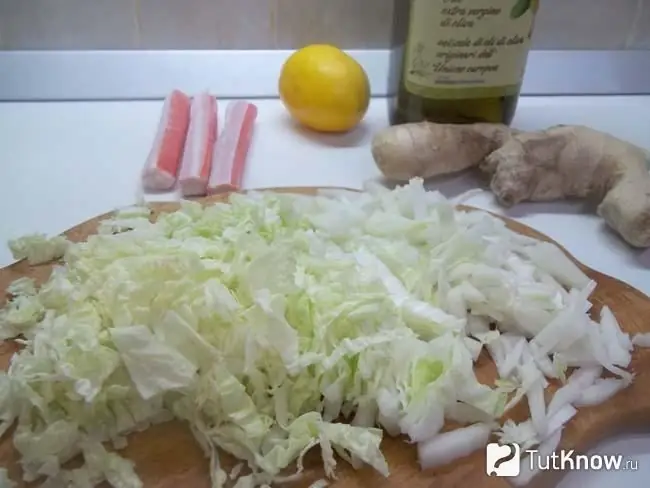 1. From the head of cabbage, remove the required number of leaves and wash them with running water. Then chop into thin strips. Do not wash the entire head of cabbage at once unless you intend to use it all. Otherwise, the cabbage will wilt and will not crunch.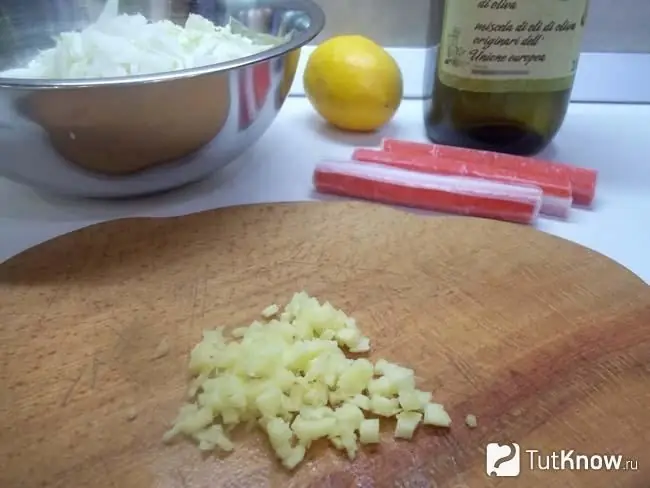 2. Peel the ginger root, rinse and finely chop.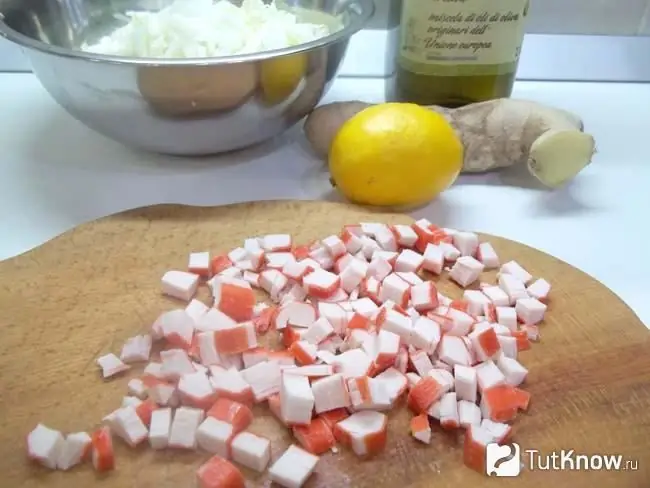 3. Cut the crab sticks into cubes or strips of your choice. If they are frozen, then defrost them first. When doing this, do not use hot water or a microwave oven. Defrost slowly in the refrigerator.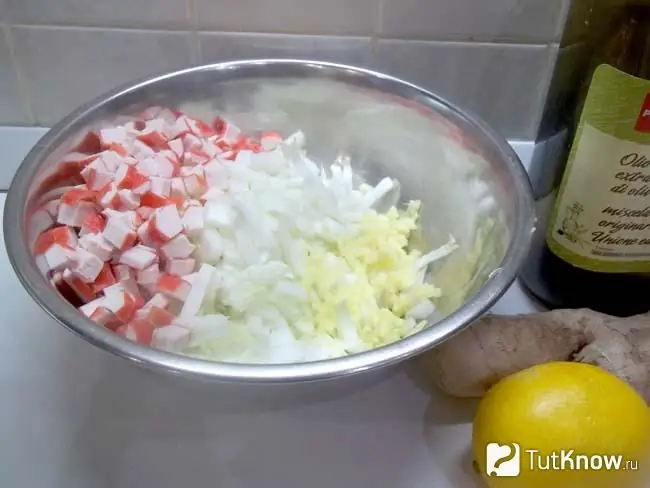 4. Place all chopped foods in a deep bowl.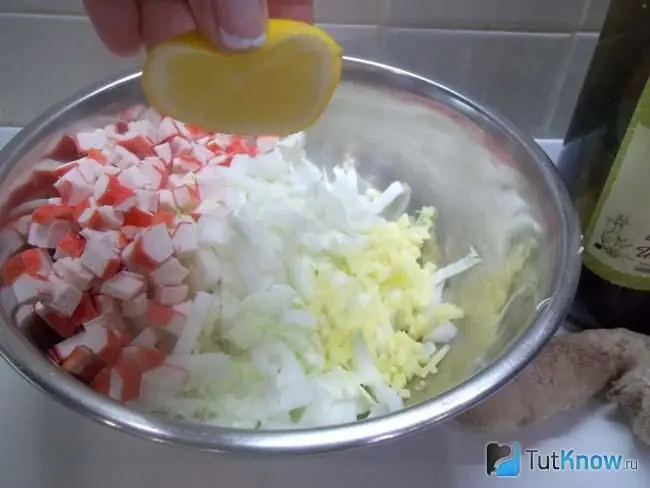 5. Wash the lemon and dry it with a paper towel. Cut in half and squeeze out the lemon juice. Do this carefully so that the bones do not get into the salad.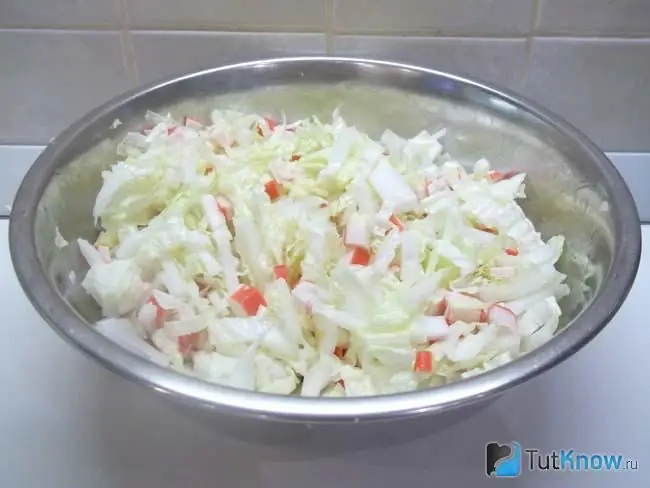 6. Season food with olive oil, season with salt and stir. Soak the prepared salad with Chinese cabbage, ginger and crab sticks in the refrigerator for 15 minutes and serve.
See also the video recipe on how to make Chinese cabbage salad and crab sticks.