A hearty and simple dish that will captivate you with an amazing creamy sauce with fried onions - Kabardian chicken with sour cream. Step-by-step recipe with a photo. Video recipe.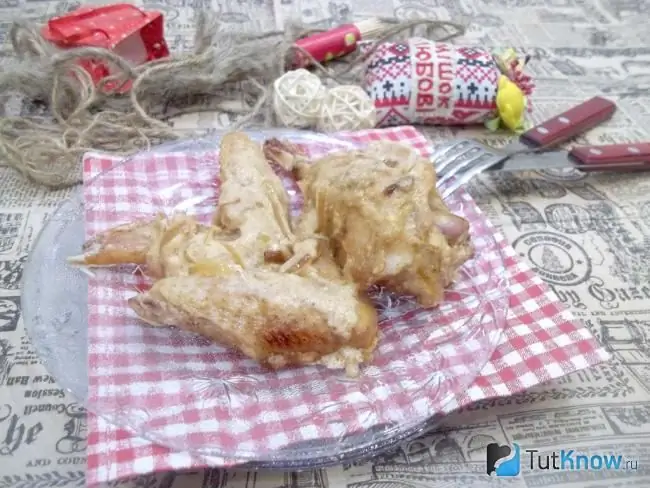 Kabardian chicken with sour cream is a visiting card of Kabardian cuisine and a wonderful way of cooking the most tender chicken meat. The traditional version of the dish involves using a whole chicken carcass, chopped in several pieces. However, you can deviate from tradition and take other parts of the bird, for example, thighs, legs, wings, chicken fillet. Since the main role in the recipe is played by an unusual sauce, for which you need onions and sour cream, or cream or milk. It turns out chicken meat cooked in this way, tender with an amazing aroma. Chicken has a very harmonious taste that many will like. Additionally, melted cheese can be added to the dish, then the sauce will turn out thicker and tastier.
At first glance, it seems that the recipe is complicated, but in fact it is quite simple to prepare, and most importantly, it is not at all costly in terms of money. A nutritious and delicious chicken treat with an amazing sour cream and onion sauce will turn an ordinary weekday into a culinary feast. Therefore, such a dish is suitable not only for a family feast, but also for a large circle of guests. Both on weekdays and on holidays, homemade unusual food will come in handy and will conquer every eater with an amazing taste.
See also how to make apple stuffed chicken.
Caloric content per 100 g - 239 kcal.
Servings - 4
Cooking time - 1 hour 45 minutes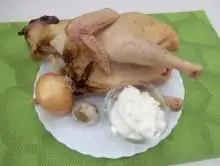 Ingredients:
Chicken - 0.5 home carcass
Vegetable oil - for frying
Garlic - 1 clove
Flour - 1 tablespoon
Ground black pepper - a pinch
Salt - 1 tsp without slide
Onions - 1 pc.
Sour cream - 200 ml
Step by step cooking Kabardian chicken with sour cream, recipe with photo: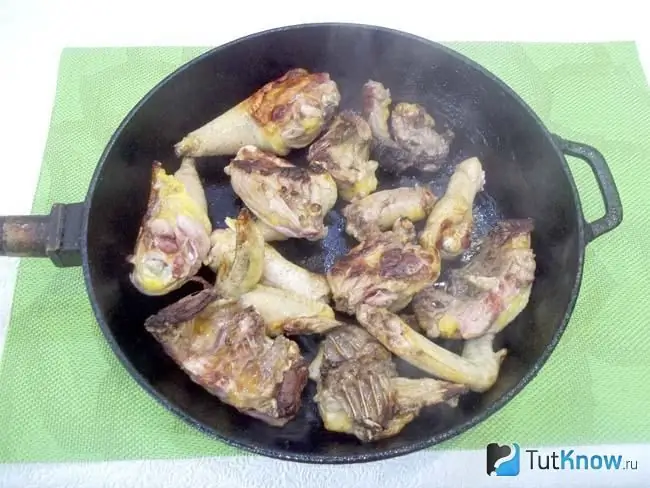 1. Cleanse the poultry from internal excess fat. If there is a black tan on the skin, scrape it off. If there are feathers, remove them. Then wash the bird under running water and cut into medium-sized pieces. Heat vegetable oil in a skillet and send the bird into it. The pieces should be in one layer, and not piled up in a mountain. Otherwise, the chicken will not be fried, but stewed, which will make it less juicy. Fry the carcass over the heat a little over medium until golden brown.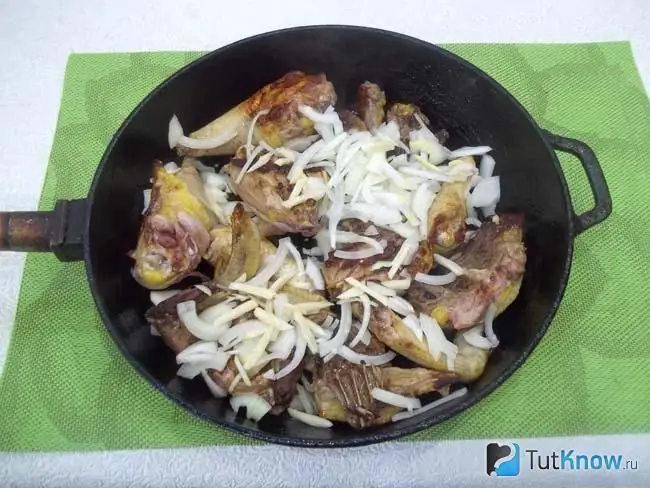 2. Peel the onions and garlic, wash and dry with a paper towel. Chop the onion into thin quarter rings, chop the garlic into thin strips. Send vegetables to the pan with the chicken. Stir the products, reduce the heat to medium mode and fry the meat until the onions are transparent.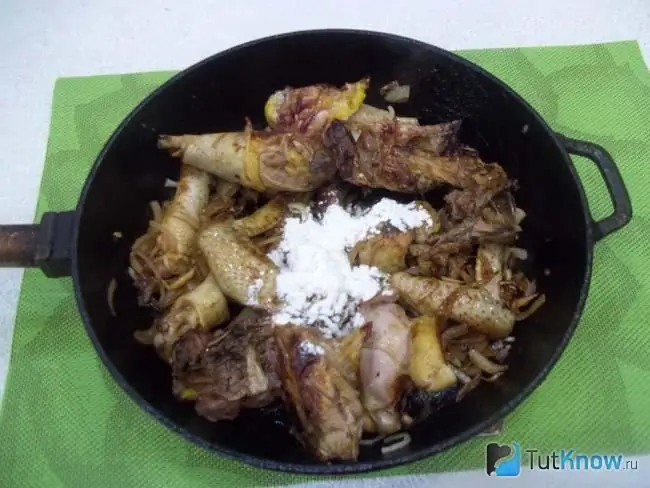 3. Add flour to the pan, season the dish with salt and black pepper and stir the food.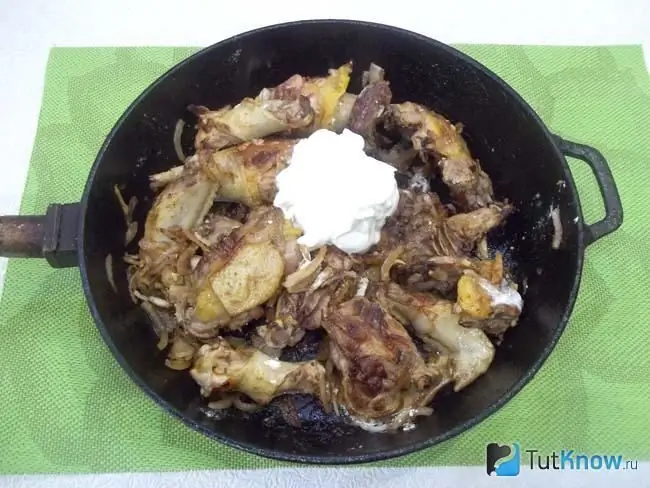 4. Next, pour the sour cream into the pan.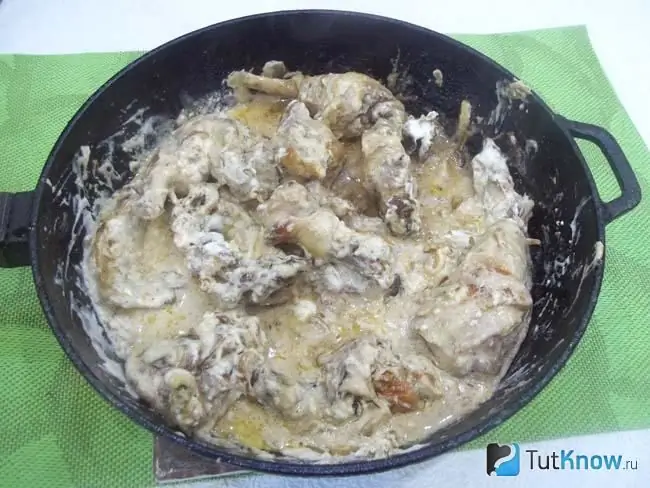 5. Stir the ingredients, cover the pan with a lid, turn the heat to the minimum setting and simmer the Kabardian chicken with sour cream for 1 hour. Serve the finished dish hot with any side dish.
See also a video recipe on how to cook Kabardian chicken in a cauldron over a fire.