Dumplings with cherries are the most delicious and popular summer dish, which is not difficult to prepare and can be done by every housewife. In this article, you will learn a simple and delicious step-by-step recipe with a photo of dumplings with cherries on water and eggs. Video recipe.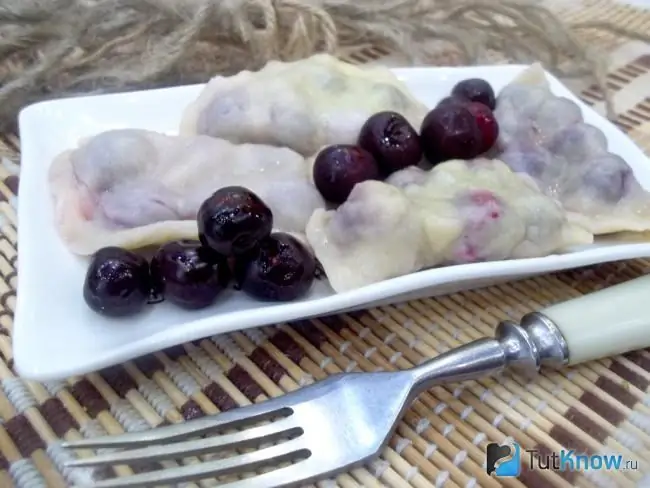 Vareniki is a popular Ukrainian dish made from dough and inside with filling. Sweet dumplings can be prepared with any seasonal berries: strawberries, raspberries, mulberries, blueberries, apples … They can also be used with cottage cheese, mashed potatoes, minced meat, stewed cabbage, fried mushrooms, etc. Still, the most popular are dumplings with cherries. Now is July, the most juicy and sweet cherry season. Having eaten enough of it, the most delicious and common dish of it is sweet dumplings. In summer, among the many dishes that can be prepared from cherries, dumplings occupy a special place. They are simply not tasteless! The smell, juiciness, sourness and bright color of summer berries turn ordinary dumplings into a real masterpiece even from the simplest dough. Dumplings are served at the same time as the main dish and as a dessert after a light lunch. This is a wonderful food that absolutely everyone eats with gusto!
The basis of all dumplings is dough. There are many options for its preparation. The dough is kneaded in milk, kefir, whey, eggs, water, soda, yeast, etc. The result of the efforts made will depend on the test chosen. According to this recipe, the dough for dumplings with cherries is prepared very simply and from the available products: flour, water and eggs. At the same time, it always turns out to be successful and tasty.
Calorie content per 100 g - 105 kcal.
Servings - about 50
Cooking time - 1.5 hours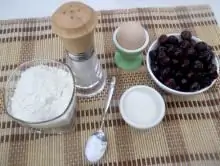 Ingredients:
Water - 1 tbsp.
Sugar - 1 tsp for dough and filling to taste
Salt - a pinch
Cherries - 1 kg
Vinegar - for extinguishing soda
Flour - 2 tbsp.
Soda - 0.5 tsp
Eggs - 1 pc.
Step by step preparation of dumplings with cherries, recipe with photo: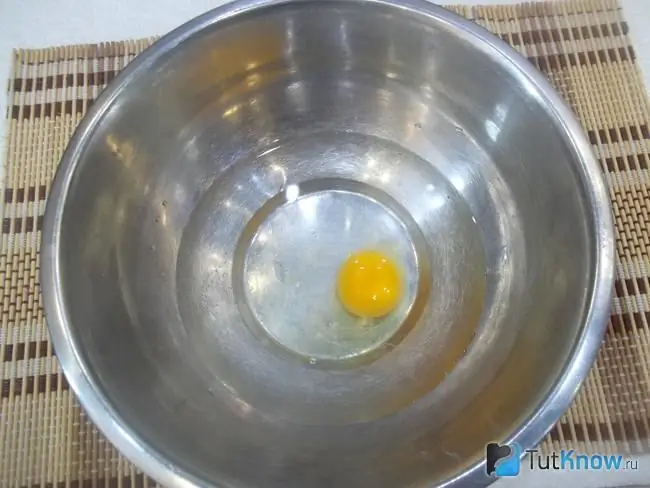 1. Pour water into a mixing bowl, add a pinch of salt, sugar and beat in eggs.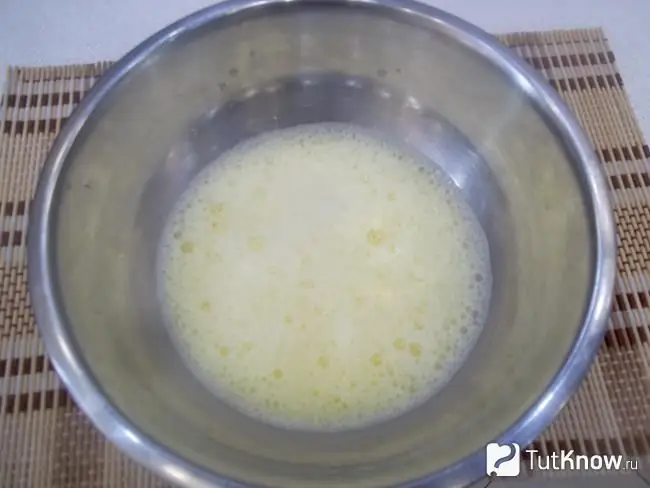 2. Stir with a whisk to distribute the eggs and water evenly.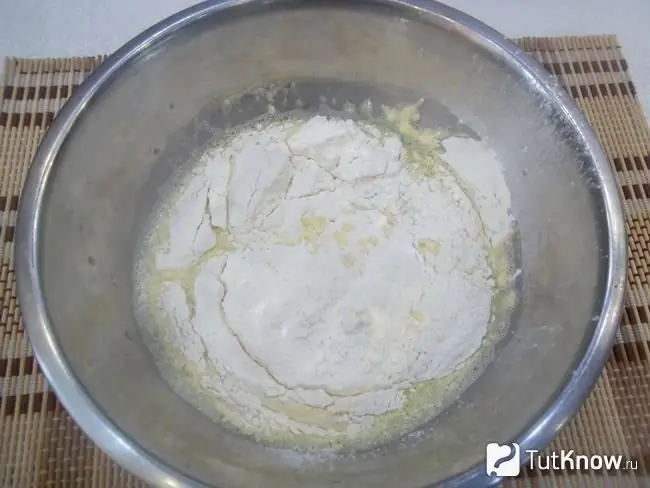 3. Add flour to the dough, which I recommend sifting through a fine sieve. It will be enriched with oxygen and the dough will be softer.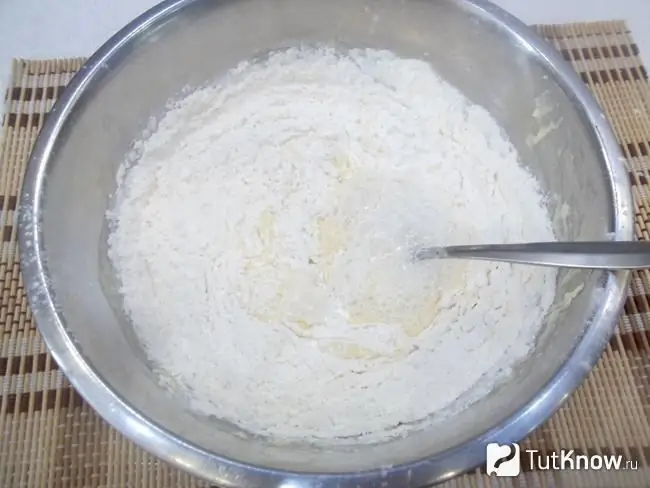 4. Add vinegar slaked soda to the dough.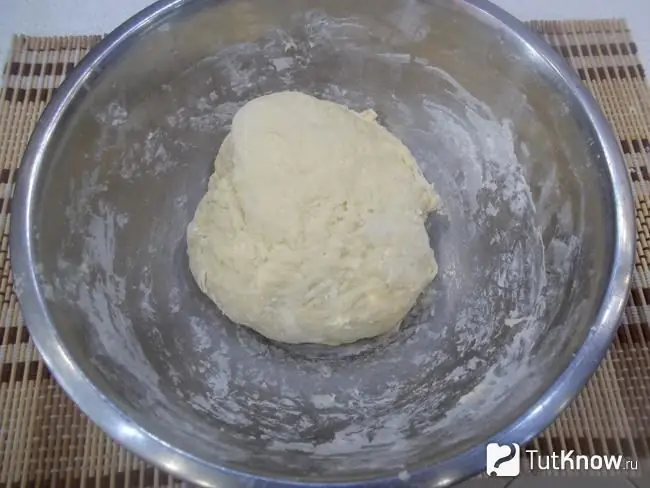 5. Knead an elastic and soft dough. It should not stick to the hands and walls of the dishes.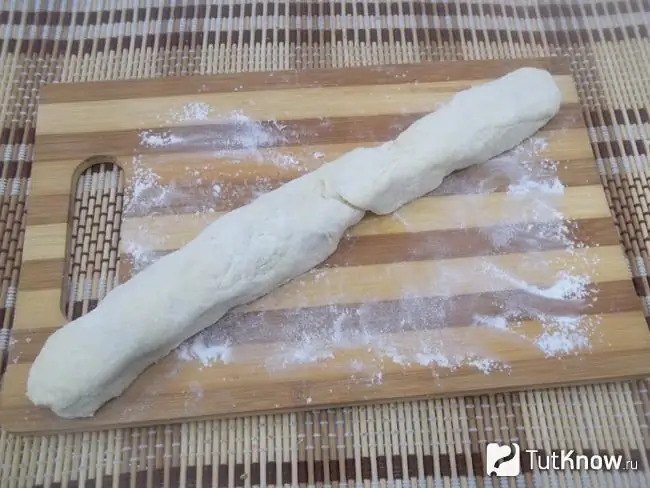 6. Divide the dough into several pieces and roll each into a rope about 3 cm thick.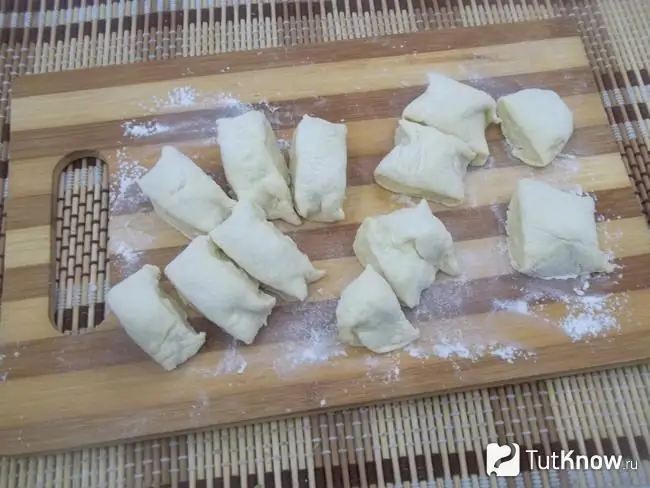 7. Cut the formed sausage into small equal parts.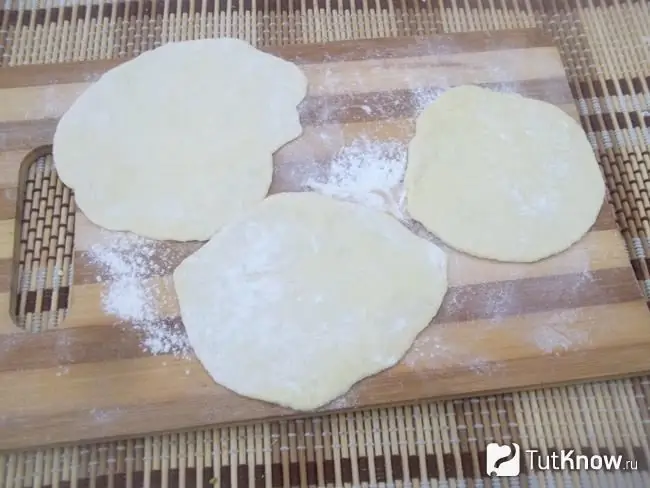 8. Roll each piece with a rolling pin into a thin round layer 3 mm thick.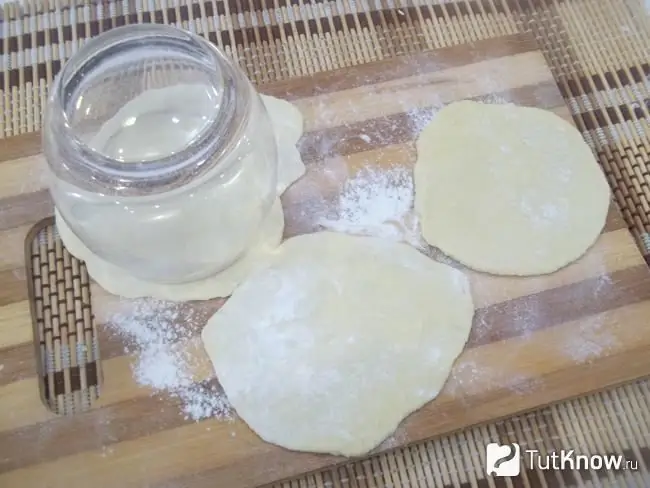 9. On each rolled circle, place a convenient round shape with a diameter of 7-9 cm (for example, a glass).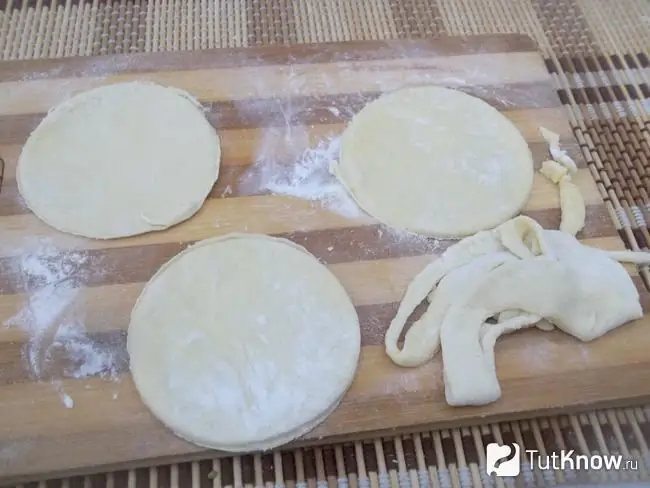 10. Cut out the dough with a sharp knife around the glass, and remove the excess cuts. Then collect them, knead and make dumplings again.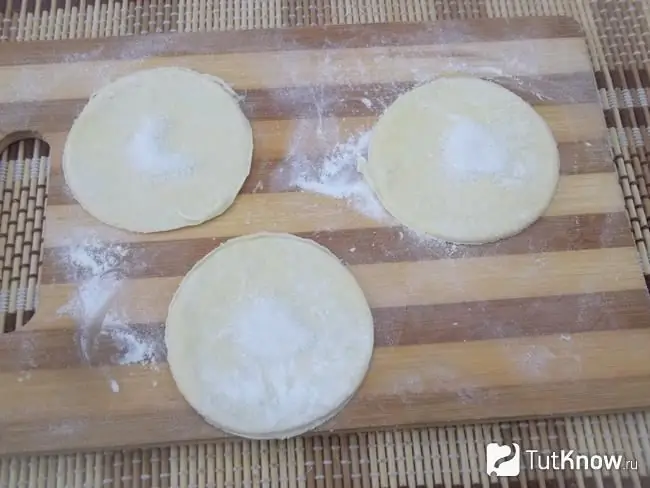 11. Pour some sugar on the round cakes.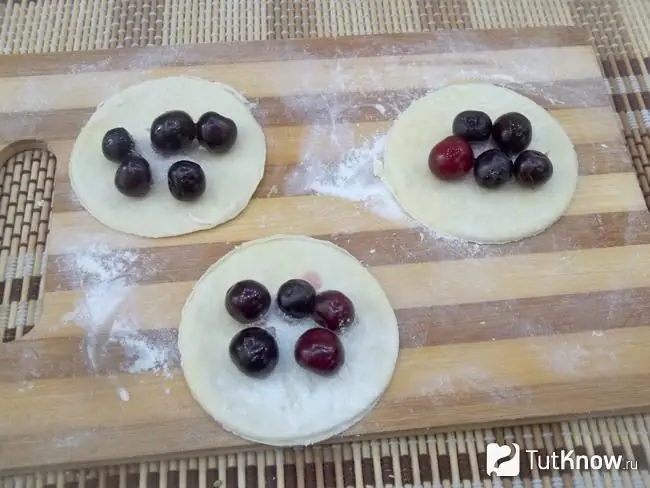 12. Put a few berries on top. Wash the cherries first, remove the tails and leave in a sieve to glass the liquid. I left the seeds in the berries, but if you wish, you can remove them first.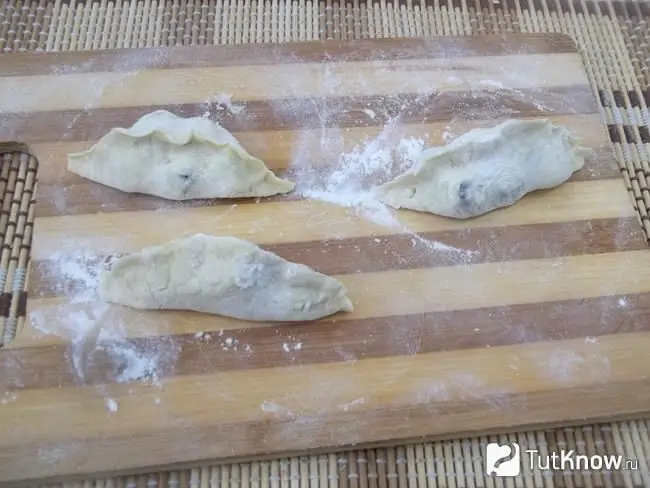 13. Fold the cherry round tortilla in half, hold the edges of the dough together tightly and form a dumpling.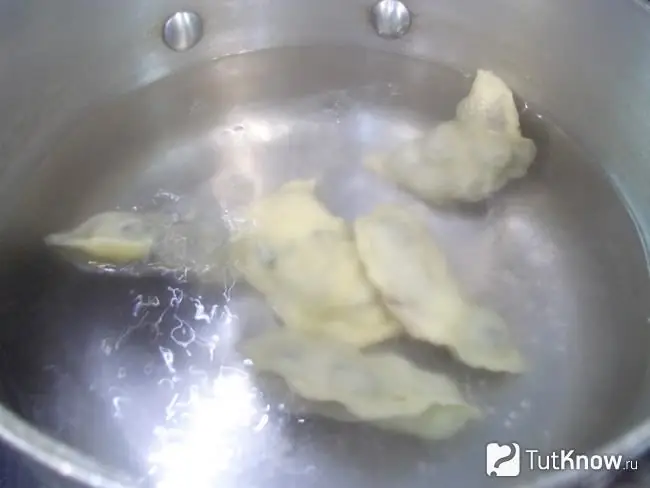 14. Pour water into a cooking pot and bring to a boil. Dip the dumplings into boiling water and stir so that they do not stick together and do not stick in the pan.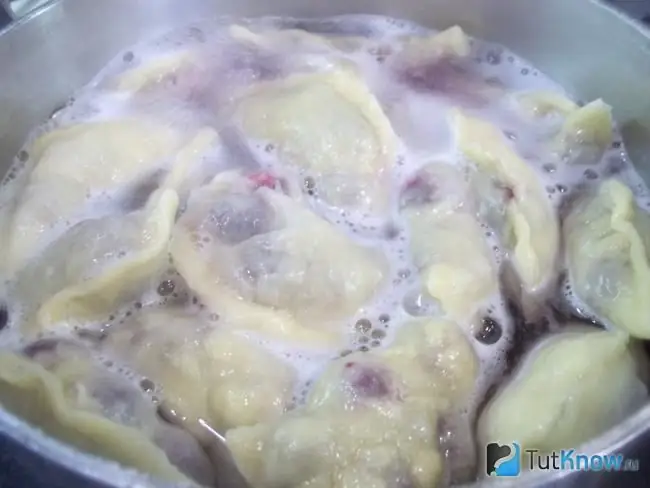 15. After boiling, cook the dumplings with cherries for 3 minutes. Serve them immediately after cooking. If you wish, you can sprinkle them with sugar, pour over with cherry jam or use them yourself before serving.
See also a video recipe on how to cook dumplings with cherries.