How to make a healthy salad with fresh vegetables, sesame seeds and flax seeds at home. Benefits and nutritional value. Step by step recipe with photo and video recipe.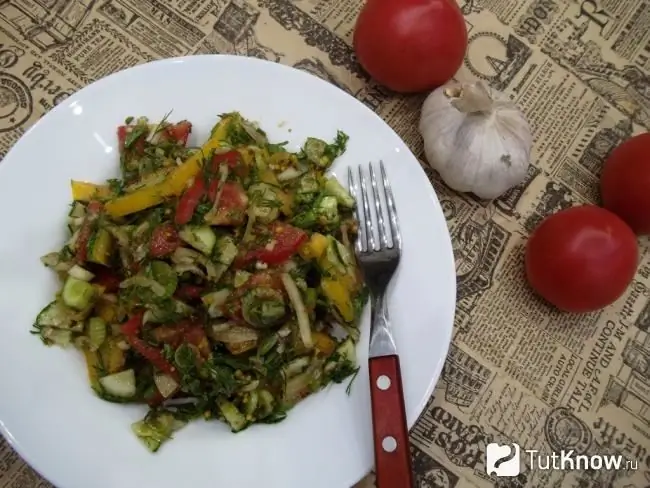 Now is a great time of the year - summer, when you can buy unlimited fresh vegetables and prepare vitamin salads from them. Passing the vegetable counter, our hands reach out for young cabbage, juicy cucumbers, bright tomatoes … Therefore, we will enjoy this opportunity and prepare vitamin salads. Today I propose to make a salad of fresh vegetables, with sesame seeds and flax seeds at home. This is the perfect choice for a light and summer snack. Sesame and flax seeds give the dish a special flavor.
The salad is suitable for those who adhere to a proper diet and diet, as well as everyone who wants to lose weight. If you belong to this category of people, then such a salad will become a complete meal, both for lunch and dinner. Although vegetable salads should be in the diet of every person, as an addition to any second course. They give the body all the missing vitamins. You can add vegetables to the recipe at your discretion. For example, if you want, remove the tomatoes and add bell peppers. And of course, I can't help but note that this treat is prepared very quickly, which will delight many housewives. You will not spend more than 15-20 minutes on cooking. And now I'll tell you how to make a healthy salad of fresh vegetables, sesame seeds and flax seeds
Caloric content per 100 g - 62 kcal.
Servings - 2
Cooking time - 20 minutes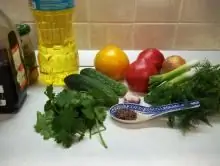 Ingredients:
Red tomatoes - 2 pcs.
Yellow tomatoes - 2 pcs.
Onions - 0.5 pcs.
Cucumbers - 2 pcs.
Dill - a few twigs
French grain mustard - 1 tsp
Garlic - 1 clove
Green onions - 2-3 feathers
Vegetable oil - 2 tablespoons
Parsley - a few twigs
Salt - pinch or to taste
Sesame seeds - 1 tsp
Flax seeds - 1 tsp
Soy sauce - 2 tablespoons
Step-by-step preparation of fresh vegetable salad with sesame seeds and flax seeds: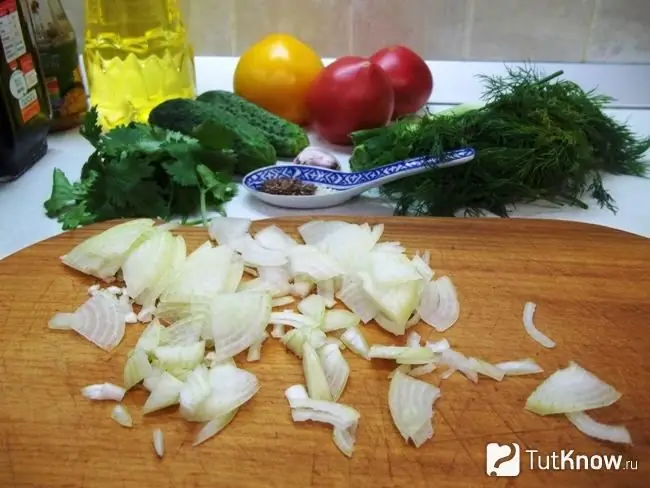 1. Peel the onions, rinse with running water, dry with a paper towel and chop into thin quarter rings. Send the onions to the salad bowl.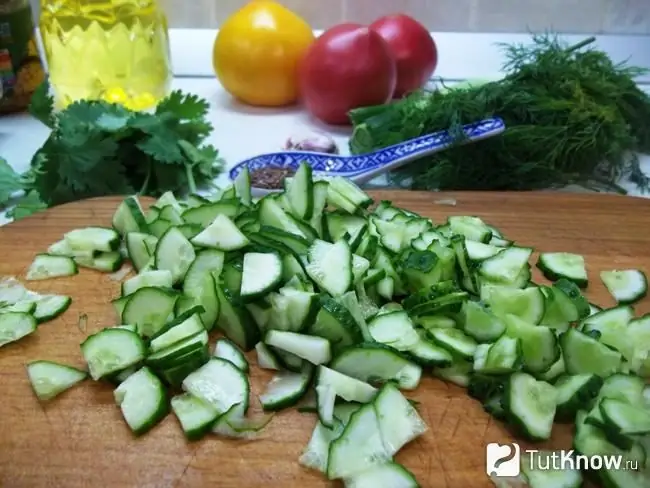 2. Wash fresh cucumbers with cold water and dry with a paper towel. Cut off the ends on both sides. Remove all or part of the skin if desired. This is especially important if the cucumbers are bitter, and this bitterness is contained in the peel. If the cucumbers are ripe with large seeds, then it is better to remove the seeds from them. Then cut each vegetable lengthwise into 4 pieces to make long strips. And cut them into thin slices of 2-3 mm>. Send the sliced cucumbers to the onion salad bowl.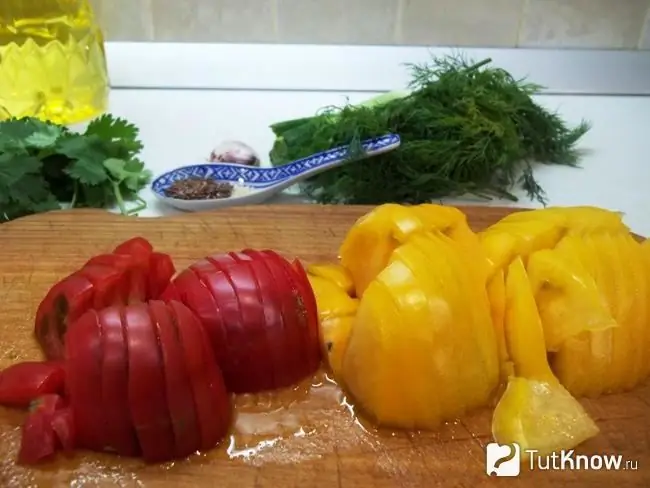 3. Wash tomatoes, like cucumbers, with cold water and dry with a paper towel. Then cut them into pieces of any shape. Take tomatoes that are juicy, but dense, so that when cutting they do not choke, and juice does not flow out of the fruits.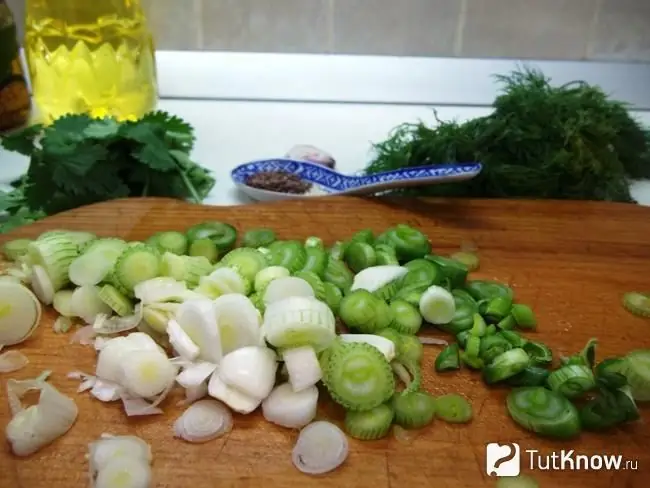 4. Put all the greens (onions, dill, parsley) in a colander and rinse thoroughly with running cold water to remove all sand and dust particles. Then shake off excess moisture from the leaves and blot with a paper towel.
From the green onions, pull down the wilted portion of the onion and discard the unusable stems. Remove tough stems, leaving green feathers. Chop them finely and send it to the bowl with the vegetables. You can replace green onions with chopped leek rings. It harmonizes well in this dish.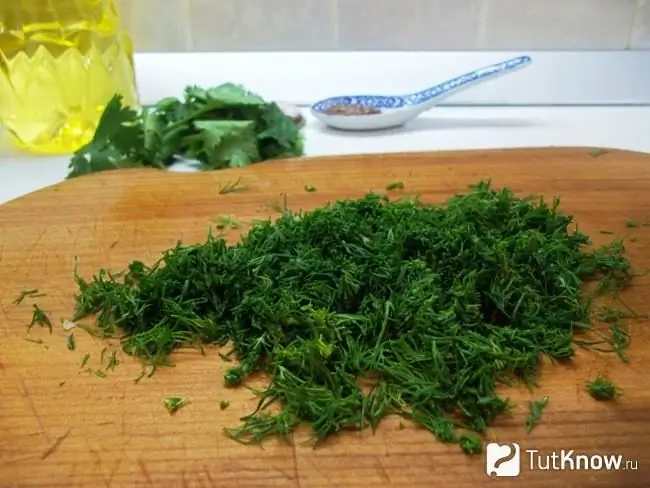 5. Cut off dense and tough leaves from the dill twigs, and finely chop the tender grass.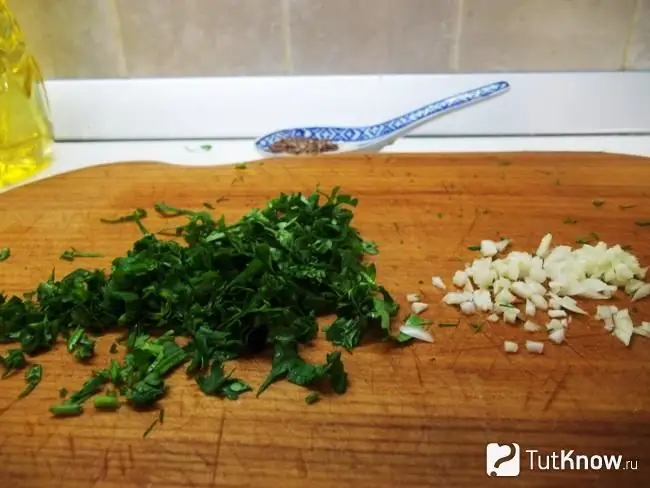 6. Peel the garlic and finely chop it.
Chop the parsley finely. For salad, you can use either only leaves or leaves with twigs. I take all the weed and only cut off the spine.
Optionally, add cilantro, wild garlic, basil, lemon balm or mint leaves to the salad for freshness.
If preparing a salad for a gala feast, leave a few of the largest parsley leaves for garnish.
The salad can be made rich and satisfying by putting cheese, feta cheese, avocado, boiled chicken, shrimp.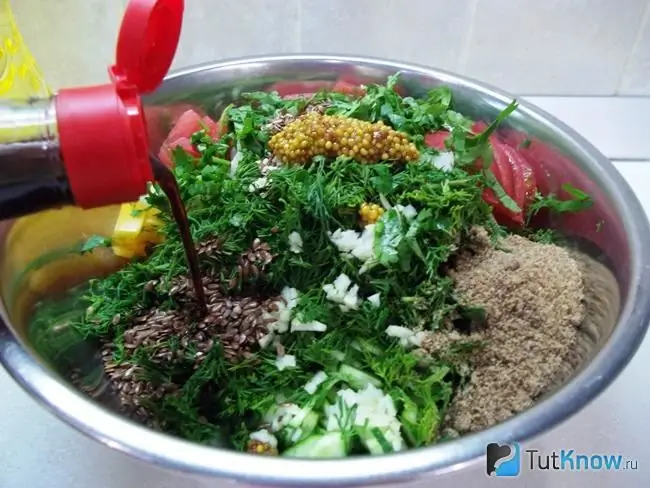 7. Combine all vegetables in a bowl and add sesame and flax seeds to the vegetables. I do not dry them, because during heat treatment, they lose up to 95% of their useful properties. Although, of course, fried, they are tastier. I took a heaped teaspoon of seeds, but you can adjust their amount to your liking.
In addition, I ground some of the flax seeds into a powder in a coffee grinder. But powdered seeds oxidize quickly, so only use freshly ground seeds.
Then add the soy sauce and grain mustard to the bowl (it adds a little spiciness and piquancy). But mustard paste is also good. But it must be pre-mixed with vegetable oil until smooth, and then only the resulting mass must be added to the salad.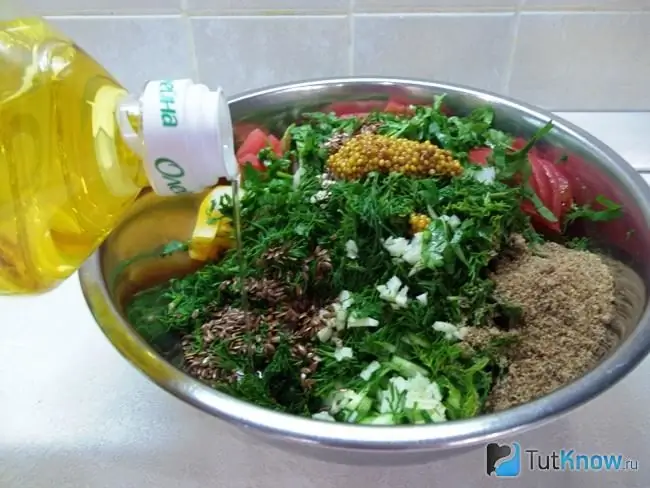 8. Season salad with vegetable oil. If you want to get it with fewer calories, then replace the oil with natural yogurt for refueling. You can add a few drops of lemon juice to the dish. Also, vegetable oil can be replaced with olive, linseed or pine nut oil, walnut oil or grape seed oil. The main thing is not to overdo it with its quantity, because oil is a high-calorie product.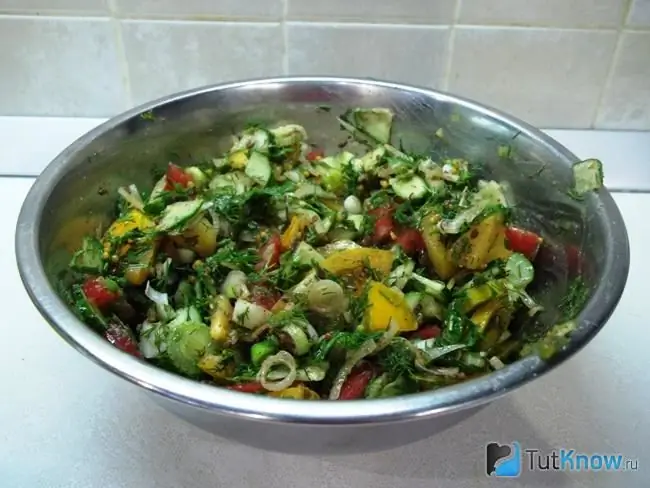 9. Stir the food and taste the salad. Add salt if necessary. But perhaps salt is not needed at all, because it will be enough from soy sauce, because it is salty enough. For this reason, do not season the salad with soy sauce yet, do not add salt. Otherwise, you risk oversalting the dish.
Chill fresh vegetable salad with sesame seeds and flax seeds in the refrigerator for 10-15 minutes and serve. Garnish with croutons or poached egg if desired. This salad is not stored for a long time, so do not cook it in advance and for future use. It will flow, the vegetables will become chapped and the appearance of the dish will deteriorate.
See also a video recipe on how to make a salad with fresh vegetables, sesame seeds and flax seeds