A step-by-step recipe with a photo of making chocolate clafoutis with cherries at home. All the secrets of perfect baking, you will lick your fingers. Video recipe.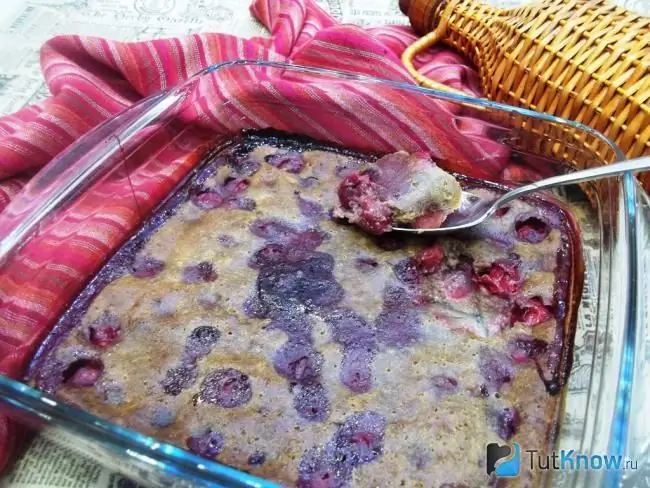 French cuisine is renowned for its elegance and grace. Moreover, many dishes are very easy to prepare. These include one of the most popular and beloved by housewives in France, the dessert "Chocolate clafoutis with cherries". This is an extraordinary French dessert, which is made from pancake batter, and when finished, it looks like a pie, casserole and mousse at the same time. The recipe ideally combines ease of preparation and availability of ingredients found in almost every kitchen. Anyone who wants to learn how to bake is advised to start with this recipe and start cooking now. But, despite the elementary preparation, clafoutis still has its own little secrets, which I will gladly share below in a step-by-step recipe with a photo.
Such a dessert can be prepared at any time of the year, both from fresh berries at the height of the season, and from frozen fruits. By the way, the berries are very appropriate here, they give their chocolate base their sourness, which, by the way, is not too sweet. The delicacy is perfect for an afternoon tea for a family tea party. And also dessert will help out "when unexpected guests are on the doorstep." It is easy to prepare, looks bright and festive. The pie is very tender, and the chocolate dough, combined with cherries, turns out to be truly magical. The main product is to allow time to cool completely.
Caloric content per 100 g - 285 kcal.
Servings - 1
Cooking time - 1 hour 15 minutes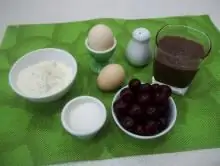 Ingredients:
Eggs - 2 pcs.
Drinking water - 150 ml
Cherries - 150 g
Nutella chocolate - 3 tablespoons
Salt - a pinch
Baking powder - 1 tsp
Sugar - 100 g
Flour - 100 g
Vanilla sugar - 1 tsp
Cognac - 1 tablespoon (optional)
Step-by-step preparation of chocolate clafoutis with cherries: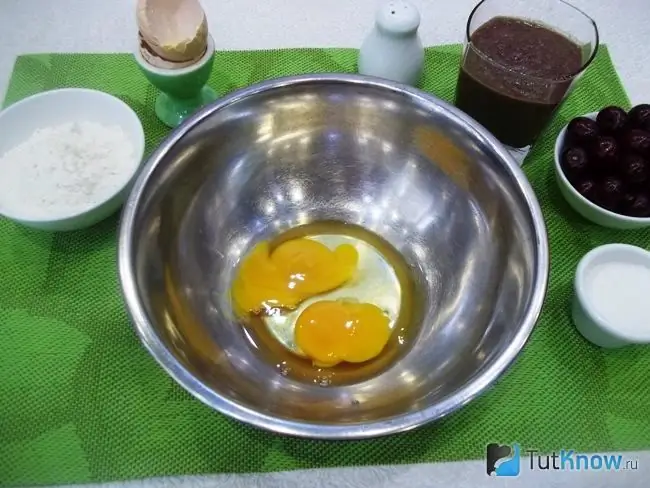 1. Wash the eggs with cold running water, break the shells and pour the contents into a container. Beat until smooth with a mixer at medium speed or with a whisk. It is not necessary to whip them into a strong foam, it is enough only to get a homogeneous mass.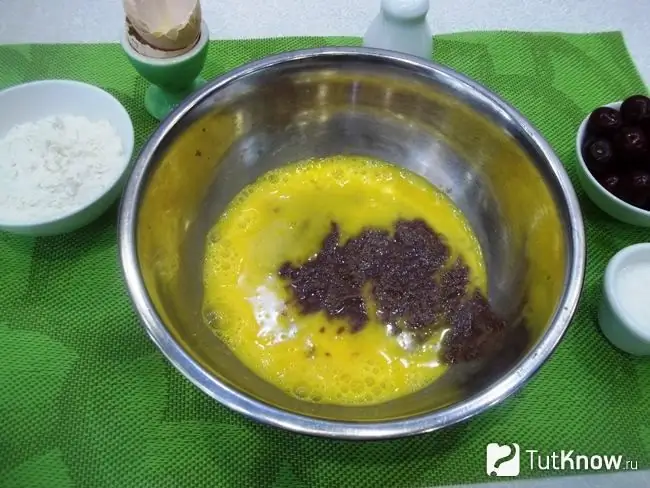 2. Pour room temperature drinking water into the egg mass and stir again. Instead of water, you can use milk, the pastries will be even tastier. By the way, according to the classic recipe, it is milk.
Add cognac. It will give the chocolate baked goods a spicy taste, make the cake more beautiful and the product will bake better. Don't be afraid to add alcohol as the alcohol will evaporate during baking, and the dough will be saturated with air and become fluffier.
Then add nutella to the liquid base and also mix until smooth. You can replace it with 2 tablespoons. cocoa powder or a bar of dark chocolate melted in a water bath. Precisely because as a chocolate supplement I have Nutella, which contains dairy products, I took water. If you are preparing a cake with cocoa or chocolate icing, then be sure to take milk.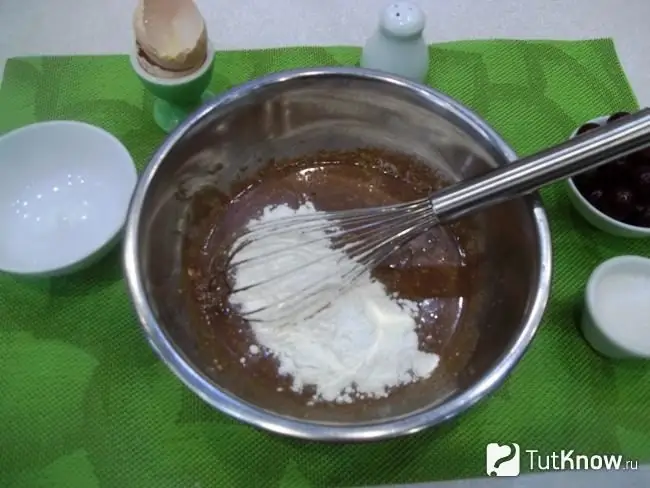 3. Combine dry foods: flour, vanilla sugar and baking powder. Part of the flour can be replaced with crushed almond crumbs. Improve the flavor of the treat 1 tsp. confectionery spices: cinnamon, vanillin, nutmeg.
Sift the resulting dry mass through a sieve so that the flour is enriched with oxygen and introduced into the liquid base. Whisk well to break up any lumps. The dough should be smooth and liquid, like for thin pancakes, and not like for pancakes.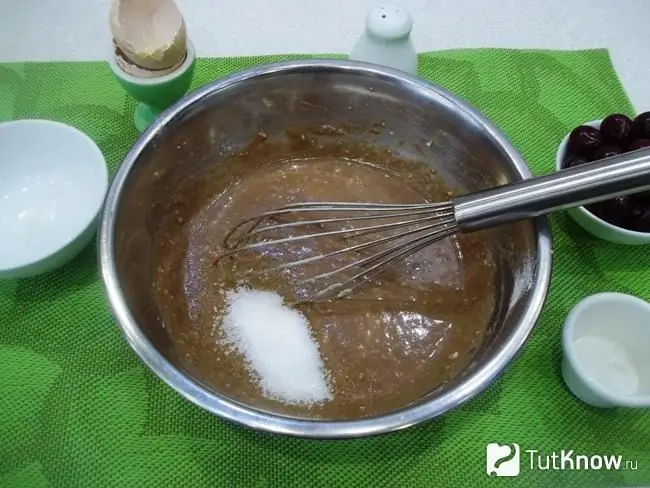 4. Then add sugar and stir again. Vary the amount of sugar to your liking. It can be used both white and brown. You can even replace it with cherry or chocolate syrup.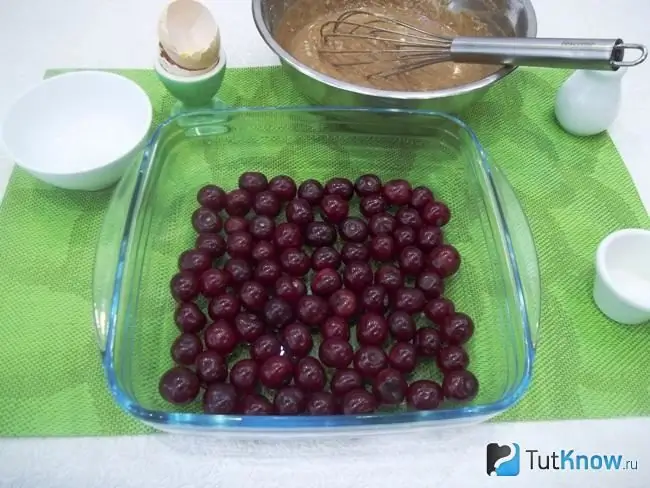 5. Continue with cherries. Use fresh berries in season - they are more juicy and aromatic. Wash cherries with cold running water and dry with a towel or paper towels. One of the main secrets of true French clafoutis is to use the whole cherry fruit, that is, with the stone. The explanation was simple: the dough of the dessert was so liquid and tender that in order to bake it, it was necessary to avoid excess moisture, which would surely seep into it from juicy cherries if their shell was broken. The cherry juice would spread over the dough and prevent it from simply baking. As a result, the cake would remain too soft and runny. But I recommend removing the seeds, especially if you are preparing a dessert for young children. This can be done by hand, simply by squeezing out the bones, or using a special tool to remove them. Then just dry them well with a paper towel. And if you still leave the bones in baking, then warn all eaters about this.
Also, not only sour cherries are perfect for clafoutis, the taste of which cannot be replaced by anything. Sweet cherries are often used in the recipe. It is fleshy and sweeter, its fruits are larger and juicier, they can be not only red, but even brown and yellow. This will liven up the look of the dessert very cool.
In winter, replace fresh berries with ice cream. Pre-thaw frozen fruits and drain the resulting water. Canned berries are also suitable. Turn them over on a sieve to drain all the juice and dry with a paper towel.
So, when the berries are ready, take a baking dish and brush it with a thin layer of butter or vegetable oil. Or line it with baking paper and oil well. The form can be ceramic, glass, clay or any other that can be put in the oven. For the indicated volume of products, I took a small square shape about 20x20 cm in size. You can also cook baked goods in portioned tins. For serving in portions, small earthenware containers are suitable, in which the dessert can be beautifully served to the table.
Put the cherries in the prepared mold and evenly spread them over the entire bottom. Sprinkle them with citrus vanilla or fresh grated zest, if desired.
Also in the recipe, experiments are possible using other berries. Indeed, as a filling for clafoutis, not only cherries and cherries are suitable, but also other berries: apricots, plums, blackberries, blueberries, strawberries. If desired, the fruit for the filling can be caramelized in sugar in a skillet over low heat. The juice will be sealed in the berries, the taste will become richer, and the texture of the product will be more interesting.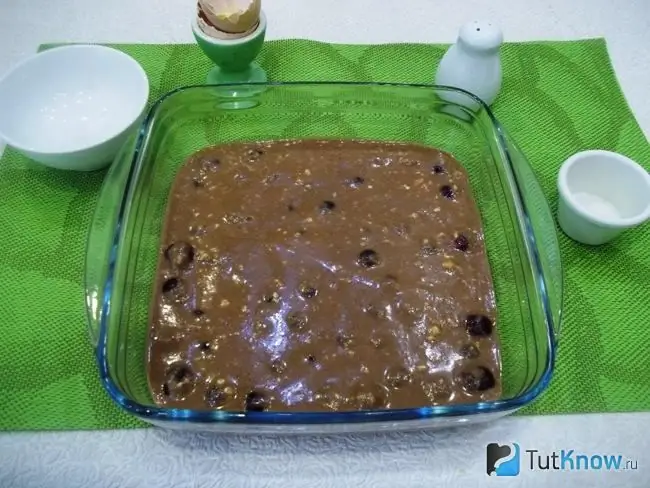 6. Pour the batter over the fruit. The tops of the berries may appear from the dough. This will only make the dessert prettier and more appetizing. Send the chocolate clafoutis with cherries to bake in a preheated oven to 190 degrees. The baking time depends on the oven, but on average, a large dessert is baked in one form for about an hour, in portioned containers - 30 minutes. The product should be browned and baked well. Check the readiness of the baking with a wooden stick. Pierce it at the highest point and make sure it comes out dry. The main thing is not to fall into the cherry, because it will be juicy.
Remove the finished cake from the mold only after cooling, because when hot, it is fragile and can break. Sprinkle icing sugar over the chocolate clafoutis with cherries and serve.
See also the video recipe on how to make chocolate clafoutis with cherries