New Year's table menu 2018. Decorating dishes with New Year's symbols. Salad decoration in the image of a Dog. Serving and useful New Year's tips. The long-awaited and magical holiday is approaching - New Year. In the pre-New Year period, we think about clothes, gifts, and of course, we make a menu. For every hostess, the most important is the festive table. To please the symbol of 2018 - the Yellow Earth Dog, it is necessary to prepare dishes for the New Year, taking into account its preferences and wishes. The article will help you decide on the right menu, the design of dishes, serving and table decoration.
How to choose products for NG 2018?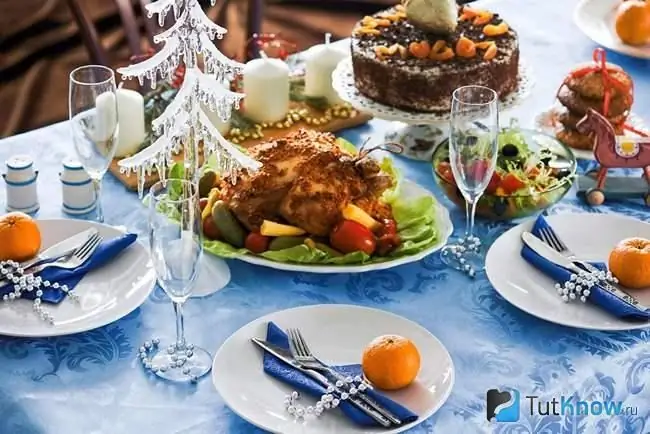 A dog, like any predator, will appreciate meat. Therefore, meat dishes must be present in any form. Vegetarians can supplement the menu with seafood, mushroom and fish dishes. Since the coming year of the Yellow or Earth Dog, it is advisable to include yellow and brown vegetables and products growing on the ground in the menu. Use peppers, potatoes, pumpkin, corn, yellow tomatoes, mushrooms, nuts, pineapple, yellow figs.
Let's not forget about bread. This hearty product is part of the treat. Bake homemade bread with garlic or spices, make sandwiches with red caviar or salmon.
Menu for the New 2018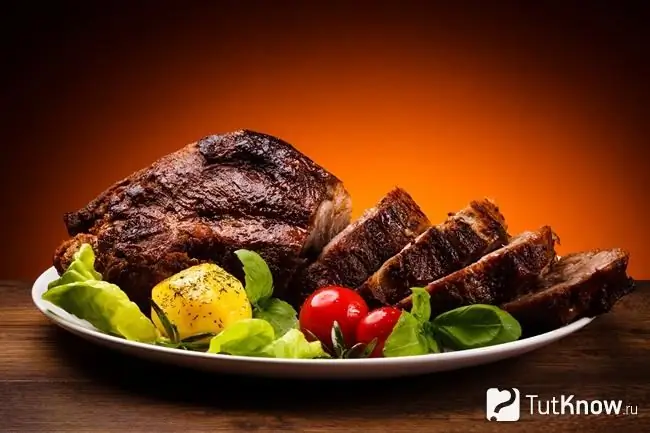 The New Year's menu should include main dishes and side dishes, cold and hot appetizers, salads and sauces, desserts and drinks. Below are examples of dishes that can be prepared for the New Year's table 2018.
Cold and hot snacks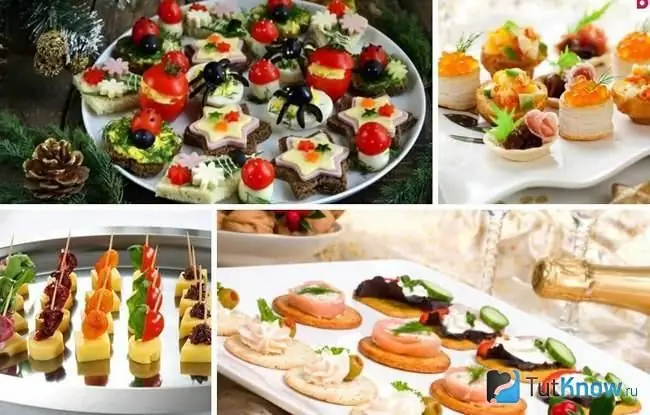 Snacks are the beginning of any festive feast. Their choice is determined by the tastes of the owner of the year - Dog. She loves traditional, hearty and simple food. In 2018, there should be a classic cold cuts of roast beef, ham, boiled veal and tongue. Serve herring with pickled mushrooms, jellied meat, jellied fish or beef. The table will be supplemented with stuffed eggs, eggplant or zucchini rolls, pickled cucumbers, tomatoes. From salads, the traditional "Olivier", "Stolichny", herring "under a fur coat", vinaigrette are suitable.
From hot appetizers, guests can be pampered with stewed mushrooms in cream, puff pastry envelopes with meat filling, French meat, julienne with chicken and mushrooms, pork rolls with pineapple. Rarer dishes such as Moroccan or Provencal lamb, baked rabbit with olives or Chinese pork will also be appropriate.
Hot dishes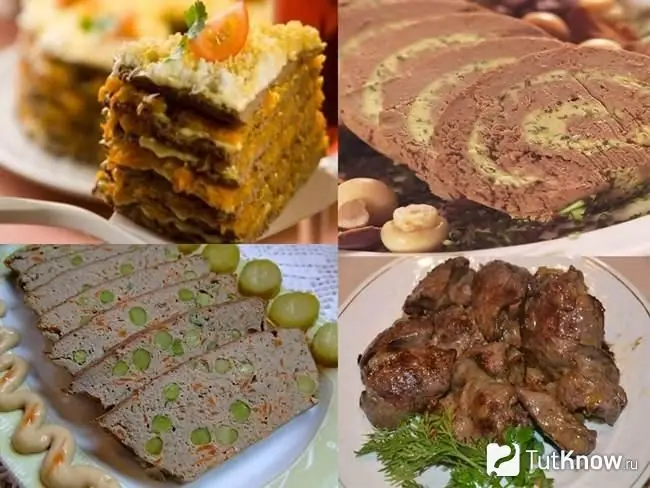 There must certainly be meat hot: veal, beef, lamb, pork. The main dog's joy is the bone. Therefore, it is necessary to give preference to meat on the bone. Also, Yellow Dog's favorite color is the yellow shades. Supplement meat dishes with oranges, apples, lemons, pineapples. For example, offer pork medallions in oranges, veal or beef with lemon zest, lamb stew with pineapple.
If you want to serve something special, then make Iskitan rabbit, baked trout with sesame seeds, chicken fricassee, chkmeruli chicken. In the New 2018, do not skimp on spices and marinades. Rosemary, spices, turmeric, honey, dry wine … all this the Dog will appreciate.
Side dishes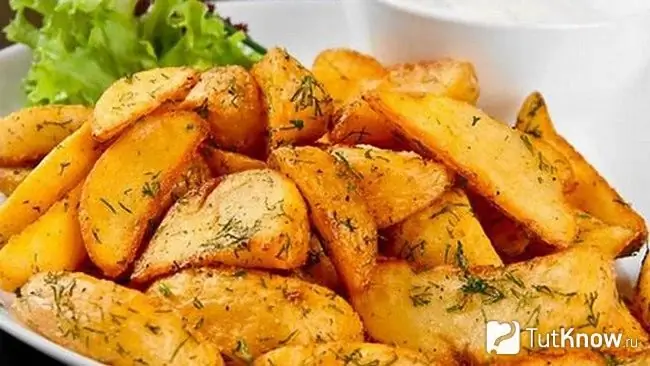 A classic side dish for meat is potatoes. It can be fried with onions, baked in an oven with cream, airfried with aromatic herbs, fried in boiling oil. Traditional mashed potatoes also go well with meat.
From light side dishes, meat is combined with a mixture of vegetables, brussels sprouts or cauliflower, steamed or in batter.
Desserts and drinks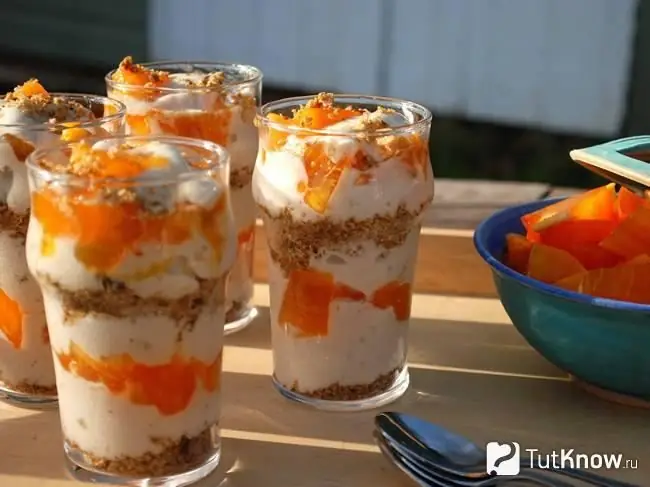 The symbol of the coming 2018 has no special restrictions on desserts and drinks. However, the Dog loves apples, so when making sweets and cocktails it is better to consider its tastes. For example, a traditional New Year's dessert - baked apples with honey, cottage cheese, raisins, nuts, blackberries … You can serve apple strudel, puff pastry envelopes with apple filling. Also offer guests shortbread cookies, charlotte, waffle rolls with curd cream, chocolate roll, orange mousse.
Choose drinks based on the dishes you cook. Dry and semi-dry wine is served with cold snacks, for example, white wine for fish, red wine for meat. Chilled vodka is combined with spicy and salty snacks. It is customary to serve dessert wine with fruit desserts, cognac and liqueurs for tea and coffee. From non-alcoholic drinks we recommend chilled juices, mineral water with and without gas, cranberry juice, lemonade.
Decorating New Year's dishes in the Year of the Dog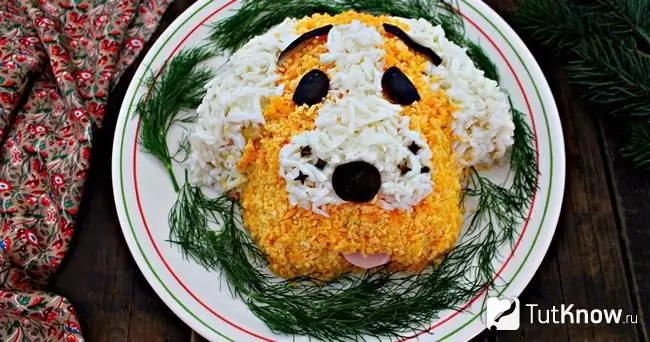 Decorate salads with a dog face, paw prints, bones or sausages. For decoration, use eggs, yellow vegetables and fruits, sausage, mayonnaise, ketchup, Korean carrots, mustard.
In addition to dog attributes, dishes are decorated with New Year's symbols. For example, in the form of a Christmas tree, a star, a pine cone, a firecracker, a wreath, a clock, a snowman, a New Year's ball, a calendar, a hat, mittens or a Santa Claus boot … For example, squeeze the herringbone-shaped mashed potatoes with a pastry syringe, decorate with a red star from a tomato on top. String sausage slices on a wooden skewer, which stick in half of raw potatoes. Thus, you get a Christmas tree. Bake a pie or pizza in the shape of a star, wreath, Christmas tree, etc.
Table setting for New Year 2018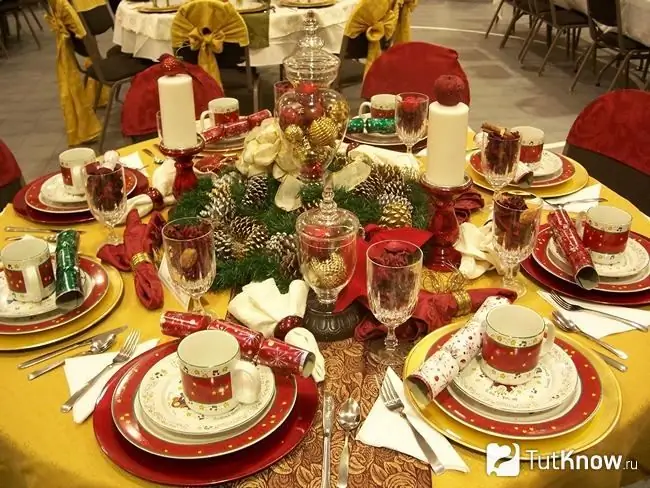 The main color of the interior of the festive table is yellow and brown. These colors will be appreciated by the Yellow Earth Dog. The winning option is gold. It is combined with white, therefore both colors are acceptable at the same time. For example, a snow-white tablecloth with gold edging will become a symbol of taste and restraint.
The dishes are suitable from muted yellow and noble brown shades. White plates with gold ornaments are appropriate. Next to the plates, place a figurine of a Dog, a snowman or Santa Claus for guests. Buy napkins to match the color of the tablecloth or service. Gold candlesticks will complement the decoration of the New Year's feast.
When decorating the table, choose 2-3 primary colors so that the design does not look too bright. Decorate the table with New Year's toys, avoiding bulky balls and sharp icicles. You can scatter fir branches on the tabletop or put a composition of pine branches in the center of the table. The decor will be completed with beautiful candles in candlesticks. Also, do not forget that the Dog loves coziness and comfort. Therefore, cover the backs of the chairs with a soft blanket so that guests feel a homely atmosphere.
Useful tips for setting the table for the New Year 2018:
Serving begins with a beautiful and ironed tablecloth. On the sides, it should hang by 30-40 cm.
Next, the plates are placed on the table. Around them are cutlery with the convex part down: forks on the right, spoons and knives on the left.
The final touch is wine glasses, wine glasses and glasses. They must be placed to the right of the plate.
Usually one glass for water or juice, a glass for wine or a glass for champagne is placed on the table.
A stock of glasses and wine glasses is displayed on an additional table.
Depending on the drink chosen by the guest, he is served a glass for vodka or a glass for cognac.
Arrange tissue napkins on plates, place paper napkins in a beautiful napkin holder.
What to cook, how to make a menu for the new year with examples of 2018:
How to decorate and set the New Year's table 2017–2018: