Materials and techniques for making congratulatory handicrafts. Popular Christmas card ideas. Helpful hints.
DIY Christmas cards are greeting souvenirs with inscriptions, created independently from improvised means. The history of cardmaking dates back to ancient China, but handmade cards became really popular only in the 20th century. Your friends and family will be especially pleased if you make your own "Merry Christmas 2020" cards.
What materials do you need for postcards?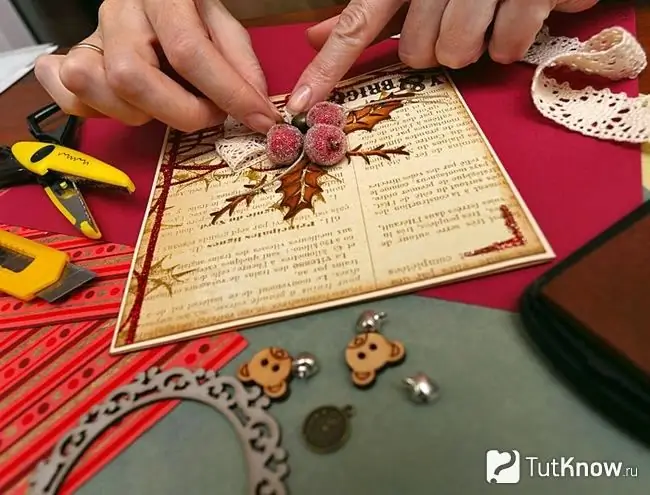 The first postcard in Europe appeared in 1794. It was created by artist Dobson from England, depicting a tree and a family Christmas scene. The tradition stuck, subsequently, Christmas cards were made in the printing house.
Today, purchasing a ready-made greeting card is not a problem: they are sold in stationery and bookstores for every taste. Homemade souvenirs, in which your love is invested, acquire real value. By making a Christmas card with your own hands, you express your feelings towards the one to whom you are presenting the congratulations.
It is not necessary to purchase expensive materials for a postcard. You can use what is at hand
paper, cardboard, foil;
fabric, threads;
wood, natural elements;
ribbons, buttons, sewing accessories;
stickers, pictures;
beads, sequins;
glitter;
lace;
artificial flowers;
new Year decoration;
spices.
For beginners, it is better to stop at simple versions of the "Merry Christmas" postcards. Use applique paper, thread, sequins. Skillful craftsmen can use wood, fabric and knitted items.
Important! Use a manufacturing technique that you understand well and can master, otherwise you won't be able to make a beautiful Christmas card.
Christmas card making techniques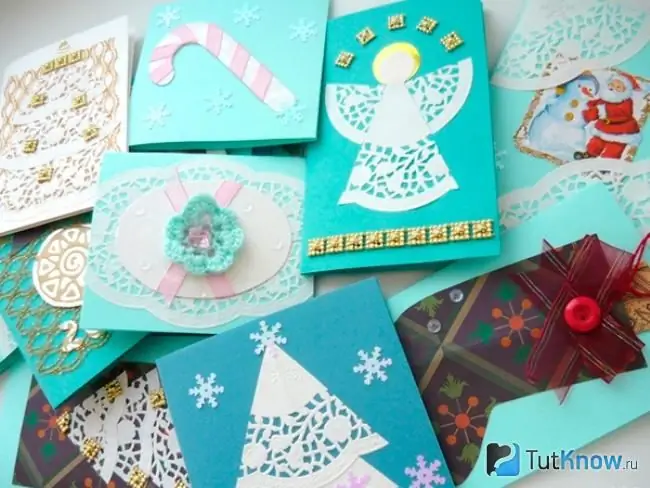 Today, there are many techniques for making holiday cards, from simple appliqués to intricate wood cutting. If you're a beginner, try using paper. Original souvenirs are made in the form of applications, using the quilling technique, with volumetric inserts made of paper or cardboard.
The postcard in the technique of iris holding looks interesting. It consists in filling the space cut in cardboard with elements of colored paper. You can depict anything: Christmas trees, snow landscapes, flowers. Fill the empty space with paper strips according to the camera diaphragm scheme. But keep in mind that the technique requires patience and paper skills.
If you like knitting or sewing, use fabric or thread. The fabric base is suitable for making flowers, snowflakes, trees, animals.
Suitable for postcards:
cotton;
felt;
wool;
sarcenet.
It is easy to make volumetric elements from felt and wool, since these types of fabrics are dense and retain their shape well. Cotton and wool are used in Christmas cards as starched elements. These fabrics make excellent snowflakes, flowers, Christmas trees.
You can combine various elements and materials using the collage technique. Its essence lies in the arrangement of any materials in one postcard. Dried flowers, fabric scraps, buttons, threads, herringbone branches, magazine clippings, etc. will do.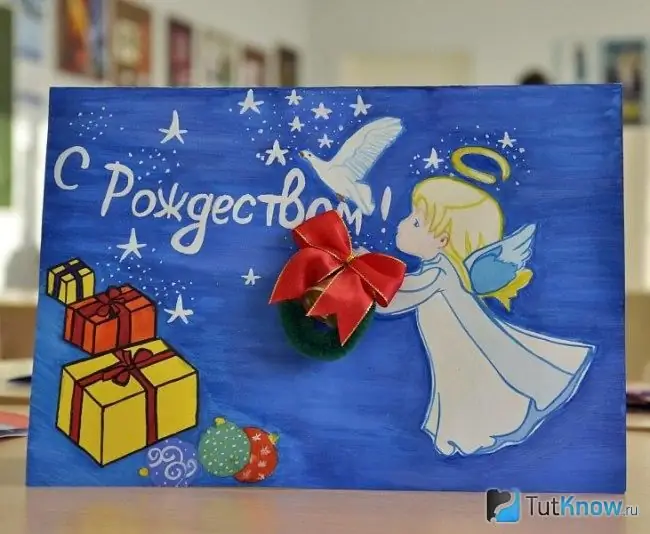 If you are fond of woodcarving, the base for the postcard or individual elements can be made of thin plywood or planks. Contours and elements are cut into them, which are then complemented by paper, fabric and other decor.
To make the card look beautiful and eye-catching, approach the process of its creation correctly:
Choose a technique that you feel confident in.
Stay on spectacular plots.
Use decorative elements, but in moderation: excess decorations will distract attention from the main component.
Be sure to sign the postcard: it must have an addressee.
If you made a postcard in advance, keep it in a plastic file.
Use brightly colored elements to create an eye-catching memento.
How to make a Christmas card is up to you. We offer a number of original solutions that will allow you to make a beautiful holiday souvenir.
Christmas card ideas
Christmas is a family and religious holiday. Postcards for him should remind people of the fact of the birth of the Savior, of good, love, hope. It is not necessary to portray complex Christian subjects: it is enough to introduce a few elements. If you get creative, you can make beautiful Merry Christmas cards.
Angel in the sky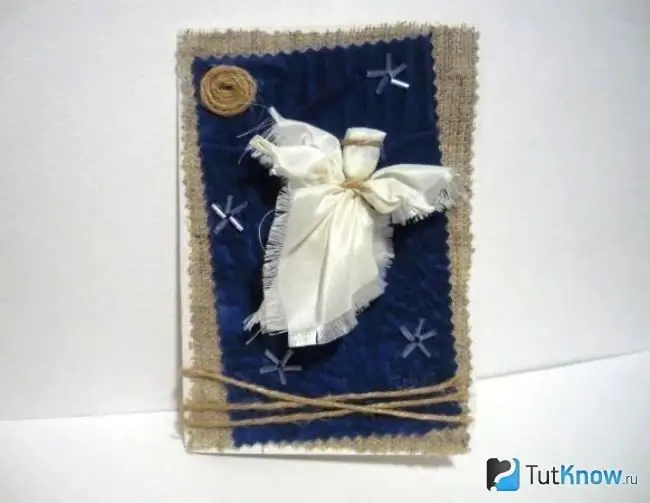 A volumetric postcard in the shape of an angel made of fabric can be made for a loved one. The craft does not take much time: spend no more than 20 minutes.
You will need:
blue and white fabric;
a piece of burlap;
ropes;
cardboard.
Cut out the base for the card from the cardboard. Glue a piece of burlap to it, slightly smaller in area than the size of the cardboard. Attach an even smaller rectangle of blue fabric on top.
To make an angel, you need 2 pieces of white cloth. A square and a strip in the shape of a rectangle are cut out of it. Fold the last one in half, intercept it with a thread to make the head of the figurine. Insert the square to form the angel's wings, and again grab the thread with the thread. Cut off excess pieces and glue to the card. From twine you can make jewelry, a month, from sparkles or glass beads - make stars.
If you don't want to make an angel out of pieces of cloth, use this Christmas card template. Cut an angel out of light felt along it and attach to the base. Decorate with sewing thread, sequins.
Double postcard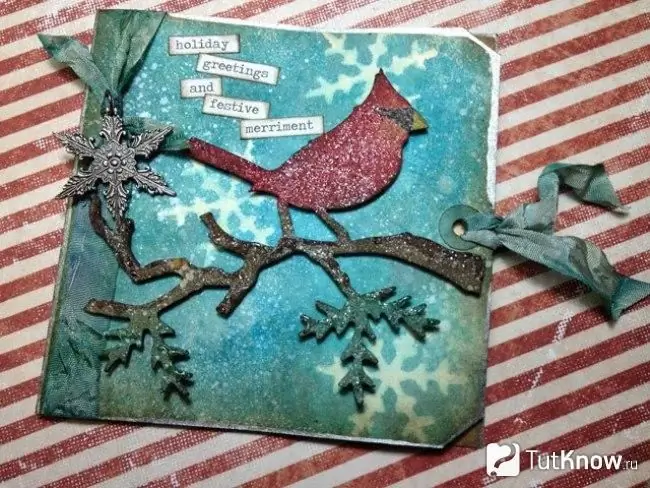 If you find an old postcard with a picture of children, angels at home, use it for making crafts. You will get a cute volumetric postcard.
To make it you will need:
cardboard;
colored pieces of fabric;
stencils of birds, angels, bells and other elements of the Christmas theme;
old postcard.
Choose thick cardboard to give the card a dimension. Glue pieces of fabric on it in random order to create a base for the card. Make sure that the fabric background matches the main element in tone. The patches can contrast with the card or match the pattern or color.
In the center on the patchwork base, glue the prepared postcard. Using templates made of paper or fabric, make small elements for decoration: bells, angels, Christmas balls, etc. Glue them near the postcard in random order. Decorate the finished Merry Christmas card with sparkles, glitter.
Greeting card with Christmas wreath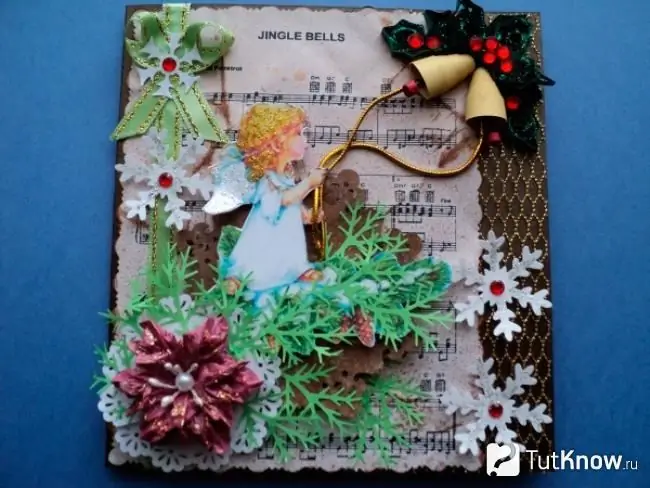 To make your family happy, make a card for them with a real Christmas wreath. It can be made from spruce branches, ears, artificial branches and other elements.
For the base, you need corrugated cardboard. Cut the base out of it. Use contrasting colors (red, yellow, orange) so that the background doesn't blend in with the wreath. On the back of the base, draw a circle around the diameter of the wreath. Using a utility knife, cut out the circle.
Prepare a rectangle of colored paper, 1-2 cm less than the base area. We glue it from the seamy side of the postcard to close the cut out circle. We insert a wreath into the circle. If it is made of soft materials, glue it or sew it with colored threads.
If you wish, decorate the card for merry Christmas with thematic elements: birds, bells, angels. The craft is made single or double, opening. The last option looks more impressive. You can also write a congratulation inside.
Christmas candle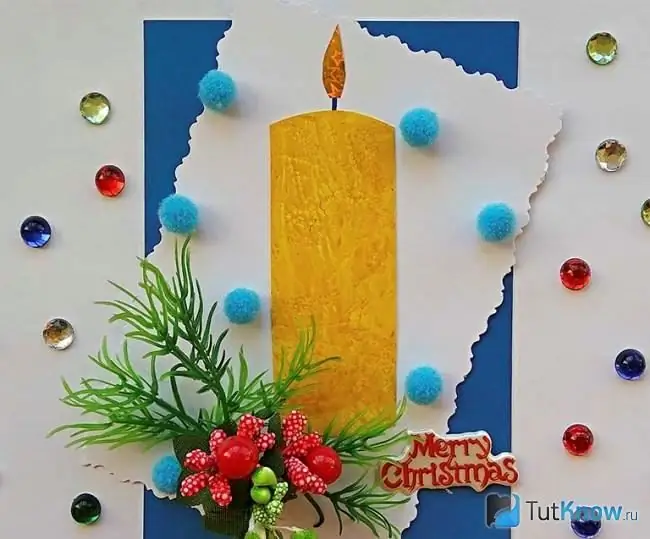 A volumetric Christmas card with a candle looks very impressive. It is easy to make: even a schoolboy can handle it. If the adults guide him and give him a little help, it will make a great souvenir for family or friends.
To make a postcard, you will need 2 colors of cardboard, from which we will make the base. It is desirable that they be in contrasting tones, for example, blue and white. Colored paper (yellow, orange) is needed for the candle. The card can be decorated with additional decor: artificial green twigs, blue woolen pom-poms, paper snowflakes, sparkles.
Cut a rectangle out of blue cardboard to fit the size of the postcard. Cut off another such rectangle of a different color with scissors, creating a decorative patterned cut. Glue the second cardboard blank to the first one obliquely.
Cut out the outline of the candle from colored paper. Stick it on the postcard. It remains to decorate the blank. Artificial spruce twigs at the base of the candle look beautiful. Sign your congratulations if you wish.
Quilling with a candle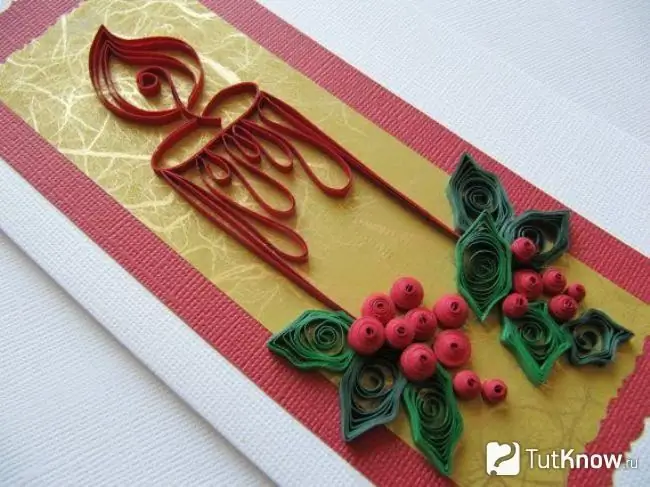 Before making a postcard, get acquainted with the quilling technique itself and its elements. It requires special paper or thin strips of colored paper. They are wrapped around a toothpick or wooden skewers to create spiral elements of different shapes. Then the image is collected from them.
To make a postcard with a candle using the quilling technique, you will need:
white cardboard for the base;
glitter or foil (you can use stickers);
colored paper;
ribbons or braid.
Cut out a base with curly edges from cardboard. Choose the form at your discretion. Glue carved pieces of foil or glitter in the corners. You can postpone this stage and complete it after making the "body" of the postcard.
Use thin strips of green double-sided paper to make 20 petals. To do this, screw each strip onto a quilling needle or wooden stick. Glue the end of the strip and flatten the element slightly on both sides. You should get a diamond with rounded edges.
Draw a circle in the center of the cardboard blank, sprinkle glitter along the edge. Lay out a wreath from the petals along the contour of the circle. Fasten each 2 petals with a "berry" from a red strip, rolled into a tight spiral.
Cut a strip out of yellow paper and glue in the center: this is the frame of the candle. Use the quilling technique to make a tongue of flame out of red paper tape and glue it over the yellow strip. Decorate the wreath with red ribbon or braid. Sign the postcard if you want.
Volumetric card with a herringbone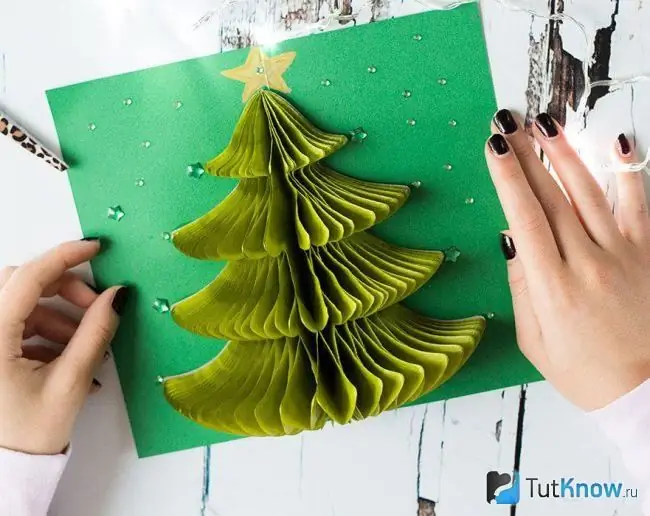 Consider how to make a voluminous Christmas card with a surprise.
For manufacturing you will need:
white cardboard for the main part;
colored paper for the Christmas tree;
elements for decoration.
First, take a sheet of white cardboard and fold it in half. Cut out wide stripes from green paper and fold them in an accordion. Each subsequent strip must be longer than the previous one.
Glue the prepared "accordions" on both sides of the folded sheet of cardboard to make a voluminous herringbone. Attach a red paper star on top. Glue decorative elements on the sides: images of gifts, snowflakes, sparkles, etc.
Card with ribbons and buttons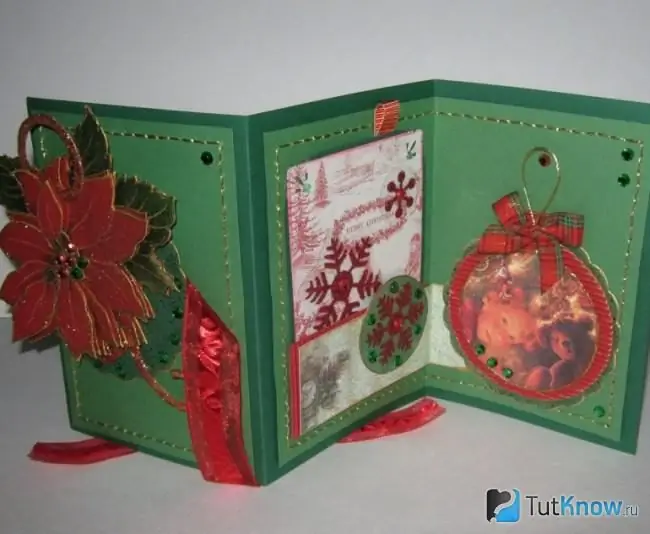 This card looks cute and original. To make it, you will need green satin ribbons and multi-colored buttons. Cardboard is taken as a basis. To make the card look spectacular, you can stick a piece of fabric on it.
Take a piece of cardboard. If you plan to make a double postcard, fold a piece of cardboard in half. Place a piece of fabric, such as blue or purple, on the front side.
Lay out the herringbone from the green ribbon in a spiral. Fasten joints with cardboard with glue or thread. When the tree is ready, sew the buttons in 2 rows in the middle. Decorate the card with decorative elements, sign the congratulation.
Postcard with buttons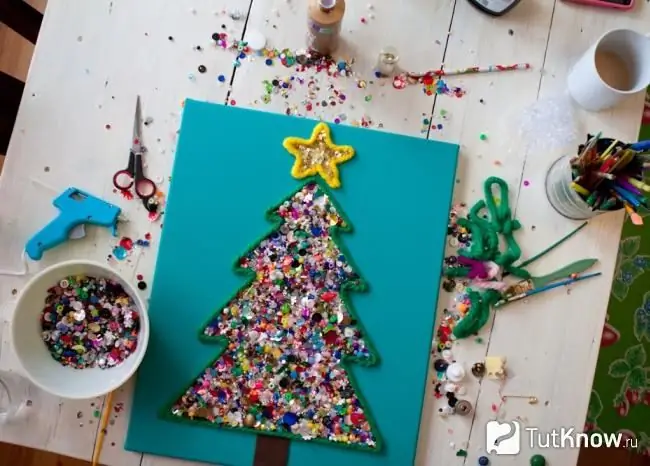 This card is easy to make. Even a child can handle it. A surprise can be presented to a grandmother, aunt, relatives or friends.
For manufacturing you will need:
3 buttons;
cardboard for the base;
a sprig of a Christmas tree;
threads;
paper;
pen for inscription;
glue, scissors.
Cut a square blank out of cardboard. Tie a thread to each button. Sew on the buttons so that they are at different heights in the center of the card, and the threads are on top. Instead of real strings, you can draw them with a felt-tip pen.
Position the spruce branch obliquely. Glue white snowflakes in the corners. Sign the greeting with a black felt-tip pen or pen. The postcard is ready.
How to make a postcard for Christmas - watch the video:
Homemade postcards remain a unique gift for the New Year. They allow you to express your love and respect for the one to whom you surprise, and remain a constant memory of you.