See how to make a rat hammock. You can create it with your own hands from fleece, hood, jeans, burlap.
The domestic rat is a pretty cute animal. And since the upcoming year 2020 is dedicated to this rodent, it will become an interesting gift for this holiday. And if you know how to make a hammock for a rat, then you can comfortably accommodate this animal.
What is a rat hammock for?
These animals are quite active. Since the cage has limited space, they need to move. The hammock will be a great help in this. Rats will climb up, cling to it, pull themselves up. And if you make the hammock more complex, it will be an excellent exercise machine.
You can make a rat hammock out of materials at hand, including using your own personal items that you don't wear. You can also take various materials for this. To create a hammock, the following are suitable for you:
dense fabric;
plastic;
cotton.
These are the shapes of hammocks for pet rodents:
flat;
in the form of a pocket;
tunnel;
angular;
two-story;
polygonal;
triangular.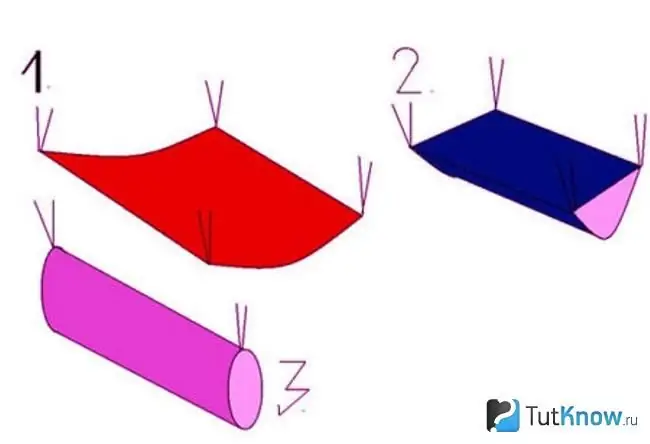 First, check out how to quickly make a hammock. For this, an unnecessary hood or old jeans or other thing made of this material will do.
DIY rat hammock from the hood
If you need to quickly make a hammock for a rat, then take a hood. If it is sewn on, then rebuff it first. And if it is fastened with a zipper, then it is necessary to cut off this half of the zipper.
Now from the side of the cut, tuck in twice at the edge, stitch here. You will insert the wire into the resulting curtain. Then one side of the hammock will be firmly fixed. Then these ends of the wire must be fixed on the upper rods of the cage or on the side ones.
If the hood has ties, tie them up. Then it will look like a bag, which your pet will be happy to enter. If you have several rats, then they will fit in the spacious hood.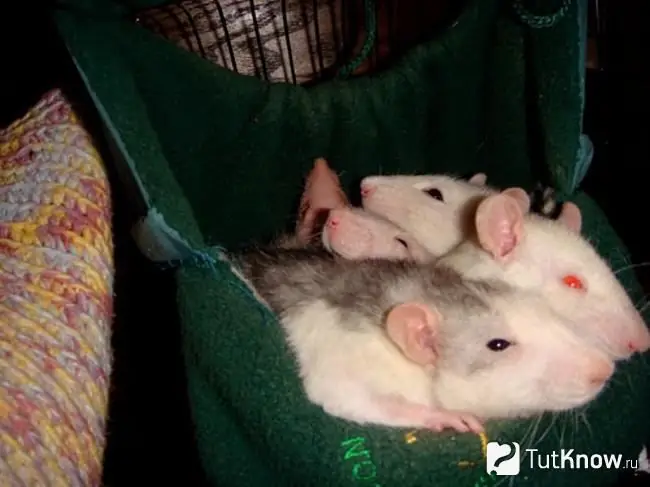 How to make a rat hammock out of jeans?
For the animal to be comfortable, it is better to use jeans with sufficient leg width. From one of these trousers, you can sew several hammocks. Take a measuring tape and measure 25 cm up from the bottom of the leg, cut here and hem. If you have chains, then hang the hammock with them. If not, then get some paper clips.
Connect several pieces together. Make four more blanks in the same way. Use an awl to make holes in the corners of the hammock, thread the paper clips here and secure. And you will fix the upper parts of the chains on the rods.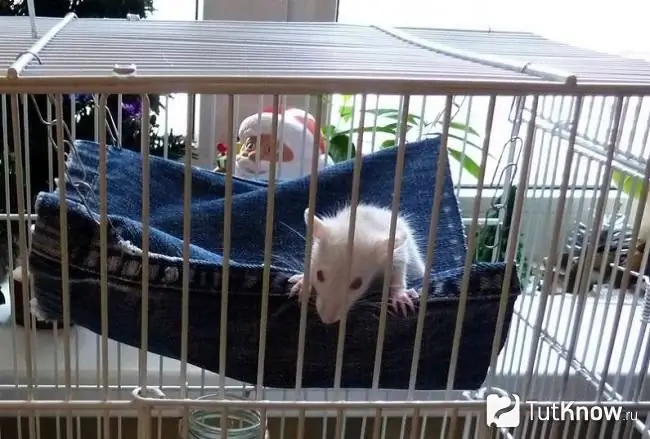 There are other options for making such things. Create a soft fleece hammock to comfortably accommodate your pet.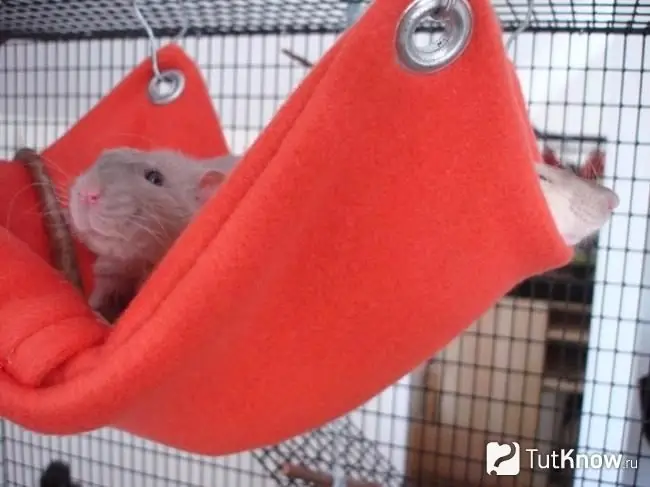 To make such a hammock for a rat, you can use a fairly spacious fleece sleeve. If you do not have such a thing, then take the fabric, fold its opposite edges, and hem them. Now fold the blank in half and sew on the right side, then turn to the wrong side and sew another stitch here to create a neat seam.
Make a hole in the corners, insert metal rings here. Now you can thread the wire through them and secure the hammock in the cage.
Two colors of fabric can be used. If you have such a hammock in the form of a pocket, then you need to sew two double canvases. The bottom will be longer than the top. Then the bottom will hang down. Therefore, the animal can be at the bottom, and when it wants to, it can lie down and on top.
Make loops on the short sides of the blank, thread one wooden stick from each to make a full-fledged hammock. It remains only to hang it.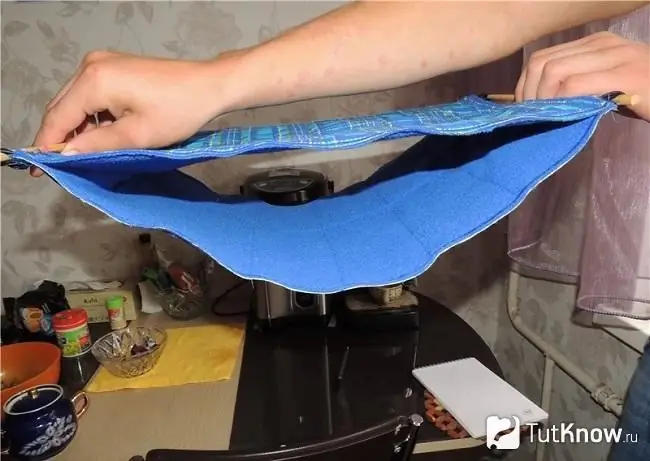 If you have several rats, then you can take a spacious trouser leg from jeans, cut holes in it and hang this hammock. Then the rodents will be happy to climb here, find a way out of the holes.
Here's how to sew a fleece hammock so you don't waste a lot of time.
For this, it is enough to hem a quadrilateral from this fabric on all sides. Then at the corners you will sew metal carabiners, fasten them to the rods of the cage. As you can see, the pet is happily resting on the top floor.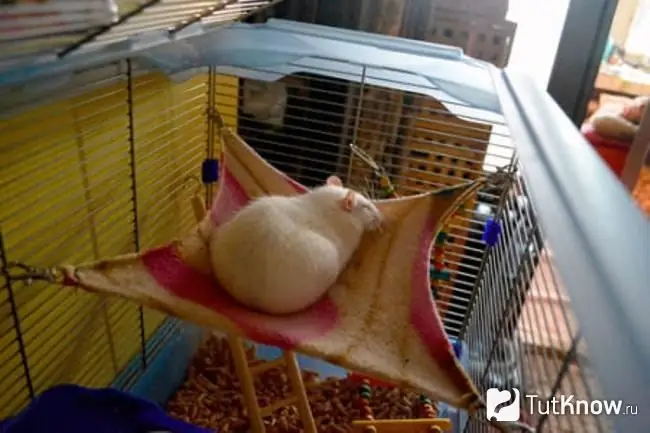 Take a look at the hammock pattern, it will help you cut out a rectangle of the desired size. And at the corners you can put metal rings to which the carabiner will be attached. In total, you will need four rings and four carabiners to secure two types of these parts at all corners.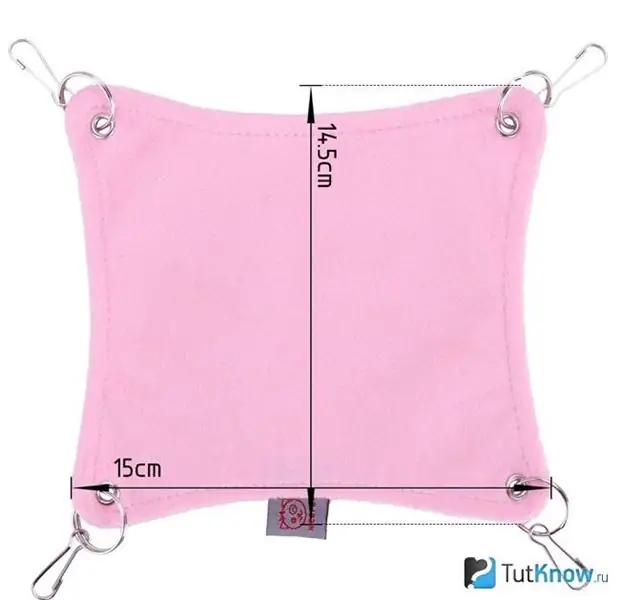 Another pattern for a rat hammock will allow you to make it such an interesting shape.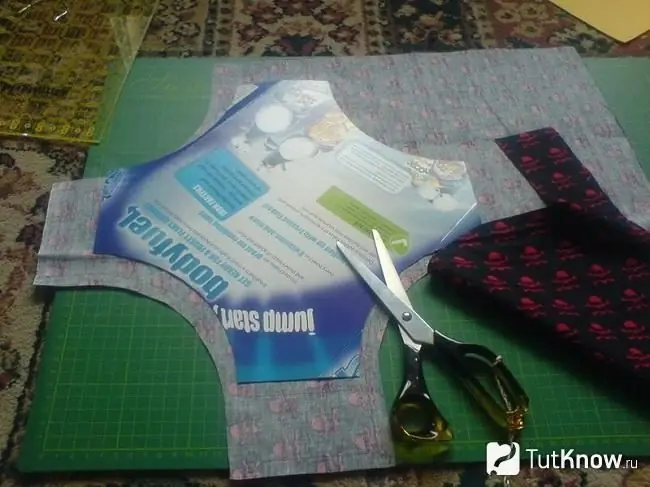 To get this shape, first cut a pattern out of paper or cardboard, then attach it to a soft cloth. To make the hammock softer and more dense on all sides, cut out two of these blanks. Sew them on the wrong side, then turn them through the remaining hole, then you just sew it on.
To make it interesting for your pet to relax, climb and sleep on any of the three floors, we suggest making such a hammock for rats.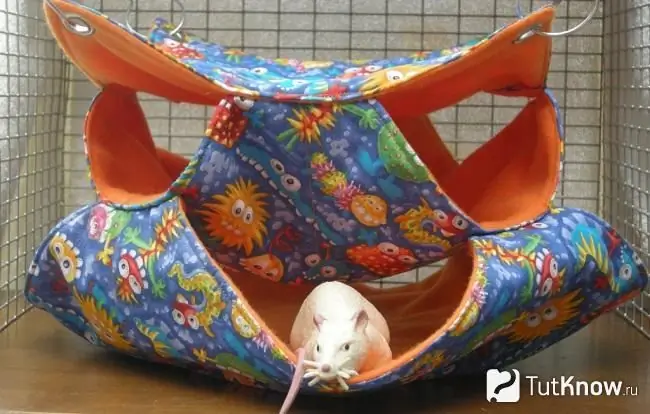 It uses two types of soft fabric such as fleece. For the first floor, cut out a rhombus, grab it at opposite corners and fold it in half. Then, stepping back from these corners a little to the middle, sew a small part on one and on the other side of the segments. On the other two sides, you need to remove the corners, round off here.
For the second floor, you also need to make a rhombus, but a little smaller. Leave the corners on it. Lift them up and sew to the created rectangle. At the ends of this figure, you need to fasten rings and stretch chains or metal cords here, in order to then hang the workpiece.
You can sew a hammock of the desired shape from fleece.
In the photo at the top right, one of the simplest options is located. To do this, it is enough to connect two canvases to each other and sew on three sides. Do not sew on the fourth small side. Turn it right out here, then topstitch the rest of the side. Sew on the lace loops on the edges of which you will attach the carabiners.
You can sew a hammock in the form of a pipe, then it will be interesting for the animal to climb inside.
In the fourth figure, such a thing is made in the form of a semicircle. To do this, you will need to create two identical blanks from different fabrics. Take a fleece circle, measure the diameter of the given circle. Remember this value. The rectangle, which will become the sidewall, will have this length. Its width is such that the sides are high enough.
Sew this circle to the sidewall, join the edges of this rectangular piece. In the same way, you will create the inside of the hammock.
To make this thing for rats softer, you can put a synthetic winterizer between two blanks.
Sew two pieces, insert the top into the bottom and attach the loops along with the carabiners.
DIY burlap rat hammock
Your pet will surely like this natural material. This natural fabric hammock is warm and comfortable.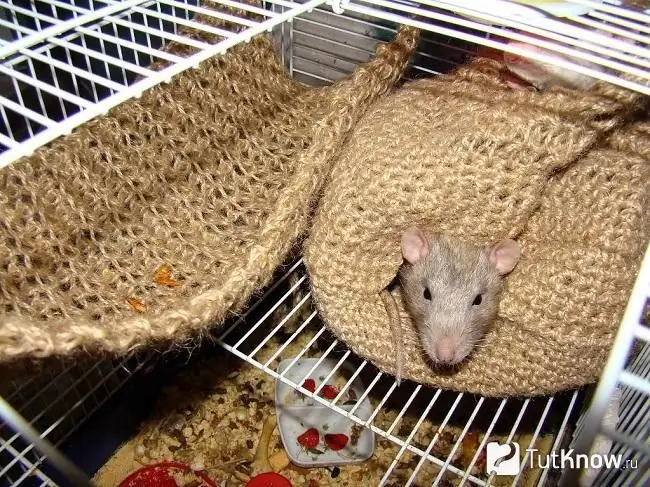 Cut out a rectangle to the desired size, fold the edges, and hem them. Or you can connect the large sides of the hammock, but leave holes on both sides. Then pets will be able to crawl here, they will be warm and interesting.
How to make a pipe-shaped rat hammock?
Also a very interesting version of a hammock for rats. To create such a thing, you need two types of dense fabric. Cut out two identical rectangles from them. Fold over the edges of these blanks to align them and sew. Now join the large sides and sew them together. Then turn this tube towards you with the seam upwards, make a round neckline on top. Finish this hole with a diagonally cut piece of fabric. Now take two carabiner straps and sew these holders on both sides.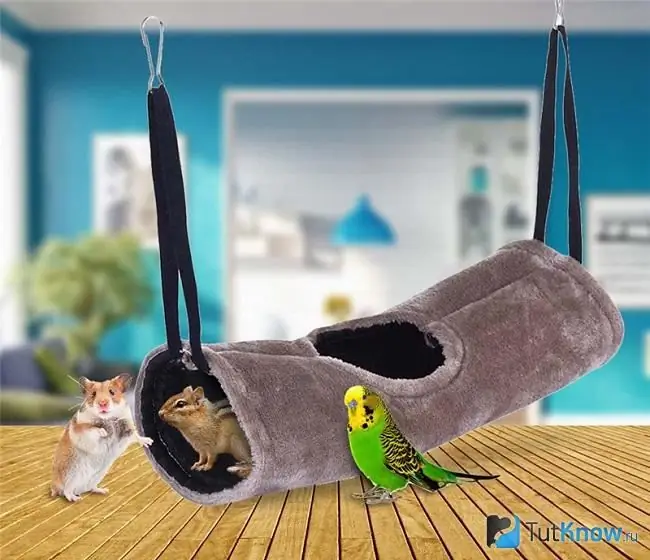 You can slightly modify this model and sew a spacious pocket on top of such a pipe. To do this, take a canvas of thick fabric, cut a rectangle out of it. The second shape should be half the size. Sew on one side. Tuck this pocket over to the side. Now connect this part to the previously created pipe. Sew 4 loops on the ends, insert large paper clips here and use them to attach the structure to the cage.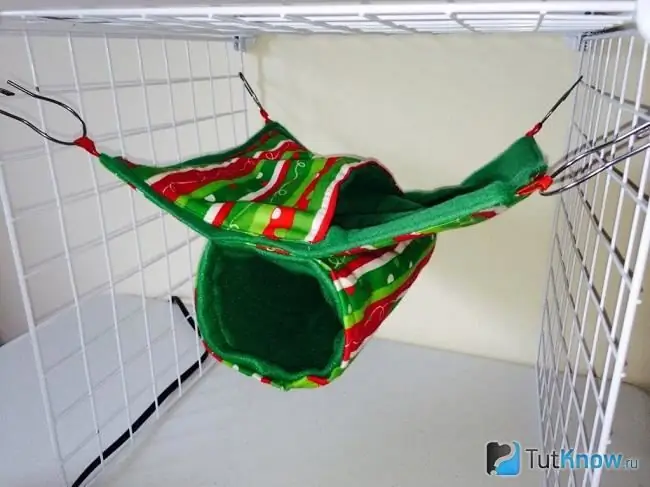 Do-it-yourself sports equipment for the rat - master class
To keep your pet rat in good physical shape, we suggest making a hammock in the form of a sports simulator.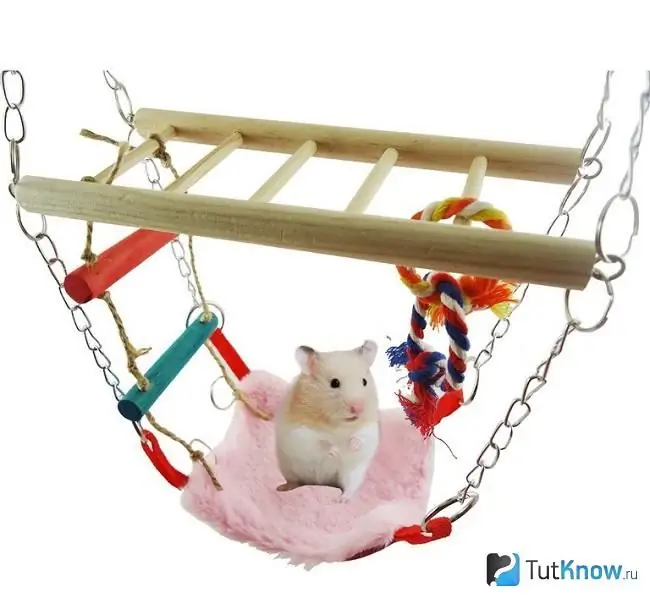 Take:
processed wooden sticks of round cross-section;
chains with rings;
a piece of faux fur;
twisted rope;
twine;
drill with a thin drill;
animal-friendly glue;
a small wood saw or jigsaw.
Crafting workshop:
Using a suitable tool, saw off a couple of pieces from two large sticks. Now mark on each where you will drill holes on one side in these blanks. Do it. Then put the ends of the small sticks in here and glue them. At the corners of this staircase from 4 sides, you need to tighten the rings.
Now make another ladder, but a rope one. To do this, file the same sticks, make through holes at both ends in each. Now thread the string here, tie the knots to secure the sticks in this way.
To sew a hammock, take a rectangle of faux fur, fold it in half with the right sides facing inward, and sew, leaving a gap unstitched. Turn the hammock through it to the front side. Insert at the corners of the loops, sew them.
Attach metal rings and chains here. Assemble the structure using chains. Here is such a wonderful rat hammock.
If you wish, this kind of needlework will become your part-time job. After all, such things are not very difficult to create and you will need a little materials for them.
Then you can put up lots on the Internet, write ads and thus create a store for animals at home, and this will be a good extra money. You can make not only such models, but others as well. Check them out.
What other rat hammocks can you make?
If you have such a rectangle of chain mail, then use it. It will be easy here to attach four pieces of chain at the corners, so that you can then hang such a hammock. But to make it comfortable, it is better to sew a soft mattress here and lay it on top of the chain mail.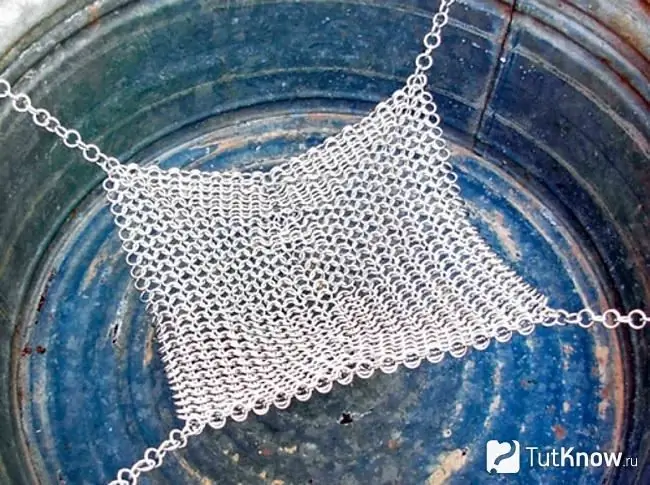 Depending on the size of the cage, the availability of materials, the preference of your animal and your craft skills, you can create the following models.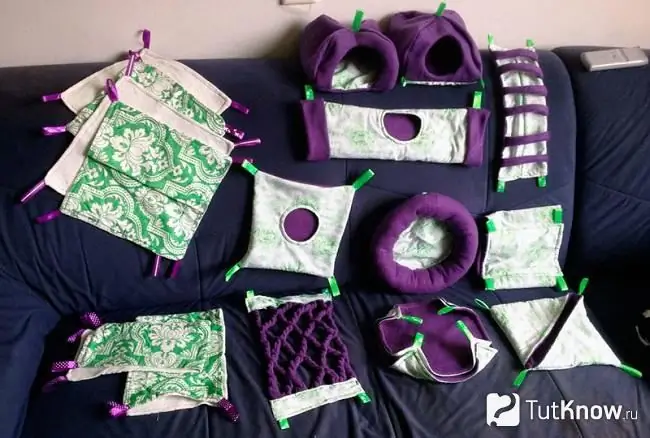 In the top left photo, the hammock is made in the form of a simple rectangle. Take two pieces of fabric, line them together, and sew along the edges.
And then fold one edge in the middle so that on that side you get a kind of pocket. Now animals can enter here to retire.
At the corners, you need to sew four satin loops. You will attach the same to other corners.
The next model is no less interesting. For it, you need to take two identical squares from fabrics, cut a round hole in the center of the first to the size of your animal so that it crawls inside without obstacles. Now work over this circle with a strip of fabric.
Place this part on top of the second one, aligning them with the front sides. Sew the edges of these pieces. Turn them right out through the hole.
The next hammock for a rat, made in the form of a pipe, is of the same type. It has not only two holes at the edges, but also in the center at the top.
And in order for your beloved pet not only to rest on such a hanging bed, but also to climb on it, like on a ladder, then take a fabric, you need to sew ribbons from it. Cut them into equal pieces. Then connect the ends of each tape to make rings. You will put them on the rectangle of the hammock. To prevent them from flying off, sew them with a few stitches to the main thing.
If your pets will also be celebrating Halloween with you, you can make a hanging pumpkin hammock. Such a structure will become at the same time a cozy house. Also in the center you will get a hole for entry and exit, and on top you will make a green loop, which will become the tail of the pumpkin, and you can hang your thing from it.
You can sew a ladder from strips of processed fabric. To do this, lay them diagonally in one direction and the other, connect in the corners. Then sew this piece to the front of the ladder.
And here is another interesting model that will tell you how to sew a hammock for a rat. Cut a square of fabric to a sufficient size. Then cut another one the same, cut it diagonally and process the edges.
You will have two triangles. Place them on top of the corners of the main part. Moreover, the cut will be diagonally in the middle, it remains to add loops, and the hammock for the rat is ready.
If you know how to knit, then create a rodent hammock this way. Moreover, such things come in very different forms. You can make one in the form of a pair of triangles connected by a connected strip. Such a hammock should be hung on the corners of the cage and thus you will save space. Then a hole will remain in the center in the hammock, since this strip will be slightly shorter than the perimeter of the triangle. Sew these details, you get a wonderful hammock.
For the next one, you will also knit a strip that will have a hole. Sew it to the round top and bottom. Also secure to the cage.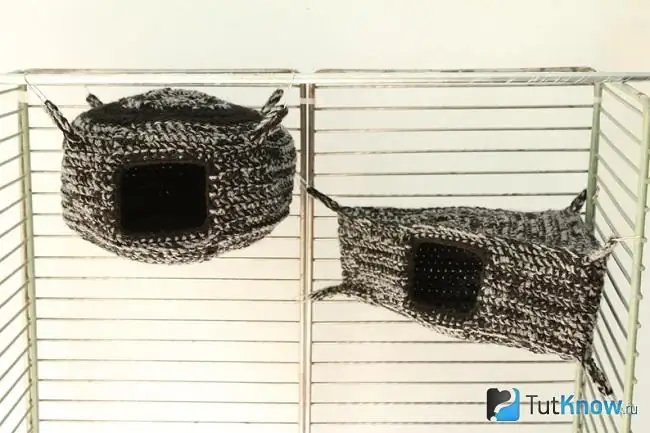 To make a hammock for a rat, you can use an unnecessary scarf. Then you round it a little to give it a semicircular shape, and then sew to the triangular sidewall, which needs to be tied in advance.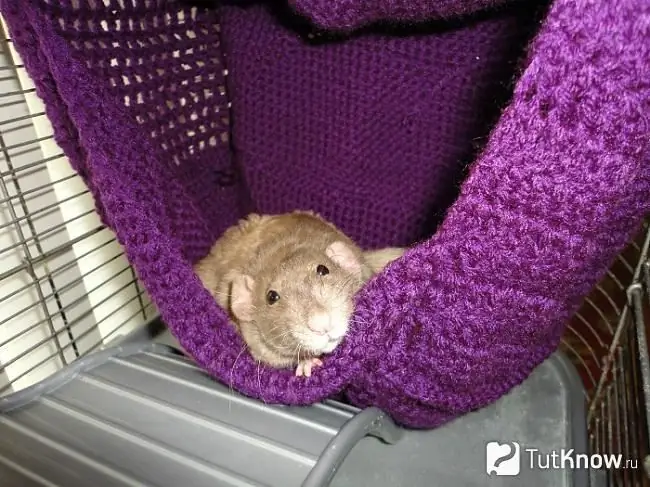 See if you have an unnecessary sweater or other similar knitted item in your closet. You can change such a new thing and make a hammock for a rat out of it. And if the knitted thing opens up well, dissolve it, then straighten the threads over the steam and tie such a cozy bag.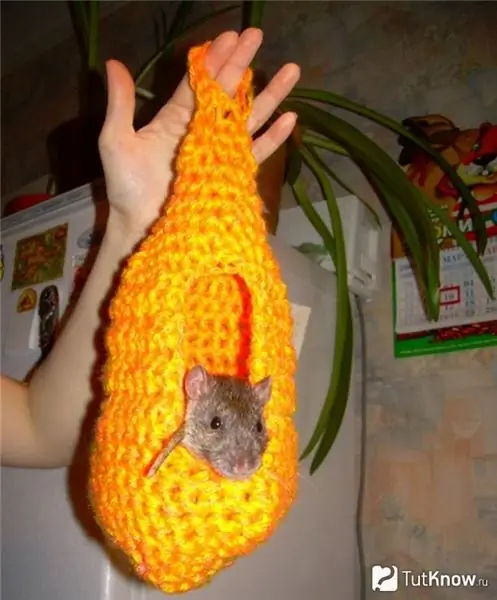 And here is another option for how to make a rat-bag. Use large knitting needles and thick enough yarn. Then the work will move forward quickly. Choose a knitting method that is convenient for you. Make a tube-shaped hammock for your rat with a hole in the middle.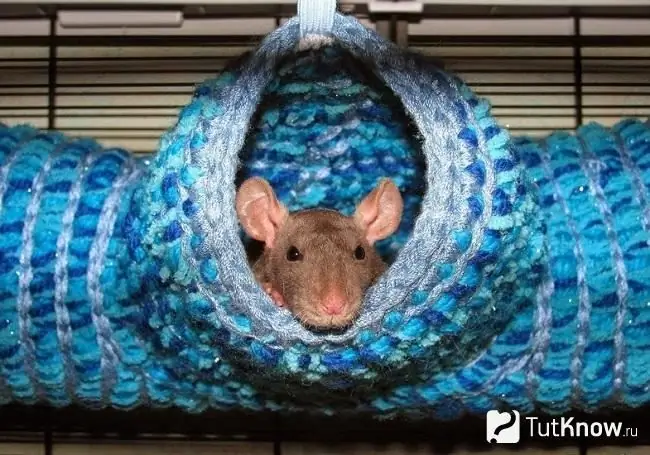 This knitted rodent cocoon will please your pet.
Other rodents can live here. Create some of these things to keep your animals entertained and entertained. They will be able to run, find entrances and exits in such devices.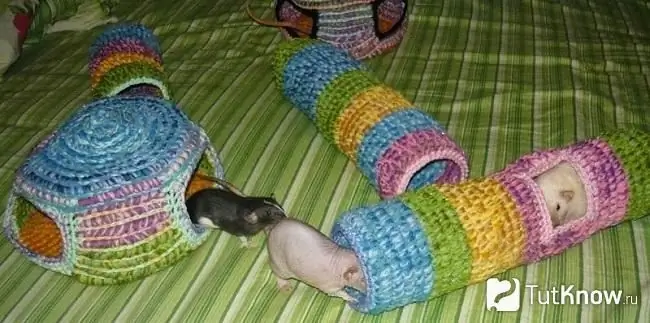 Here's how to make a rat hammock so that it becomes a cozy resting place, for the entertainment of your pet, additionally decorate the cage.
See how to sew a rat hammock. Then you will be able to cope with such work even faster.
The first video tells about a simple model, which is made of soft fabric.
Your pet will surely like it.
And if you are wondering how to make a rat hammock out of old jeans, then watch the following video tutorial.